By D23 Team
It's the start of something new, well, a new year of D23 Expo! The ultimate Disney fan event is back with three days full of pixie dust-infused fun, fan-omenal shopping, and show-stopping panels. To keep up with all the expo-alidocious magic that is happening this weekend, check out our day-to-day updates for all the latest D23 Expo news right here! And for more D23 Expo fun, check out our livestream of various events throughout the weekend here.
Click here to see the updates from Friday.
Click here to see updates from Saturday.
Sunday, August 25, 2019
D23 Expo 2019 Daily Download – Sunday
5 Magical Moments from D23 Expo's Unforgettable Characters Presentation
The talented actors who voice some of Disney's most beloved characters, from Mickey Mouse to Moana, came together for Disney Character Voices, Inc: The 30th Anniversary Celebration in Hall D23 at the Anaheim Convention Center. Rick Dempsey, SVP of Character Voices, led the presentation, praising those who currently voice the characters and remembering those who did the honors before them. Click here to read the full story.
Marc Davis In His Own Words—Imagineering the Disney Parks Panel Celebrates the Timeless Work of One of Disney's Greatest Artists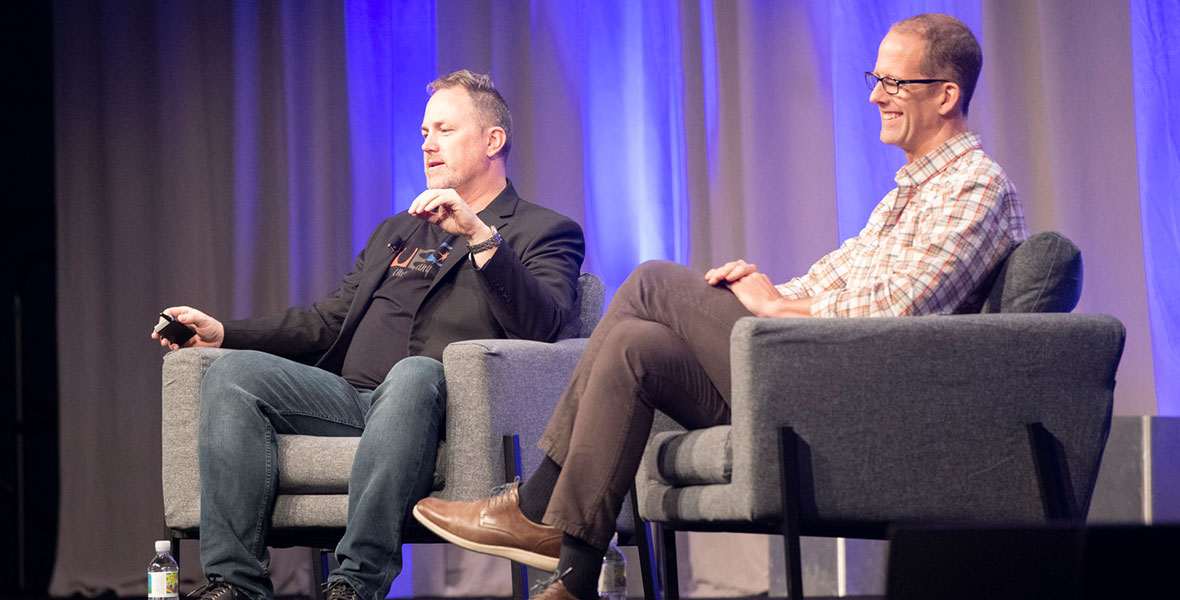 The panel, held on Stage 28 on Sunday afternoon at D23 Expo 2019, celebrated Davis's spectacular contributions at Walt Disney Imagineering. See the full story here.
Every Incredible Announcement from Disney Parks, Experiences and Products at D23 Expo 2019
This morning, during an exciting presentation led by Disney Parks, Experiences and Products Chairman Bob Chapek, an unbelievable array of new experiences and updates were revealed—from a new port of call for Disney Cruise Line to the first-ever attraction inspired by Mary Poppins at Epcot. It was a morning filled with Disney magic, complete with a surprise appearance by Disney Legend Dick Van Dyke. See the full story here.
D23 Swings into 20 Years of Tarzan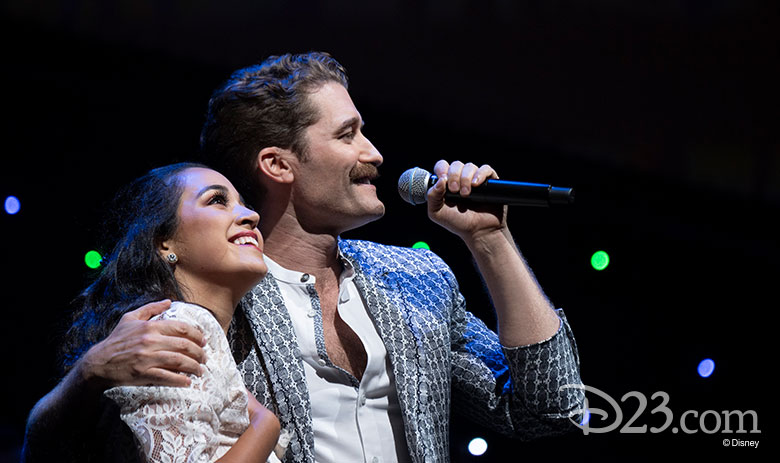 D23 Expo celebrated the wild history of this animated classic with a panel featuring the team behind the film—plus a dazzling performance by Matthew Morrison! See the full story here.
D23 Expo Goes Under the Sea with "The Little Mermaid: The 30th Anniversary Celebration!"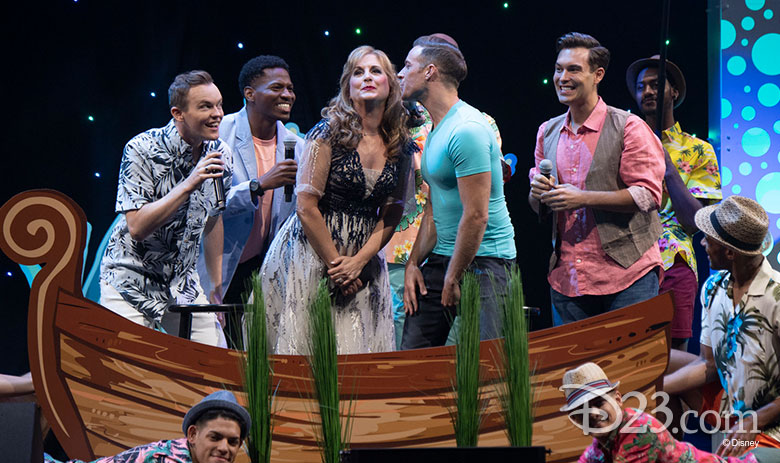 Recognized as one of the greatest animated films of all time, The Little Mermaid celebrated 30 years of being "part of our world" with an incredible panel and performance, hosted by Ariel herself—Disney Legend Jodi Benson! Join us for a swim "under the sea"… See the full story here.
Keegan-Michael Key Plays Some Lively Brain Games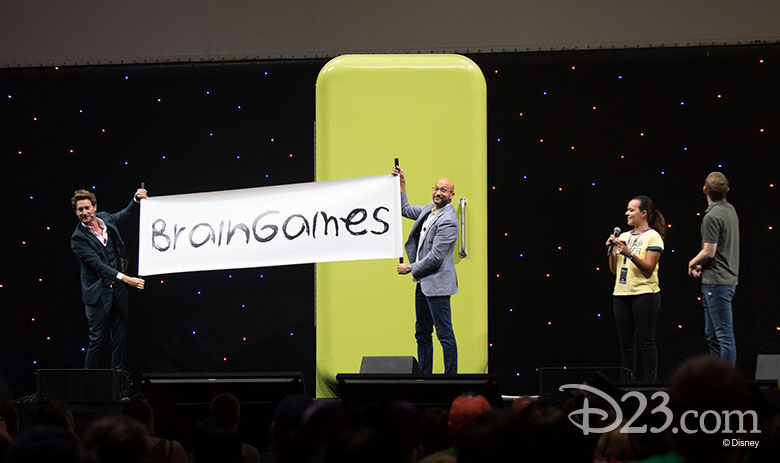 A D23 Expo preview of the National Geographic series that pits men against women. Click here to see more.
Heroines of the Disney Galaxies Team Up at D23 Expo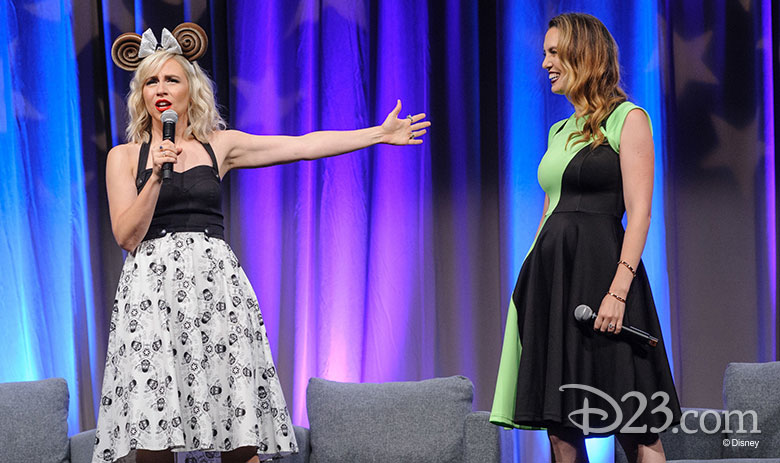 Hosted by Ashley Eckstein, voice of Ahsoka Tano in Star Wars: The Clone Wars and Star Wars Rebels, Heroines of the Disney Galaxies – Presented by BoxLunch celebrated some of the most inspiring and empowered heroines from the worlds of Disney, Marvel, and Lucasfilm. Click here for the full story.
Saturday, August 24, 2019
D23 Expo 2019 Daily Download – Saturday
The second day of D23 Expo 2019 has come to a close, but it proved to be every bit as magical, exciting, and full of surprises as day 1! From all the A-list celebrity appearances and latest movie announcements from The Walt Disney Studios and a big D23 Expo welcome to The Simpsons, to panels and appearances celebrating entertainment from every corner of Disney, this was a day for the memory books. Check out the highlights from Saturday below.
On with the Show! Disney on Broadway Takes to the D23 Expo Stage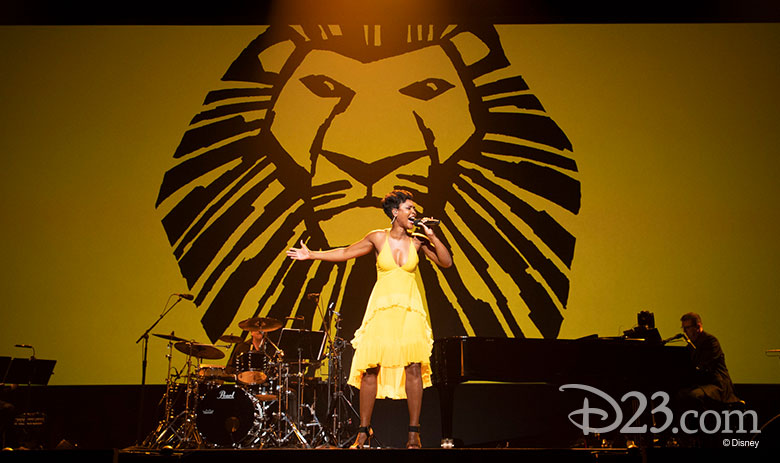 Stars from some of Disney on Broadway's biggest hits help commemorate 25 incredible years of music and magic around the globe. See the full story here.
The Unbelievable Sights at "The Musical Journey of Aladdin"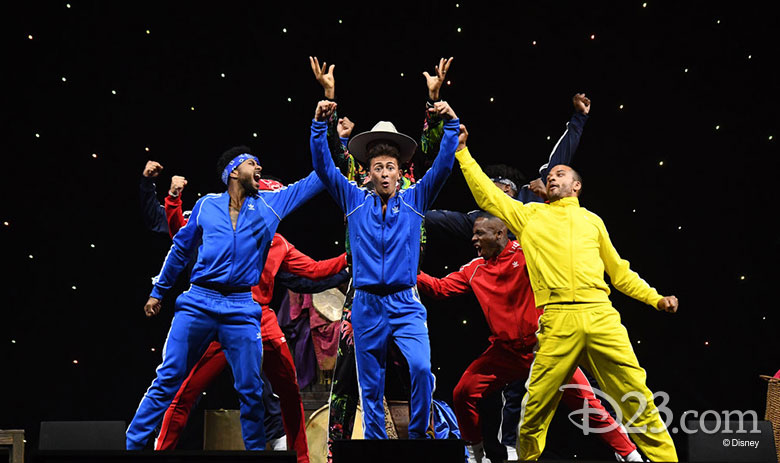 Fans were invited to a whole new world, as the D23 Expo Arena became host to a musical spectacular celebrating the various Disney versions of the classic story. Click here for the full story.
Marvel Comics Celebrates 80th Anniversary at D23 Expo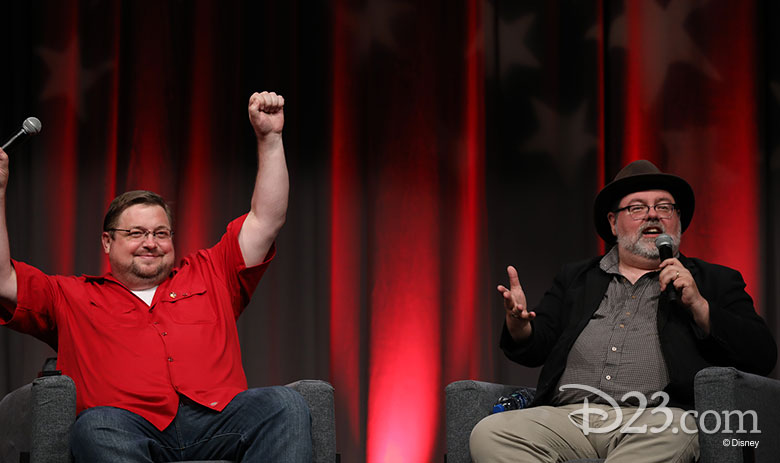 This panel had it all as Marvel Comics packed 1,600 eager fans into Stage 28 at D23 Expo to celebrate 80 epic years of publication. Click here to find out more.
"Ish" Universe Adds New Show to the Mix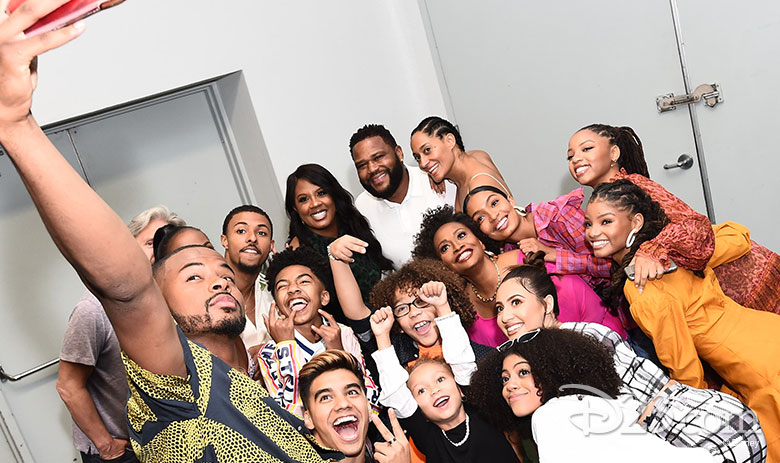 The "ish" family is growing! The casts of ABC's black-ish, Freeform's grown-ish, and the latest spinoff on ABC, mixed-ish, all came together for the first time at the D23 Expo Arena in a dynamic panel hosted by Nischelle Turner of Entertainment Tonight. "It's going to be a party!" Turner exclaimed at the start of the panel before giving the audience a taste of the close-knit relationships that exist between the three casts. It's basically one big family-ish.
Up first was mixed-ish, executive produced by black-ish actress Tracee Ellis Ross (Rainbow Johnson). A flashback to the '80s, mixed-ish depicts a younger Rainbow's life in a mixed-race family. Ellis Ross recounted how the show mirrors her own experiences, saying mixed-ish explores the complexities of finding your own identity while being a fish out of water. "Even though Bow's (younger Rainbow) life in mixed-ish is not my life, it's still what I've experienced," Ellis Ross said. Bow is played Arica Himmel, who talked about finding that sweet spot between the older Rainbow in black-ish and Bow. "I realize that younger Bow is different than older Rainbow, and that it's going to be interesting interpreting that."
Yara Shahidi, star of grown-ish, spoke during the panel about her character, Zoey Johnson, who we first saw on the series black-ish. "Season three sees Zoey being really dedicated to being an adult," Shahidi said. "It's cool to see her more grown." (Pun intended.)
When he first started working on black-ish, star and executive producer Laurence Fishburne never imagined the level of success the show—and its siblings—would achieve. "I'm grateful I found myself in this situation. Getting to do the stories we wanted to share and the stories we relate to is profound," Fishburne (who plays Pops) said. Star and executive producer Anthony Anderson added to the sentiment later in the panel saying, "We only dreamt of moments like this. It's amazing that we're able to be on the television landscape with this beautiful, colorful family."
black-ish returns to ABC, along with the premiere of mixed-ish, on September 24, while grown-ish season three premieres January 2020 on Freeform.
D23 Expo's Spirited Haunted Mansion 50th Anniversary Celebration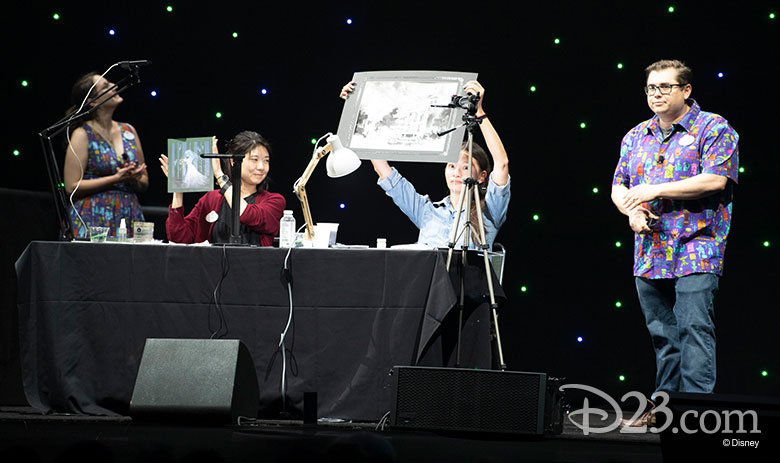 D23 Expo materialized a roster of guests (from the world of the living!) to relive and remember some of their best memories from these 50 years of Happy Haunts! See more here.
12 Fantastic Live-Action and Animated Films Showcased at D23 Expo 2019
The Walt Disney Studios kicked off day two of D23 Expo with a whole lot of movie magic! Check out all the details about their upcoming 12 films here.
5 Questions Answered About One Day at Disney
Cast members featured in book and video project share behind-the-scenes stories. Click here to find out more.
Marvel's Moon Girl to Launch on Disney Channel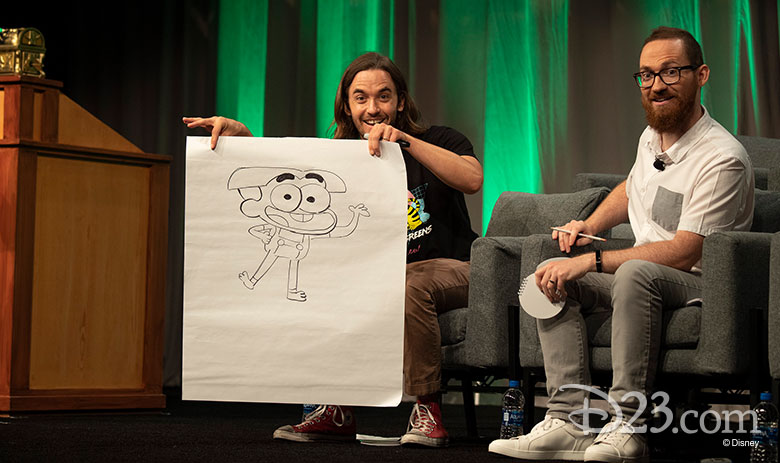 Disney Television Animation panel teases Marvel's Moon Girl launch and second seasons of Amphibia and Big City Greens. See the full story here.
7 Cool Things We Learned During The Simpsons! Panel at D23 Expo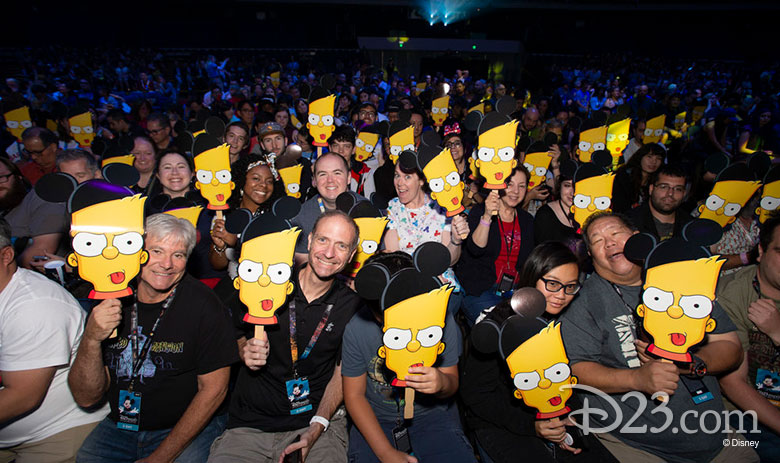 The Simpsons TV joined the Disney family this year, and the first family of TV animation paid a visit to D23 Expo 2019. Click here to see the full story.
A Celebration of Seasonal Magic at Disney Parks
Walt Disney Archives Director Becky Cline and Disney historians Graham Allan and Charlie Price hosted a lively panel on the Walt Disney Archives Stage on Saturday morning that let the packed audience celebrate the beauty, majesty—and hilarity!—of Disney Parks holiday celebrations through the years. Their book, Holiday Magic at Disney Parks (Disney Editions), out next summer, promises to be the perfect get—or gift—for any Disney fan.
Cline began the presentation with a fond look back at some of the earliest Disneyland seasonal celebrations, including such little-known treasures as the first Halloween event at Disneyland, 1959's "Parade of the Pumpkins," the inevitable "Piano Teacher's Day," "The National Pop Warner Disneyland Bowl," and, coolest—and most humorous—of all, "Zorro Days," during which Zorro star and Disney Legend Guy Williams visited the park to entertain show fans. Cline managed to exhume extremely rare color footage from a Thanksgiving event in November 1959 that showed an exuberant Williams dueling with a game Captain Monasterio, then ambling across the roof of the Golden Horseshow Saloon, with the bad guys giving chase. A charming window into another time.
Allan says Holiday Magic at Disney Parks contains more than 1,800 photographs—more than 60% of which have never been seen before. We can't wait to see it!
Friday, August 23, 2019
Daily Download – Friday
Phew! The first day of D23 Expo 2019 is officially over, and what a day it was! From tear-jerking speeches from newly inducted Disney Legends to costumes sewn from dreams and imagination at Mousequerade, it's been a day filled with panels, presentations, and announcements! Check out the highlights from Friday below.
Streaming Soon! Every Exciting Announcement, First Look, and Surprise Revealed at D23 Expo 2019 for Disney+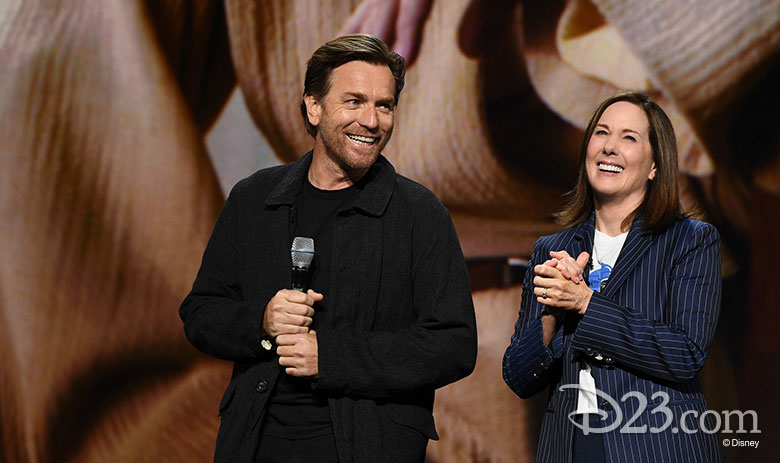 From first trailers for The Mandalorian and Lady and the Tramp, to new series featuring Obi-Wan Kenobi, Lizzie McGuire, and the Muppets, we've got all of the news fresh out of Hall D23. See it all here!
Go Wildcats!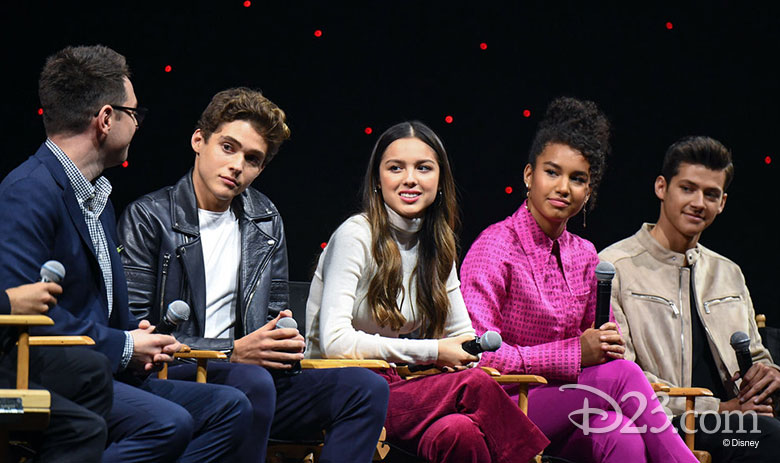 Before viewers return to East High via the brand-new series on Disney+, Expo guests were invited to a very special advance screening of the first episode—and a panel with the talented new cast. Check out all the details here.
Darth Vader Invites You to the Dark Side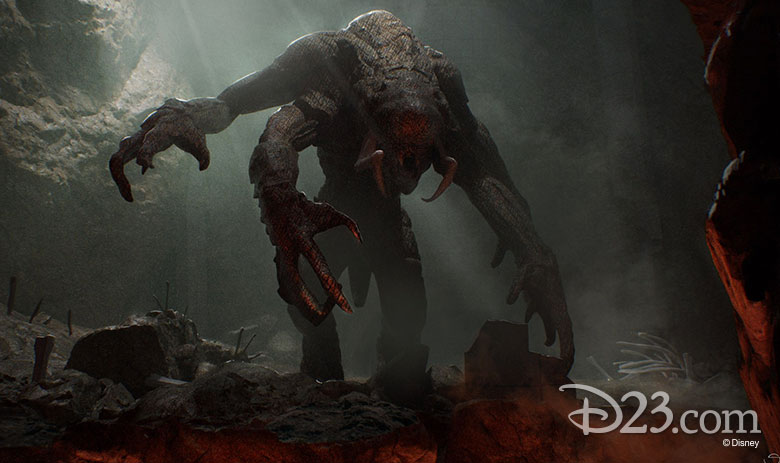 During our ultimate galactic gathering here in Anaheim, fans were the first to see a sneak peek of Episode II at the Vader Immortal: A Star Wars VR Series panel. Vader Immortal: A Star Wars VR Series – Episode II is a continuation of the first episode of the virtual reality adventure, set before the events of Rogue One: A Star Wars Story, in which you (a Force-sensitive smuggler) learn the ways of the Force from Darth Vader; but just be careful not to choke on your aspirations… (we had to!).
Hosted by entertainment journalist Todd Gilchrist, the panel included an in-depth discussion of the series with Director Ben Snow, Senior Experience Designer Jose Perez III, and Lucasfilm Story Group Creative Executive Matt Martin who teased the action-packed story of the yet-to-be released Episode II. From new creatures and characters to enhanced Force abilities, Snow, Perez, and Martin say the adventures are a step up from the first episode of Vader Immortal: A Star Wars VR Series.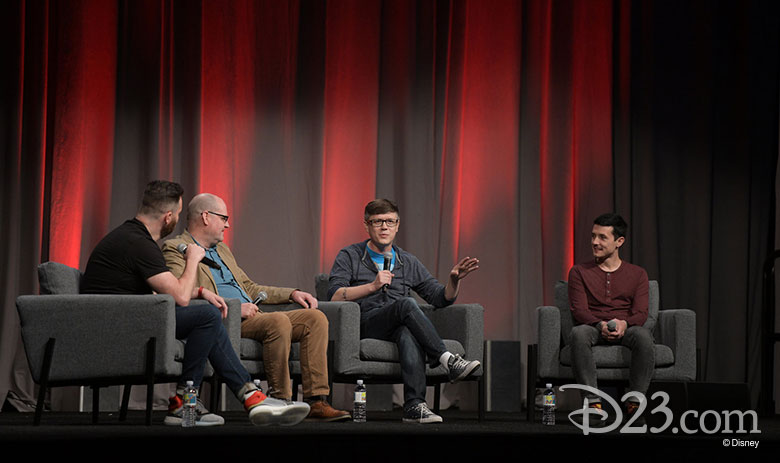 "You are such a key part of the story," Snow said. "We wanted to make it feel like you're a part of this world," which means getting to explore Mustafar, learn the "twisted ways of the Force" with Darth Vader, as well as training on your own in the Lightsaber Dojo II—a standalone experience within the game. The exclusive footage shown during the panel revealed an out-of-this world look at the exhilarating training experience, complete with new Force abilities and lightsaber throwing—think of throwing a boomerang but using the Force to pull it back and looking extremely cool. "We've been digging deep into what is the Force to get the best possible ways to use it" Perez said.
Also revealed was a look at a terrifying encounter with a menacing new creature called the Darkghast. "We wanted an iconic design that instantly reads Star Wars," Martin said. Inspired by the Star Wars: Return of the Jedi creature the Rancor, the Darkghast "is something you might recognize even though it's completely new," he said. And yes, players will be able to fight this creature—and maybe learn a trick or two from Vader.
While there is not an official release date for Episode II yet, the panel assures that it will be well worth the wait.
D23 Expo According to Jeff Goldblum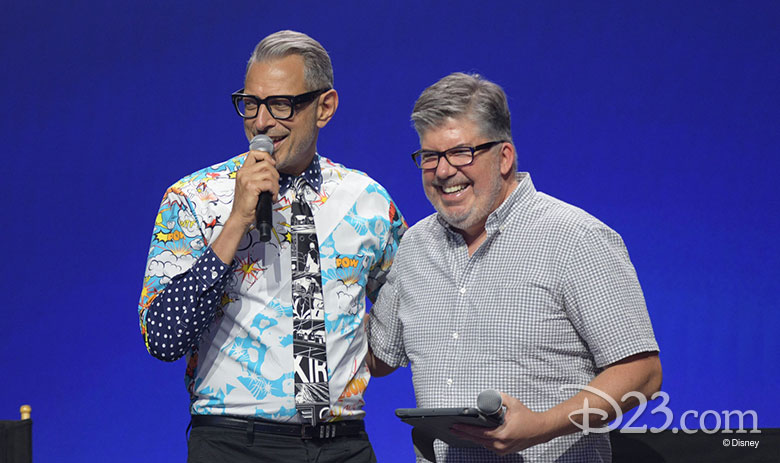 The exciting hustle and bustle of the Anaheim Convention Center proves that there is so much to see and do around D23 Expo, and the Disney+ Pavilion is no exception! Jeff Goldblum, star of the upcoming Disney+ show The World According to Jeff Goldblum, sat down for a Q&A and gave fans a taste of what's to come. Looking at subjects as diverse as sneakers to denim to ice cream, Goldblum investigates the world and brought a scoop of charm as he waltzed to the Disney+ Pavilion stage singing the "Mickey Mouse Club March."
An extraordinary look at ordinary things. The World According To Jeff Goldblum. Original Series. Streaming November 12 only on #DisneyPlus. pic.twitter.com/Jnz5wPGaGI

— Disney D23 (@DisneyD23) August 24, 2019
After hosting National Geographic Explorer for a bit, Goldblum says he loves being a part of his latest project with National Geographic and Disney+. "I can't believe it," Goldblum said when asked about his show being one of the first debuted on the Disney streaming service. "I feel like a pioneer!"
"I even met Ben and Jerry!" Goldblum said. The trio got to make a specialty flavor named after Goldblum himself. "Goldblum… something, something," he said jokingly. Looks like we'll have to wait and see The World According to Jeff Goldblum, as if we weren't going to already! Check out the trailer for the Disney+ show, launching November 12.
Long Live Colson!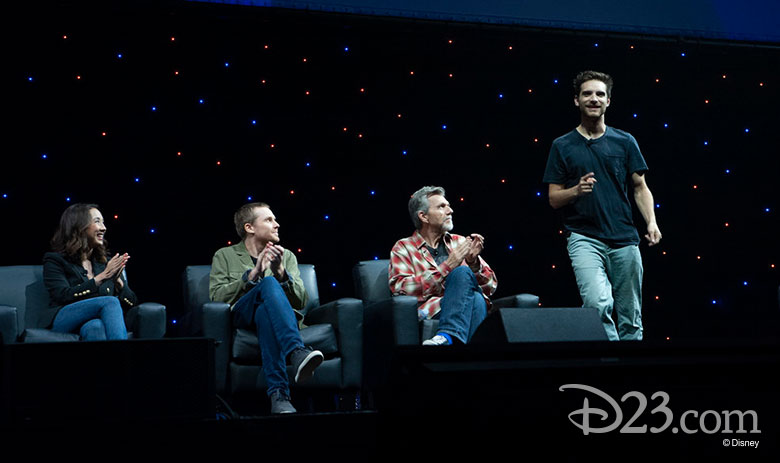 Marvel's Agents of S.H.I.E.L.D. took a break from their intergalactic missions to stop by Expo and give us a taste of what it's like to work on a super-powered show beloved by fans worldwide. Find out more here.
Sew Cute! The Incredible Looks from Mousequerade!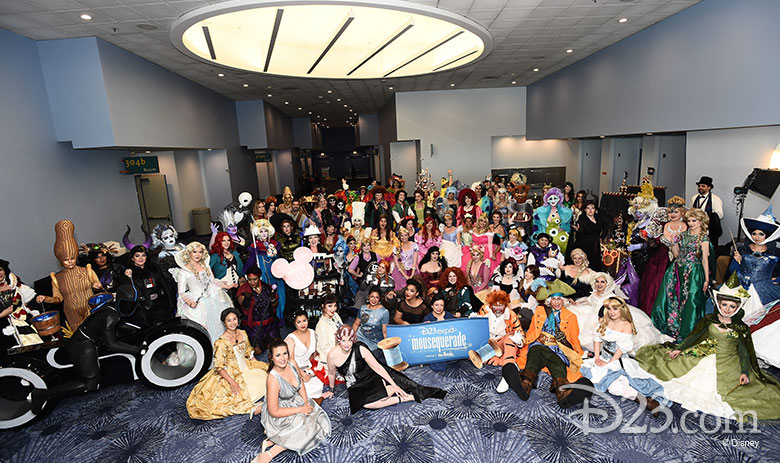 From Beauty and the Beast to Star Wars, fans of everything Disney brought their best cosplay to the Mousequerade! Stage. Check out the enchanting looks here.
Every Magical Moment from the 2019 Disney Legends Awards Ceremony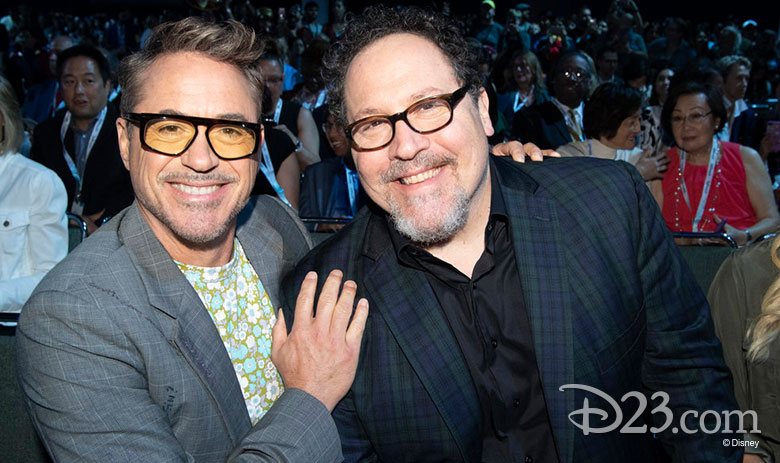 Robert Downey Jr., Jon Favreau, and Robin Roberts are among the 12 remarkable men and women honored as Disney Legends this morning at D23 Expo 2019. Click here to get all the details!
The Dancing with the Stars Ballroom Comes to D23 Expo 2019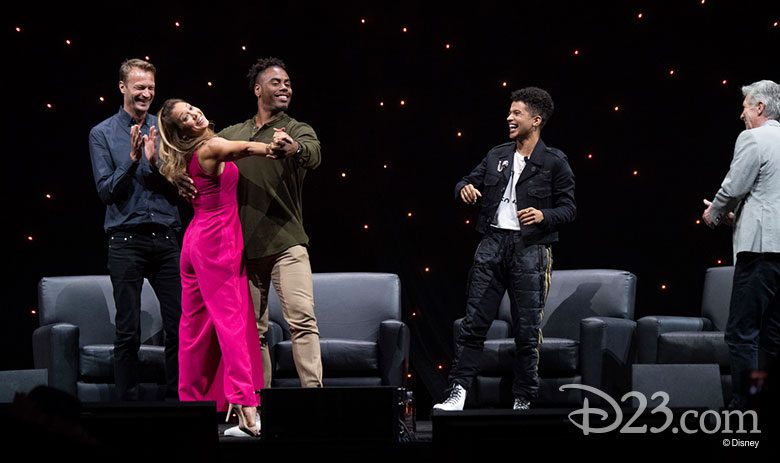 With just a few weeks remaining before the debut of Season 28 of Dancing with the Stars (DWTS), Executive Producer Andrew Llinares, host Tom Bergeron, and a panel of DWTS celebrities take us inside this fan-favorite show. See the full story, here.
"Great Moments with Walt Disney" Hits all the Right Notes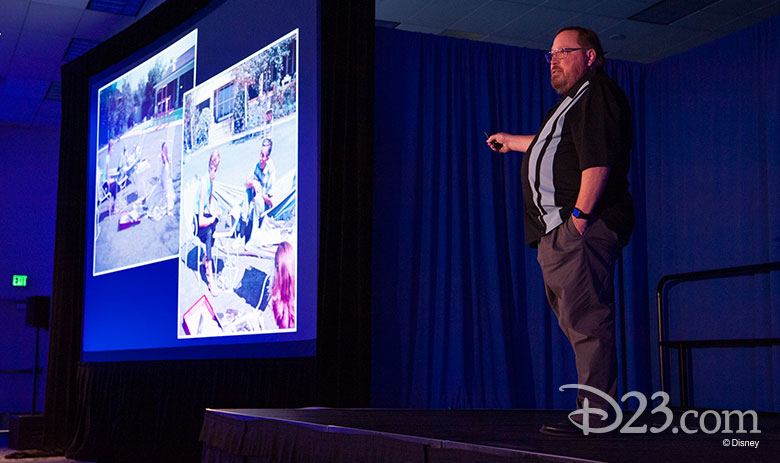 Grammy® Award-winning Disney Music Group Supervising Producer and Music Historian Randy Thornton kicked off three days of programming at the Walt Disney Archives Stage on the second floor of the Anaheim Convention Center with an enthralling presentation consisting of rarely heard recordings of Walt Disney recalling pivotal moments in Disney history.
In the summer of 1956, Walt Disney sat in the backyard of his home on Carolwood Drive for a series of interviews with journalist Pete Martin, and Thornton, who supervised the digital transfer of these important recordings originally captured on a simple Wollensak tape recorder, presented some revealing moments from the interviews to a packed audience who listened in rapt attention. Adding to the charm of hearing Walt's storytelling in his Midwestern drawl was the way it often caused his daughters, Sharon and Diane, who were present, to break into peals of laughter.
Among the topics Thornton presented were Walt explaining the development of synchronized sound for Steamboat Willie; how "Who's Afraid of the Big Bad Wolf" came to be; the development of Disney package films; and more.
"These tapes were never intended to be heard," Thornton reminded the audience. "Walt doesn't pull any punches. Hearing these tapes is like sitting in the backyard with Walt Disney."
An Out-of-This World Collection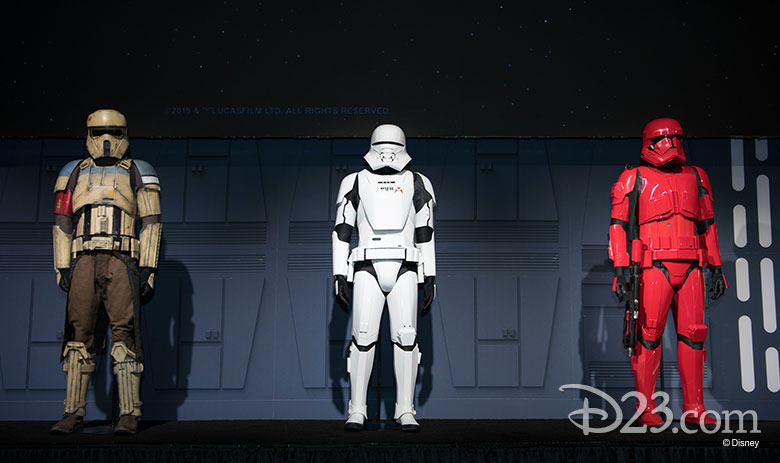 Part of the Resistance? Watch out! Coming from a galaxy far, far away, Lucasfilm has brought an impressive collection of stormtrooper armor, spanning across 40 years of Star Wars films. From the classic stormtrooper and Imperial Tie Fighter Pilots to the brand-new Sith Trooper from the upcoming Star Wars: The Rise of Skywalker, this installation brings the galaxy closer than ever. Click here to see more!
Sensational Sights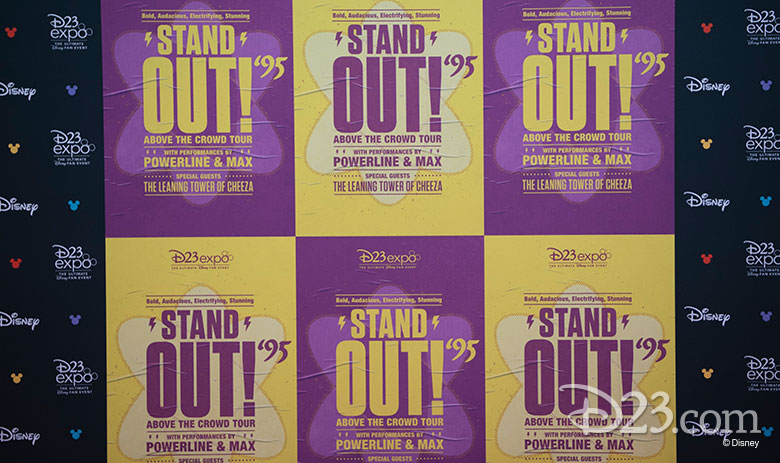 D23 Expo is officially underway, and we're giving you the first peak at the show floor at the Anaheim Convention Center. From a heart-racing, historical look at a beloved attraction, to picture-worthy moments that'll make you stand out. Check out our preview of the D23 Expo show floor for your first taste of the magic in store this weekend. Click here to see more!
Thursday, August 22, 2019
Exciting Announcements from Disney Parks, Experiences and Products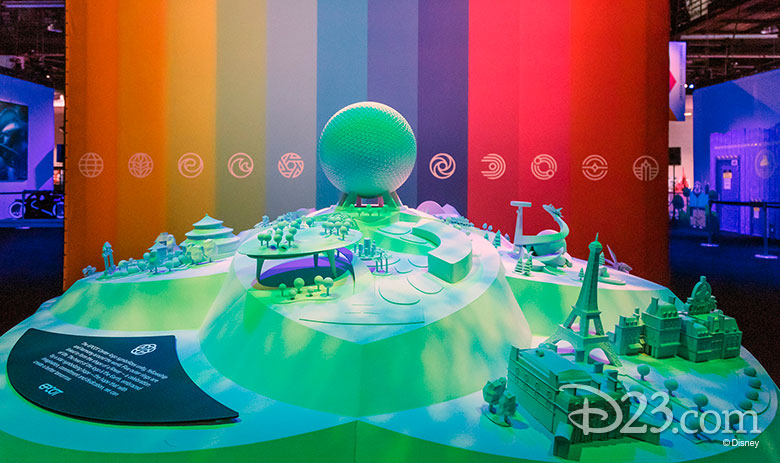 New details were revealed about an all-new Star Wars vacation experience coming to Walt Disney World Resort and the Super Hero-themed lands guests will experience at Disney California Adventure and Disneyland Paris. Click here for all the news, including the first-ever attraction based on the Walt Disney Animation Studios hit film Moana at Epcot, where an incredible multi-year transformation is underway. Click here to see the full story.
Disney Publishing, Disney+ and Pixie Dust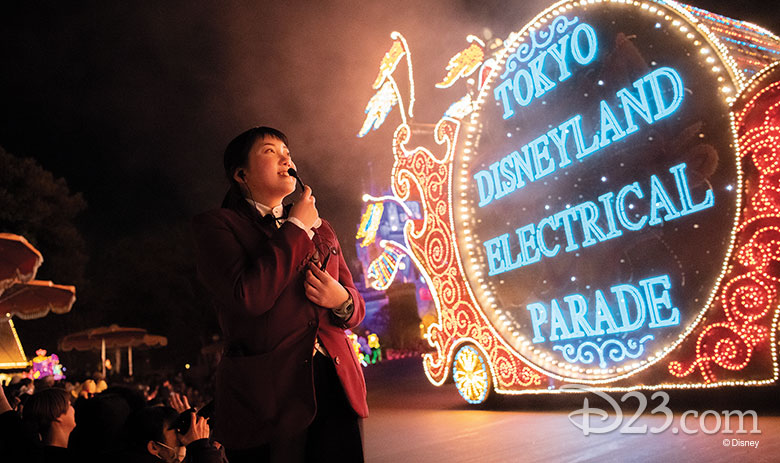 D23 Expo 2019 starts with a magical announcement! Disney+ and Disney Worldwide Publishing revealed their incredible collaboration, One Day at Disney – a 224-page coffee table book and unique counterpart Disney+ series coming this year. Click here to here for more information.
Exploring the World of Avatar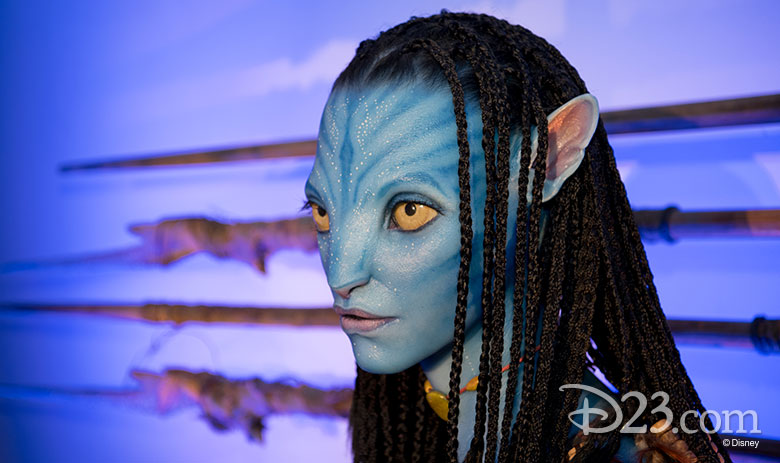 For the first time at D23 Expo, the world of Pandora has arrived at the ultimate Disney fan event with an exciting installation called Inside the World of Avatar, where Guests can see costumes, on-screen props, and more from one of the most innovative and unforgettable films ever made. Click here to see more.
Dressed for the Part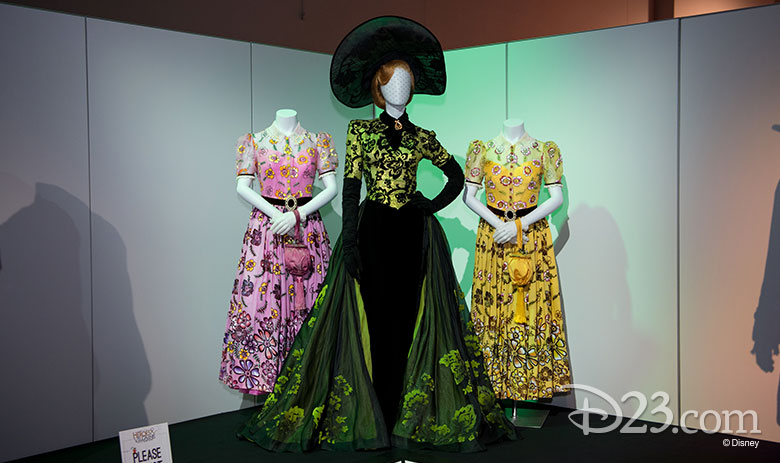 The Walt Disney Archives returns to D23 Expo 2019 with the brand-new Walt Disney Archives Presents Heroes and Villains: The Art of the Disney Costume exhibition—a 12,000-square-foot celebration of the inspired costumes that helped bring Disney filmed entertainment to life. Click here to see more.