By Courtney Potter
It all starts with a vision. Then, perhaps, a sketch. The designer (and probably more than a few kindhearted helpers) sews and stitches and hot-glues for days on end until their creation springs to colorful, magical life. And all that astonishing work comes down to this—D23 Expo 2019's legendary Mousequerade competition, presented by Raw Threads! Covering an astounding spectrum of festive fandom, the Mousequerade features five Disney-inspired categories—and the winner of each category goes on to compete for bona fide Expo glory: the Best in Show title and $2,300 in cash.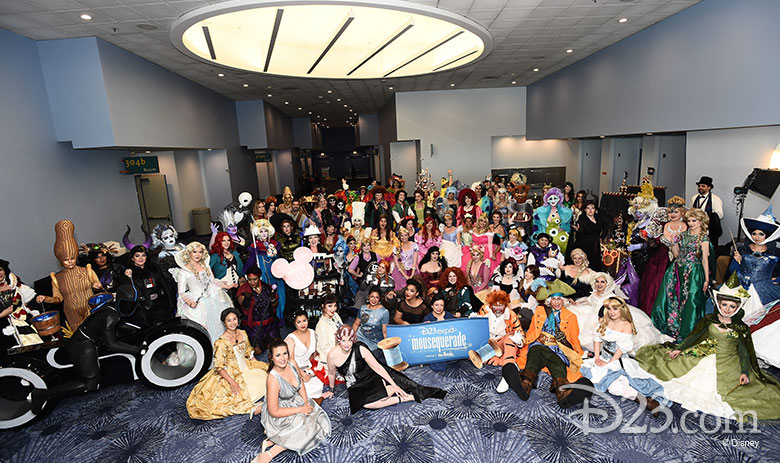 Returning as host for the 2019 Mousequerade is Disney's Jim Babcock—and he's joined by two other D23 Expo favorites as judges: actress Yvette Nicole Brown (star of Disney+'s upcoming live action Lady and the Tramp), and Ashley Eckstein, the voice of Ahsoka Tano on Star Wars Rebels and the creator of the Her Universe clothing line. New this year, and rounding out the three-person judging panel, is Jennifer Leonard—owner and designer of clothing line Raw Threads.
Entrants who participated were judged on quality and craftsmanship; overall concept and design; and showmanship and stage presence. Every single costume was incredible. As Brown told the assembled crowd, "They all deserve a trophy!" But there can only be one grand-prize winner… Take a look at some of the most amazing creations from each category, and who took home the title of "Best in Show" (and a cool $2,300), below!
"Once Upon a Costume": Disney Make-Believe & Fantasy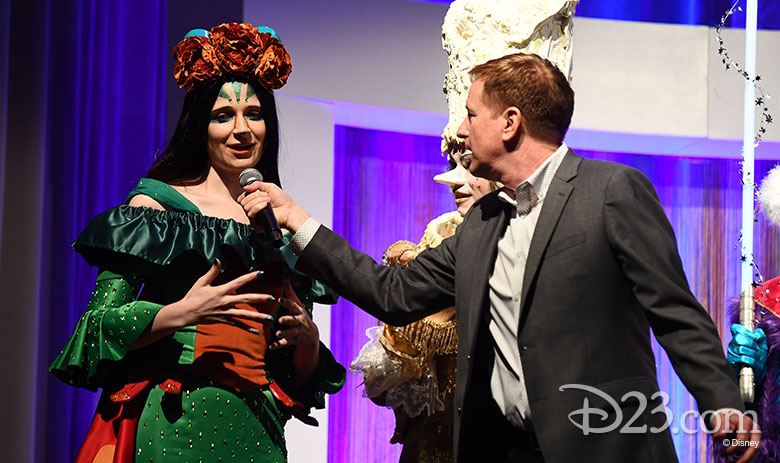 Caitlin Beards' costume creation was Pepita, the "Alebrije" (protector) from Coco—who in the living world appears as a cat, but takes on a colorful winged look in the spirit world.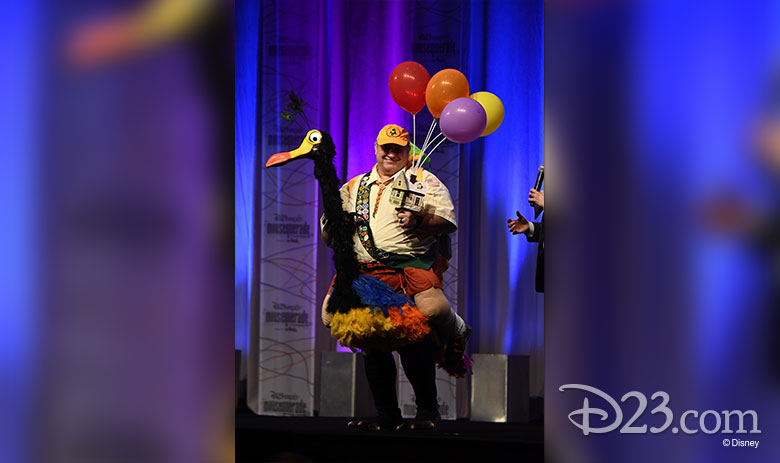 Steve Gonzales brought almost the entirety of Disney and Pixar's Up to life. Fun fact: As he explained to host Babcock, he actually received all his merit badges in real life!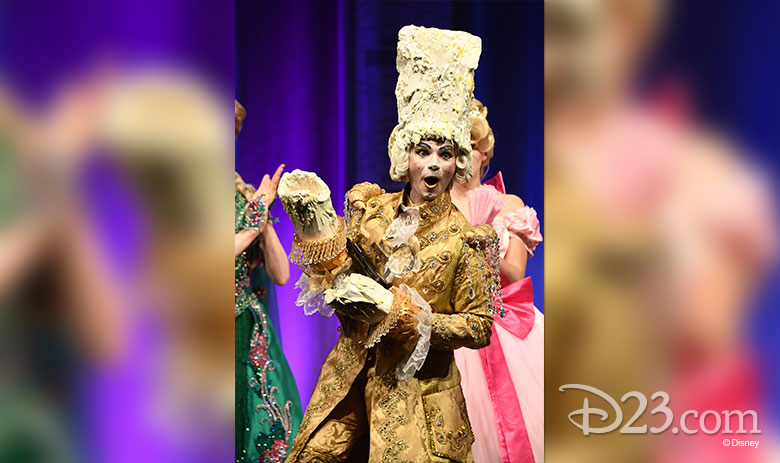 The category's winner, Allen Weiserman, brought Lumiere from Beauty and the Beast incredibly to life—down to his gilded shoes, wax-like candle hands, and authentic French accent.
"Worlds of Adventure": Adventurous Looks from the World of Disney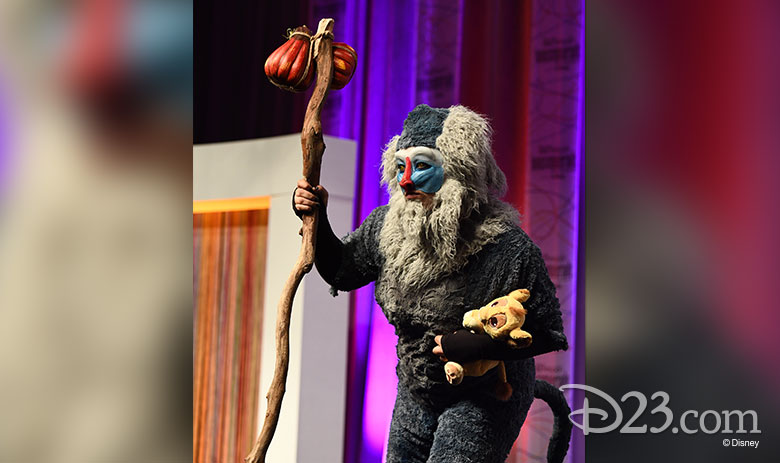 It's the "Circle of Life," and it's right on the Mousequerade stage! Yes, Rafiki from Disney's iconic animated hit The Lion King visited D23 Expo 2019 in the form of contest participant Julieanna Licon.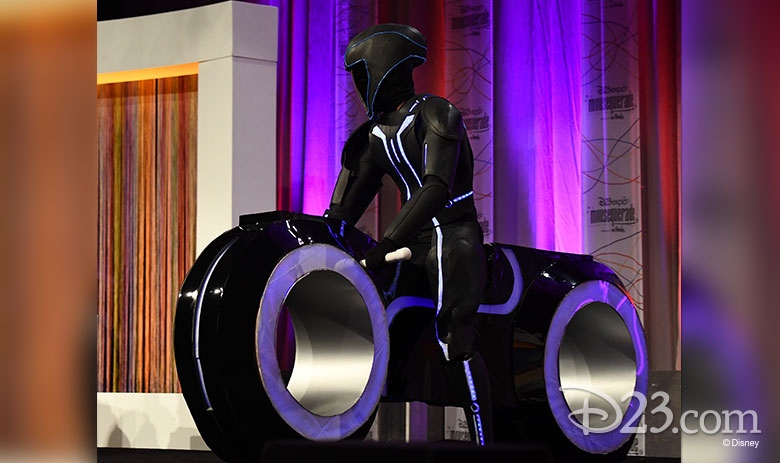 Davidson Sim brought a fan-favorite attraction at Shanghai Disneyland Park (soon to be seen at Magic Kingdom at Walt Disney World Resort) to glowing life on stage: the Tron Lightcycle Power Run.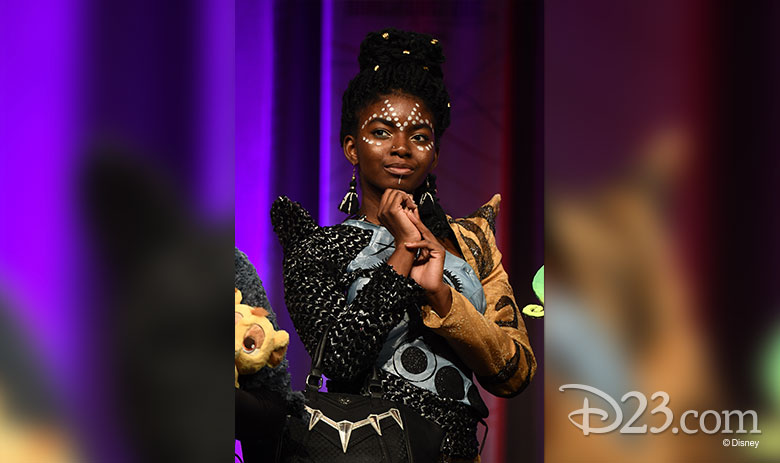 Tahirah Khadija Agbamuche was this category's big winner… taking the stage as a super-screen accurate Shuri from Black Panther!
"Heroes and Villains": Fashionable Versions of Good vs. Evil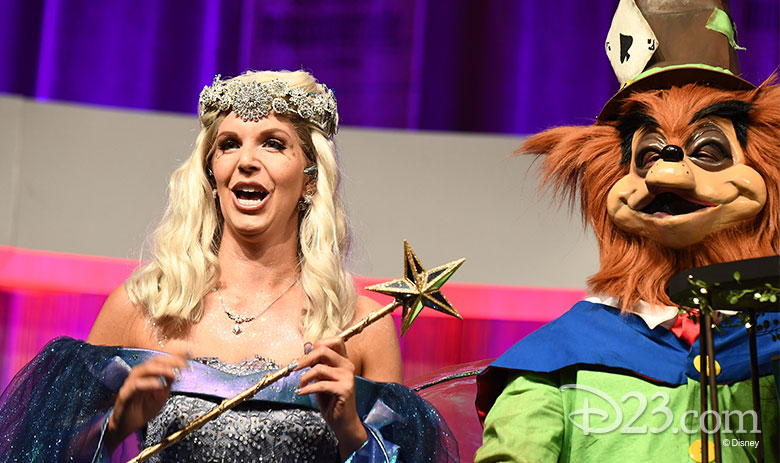 K.C. Potter and friend appeared as a ridiculously detailed "Honest John" (real name: John Worthington Foulfellow) and the Blue Fairy from 1940's Pinocchio.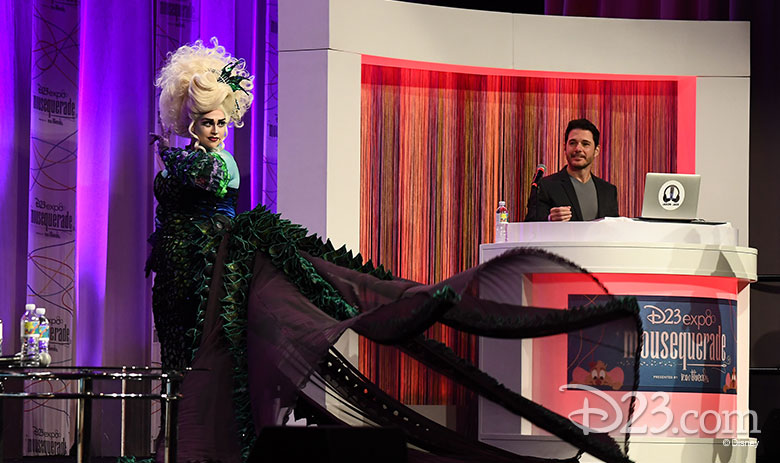 … but the eventual winner was Nyssa Sara Lee as The Little Mermaid's colorful villain Ursula! The crowd went wild when she lifted up her spider-like tentacle web!
"Inspired by Disney": Bringing the Unique Creativity of Disney to Life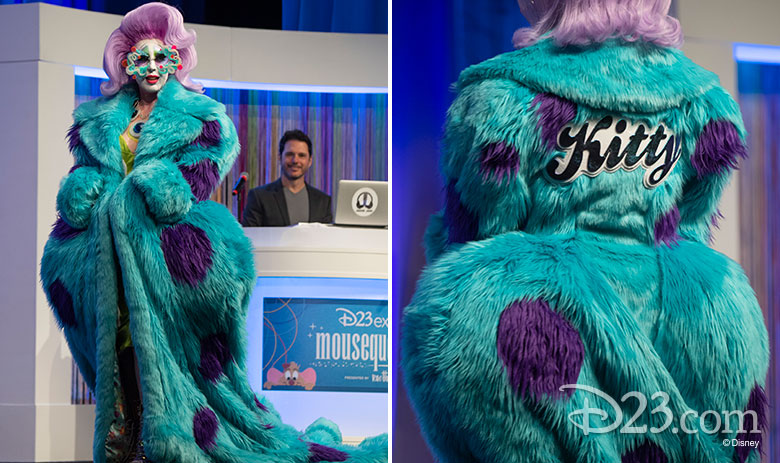 Grace Du Val's creation, dubbed "Kitty!!!" was a totally couture and super-chic mashup of all things Monsters, Inc.! We especially loved her sunglasses and dramatic Sully-themed coat.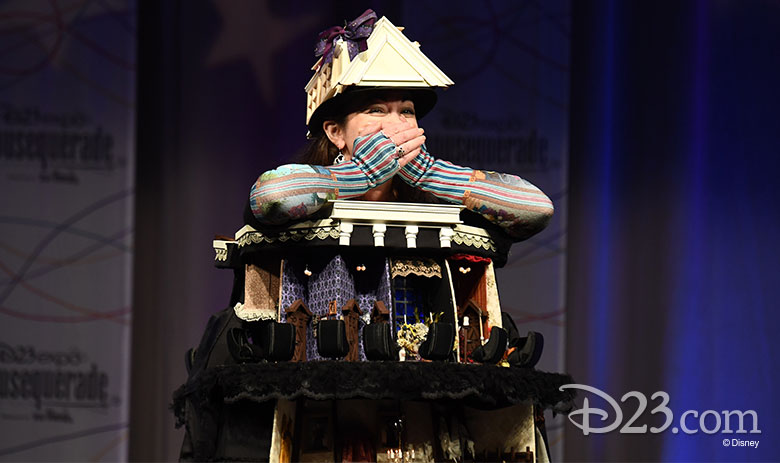 The winner? Tina Elliott with a truly remarkable creation: a walking, wearable version of the Haunted Mansion she dubbed "the Grim Grinning Gown." Complete with "doom buggies" circling her skirt!
"Cast of Characters": Disney Character Groups (Two or More Participants)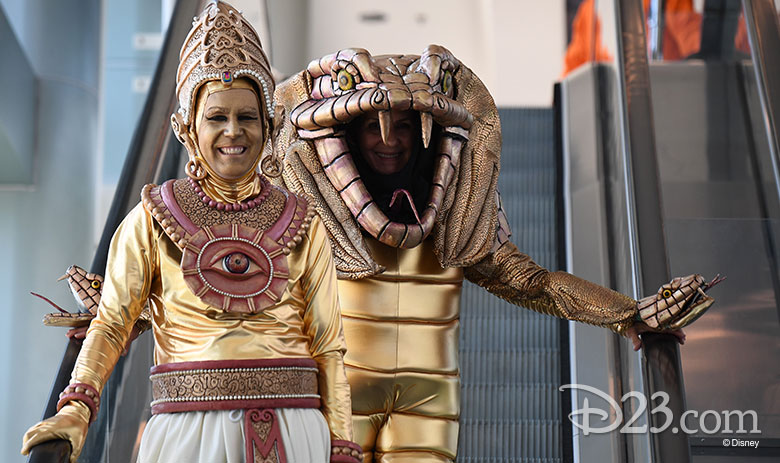 Emily and Nathan Mebust proved that we "have chosen wisely" with their entry: the deity Mara and "Fluffy" (that's the fan pet name for the attraction's well-known snake) from Disneyland's Indiana Jones Adventure attraction.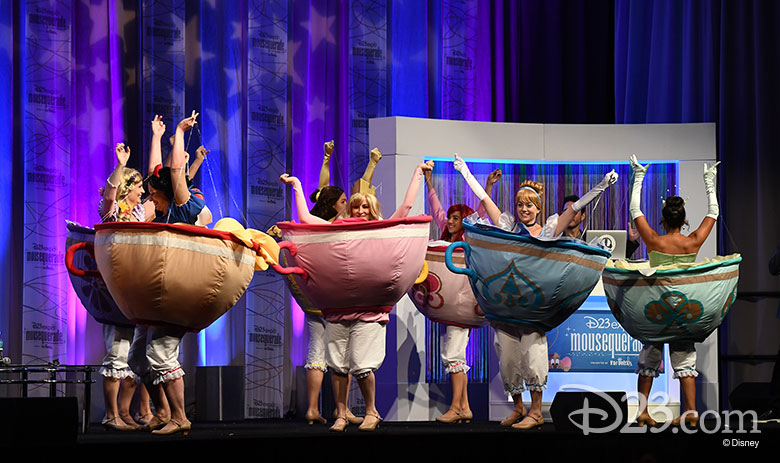 The "Cast of Characters" category winner was Katherine Regnier (and her lovely group) with a "Mad Princess Party"… in which a cadre of Disney Princesses suddenly became spinning teacups, à la the iconic attraction at Disney parks!
"Best in Show" Grand Prize Winner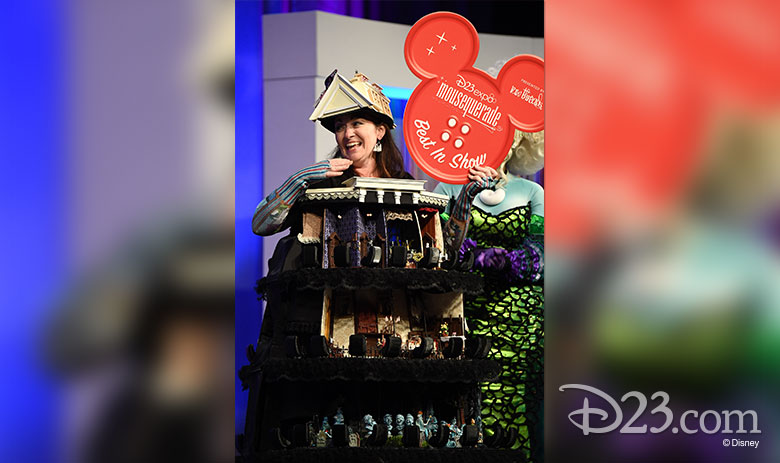 And the winner of the big $2,300 grand prize? Tina Elliott with her "Grim Grinning Gown"!
Congratulations to all of this year's Mousequerade participants! So much Disney-inspired creativity on one stage…
Check out the full gallery of costumes below!