By Bruce C. Steele
Just a few weeks remain before the debut of Season 28 of ABC's hit show Dancing with the Stars (DWTS), and the celebrities competing still don't know which professionals will be their dance partners, executive producer Andrew Llinares revealed Friday at D23 Expo.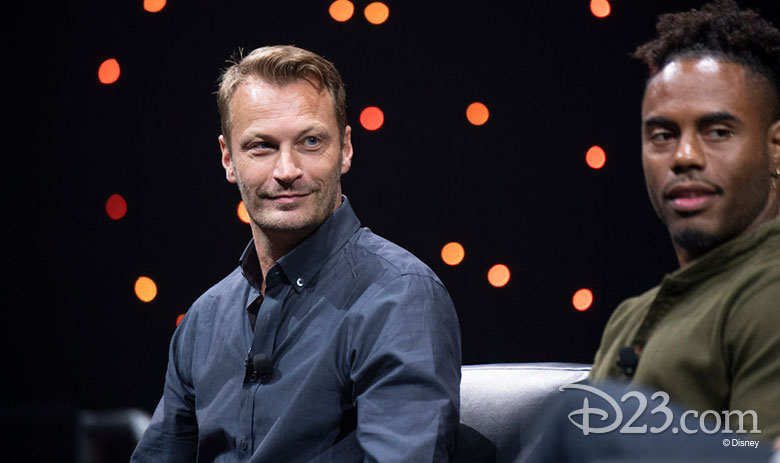 "I think it's a fun little twist," he told the hundreds of fans gathered in the starlit arena of the Anaheim Convention Center. "No one knows." Then he added, with an arched eyebrow: "I know."
The contestants will learn shortly, so rehearsals can begin, he explained, but the pairings won't be revealed publicly until the show's premiere September 16. The show's popular and surprise-filled Disney Night, when all the contestants dance to music from Disney movies, will be October 14.
Those were just a couple of the glimpses of the coming season shared by a panel of DWTS celebrities hosted by Good Morning America meteorologist Ginger Zee, who took third place in Season 22 of the competition in May 2016.
Also appearing at the D23 Expo event were Season 25 winner Jordan Fisher, Season 24 winner Rashad Jennings, and the show's original and continuing host, Tom Bergeron.
"We want to make this season really, really special and make it bigger and more spectacular than it's ever been," Llinares said. Other changes to the format will include the sharing of preliminary voting results at the end of the competition show, previously not revealed until the results show the next night.
Also, he noted, the judges will have "a little extra oomph this season," although the details of that new twist he could not yet reveal.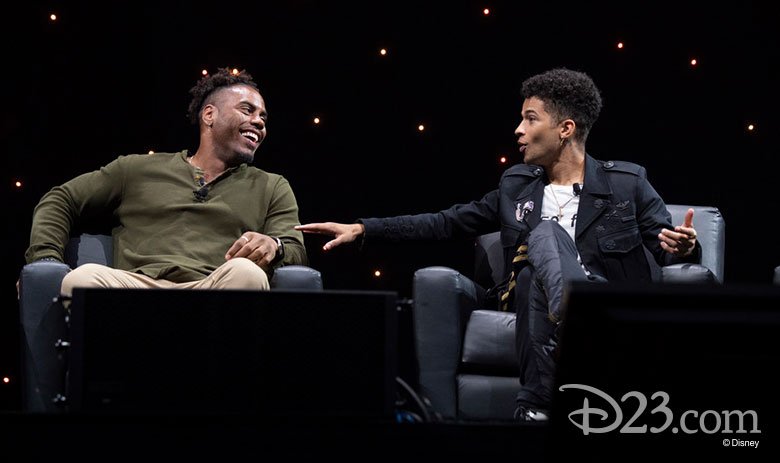 Some other highlights from the Dancing with the Stars panel at D23 Expo:
Jordan Fisher is a nerd. "I'm a nerd. I'm a gamer," Fisher said at the beginning of the panel, later talking about his fascination with Walt Disney and particularly with Mickey Mouse's Steamboat Willie character.
"I have a hidden Mickey tattooed behind my left ear," he added. If he were given another shot at dancing for Disney night, he said, "We could do a [Bob] Fosse dance piece as Steamboat Willie."
Disney Night rocks. "It's still my favorite night as a viewer," Zee said. "You can sing along to every song."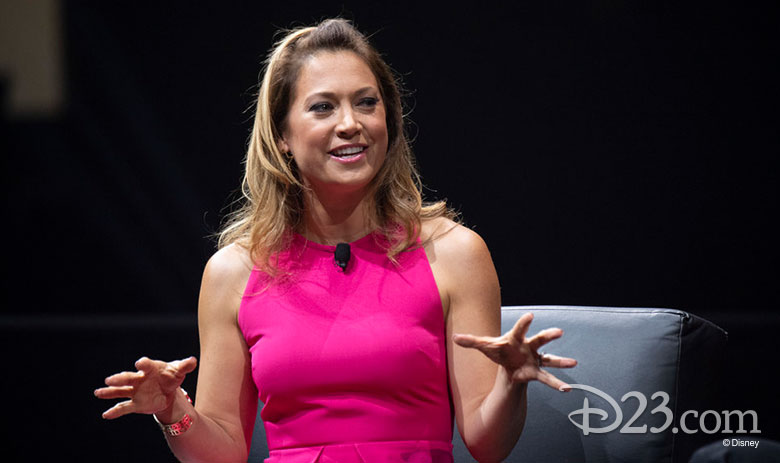 The D23 Expo event included clips from past Disney Nights, selected by the panelists, including Zee's dance to "Belle" from Beauty and the Beast and Jordan's foxtrot to "You're Welcome" from Moana.
"People talk about Disney magic. It's real," Jordan said, explaining why Disney Night is so popular with both viewers and dancers on the show. "It's a legitimate thing. No matter where you go, people know who Mickey Mouse is."
Bergeron added, "The Disney song catalog is staggering in how eclectic it is, how beautiful it is, and how it lends itself to this kind of show." He continued, "It's always the week we look forward to the most. It's always the week that underscores what our show does best."
The judges really make up their own minds. "It's really your decision," said Jennings, who served as a guest judge for one episode. "You make your decisions then and there."
Jennings said his venture into dancing started because he would always try something new during each off-season from the National Football League. One year it was archery, one year it was card tricks. Then Dancing with the Stars called. "I'm still dancing now, so it's fun."
As for the giant grin on his face when he won Season 24, he said, "That big smile at the end was because I didn't step on her [dance partner Emma Slater]." He continued, "There's something about being nervous on live TV that you can't duplicate it. It's so appealing."
The show bends toward joy. "A lot of it feels like Big Brother, a touch of Hunger Games at times," Fisher said. During his season, come week seven, he was so exhausted "I wanted to thrust myself from a tall structure," he said with a laugh. But what makes it onto the screen is the accomplishment not the despair: "It was the most fulfilling thing I've ever done, and I would do it again in a heartbeat," he said.
For Bergeron, after nearly 14 years, what stands out every season is "just the joy," he said. "That's not something that's a big secret, but it's what people talk about. It brings out people's real characters. It's really kind of nice."
It's all about family: "My experience on Dancing With the Stars was just a life-changing, ridiculously demanding experience but it became a family," said Zee, one of several panelists to compare the DWTS cast and crew to blood relations. "I learned an art form but I gained a family.",
"I have personally never experienced a family ever in the 15 years that I've been doing this that compares with Dancing With the Stars," Fisher added. Buoyed by the one-on-one support of the professional partners, he said, "You don't have that on any other show."