By Max Lark
Had his Disney career ended with what he accomplished as an animator, Marc Davis would be considered one of the greatest artists in Disney history. But in 1962, Walt Disney moved Davis from Walt Disney Feature Animation to WED Enterprises (later Walt Disney Imagineering), where he would become a driving force behind the designs of some of the most iconic Disneyland park attractions, including Pirates of the Caribbean, Haunted Mansion, it's a small world, Jungle Cruise, and more—all featuring environments, staging, and storylines that were heavily influenced by his conceptual artwork.
The Marc Davis In His Own Words—Imagineering the Disney Parks panel held on Stage 28 on Sunday afternoon at D23 Expo 2019 celebrated Davis's incredible second act at Disney. Hosted by Imagineer Christopher Merritt and Pixar Animation Studios Chief Creative Officer Pete Docter, who co-wrote the magisterial two-volume Disney Editions book of the same name, out September 3, the presentation reminded all in attendance, if they needed it, of the towering accomplishments of one of Disney's most significant artists of all time. Through rarely seen photos and video sequences, as well as myriad examples of his art—from pencil sketches and designs to fully realized works of art—Merritt and Docter celebrated the work of this seminal artist, who Walt once described as "my Renaissance man."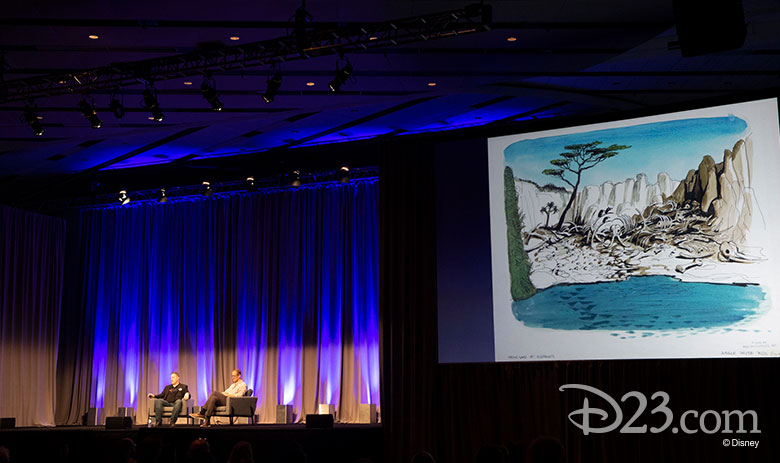 "It was a labor of love," Merritt said during the panel about his and Docter's five-year effort to write the book (after all, they both have day jobs). "A lot of lunch hours, a lot of late nights." Merritt and Docter met Davis and his wife, Alice, during their student years at CalArts, visiting them at their Los Angeles home where the two aspiring artists became good friends with two world-class ones. "Chris went to the Library of Congress and unearthed some amazing photographs, unposed pictures of Marc and the Imagineering team working with Walt at the WED Building in Glendale," Docter said. "We wanted the book to be akin to getting into a time machine and getting to sit alongside Marc," Merritt added.
Their close friendships with Marc and Alice yielded incredible benefits when it came time to write the book. "Alice basically turned their house over to us," Merritt says. "We were able to go through old drawers and boxes," helping them find artwork no one had seen in decades. The Davis household, as photos projected during the panel plainly revealed, was a mini-museum, with walls covered in art of all kinds from all around the world. "Animated versions of some of the artwork made appearances in Up," Docter, who directed the film, said.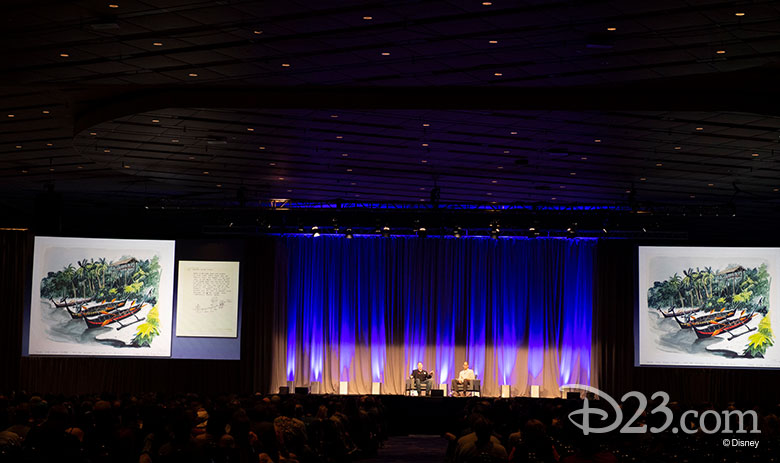 Davis brought a sense of "whimsy and humor" to Disneyland, Merritt added, citing during the panel the playful elephants that charm Guests during their enchanting rides on Jungle Cruise. "He instilled characters with a quintessential Disney touch," Merritt said. "You don't notice it right away. But the elephants smile, especially the baby ones. Marc made them look as if they came from nature, but had them do things real elephants wouldn't.
"One thing that we discovered that surprised us the most was that Marc actually started contributing designs for the theme park in fall 1960, a couple years before he transitioned to WED," Merritt said.
The book Marc Davis In His Own Words – Imagineering the Disney Theme Parks really has to be seen to be believed. It is chockful of rarely or never-before-seen photos—many of Marc and fellow Imagineers working alongside Walt—as well as drawings, artwork, Marc's notes and staging ideas, and more. As far as time machines go, you can't find a better way to journey back to this marvelous era in Disney history.