By Courtney Potter
Disney on Broadway has brought fan-favorite stories to life on stages around the world—and for one night only, most of those incredible stories (and a company of talented performers!) took over the Hall D23 stage at D23 Expo 2019 for Disney on Broadway: A 25th Anniversary Celebration!
An amazing six-piece band, led by Broadway conductor and orchestrator Jim Abbott, kicked off the party with the familiar strains of one of the most sing-along-able songs in the modern Broadway canon… the inimitable "Be Our Guest" from Beauty and the Beast. And playing the part of Lumiere (imploring the enraptured crowd to "try the grey stuff") was our host—Gavin Lee, the Tony® Award-nominated actor who originated the role of Bert in both the West End and Broadway productions of Mary Poppins! Eventually joining him on stage were a cadre of fantastic Disney on Broadway alums: Ashley Brown (Gavin's Broadway costar in Mary Poppins; Beauty and the Beast; On The Record), Heidi Blickenstaff (Freaky Friday; The Little Mermaid), Kissy Simmons (The Lion King), Josh Strickland (Tarzan), and Alton Fitzgerald White (The Lion King).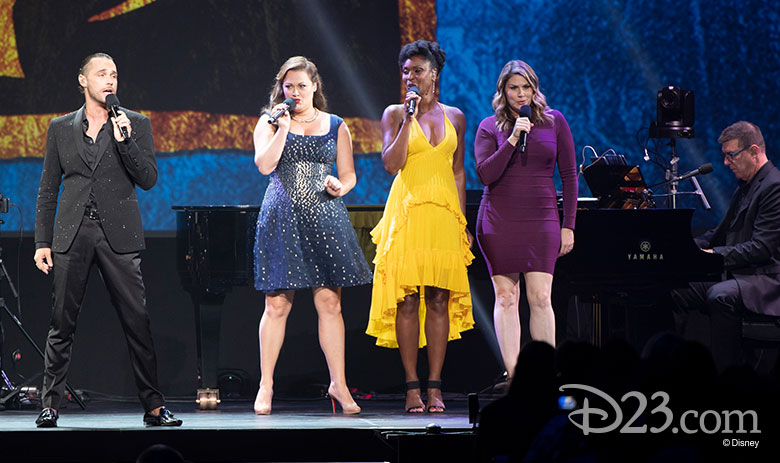 Following the opener (and thunderous applause), Lee welcomed the crowd: "We are here this afternoon," he exclaimed, "to celebrate a pretty amazing milestone—25 years of Disney on Broadway! Now, us humble stage actors are here, [and we] are just so proud and privileged to have been a part of Disney's incomparable legacy of live theater. And we're also very excited to be up here, reunited—with you—getting to sing the songs that have made Disney musicals soar on the Great White Way and around the world." After introducing the cast, Lee continued, "Walt Disney famously said, 'It all started with a mouse. But for Disney on Broadway, it all started with… the Beast.'" And so continued several more delightful numbers from the first-ever Disney stage musical, which premiered at New York City's Palace Theatre in 1994: the title song, sung by Blickenstaff and Strickland, and Belle's beautiful ballad "A Change in Me" (written for the stage musical when R&B star Toni Braxton played the role in 1998 and included in the show ever since) sung by Brown. After a rapturous standing ovation (there were many throughout the afternoon), Lee reminded the crowd that Brown's first Broadway show wasn't Mary Poppins… she was actually Broadway's 15th Belle!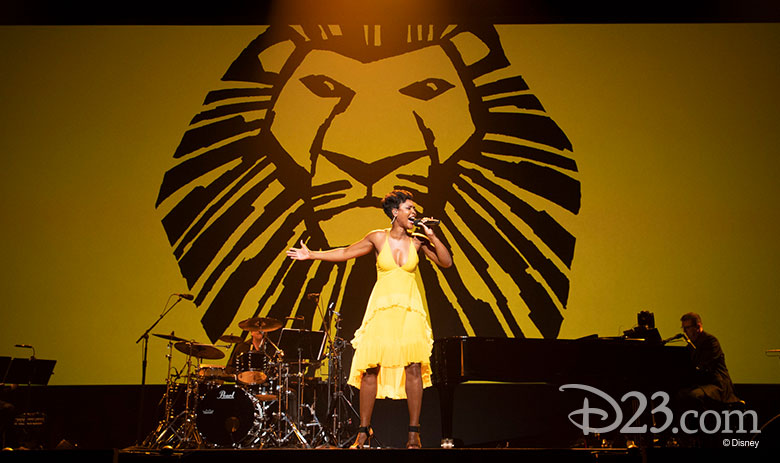 White then helped segue into Disney's next beast-ly Broadway hit: The Lion King, with songs from Disney Legends Elton John and Tim Rice and wonderfully creative direction by Disney Legend Julie Taymor, which debuted at the New Amsterdam Theatre in 1997. Lee prodded White for the number of times he's trod to the boards as King Mufasa; incredibly, he has portrayed Simba's father a whopping 4,308 times! And Simmons has—between the Broadway production, tours, and the production in Las Vegas—played Nala in The Lion King for nine whole years! She attributed her incredible stamina to having been a Collegiate Division I track and field athlete… no wonder she could perform in such an energetic show for almost a full decade. A medley of tunes followed: "Hakuna Matata" by White (getting to channel a certain warthog instead of a lion) and Strickland; "Shadowland" from Simmons and company; "Can You Feel the Love Tonight" sung by Strickland and Brown; and Mufasa's dramatic "They Live in You" from White.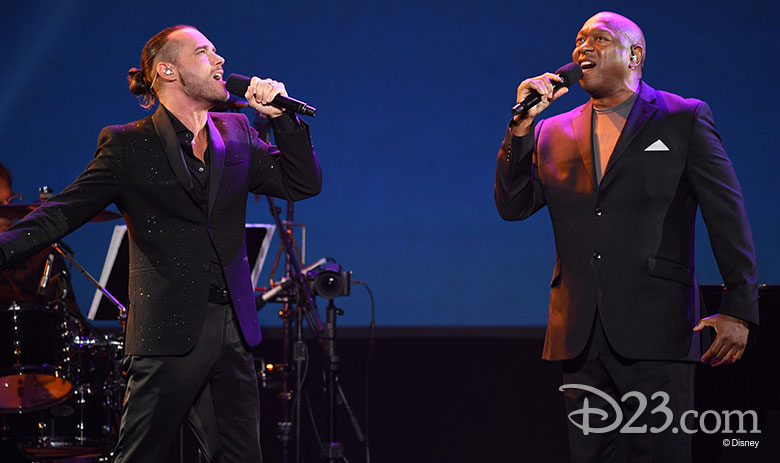 Lee then regaled the crowd with some background on Disney's Aida—also written by John and Rice, who began work on this pop-, rock-, and gospel-infused retelling of the classic opera right after the success of their Lion King. One of the numbers, the high-energy "My Strongest Suit," is sung by the materialistic princess Amneris in honor of her incredible closet of clothing… but Strickland loves the song so much, he decided to put his own spin on it! He then took the stage (with back-up vocals provided by Brown, Simmons, and Blickenstaff) and belted his way through the super-fun tune—followed by Simmons' dramatic version of Aida's ballad "Easy as Life."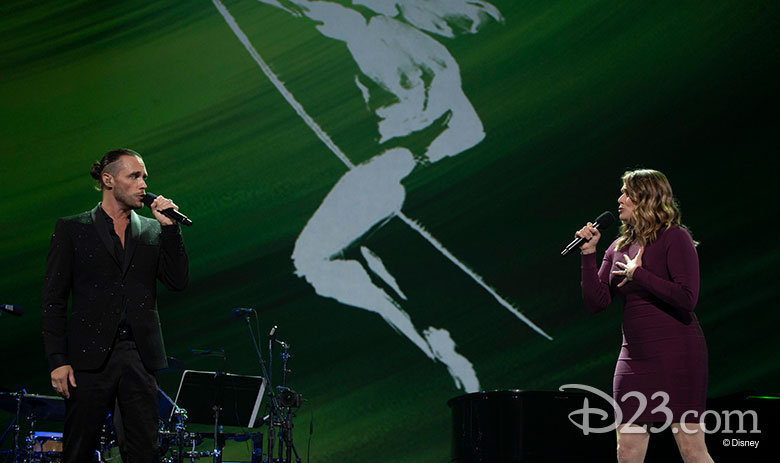 Strickland told Lee about his journey onto the Broadway stage as the original Tarzan; a small-town Southerner, he suddenly found himself in front of the musical's songwriter, GrammyÒ Award winner and Disney Legend Phil Collins, and all the Disney on Broadway producers wearing only an "itty bitty loincloth." Happily, he got the role—and he regaled the audience with one of the show's signature tunes, "Stranger Like Me," followed by the original 1999 film's Oscar®-winning song, "You'll Be in My Heart," from Strickland and Blickenstaff.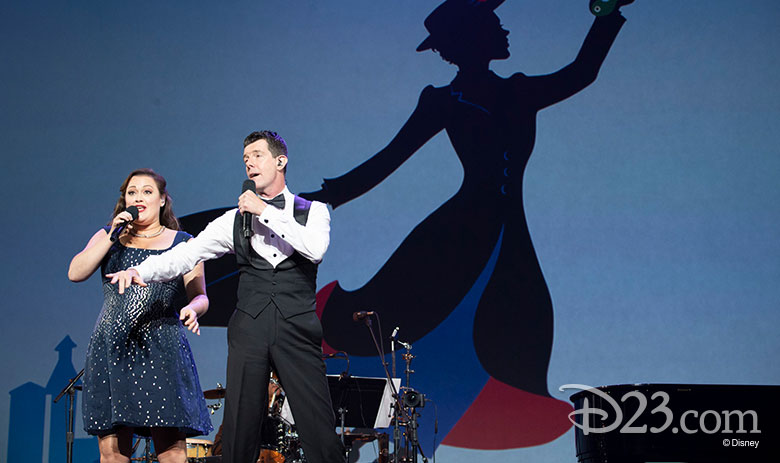 Next was the show that brought Lee to the Disney on Broadway family—2004's Mary Poppins! Lee originated the role of Bert in the Cameron Mackintosh-produced stage version of the P.L. Travers classic on the West End in London, and was then asked to join Brown (as the "practically perfect" nanny) in the original Broadway company. Reuniting as these two characters for the first time in eight years, Lee and Brown brought the house down with a medley of some legendary Poppins tunes: "Let's Go Fly a Kite," "Jolly Holiday," "Chim Chim Cher-ee," "Step in Time" (complete with an amazing tap solo from Lee), a beautiful rendition of Walt Disney's favorite song, "Feed the Birds," and the high-energy "Supercalifragilisticexpialidocious"—with Lee demonstrating some of Matthew Bourne and Stephen Mear's letter-tastic choreography.
Lee and cast then previewed the latest Disney musical, being created with the Public Theatre in New York City; professional actors, alongside more than 100 community members from all five NYC boroughs, will soon be seen in a brand-new stage adaptation of Disney's Hercules—opening August 31 at the Delacorte Theater in Central Park! The gospel-flavored "A Star is Born" was followed by a unique duet of "Go the Distance" from White and Strickland, and Simmons and the cast belting "Zero to Hero" to the rafters.
Blickenstaff then discussed her very first Disney on Broadway musical; it was The Little Mermaid, but it wasn't the role of Ursula—at least not initially. No, Blickenstaff played Carlotta, Prince Eric's maid—a role that was eventually written out of the show! Good thing she was later promoted to Ursula status, and her version of "Poor Unfortunate Souls" proved her iconic-villain mettle. Lee then took the stage again as silly seagull Scuttle, singing the hilarious "Positoovity" (yes, the misspelling's on purpose), which included yet another amazing tap solo. And White and the cast followed by bringing the party to Hall D23 with "Under the Sea"!
After explaining the true story behind Disney on Broadway's hit musical Newsies—the Newsboy Strike of 1899—Lee joined the whole cast for "Carrying the Banner," followed by Brown, Blickenstaff, and Simmons performing a trio version of "Watch What Happens" (sung by cub reporter Katherine Plumber about her hopes to help the newsboys' cause), and then Strickland took the stage for Jack Kelly's fan-favorite ballad "Santa Fe"… which received yet another standing ovation.
Next, White and Simmons finally got to share the stage (Nala and Mufasa never do in The Lion King) by taking on the beloved ballad "A Whole New World" from Disney on Broadway's Aladdin—currently delighting audiences at the New Amsterdam Theatre. The rest of the cast joined them for a rollicking rendition of a new song written by Alan Menken and Chad Beguelin for the stage version: "Somebody's Got Your Back."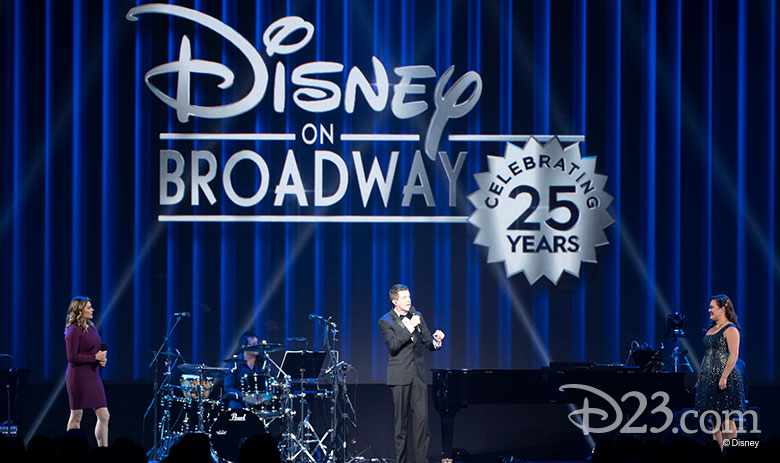 Of everyone on stage, only Blickenstaff has the distinction of both starring in the recent stage version of Freaky Friday—based on Mary Rodgers' 1972 book of the same name (and subsequent 1976 and 2003 film versions)—as well as the Disney Channel Original Movie version, alongside Cozi Zuehlsdorff. Blickenstaff sang the show's big "11 o'clock" number, "No More Fear"; it's a tune she doesn't normally get to perform, even though it's technically her character who does. It's just that the show's body swap has happened, and the song is coming out of the daughter's mouth!
All good things must come to an end, including this incredible show. Lee bid everyone a fond farewell on behalf of the cast and band, and then joined the troupe to perform one final song. Fittingly, it was a now-iconic tune from Disney on Broadway's most recent hit, "Let it Go" from Frozen! One thing's for certain: This afternoon's crowd at Hall D23 will never let go of the memory of such a captivating performance. Cheers to 25 more years of Disney on Broadway fun!
We'd like to extend a special thanks to Yamaha Corporation of America for providing the gorgeous piano used to accompany the talented Disney on Broadway performers.