By Jim Frye
ABC's Marvel's Agents of S.H.I.E.L.D. and D23 Expo have a bit of history together: The very first episode of season one of Agents of S.H.I.E.L.D. screened at D23 Expo 2013, and today the first episode of the seventh and final season screened for fans—a whole year ahead of when it will air. It seemed only fitting, and executive producer and head of Marvel Television, Jeph Loeb, said as much: "This is really, really a special event. We showed the pilot to a whole bunch of you," he said to the fans in the D23 Arena, "and somehow after that we made 136 more episodes. It's really an incredible achievement and we couldn't have done it without you."
After six thrilling seasons of saving the world (and beyond!), Marvel Television's flagship series is preparing to head into the home stretch, blazing into its final adventures in summer 2020. S.H.I.E.L.D., or the Strategic Homeland Intervention, Enforcement and Logistics Division, has long been a mainstay of Marvel Comics, but gained wide notoriety with the success of the Marvel Cinematic Universe. It all started with that iconic moment in the end credits of the very first Iron Man movie when Samuel L. Jackson stepped out from the shadows and introduced himself to Robert Downey Jr.'s Tony Stark: "Nick Fury. Director of S.H.I.E.L.D."
Thus began the adventures of this pseudo-governmental organization dedicated to protecting mankind. Or, as the show's Grant Ward, played by Brett Dalton, once said, "We're the line between the world and the much weirder world. We protect people from news they aren't ready to hear. And when we can't do that, we keep them safe."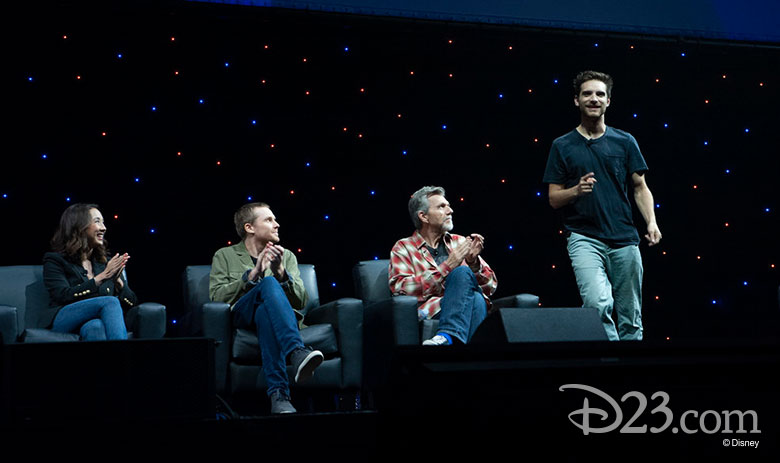 Aside from Nick Fury, the best-known S.H.I.E.L.D. agent is Phil Colson, played by Clark Gregg, who took the stage today to cheers and applause befitting his fan-favorite status. Joining Gregg and Loeb onstage were Jeff Ward, who plays Deke Shaw, as well as executive producers Jed Whedon, Maurissa Tancharoen, and Jeff Bell.
"Once upon a time, I worked on a little indie film called The Avengers," joked Gregg. "But then this mischief-making person stuck me with a pointy thing and ended my Marvel career." After that, some fans started an online "Coulson lives" movement that caught the eye of Marvel execs—along with Joss Whedon. "Ironically, my favorite memory was getting a call from this guy (pointing at Loeb) and Whedon saying, 'We think you may not be so dead.'"
And that's how Gregg's Agent Coulson character came to lead Marvel's Agents of S.H.I.E.L.D.—and how he became such an important touchstone for fans. As today's audience members asked questions, one fan broke down in tears talking about her affection for the character of Coulson… and how he represented "the everyman" character who stands among the super-powered heroes. Gregg hugged her, then returned to the stage and said this: "It's been such a big part of my life for 11 and a half years now. Because there was a need for someone who wasn't super except for his heart."
Long live Coulson!