By Jim Frye
Bart Simpson finally has his Mickey ears! The long-running Simpsons TV series joined the Disney family this year, so it was a natural fit for the first family of TV animation to show up at D23 Expo 2019.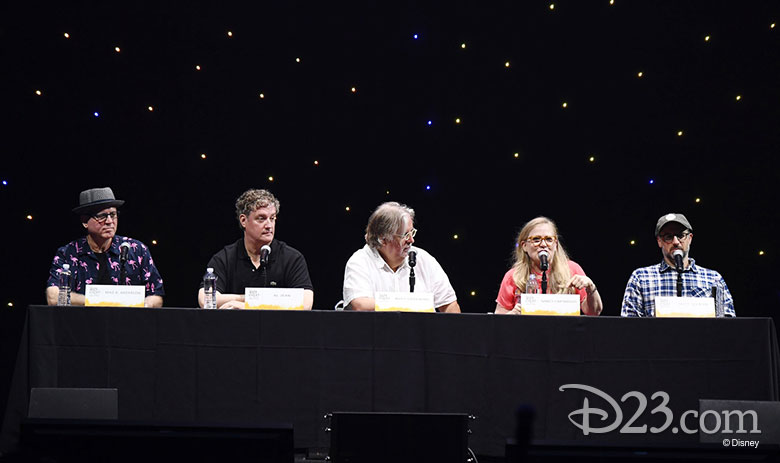 Creator Matt Groening, executive producer Al Jean, supervising director Mike B. Anderson, writer Matt Selman, and stars Nancy Cartwright and Yeardley Smith took the stage, shared exclusive clips, and answered fan questions.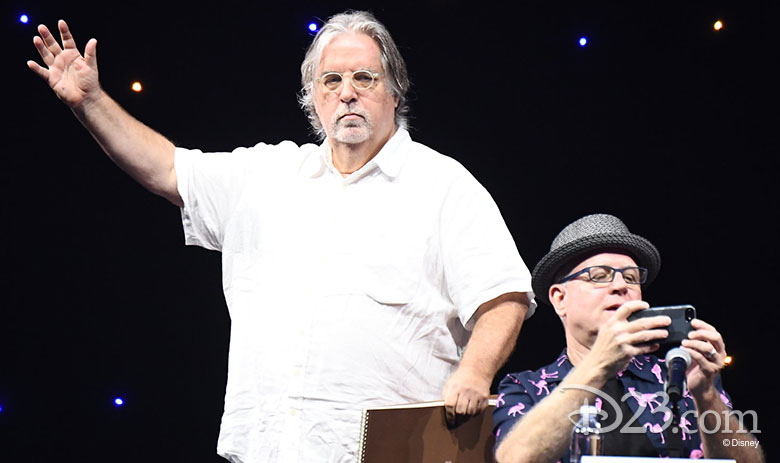 1. Matt Groening's father—who was a cartoonist named Homer, believe it or not—discouraged young Matt from ever going into animation. "Our family vacation trip was to go to Disneyland," Matt said. "I remember that I really wanted my dad to work for Disney. He gave me this advice about working in animation: 'Don't do it, but if you do, get other people to do the hard work.'"
2. One of the most popular staples of the beloved series is the opening credit sequence, which finds the family arriving on the couch each week in a different madcap manner. What fans may not know, however, is that Groening got the inspiration for that sequence from something we all know and love. "It's from the beginning of the Mickey Mouse Club in the '50s," he said. "Each week ended with Donald banging on a gong, and the gong gag changed from episode to episode. I thought to myself, 'If I ever get my own show, I'll do my own Donald gag like that.'"
3. Disney jokes—or should we say, jokes aimed lightheartedly at Disney—have always been part of The Simpsons, and during the D23 Expo panel, they didn't shy away from those jokes, but rather, offered a montage of some of the best. It included Homer eating one of the fish in an "Under the Sea" The Little Mermaid sequence and a Snow White parody where one of the Seven Dwarfs says, "Well, at least we don't work for Disney!" The montage also featured the Simpsons' characters poking fun at The Jungle Book, Fantasia, and Mary Poppins (poor Mary had an unfortunate accident with a passenger jet flying overhead!). But it's all in good humor. The creators and voice cast were thrilled to be part of the Disney family—and especially the new Disney+ streaming service, which will feature episodes of The Simpsons.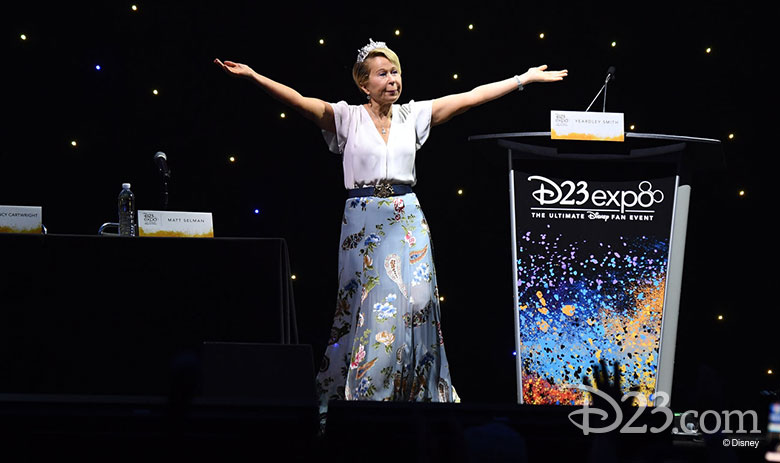 4. Yeardley Smith says that Lisa Simpson changed her life: "I've loved my character," she said. "Getting to know someone for your entire life, she lives inside of me, and when this show ends it will be like someone I love has moved away and is never coming back. She's just extraordinary… one of the best, most complex, interesting characters ever written for the small or big screen."
5. One of the things that Groening loved about Mickey Mouse was his simple, elegant design. "He's a great icon. He has two ears, but when he turns his head in silhouette, he still has two ears," said Matt. "I tried to design the Simpson characters like that, so they'd be identifiable in silhouette. They're all kinda unique, and I love it."
6. This year's Halloween-themed "Treehouse of Horror" episode—an annual tradition for the series—will get a little extra heft this year. Selman says he's super excited because this year Halloween takes a bite out of Thanksgiving. "We have a fantastic treehouse this year," he said. "It's episode 666… considering that the real world is so scary sometimes, some of the frights and thrills spill over into Thanksgiving. So this year, we'll have a Thanksgiving of Horror!" He then treated fans in the D23 Arena to an advance screening of one of the segments for this year's "Treehouse of Horror" episode, themed to the popular Stranger Things series, where Milhouse gets trapped in the Upside Down. His only hope? Lisa, of course, who shaves her head (aka Eleven) and tries her best to save him from monsters and other terrors!
7. The voice of Minnie Mouse, Disney Legend Russi Taylor—who recently passed away—also voiced several characters on The Simpsons. She voiced the characters Martin Prince, Üter, Terri, and Sherri. Longtime fans will also remember her as the original DuckTales protagonists Huey, Dewey, Louie, and Webby, Gonzo on The Muppet Babies and more. "Russie, cheers to you," said Yeardley Smith, the voice of Lisa Simpson. "Heaven is a bit more giggly." In tribute to Taylor, Groening gave away a Minnie Mouse drawing to one lucky fan.
Want more Disney+ news? Click here to stay up-to-date with what's streaming!