By D23 Expo Team
Live in a galaxy far, far away and can't make it to Anaheim for D23 Expo 2019? Don't worry, we've got you covered, because this year we're livestreaming directly from the Anaheim Convention Center to a mobile device near you! Click here to visit our livestream page.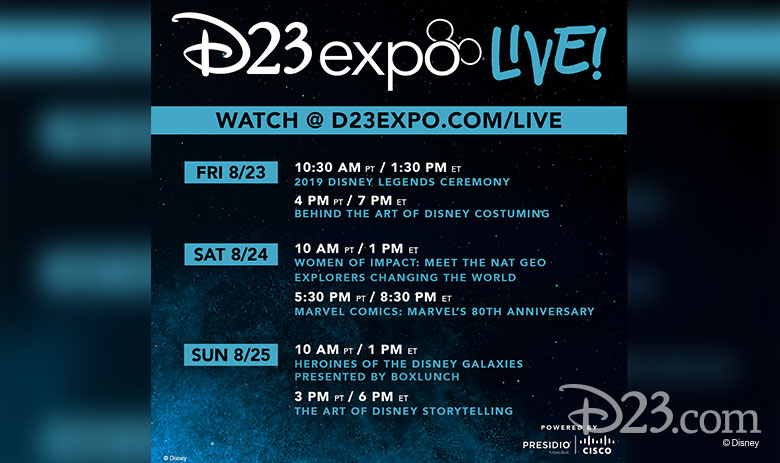 Select panels on all three days of Expo will be available for your enjoyment through our social media channels. So be sure to save the dates—and times—and follow us on Facebook, YouTube, Twitter, or right here on D23.com where you can witness your favorite stars become Disney Legends, get a super look at Marvel Comics' 80th anniversary, and see exactly what goes into making the magic of Disney stories, and more. And, make sure you tune in early before each panel for our D23 Expo Live pre-show!
2019 Disney Legends Ceremony
Since 1987, The Walt Disney Company has honored as Disney Legends those special few who embody the Company's unique creative spirit best personified by its founders. Once again, for the sixth time in the 30 plus-year history of the Disney Legends program, the induction ceremony, hosted by Disney Chairman and CEO Bob Iger, will take place at D23 Expo. This year, we honor Christina Aguilera, Wing T. Chao, Robert Downey Jr., Jon Favreau, James Earl Jones, Bette Midler, Kenny Ortega, Barnette Ricci, Robin Roberts, Diane Sawyer, Ming-Na Wen, and Hans Zimmer.
Behind the Art of Disney Costuming
Celebrate the imagination, passion and attention to detail invested in each Disney costume! Go behind the scenes on the Expo show floor with the team that crafted the dazzling new Walt Disney Archives exhibit and its accompanying coffee-table book.

WOMEN OF IMPACT: Meet the Nat Geo Explorers Changing the World
Meet the extraordinary women on the front lines of exploration, conservation and storytelling. They pilot submarines, get up close with lions, tigers, and bears—and even breakdance! See what it takes to become the next game-changing Explorer!

Marvel Comics: Marvel's 80th Anniversary
Marvel Editor-in-Chief C.B. Cebulski and Executive Editor Tom Brevoort take you through the amazing, incredible, and uncanny history of Marvel Comics! Get the inside scoop on the House of Ideas—from Captain America to Captain Marvel!
Heroines of the Disney Galaxies Presented by BoxLunch
Join Ashley Eckstein and some very special guests for a celebration of some of the most inspiring and empowering female characters from the worlds of Disney, Marvel, Lucasfilm and more!
The Art of Disney Storytelling
John Stamos and Caitlin McHugh Stamos host a panel of master storytellers—including Disney Legends Tony Baxter and Floyd Norman, Walt Disney Animation Studios' Paul Briggs (head of story, Frozen and Big Hero 6), and legendary producer Don Hahn—discuss Walt Disney's impact on their careers and the entertainment industry, highlighting the ways they leverage those lessons to spark creativity today.