By Jim Frye
It's time to pull out the super-suits, spandex, and birthday cake!
Marvel is celebrating its 80th birthday—which occurs August 31—with Marvel Comics #1000, a massive, oversized, special-edition book that features the greatest array of luminaries from both classic and current comic books (and beyond!), in perhaps one of the most ambitious single issues ever created. The puzzle-like story reveals a long-kept secret of the Marvel Universe with some startling discoveries along the way.
To honor its birthday, Marvel has created an exclusive new Marvel Comics #1000 D23 Expo variant cover, featuring Mickey Mouse alongside Earth's Mightiest Heroes, drawn by legendary artist Humberto Ramos with colors by Edgar Delgado! Exclusively revealed here on D23.com, the limited-edition variant cover will be given away at D23 Expo 2019 to attendees at the MARVEL COMICS: Marvel 80th Anniversary panel on Saturday, August 24, 5:30–6:30 p.m. PT at Stage 28. During the panel, Marvel Editor-in-Chief C.B. Cebulski and Executive Editor Tom Brevoort will take fans through the amazing, incredible, and uncanny history of Marvel Comics, looking back at the history of the Marvel Universe and honoring the iconic characters and timeless stories that have inspired fans all around the world.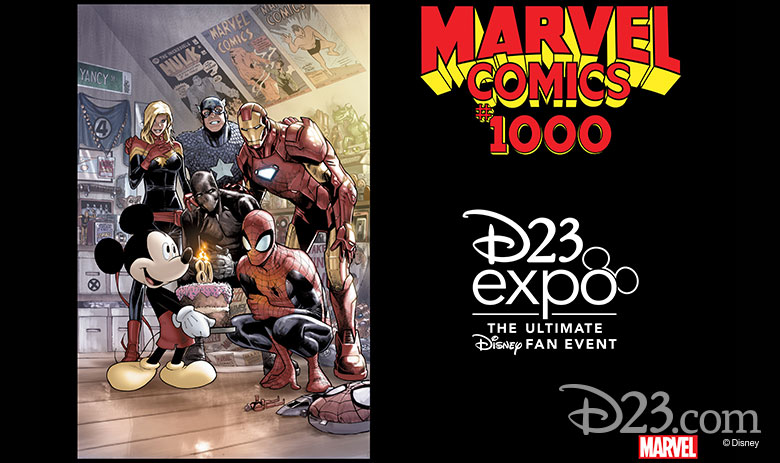 "Marvel Comics #1000 is a big, almost 100-page special-edition that commemorates Marvel's 80th year of publishing comic books," says Brevoort from his New York office. "The very first comic book that we did in 1939 was Marvel Comics #1, and this new story is a mystery that concerns a new artifact in the Marvel Universe that has its origins in that original Marvel Comics #1." That artifact is called the Eternity Mask, and Brevoort promises lots of mysteries, plus answers ahead.
"The Eternity Mask is the central McGuffin," he continues. "It is a thing that's passed from character to character throughout the Marvel Universe, and by the end of this story, a new character that we are going to meet for the first time will have it now and will become a new player in the Marvel Universe going forward."
The idea for this milestone book was that each of its 80 creative teams would create a single page, with each page relating to one of the years of Marvel's 80 years of publishing. These teams include creative forces and celebrity contributors such as Brad Meltzer, Adam Goldberg, Kareem Abdul-Jabbar, and Neil Gaiman; and top-selling and historic comic creators such as Chris Claremont, Walt Simonson, Jason Aaron, Rob Liefeld, Roy Thomas, Gerry Conway, Erik Larsen, George Perez, Peter David, Kelly Sue DeConnick, and so many more.
"Marvel Comics #1000 is a chance for 80 great creative teams to do a segment that encapsulates what they love about Marvel, the characters, the tone, the style, the flavor—what Marvel means to them," says Brevoort. "As a result, it's a book that has something for just about everybody. If you don't like one page, the next page is completely different. It's as wide-ranging a project as there's ever been. No other comic in the history of comic book publishing has had this many creators in a single project."
At the center of it all is a "spine story" that ties all the many parts together. The mastermind behind that spine story is writer Al Ewing, perhaps best known for his work on Valkyrie: Jane Foster and the Eisner Award-nominated Immortal Hulk, among others.
"The hardest part was to balance it out," says Ewing. "The book ended up as a mystery that segues into a party, and then rotates back to the mystery. Which is fun—as a reader, you're slowly lulled into a false sense of security, almost, and then we end by turning over a final card and showing you something big."
He goes on to explain the significance of the Eternity Mask: "It's been around since the time of Camelot. It came to America during the revolution. It's the missing piece of the Marvel Universe. More than that, you'll have to read in Marvel Comics #1000 itself."
THE EVOLUTION OF MARVEL COMICS OVER 80 YEARS
Through 80 years of Super Heroes, mere mortals, Asgardian battles, gamma radiation, cosmic villains, and thousands upon thousands of characters, the Marvel Universe has changed in innumerable ways, evolving into the House of Ideas that it is today.
Looking back, Ewing says the biggest evolution has been one of tone. "Going from the Golden Age to the slick anti-commie comics and monster mags of the '50s, and into Smilin' Stan's snappy patter in the '60s, is already a whiplash," he says. "But following that, you get an evolution of the Stan Lee method, with writers taking that in-the-room-with-you narrative style and using it to attempt to communicate certain hard-won cosmic truths, before doing away with it altogether as the cosmic truths get realist and materialist in the '80s, then get drowned in pure style in the '90s, get hyperreal in the '00s… it's a kaleidoscope."
Brevoort's 30-year career with Marvel has given him a unique perspective on the company. He believes the biggest milestone in the history of Marvel is the launch of the contemporary Marvel Universe—the Universe that started in the 1960s with Steve Ditko and Disney Legends Stan Lee and Jack Kirby. It revolutionized the way Super Hero stories are told.
"They made the characters more three-dimensional human beings who had problems and foibles and dealt with real-world issues," says Brevoort. "More than anything, that's the key that's at the heart of everything we do today."
Marvel refers to this as "reflecting the world outside your window," something that Ewing says is crucial to Marvel's success. He gives examples of grounded, real-world characters that set Marvel apart—and will continue to make Marvel successful in the future.
"Peter Parker looking like he's having a nervous breakdown as he tried to pay the rent. The Fantastic Four yelling at each other, Ben Grimm and his depression and self-hatred. Bruce Banner staring into the middle distance as he readies to succumb to his darkest urges," says Ewing. "Half the magic of 'the hero who could be you' is that you, whoever you are, wherever you come from, whatever your deal is—you can be a hero. But the other half is a dark magic, which is seeing Super Heroes go through the crap we go through. The Fantastic Four and Captain America and Spider-Man—most of all Spider-Man—they have to go through the various hells of ordinary people so that when they rise from that, they can take us with them, even if only in our minds."
Marvel Comics #1000 goes on sale August 28 at comic shops everywhere.