By Bruce C. Steele, author of One Day at Disney
What's it like to be one of just 76 people—from more than 200,000 cast members worldwide—selected to represent The Walt Disney Company?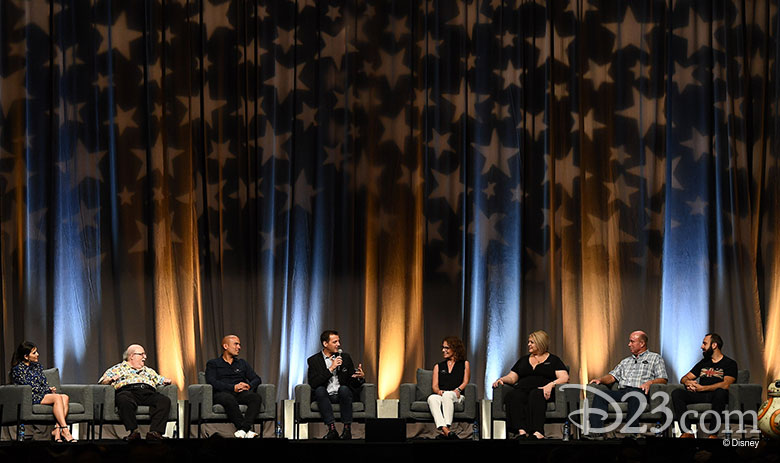 "I didn't really understand what I was getting myself into," said Lucasfilm's Este Meza as part of the One Day at Disney panel Saturday at D23 Expo. "It wasn't until I got here that I realized this is a really, really big deal."
For the panel, six of The Walt Disney Company's star cast members came together to talk about being included in the One Day at Disney book and video project. The panel was moderated by two of One Day's guiding forces: Jeffrey Epstein, director, Corporate Communications, and Wendy Lefkon, director, Disney Editions.
Lefkon said she had been working on the project for five years, "with a lot of stops and a lot of starts." But along the way she had support from the top: The Walt Disney Company Chairman and CEO Bob Iger, she said, "spearheaded this whole thing for us, and we couldn't ask for anyone more supportive." Iger was eager to highlight the stories of individual Disney cast members, she added.
One Day at Disney showcases the talented people who bring to life Disney's storytelling and guest experiences. The project is a collaboration between Disney Publishing Worldwide and Disney+, Disney's new streaming service, and includes a 224-page coffee table book, a documentary feature, both arriving December 3, and a 50-episode series of documentary shorts.
In addition to Meza, Lucasfilm's senior events manager, the D23 Expo panel included ABC7 helicopter reporter Chris Cristi, Walt Disney Imagineering construction manager Kristina Dewberry, legendary Disney animator Eric Goldberg, Golden Oak Ranch senior manager Steve Sligh, and long-running Radio Disney Network talent Candice Valdez. All shared their experiences opening up their workspaces to the One Day at Disney team.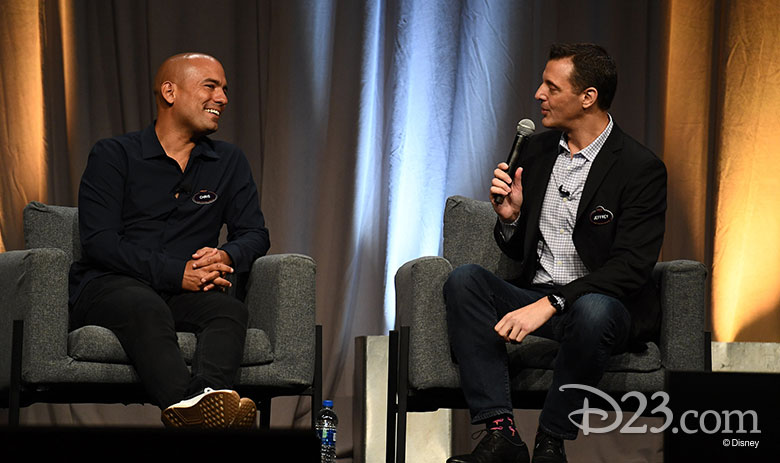 In explaining how the project came together and what it was like to participate, the panel answered some intriguing questions:
How were the participants selected? Epstein and Lefkon brainstormed for "weeks and weeks," Epstein said, discussing what jobs to focus on and learning about jobs they didn't previously know existed in the Company. Because the project was photo-centric, "One of our parameters was finding people doing things that look really interesting as well as sound really interesting," Lefkon said. Eventually the team set up 76 photo shoots in 21 cities across three continents to take place in one 24-hour period.
Dewberry noted other priorities, as well. "It shows how really important diversity and inclusion are to the Company to include a female construction manager," she said.
How was the "one day" picked? Epstein said the team focused on a date after Christmas, so the images would not be anchored to a particular holiday. Considering dates in February, the team learned about a press junket scheduled on February 21 for the film Captain Marvel, thus allowing One Day to include Brie Larson as a participant. "We actually used the junket day for Captain Marvel as our anchor day," Epstein said.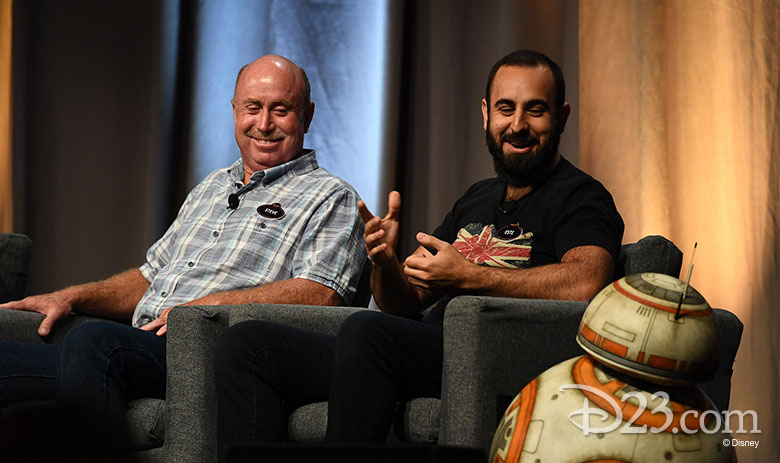 What was the photo shoot day like? For Dewberry, being followed around by a photo crew while supervising construction work on Star Wars: Galaxy's Edge at Disneyland was "kind of cool," in part because the photos would honor not just her but the "crazy symphony of amazingness," that constituted the Star Wars project. She got to stand in for "all the hundreds of people who were there making this magical place."
For Cristi, in the ABC7 news helicopter, flying over a rare Los Angeles snow, everything went smoothly—until the airborne news team noticed smoke that appeared to be coming from Golden Oak Ranch, the Disney filming location in Santa Clarita where Sligh is general manager.
After sounding the alarm and heading in to cover what might have been a breaking news story, Cristi learned from Sligh that the smoke was just part of a film project that was shooting at the ranch. No story, no disaster.
Maybe it was the snow that put people on edge, Sligh suggested. "It never snows at Santa Clarita except when there's a One Day at Disney shoot."
Why is the project important? Goldberg sees One Day at Disney as both an example of The Walt Disney Company's team spirit and also a celebration of it. "We're bringing smiles to a lot of people and a lot of that comes from the spirit of collaboration," he said.
Cristi added, "As exciting as my job is—and we have some of the best jobs in the world on this stage—it doesn't happen by itself." Representing the dozens of ABC7 cast members who help him get the news to viewers, from the pilot to the transmission technicians on the ground, "is very, very humbling," he said.
It also provides Disney fans a long-awaited glimpse behind the scenes. People "light up when they hear you work for Disney," Valdez said, and everyone wants to know what it's like to work there.
What's missing? One day is not all days, panelists agreed. "Every day is different for me, and I love that," Dewberry said. "I get to work with amazing teams on really cool things, and no day is the same."
Also not shown: All the fascinating job participants held earlier in their careers, from Goldberg's work as the lead animator on Genie in the original Aladdin to Chris Cristi's summer job when he was in college in Florida. "I actually started my career with Disney at Walt Disney World," he said. "I worked as a Monorail pilot for a whole summer. And at that point in my career, I thought that was the most exciting job in the world."
The One Day at Disney book is available for pre-order at D23 Expo and will be open to all fans to order on August 25 at Disney.com. The Disney+ series begins December 3 with the feature-length documentary.