By Courtney Potter
"We got no troubles, life is the bubbles!" On this final morning of D23 Expo 2019, we donned our proverbial mermaid tails, grabbed a couple of whozits and whatzits, and headed over to the D23 Expo Arena for an event three decades in the making: "The Little Mermaid: The 30th Anniversary Celebration! Presented by H2O+"!
The party kicked off with none other than Ariel herself, Disney Legend Jodi Benson, who joined an adorable group of literal "little mermaids" (six talented young girls) on a beautiful rendition of Benson's now-signature tune, "Part of Your Word." She then welcomed the large and appreciative crowd to a truly auspicious occasion: "I'm really excited because I get to share with you amazing stories and some wonderful memories," Benson confessed, "and to be able to introduce some of the incredible creators of our film… I'm thrilled that you've come to join us today! And who knows—we may even have a little surprise for you, cuz you know how D23 Expo is!" The crowd, of course, went wild.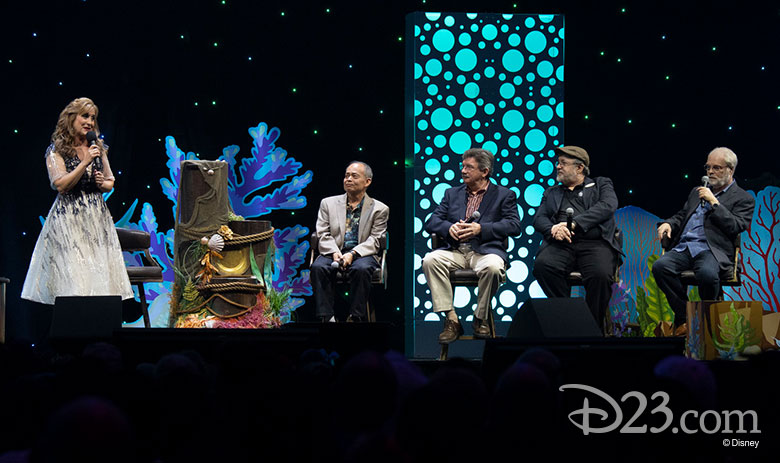 As if on cue, one of Benson's colorful Little Mermaid costars suddenly joined her (in puppet form) onstage—King Triton's trusted advisor and court composer extraordinaire, Sebastian! Before he could wax too rhapsodic (which, if you know Sebastian, he is wont to do), Benson sent him backstage to help coordinate that special surprise she alluded to earlier… and then welcomed to the stage one of the people responsible for bringing the 1989 animated classic to the big screen: co-director and co-screenwriter Ron Clements, who gave some background on how the film came to be. "The Little Mermaid actually came to life for the first time January of 1985… They had a group of us [animation] directors and story people, and [Disney's Michael Eisner and Jeffrey Katzenberg] met with us and they said, 'We want everybody to come up with five new ideas for animated features. We're gonna reconvene in two weeks and we want everybody to pitch their ideas.' So I took this seriously… and I went into a bookstore in North Hollywood, and I picked up a book of fairy tales, just at random. And I came across The Little Mermaid by Hans Christian Andersen—and I was reading the story, right in the bookstore. It's a great story—very visual and very cinematic. And I wondered why they hadn't done it [as an animated film]." The rest, as they say, is history.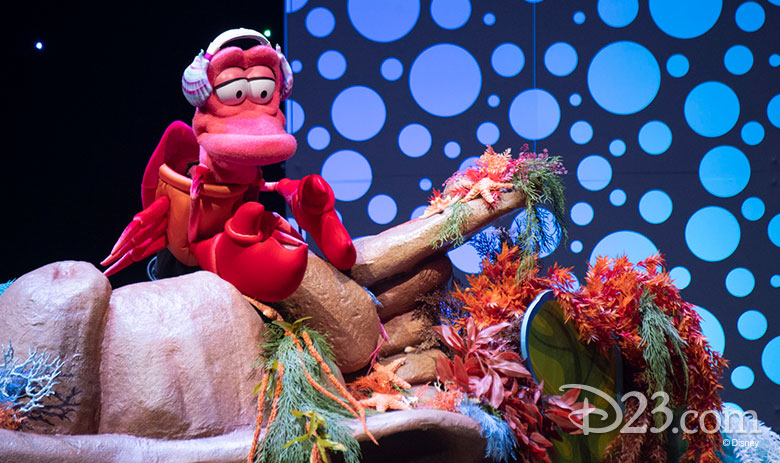 Clements then talked about how he and co-director/co-screenwriter John Musker hooked up with lyricist Howard Ashman—who had just come off of creating the Off-Broadway hit Little Shop of Horrors with collaborator Alan Menken. And the filmmakers even found their Ariel through Ashman; at the time, Benson was starring in a Broadway musical he'd directed (and written the songs for, with the late Marvin Hamlisch) called Smile, about the world of beauty pageants. Coincidentally enough, Benson's big song in the show was called "Disneyland"!
After showing some behind-the-scenes clips of Benson working in the recording studio with Ashman on "Part of Your World"—including one in which Ashman had turned off most of the lights to simulate an underwater "grotto"—Clements revealed that a young Jim Carrey had actually auditioned for the role of Prince Eric. As for late Disney Legend Buddy Hackett, who lent his incredibly memorable voice to the role of Scuttle, Clements admitted that no audition took place; knowing he was interested in the role, they went to meet Hackett at a restaurant in Glendale and knew right away they had their seagull.
Benson then welcomed The Little Mermaid art director Michael Peraza to the stage, who explained that he first found out that "Ron and John" (as they're colloquially known) were directing The Little Mermaid at a party; Musker had come over to Peraza's table and asked if he'd like to be involved. Peraza immediately said, "Where do I sign?" As an art director, Peraza was in charge of the "look" of the film—and to demonstrate, he showed some of his very early sketches for the film's castles; Prince Eric's royal bath; and Ariel's underwater hangout. More of Peraza's sketches appeared in the next clip—an early version of "Under the Sea" (with Ashman singing lead vocals).
Next to join the panel was Disney animator Mark Henn, who (with Glen Keane) was responsible for animating Ariel. Did you know Ariel was almost a blonde? In fact, the filmmakers looked to supermodel Christie Brinkley for inspiration. Ultimately, though, they decided on that now insanely recognizable red hair.
Benson then introduced a clip of her and composer Alan Menken discussing how "Part of Your World" almost didn't make the final film. ("Can you imagine?" exclaimed Benson.) Menken couldn't make this year's D23 Expo (he's currently working on the brand-new stage adaptation of Disney's Hercules for the Public Theatre in New York City)—but he sent a video, thanking the fans and offering all manner of best wishes.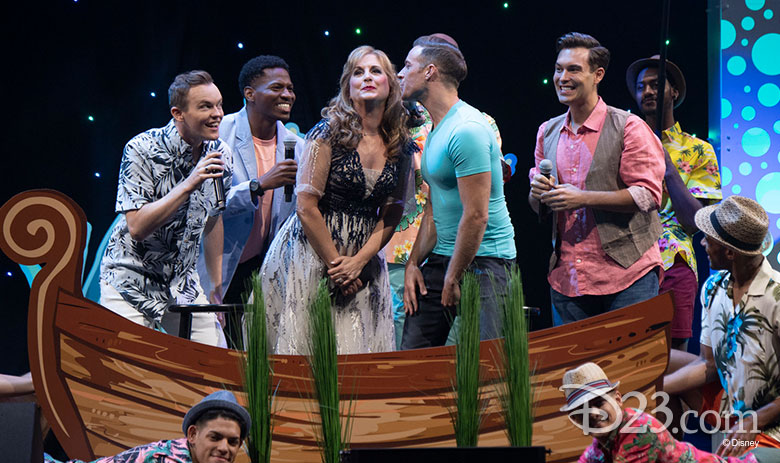 After an adorable interlude—in which a blushing Benson and an audience member (chosen for his resemblance to Prince Eric) were serenaded by a live quartet with the film's romantic "Kiss the Girl"—Benson then introduced principal Ursula animator Ruben Aquino, who discussed how they locked into the look and personality of the iconic villain. (Another fun fact: Some of Ursula's bearing was inspired by the '80s TV series Dynasty and its stars Joan Collins and Linda Evans, all favorites of Ashman's.) Peraza then told what he called the Ursula "jar story"; he and his wife were at home one night watching TV, and the show they were viewing included footage of an octopus in a jar inside an aquarium… All by itself, the octopus opened the jar, escaped the aquarium, and tried to make a break for it! And that's where Ursula's half-human, half-octopus form began! And speaking of Ursula, Benson introduced some clips of the actress behind her ridiculously recognizable voice: Pat Carroll! Carroll is unable to travel, so she sent through some hilariously adorable well wishes (and some flawless Ursula cackles!) from her home in Cape Cod, Massachusetts.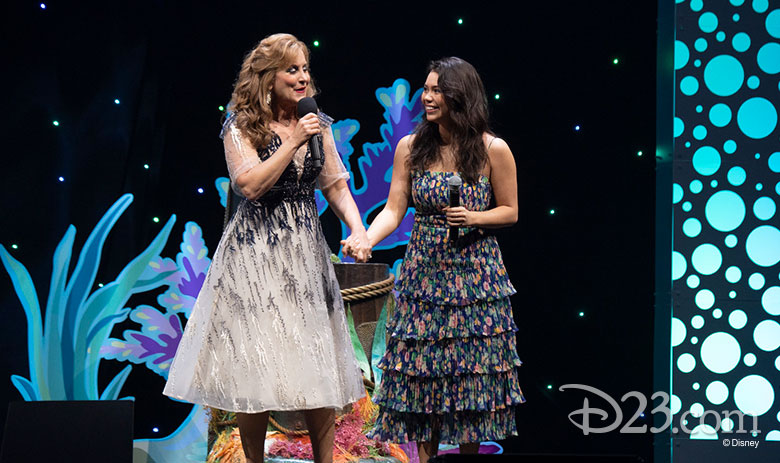 Following some great footage of Broadway actor Samuel Wright (voice of Sebastian) in the recording studio, Benson surprised the audience with a very special guest: Auliʻi Cravalho, who's starring as Ariel in the upcoming live ABC special celebrating The Little Mermaid's 30th, this November 5! "I'm absolutely thrilled," she said, "and so thankful to be able to come back and play another princess that's related to the ocean!" Cravalho then showed some sneak-peek concept art for what the stage will look like for the ABC special, which will incorporate live musical numbers into the original '89 film.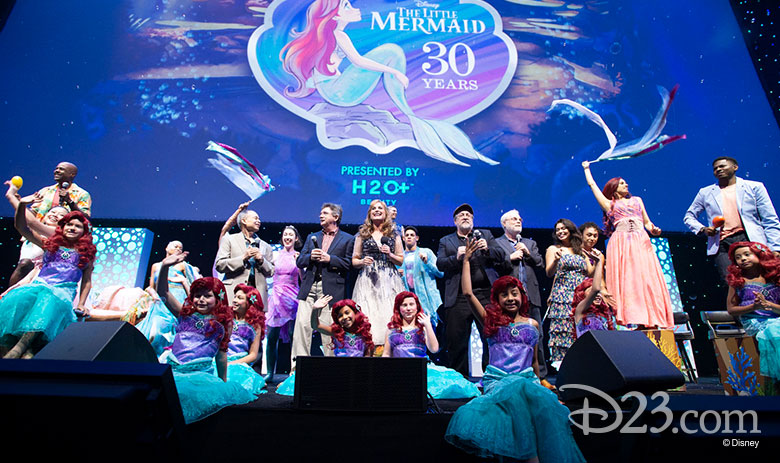 Finally, Benson brought the memorable panel to a close by inviting Sebastian back to the stage to kick off the big surprise—a huge group of dancers and singers performing a rollicking rendition of "Under the Sea," complete with bubbles cascading down from the rafters! To paraphrase the song, they got the spirit and we got to hear it… and it was a swimmingly spectacular way to start the final day of D23 Expo 2019.
Special thanks to H2O+ for helping us make a splash with this panel! D23 Gold Members, don't forget that you can get 25% off your purchase at H2Oplus.com!