By Beth Deitchman
Tonight, the D23 Expo Arena was seemingly transformed into a veritable Cave of Wonders, as Scott Weinger and Disney Legend Linda Larkin—voices of Aladdin and Jasmine in the 1992 animated classic—led Disney fans on "The Musical Journey of Aladdin."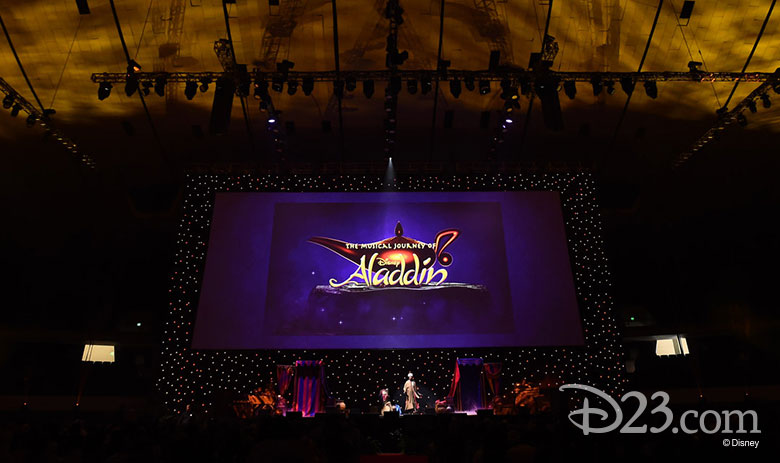 The one-of-a-kind event brought a host of Aladdins to the stage, as Weinger was joined by Brad Kane, who lent his spectacular singing voice to the title role. Clinton Greenspan, who performs the role nightly on Aladdin's national tour—and who will take on the role on Broadway in just two weeks also joined the presentation—along with a very special surprise guest: Mena Massoud, who played the street rat in the live-action Aladdin that opened in theaters earlier this year.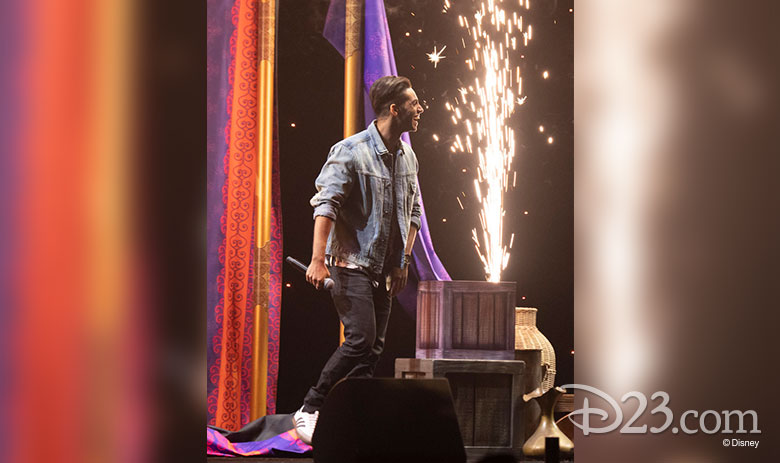 Weinger and Kane have been with Aladdin the longest, and both reminisced about their auditions, singing "Proud of Your Boy," a song that ultimately was cut from the film, but has become a powerful part of Aladdin on Broadway. Weinger joked that he "still has a chip on my shoulder" about not having the opportunity to do his own singing in the movie, and he shared a video of a "singing lesson" he recently had with Disney Legend Alan Menken, who guided him through a rendition of "Proud of Your Boy." (We think he might just be a diamond in the rough.)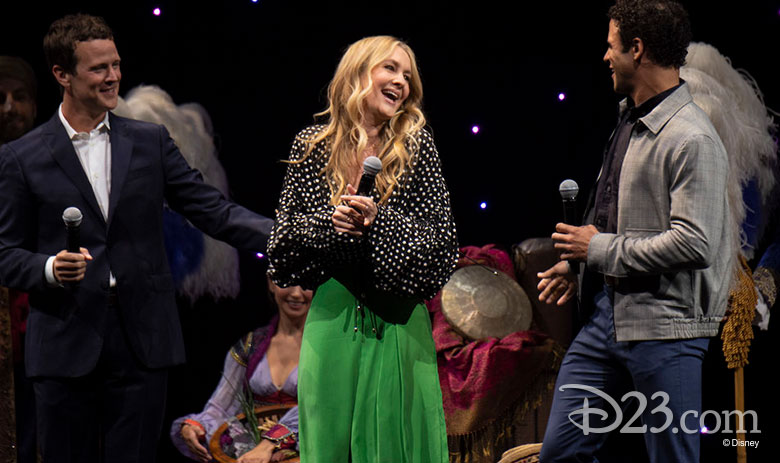 Among the other treasures from tonight's presentation were behind-the-scenes clips from the original recording sessions, of Brad Kane learning a musical phrase from Menken, and of Linda Larkin bringing Jasmine to life. "When I see that girl, I see someone who didn't know what this was all going to be," Larkin said.
The musical highlights of the presentation included a stunning performance of "To Be Free" by Deedee Magno Hall, who played Jasmine in the first-ever stage production of Aladdin in Aladdin—A Musical Spectacular at Disney California Adventure; and a show-stopping rendition of "Speechless" from the live-action Aladdin by Lillias White, best known to Disney fans as the voice of the head Muse in Hercules.
Summoned by a magic lamp, Mena Massoud appeared on the D23 Expo Arena stage to share stories about filming the live-action blockbuster. He also brought some special treats for the Disney fans in attendance, in the form of a never-before-seen sequence, "Desert Moon," which features Massoud and Naomi Scott singing together, even as they were "worlds apart," according to Massoud, as he was in Jordan while Scott filmed her part in London. He also brought a hilarious blooper reel with him.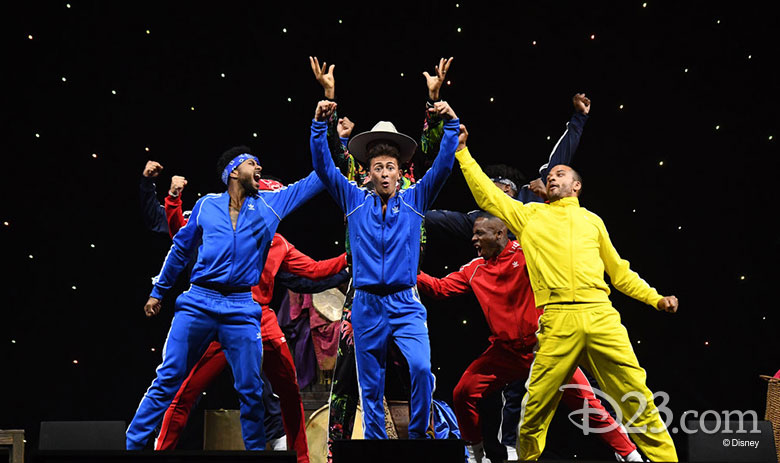 Via video message, Will Smith introduced "the genie behind the genie," choreographer Jamal Sims. With a little help from his assistant, Nicky Anderson—and a troupe of dancers clad in vibrant track suits—Sims gave us a sense of how a lavish dancer number like "Friend Like Me" is put together… before it turns into a massive dance number filmed over the course of more than a week.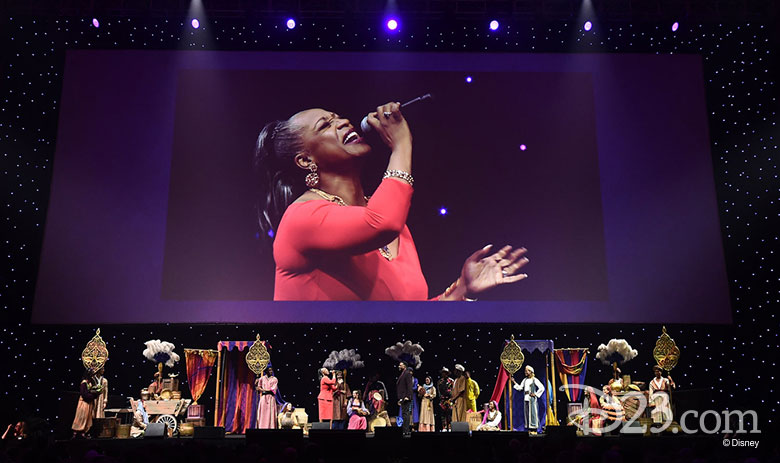 Of course, the best was saved for last, as Grammy® winning singer Regina Belle took the stage to discuss "A Whole New World," revealing that when she recorded the song back in 1992, she had bronchitis and a 102-degree fever—a testament to her incredible talent. She was joined by Broadway performer Norm Lewis for a powerful rendition of the song's signature anthem to close the show.
The panel was one of those amazing events that only happen at the D23 Expo, but you can see at least some of these unbelievable sights and experience the same indescribable feelings for yourself by bringing Disney's Aladdin home on Digital this Tuesday on Blu-ray on September 10.