By Courtney Potter
Find out how you can take flight over California once more this summer, and check out all of D23's Star Wars: Galaxy's Edge coverage… Read more, along with other news from around Disney, in this week's news briefs!
Celebrate Summer with Soarin' Over California at Disney California Adventure
Looking for an epic destination this summer? Ready for some supremely memorable fun? Disneyland Resort has truly got you covered—and not just because of that certain galactically glorious new land that opens this week inside Disneyland park… Disney California Adventure park (DCA) is getting in on the fun too; they're bringing back a fan-favorite destination just in time for those hot summer months!
Yes, it's true: Soarin' Over California, the beloved virtual tour that originally opened in 2001, will be returning to DCA for a limited time only, from June 1 to 30. Guests will once again take flight over California's majesty—from San Francisco's iconic Golden Gate Bridge to the beaches of Malibu and all manner of beautiful spots in between. (Most recently, guests have taken flight over amazing international locales, including the Great Wall of China, during Soarin' Around the World.)
We can't wait to take in that bird's eye view of our beloved state once more! See ya in the skies…
Save the Date!
Be sure to mark these upcoming Disney events on your calendar:
D23 and Walt Disney Archives


June 1, 2019


D23's Behind-the-Scenes Experience: Return to Walt's Chicago


June 8, 2019


Lunch with a Disney Legend – Paige O'Hara


June 10, 2019


The Official Walt Disney Studios Tour – Presented by D23


June 13, 2019


Mickey Mouse's Roller Disco Party


June 15, 2019


Celebrate Toy Story 4 with D23 Shopping Mixers


June 22, 2019


The Official Walt Disney Studios Tour – Presented by D23


August 23-25, 2019


D23 Expo 2019
Parks


March 6-June 3, 2019




Epcot International Flower & Garden Festival




May 31, 2019


Star Wars: Galaxy's Edge Opening at Disneyland Resort


August 29, 2019


Star Wars: Galaxy's Edge Opening at and Walt Disney World Resort


August 29—November 23, 2019, 2019




2019 Epcot International Food & Wine Festival




November 29—December 30, 2019, 2019




2019 Epcot International Festival of the Holidays




Studios




June 21, 2019


Toy Story 4 opens in U.S. theaters


July 19, 2019


The Lion King opens in U.S. theaters


October 18, 2019


Maleficent: Mistress of Evil opens in U.S. theaters


November 22, 2019


Frozen 2 opens in U.S. theaters


December 20, 2019


Star Wars: The Rise of Skywalker opens in U.S. theaters


Television




June 21, 2019


Final episodes of Andi Mack begin airing (8 p.m. EDT/PDT)


Summer 2019


Descendants 3 premieres on Disney Channel and DisneyNOW

Star Wars: Galaxy's Edge—Lightspeed to Batuu!
Friends and fans, the moment has finally come! Star Wars: Galaxy's Edge is officially open at Disneyland Resort, and we're not sure it's possible to be more excited! D23 was lucky enough to spend a few hours inside the new land earlier this week, and we even got to attend the historic dedication ceremony on Wednesday evening. Check out some of our coverage by clicking here, and here, and here! Oh, and here too…
Disney XD Orders Third Season of Marvel's Spider-Man
Are your "spidey" senses a-tinglin'? Well, we know why—it's because Disney XD just ordered a third season of its Emmy® Award-winning animated series Marvel's Spider-Man, set for a spring 2020 debut.
The web-slinging series follows teenager Peter Parker (voice of Robbie Daymond) as he learns to navigate life as Spider-Man. In this upcoming third season, known as Marvel's Spider-Man: Maximum Venom, Spider-Man is pushed to his breaking point when the evil Venom summons an earth-shattering threat from its home planet.
But that's not all: New Season two episodes of Marvel's Spider-Man will debut in September on Disney XD and DisneyNOW, beginning with a five-part "Superior Spider-Man" story arc. In the new storyline, Doctor Octopus (voice of Scott Menville), who has taken over Spider-Man's body, intends to use his new spider powers to further his nefarious agenda.
Watch this space for more web-slinging Marvel's Spider-Man news in the coming months!
New Character Posters and Trailer for Disney's The Lion King
We'll soon be meeting Simba, Scar, Timon, and Pumbaa in a whole new way when Disney's The Lion King roars into theaters on July 21. To tide us over, we were just given a lil' gift from our friends on the Pride Lands—a brand-new trailer, as well as some gorgeous character posters. Check 'em out here at D23.com.
Make Your Own Disney Channel Wand ID on DisneyNOW App
"Hi, we're D23—and you're watching Disney Channel!" There's an exclusive new activation on the DisneyNOW app, and if you've ever wanted to feel like a Disney Channel star, this is your chance. "Be a Disney Channel Star" invites users to create their own Disney Wand ID—that's the trademark video featuring stars "air-drawing" Mickey Mouse ears using a magic wand—in their own 10-second video they can share with family and friends.
The Disney Wand ID has long been a rite of passage for Disney Channel celebs, including Raven-Symoné, the Jonas Brothers, Miley Cyrus, Dove Cameron, and many more… So make your own Disney Wand ID video now by downloading (if you haven't already) the DisneyNOW app! And if you want some inspiration, check out the brand-new video above, featuring a half-hour compilation of Disney Channel stars past and present creating ears with their own wand!
Learn More About Toy Story 4's Forky
As the saying goes, "One man's trash is another man's treasure." The same can absolutely be said for Forky (voice of Tony Hale), Bonnie's disheartened new toy in Toy Story 4. Learn more about Forky, and see some cool photos from D23's recent trip to Pixar to hear directly from the filmmakers, by clicking here.
New Themed Port at Tokyo DisneySea Gets Its Name
It's known as a "bucket list" Disney Parks visit, with its totally unique ports and attractions you can't find anywhere else on the planet… and now, its eighth port has an official name. That's right: The newest Tokyo DisneySea port, announced last summer as part of the park's largest ever expansion, has been named Fantasy Springs! Disney Chairman and CEO Bob Iger recently attended a special groundbreaking ceremony with Toshio Kagami, Chairman & CEO of Oriental Land Company, in order to break the big news.
Scheduled to open in fiscal year 2022 (which, for Tokyo DisneySea, runs from April 2022 to March 2023), this new port is themed after a spring that leads to a world of Disney fantasy—with three areas inspired by the beloved Disney films Frozen, Tangled, and Peter Pan. Guests will discover waterfalls and ponds flowing with magical waters, as well as four new attractions, three restaurants, and a brand-new hotel located inside Tokyo DisneySea that will overlook Fantasy Springs.
Keep your eyes peeled in the coming months for more Fantasy Springs and Tokyo DisneySea updates…
Need a Few Reasons to Visit Disney's Wilderness Lodge?
Disney's Wilderness Lodge is one of the most unique properties at Walt Disney World—and it's a fan-favorite for good reason. For the past 25 years, it's given guests a little slice of turn-of-the-century national park splendor smack in the middle of Central Florida! D23 recently picked a few Wilderness Lodge "hidden gems"; read up about 'em by clicking here.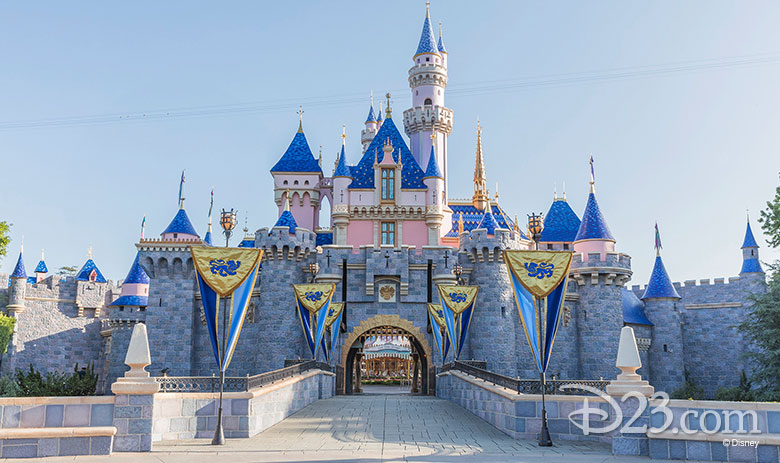 Sleeping Beauty Castle at Disneyland Park is Beautifully Back
After a months-long refurbishment, Sleeping Beauty Castle inside Disneyland park—truly some of the most iconic architecture in Disney history—is once again welcoming guests! The beloved, beautiful icon now features a new roof, vibrant new colors, and some charming pixie dust… among a host of other enhancements.
Over the years, the colors and finishes on Sleeping Beauty Castle have been refreshed and updated since Walt Disney Imagineering artist (and Disney Legend) Herb Ryman first created the concept illustration of the castle in the 1950s. In honor of the castle's reopening, Disneyland Resort made a donation to Ryman Arts—a charity founded in Herb Ryman's memory that teaches classical drawing and painting to high school students in Southern California. Additionally, the resort planted a dwarf fir tree in his honor; the "Ryman Tree" recalls a Christmas tree that belonged to the artist the last year of his life, that was once planted near the castle after his passing.
Make sure to visit Sleeping Beauty Castle during your next Disneyland sojourn!