By Jim Frye
Twenty-five years ago today, the grandeur of the great Northwest arrived in Central Florida as Walt Disney World opened Disney's Wilderness Lodge, an homage to the rustic splendor of Yellowstone National Park. Modeled on the historic Old Faithful Lodge circa 1904, Wilderness Lodge creates a sense of awe and nostalgia for turn-of-the-century national parks with towering pines, bubbling hot springs, soaring architecture, and nods to American craftsmanship. With so much detail involved in the design of this Disney masterpiece, D23 wanted to celebrate its silver anniversary by pointing out seven hidden gems that you may—or may not—have noticed.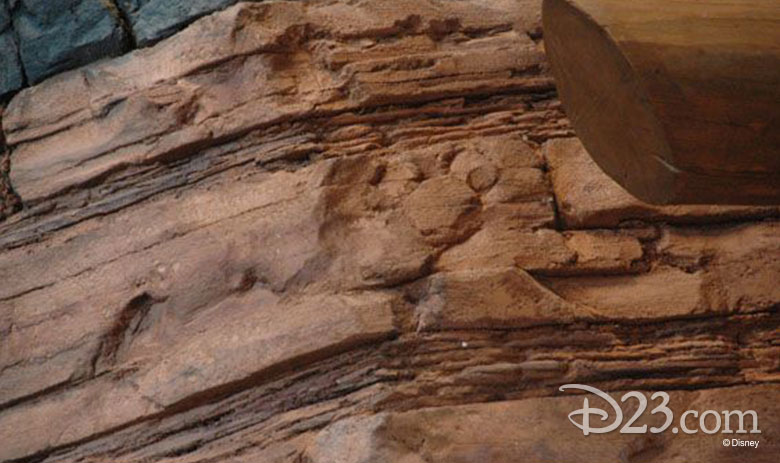 1. Perhaps the most memorable part of any guest's visit to Wilderness Lodge is that first, breathtaking step into the grand, six-story lobby. Two 55-foot-high totem poles stand guard at the entrance with four giant chandeliers overhead designed to resemble tepees. But what you might not realize is that the 82-foot-tall fireplace is a tribute to the strata of the Grand Canyon, with more than 100 colors and "fossilized" remains of prehistoric plant and animal life. Make sure to spend some time observing this "marvel of nature." Of course, keen observers have also discovered a non-fossilized gem in the fireplace: a Hidden Mickey. See if you can find it for yourself!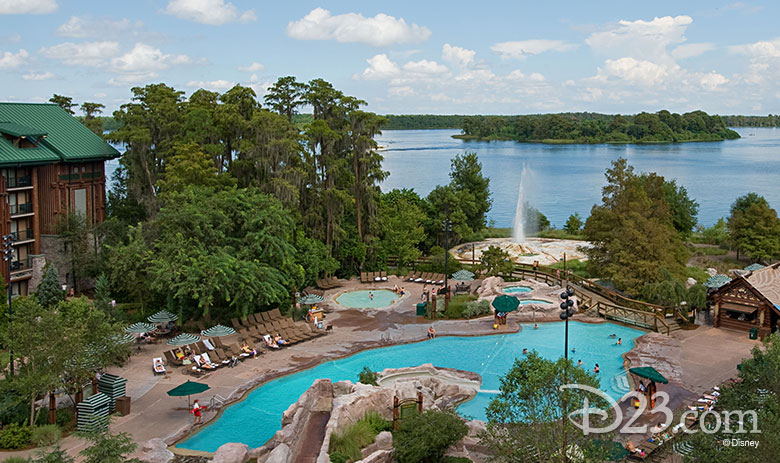 2. But the fireplace isn't the only "natural wonder" you'll find in the lobby. There's also a bubbling hot spring that flows outside into a stream where it eventually becomes a roaring waterfall that splashes down into the pool. But don't stop there—follow the path behind the pool area out toward the lake, where you'll find Fire Rock Geyser, a 120-foot geyser that erupts hourly from 7 a.m. to 10 p.m.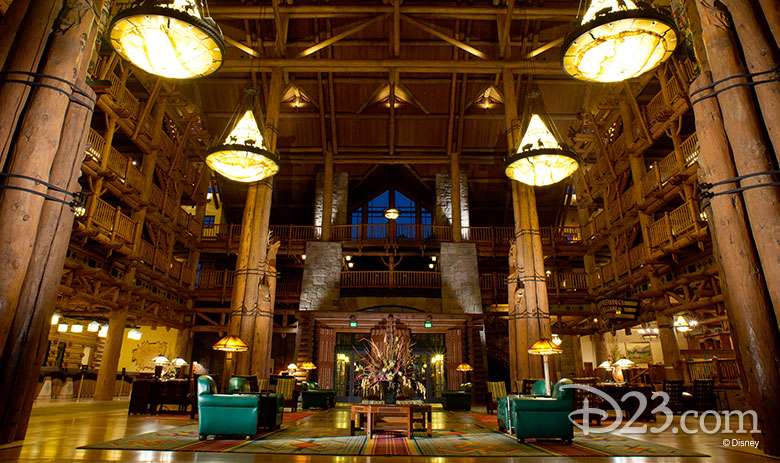 3. The gigantic "bundled" lobby pillars were inspired by the railroad piers on the great Columbia River. Even though they appear to be made from giant lumber trees, no live trees were used. The actual material is standing dead Lodge Pole Pine from Montana and Oregon. Native American legend says that these bundles "hold up the heavens." Look up and you'll notice that each pillar is topped with an animal carving.
4. The beautiful lobby floor—made up of Brazilian cherry, white oak, bird's eye maple, and burl walnut wood—is specifically designed using Hopi "storm pattern" weaving.
5. The Boulder Ridge Villas area of the resort—part of Disney Vacation Club—were designed with early railroad hotels in mind. One of the highlights of this railroad theme can be found in the Carolwood Pacific Room (Where have we heard that name before?). It's named after Walt Disney's original backyard railroad and has two actual train cars donated by Walt's daughter Diane Disney Miller, which were used by Walt in his backyard railroad at his Holmby Hills home on Carolwood Drive.
6. The Boulder Ridge Cove Pool Area, nestled within the Boulder Ridge Villas, is themed to resemble a repurposed rock quarry that has been long abandoned. But there's something very unique—and familiar—about the area's two pieces of vintage mining equipment: for many years, they were part of the former Studio Backlot Tour at Disney's Hollywood Studios!
7. When guests turn off of World Drive, en route to the Wilderness Lodge, and drive under the huge archway adorned with buffalos, they feel as if they are leaving Florida and entering the great Northwest. To reinforce that feeling, the road on which Disney's Wilderness Lodge is located is called Timberland Drive, a tribute to Oregon's famed 80-year-old Timberline Lodge. How's that for detail?