By Jim Frye
Breathe it in…. and savor the world—all without leaving Orlando.
From the brightly colored panoramas and wide beaches of the Caribbean islands, to the spicy aromas and cuisines of Mexico, to the awe-inspiring vistas of Africa, Walt Disney World Resort is awash in the sights, sounds, and tastes from around the world. And we're not just talking about Epcot—although a walk around World Showcase is a true globetrotting adventure!
We're actually talking about the Disney Resort Hotels, nestled across the 42 square miles of Walt Disney World, packed with some of the best international food, music, and immersive experiences a world traveler could find! So leave your passport at home—you won't need it—because these Resort Hotels deliver the world right to your doorstep.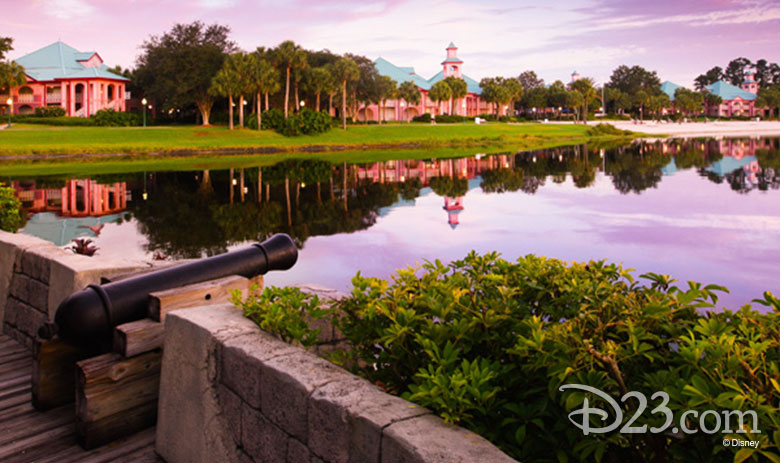 Disney's Caribbean Beach Resort
Celebrating 30 years of island-hopping fun is Disney's Caribbean Beach Resort, a tropical paradise adorned with swaying palm trees, white-sand beaches and pastel-colored buildings hugging the shores of the 45-acre Barefoot Bay. It's a lushly beautiful setting, made all the more exciting by its close proximity to both Epcot and Disney's Hollywood Studios parks. The main pool of the resort features two 80-foot-long waterslides themed to an old Spanish fort—complete with cannons (that only shoot water!). And although the resort has long been a favorite for guests, enhancements are underway that will add to its allure.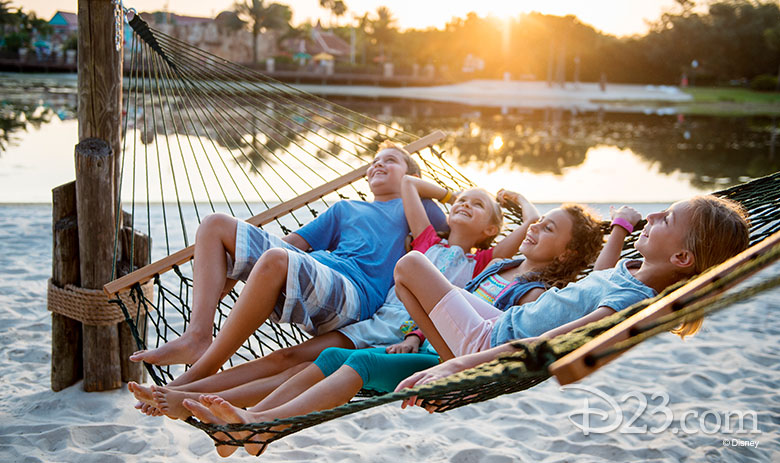 As part of the reimagining of Old Port Royale, the former Shutters restaurant is moving to a new location along the waterfront as Sebastian's Bistro. Guests will delight in the blend of Latin and Caribbean flavors from market-fresh ingredients. A new Banana Cabana poolside bar and lounge is opening next to Shutters, complete with repurposed steel drums and a communal table made from a wooden boat. And the Centertown Market quick-service food location is being expanded to create an indoor street market vibe. If you crave a slice of the islands, then catch a hammock as the sun sets and listen closely—you just might hear the notes from a steel drum band gently lulling you to sleep.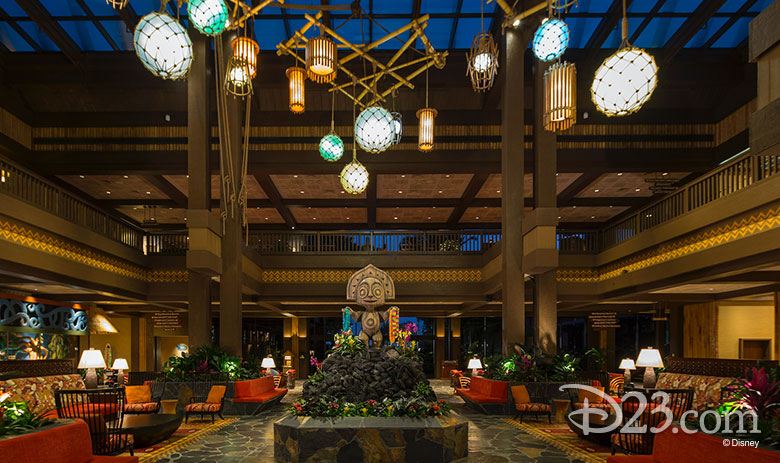 Disney's Polynesian Village Resort
The spirit of aloha flows through Disney's Polynesian Village Resort, which has been welcoming guests to enjoy the island ambiance since opening on October 1, 1971. From the lush tropical foliage, to Disney's Spirit of Aloha Dinner Show with hula dancing, fire dancing and more, to moonlit sandy beaches and exotic tastes from world-class restaurants, Disney's Polynesian Village Resort is definitely a world apart.
Let's start with the food—oh, the food!—where guests can indulge in tropical specialties from the South Pacific, Asian-infused dishes and American classics. Some favorite dining locations include 'Ohana, with its oak wood fire pit for grilling meats; Kona Café, which serves a scrumptious breakfast including Tonga Toast and the Big Kahuna; and the Pineapple Lanai, where guests can find the famous Dole Whip, the only Walt Disney World Resort location where Dole Whip is served outside the parks. And for tropical drink lovers, don't miss Trader Sam's Grog Grotto, the guest-favorite tiki bar located inside the Great Ceremonial House, and its accompanying Trader Sam's Tiki Terrace outdoor area. You'll get lost in the whimsical wackiness—and may never want to leave.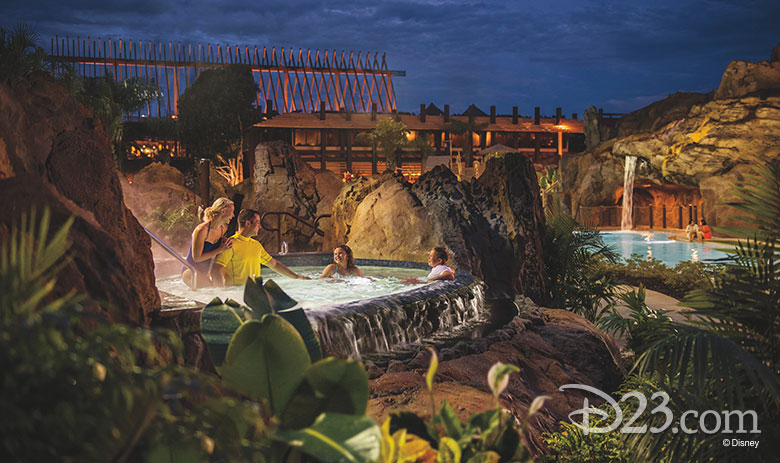 The newest additions to this island oasis are Disney's Polynesian Villas & Bungalows, Disney's first over-the-water accommodations, elegantly overtop the waters of Seven Seas Lagoon. Built as part of Disney Vacation Club, these bungalows evoke true luxury and South Seas ambiance. Take off your shoes, grab a hammock, and enjoy the tropical exhilaration of this resort. Exotic island refreshments and music will inspire you to abandon the cares of the outside world you've left behind. If you close your eyes—or leave them open—you may just forget where you're at.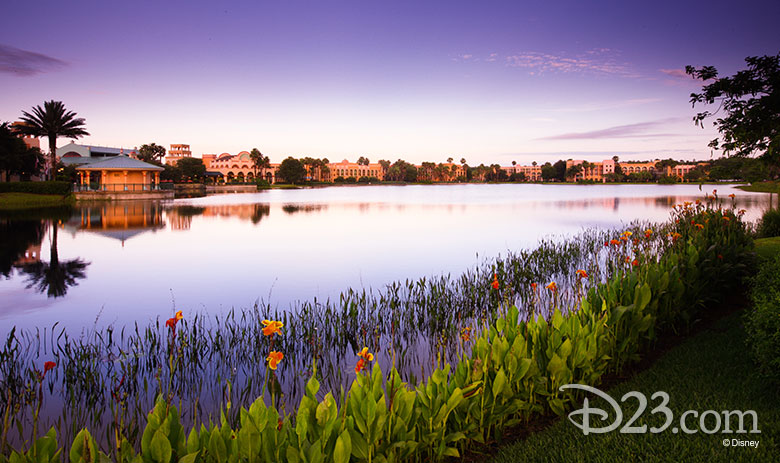 Disney's Coronado Springs Resort
Whether you're searching for an ancient city of gold, a Mayan pyramid, or just a place to sample sizzling Nuevo Latino fusion cuisine, Disney's Coronado Springs Resort is your place. Inspired by the grand haciendas and mission cities of Latin America, this Disney Resort Hotel is built around the 22-acre Lago Dorado Lake and captures the romance and adventure of Spanish Colonial Mexico. It also has the Dig Site—a sprawling pool complex with a Mayan ruins theme and the Lost City of Cibola pool, which has a 50-foot pyramid with water streaming down its stone steps. There's also a 123-foot-long waterslide featuring a spitting Jaguar spirit animal. The Maya Grill serves up an array of Tex-Mex options and sumptuous desserts, such as Coconut Flan, Chocolate Abuelita Panna Cotta, and Mango Sorbet.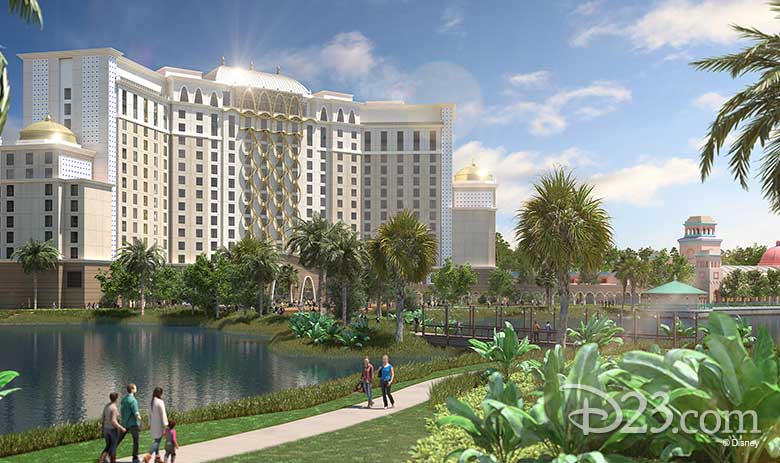 But that's not all—there's even more on the horizon as Disney's Coronado Springs grows and changes: You'll soon be able to enjoy a new lounge in the middle of the resort's lake with private, open-air seating areas; a new lobby coffee bar; and a stunning new rooftop table service restaurant and lounge on the 15th floor of a brand-new tower with indoor and outdoor seating and amazing views over Toy Story Land and the soon-to-open Star Wars: Galaxy's Edge at Disney's Hollywood Studios.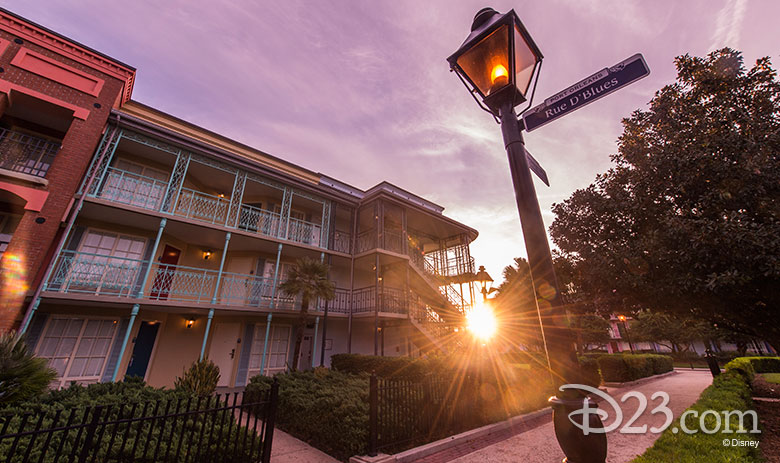 Disney's Port Orleans Resort—French Quarter
If jazz, Mardi Gras, and Creole specialties are more your speed, then take a stroll down the cobblestone streets of Disney's Port Orleans Resort—French Quarter, a resort that evokes the bustling spirit of New Orleans' historic—and lively—French Quarter. There, you'll find gas lamps and wrought-iron balconies, horse-drawn carriage rides, and a Mardi Gras-themed pool (with a giant sea serpent slide!). And just off the lobby is the Scat Cat's Club, a southern-style jazz lounge serving up tasty crawfish tails, spicy shellfish stew, and steamed rice with a background melody of smooth jazz.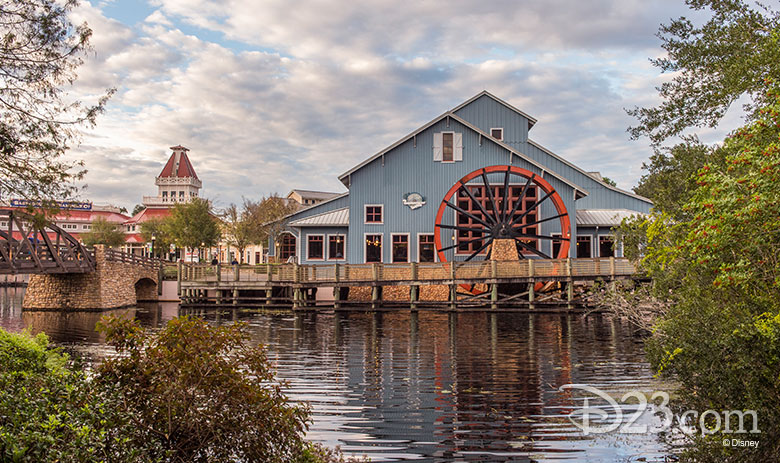 From there, it's just a leisurely stroll along the Sassagoula River to Disney's Port Orleans Resort—Riverside, a throwback to the stately mansions and backwoods cottages of a bygone era. While you're there, savor the hearty, Southern-inspired dinner fare inside Boatwright's Dining Hall or enjoy the riverside beauty of the resort, inspired by rural Louisiana and the Bayou. A 35-foot water wheel powers a working cotton press at the Riverside Mill Food Court. The main lobby is fashioned to resemble a steamboat ticket station, with boats waiting just outside on the docks to whisk you down the river to Disney Springs.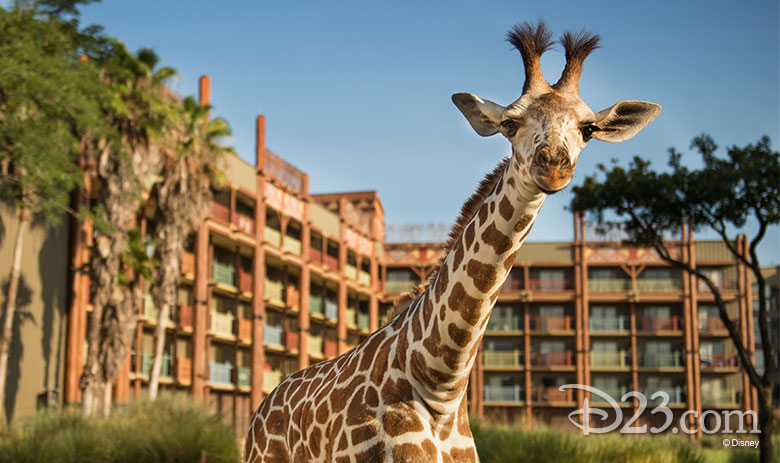 Disney's Animal Kingdom Lodge
There aren't many places in the world where you can wake up, peer out your window and come face-to-face with giraffes grazing amongst the trees, or see zebras, kudu, and gazelles grazing quietly below your room. The majesty of Disney's Animal Kingdom deserves nothing less than a grand lodge to match, and that's exactly what guests will find at the truly remarkable Disney's Animal Kingdom Lodge. Inspired by the traditional African kraal, the horseshoe-curved design provides spectacular views of four lush savannas that are home to more than 200 hoofed animals and birds. Inside, the Resort houses one of the largest collections of African art in the United States.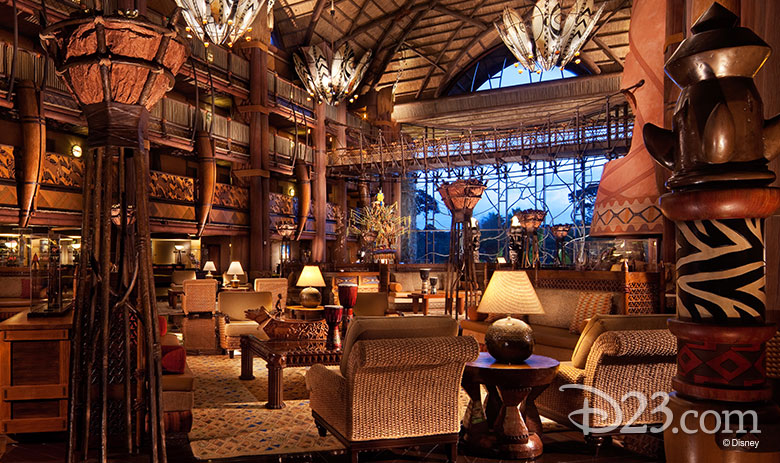 As with all of Disney's resorts, the food is an experience all to itself. You'll fall in love with the table service restaurant Jiko—The Cooking Place, where vibrant spices, wood-cooked delectable, and South African wines transport you to the heart of Africa. You can even arrange for private safari encounters—called Wanyama Safari—on the savanna prior to your multi-course meal. For a wholly different experience, try the tantalizing all-you-can-eat cuisines of Boma—Flavors of Africa, featuring foods inspired by more than 50 countries on the continent, from grilled fish and roasted meats, to vegetarian specialties and fresh salads—all under the thatched roofs and colorful surroundings resembling a lively African marketplace. Jambo! (Traditional Swahili greeting).
And there's more…
The world-traveling vibe doesn't end there! Continue your global journey—which includes stops back here in America—by visiting Disney's Old Key West Resort to experience the slow-paced romance of the Florida Keys in the tranquil community of Conch Flats; the New England-style elegance of Disney's Beach Club Resort or Disney's Yacht Club Resort; the rolling greens and shimmering lakes of the late-1800's style Saratoga Springs; or Disney's Wilderness Lodge, which celebrates the rustic majesty of America's Great Northwest.
Wherever your heart wanders—to the romance of the South Seas, to the vibrancy of South America, to the grand views of Africa's savannas, or the gentle, slow pace of a Caribbean beach—you can find it at a Walt Disney World Resort. Sit, sip, savor. See the world.