By Zach Johnson
Unlike Han Solo, we've got a good feeling about this.
Spanning more than 14 acres, Star Wars: Galaxy's Edge is the largest single-themed land in Disney Parks history, packed with immersive storytelling that allows guests to live their own Star Wars adventures. "At the heart of Star Wars: Galaxy's Edge is this fundamental truth: We all have the power to be a hero, making choices that change the course of the galaxy," says Scott Trowbridge, Star Wars Portfolio Creative Executive, Walt Disney Imagineering. "Whether you're a lowly moisture farmer on some remote planet or an orphan sitting in a pile of dirt just trying to scrape by, every individual has the power to change the universe." With so much to take in when the land opens May 31, 2019, at Disneyland Park in California and August 29, 2019, at Disney's Hollywood Studios in Florida, make sure to enjoy these 10 guest experiences: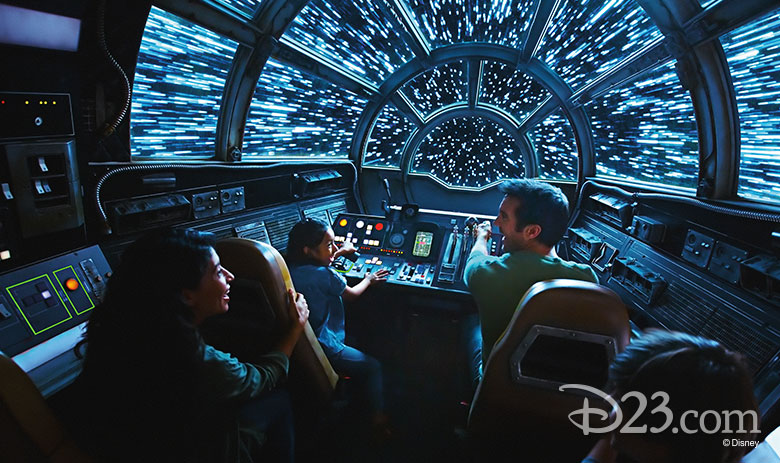 1. Fly the "Fastest Hunk of Junk in the Galaxy" in Millennium Falcon: Smugglers Run
Strap into the Millennium Falcon cockpit and take the controls as either a pilot, a gunner, or a flight engineer on a mission to deliver smuggled goods—all while avoiding any unnecessary entanglements. "The level of guest participation in Millennium Falcon: Smugglers Run is different from anything we've done before. You're not merely a passenger along for a ride, but rather the protagonist of the adventure," Asa Kalama, Executive Creative Director, Walt Disney Imagineering, explains. "The story unfolds around you and responds to the way you engage it."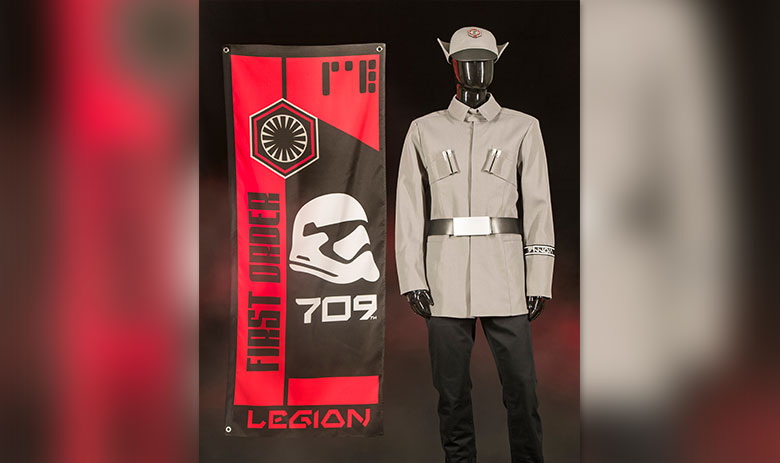 2. Discover the Black Spire Outpost Marketplace
Here you'll find vendors showcasing wares from across the galaxy. Guests can buy authentic Batuuan attire at Black Spire Outfitters, start a collection of rare artifacts at Dok-Ondar's Den of Antiquities, or peek into the cages in the Creature Stall. The marketplace's twisting pathway is just waiting to be explored, with something new to see around every corner. "When you have a film, it's a closed experience. You get to the end, and it's over. At Star Wars: Galaxy's Edge, it's about being expansive over time; it has a richness of discovery and the idea of possibility," Carrie Beck, Vice President, Development, Lucasfilm, says. "That platform is filled with narrative and play, so guests will want to come back over and over—and have a variety of experiences."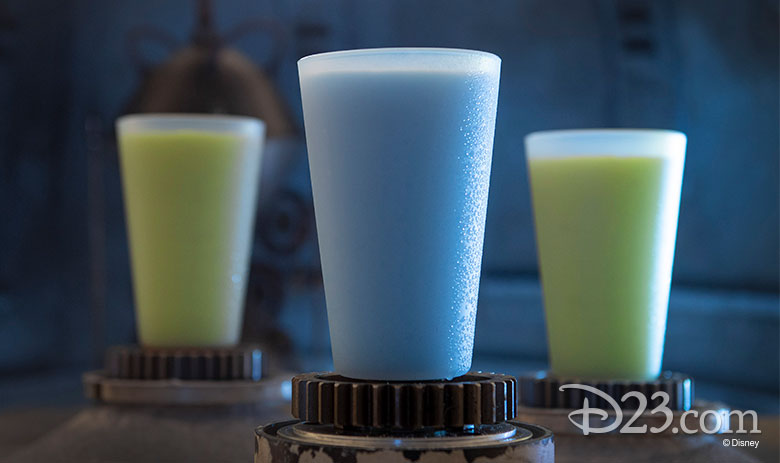 3. Take a Swig of Blue Milk
Ever since Luke Skywalker sat down for a family meal in Star Wars: A New Hope (1977), fans have wondered what blue milk tastes like. At Star Wars: Galaxy's Edge, their question will be answered. The Milk Stand in the Black Spire Outpost marketplace offers both Blue and Green Milk (as seen in Star Wars: The Last Jedi)—two tasty frozen blends with vaguely fruity accents.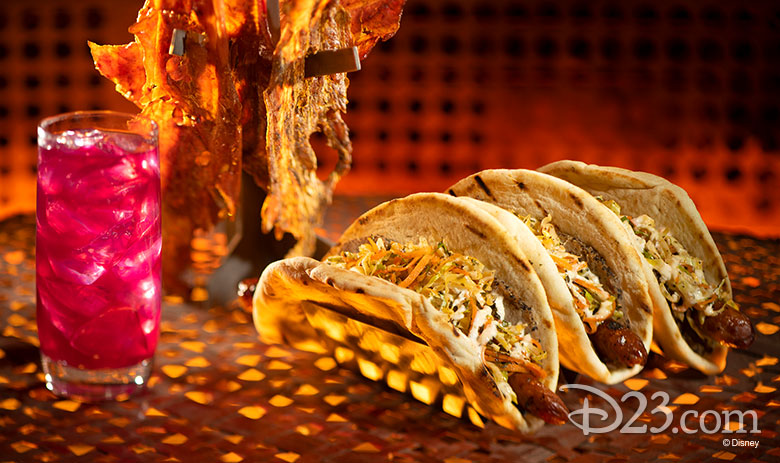 4. Grab a Bite to Go at Ronto Roasters
Whether it's the large podracing engine hanging overhead or the former smelter droid turning a spit of meats, Ronto Roasters is sure to grab guests' attention. This marketplace stall offers mouthwatering Ronto Wraps and sweet-or-spicy Nuna Turkey Jerky, plus specialty beverages.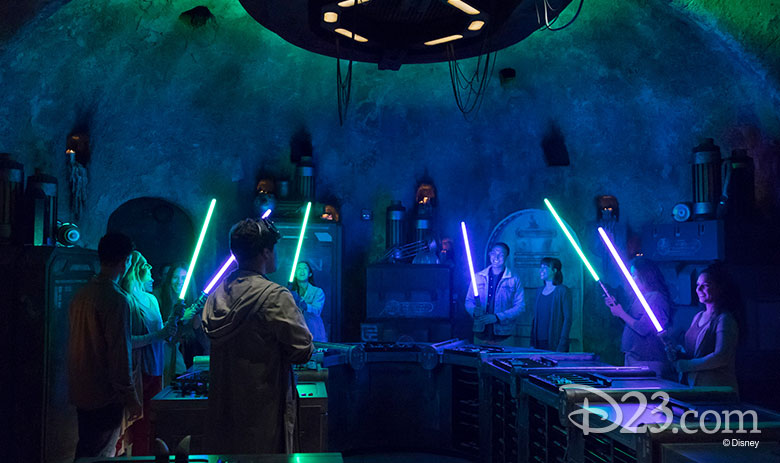 5. Design a Lightsaber at Savi's Workshop – Handbuilt Lightsabers
All Padawans know constructing a lightsaber is a rite of passage in the life of a Jedi, as this elegant weapon from a more civilized age is attuned to its wielder through the Force. Guests in Savi's Workshop – Handbuilt Lightsabers will feel the presence of the Force as they craft their very own lightsabers, customizing them with various hilts, décor, and, of course, kyber crystals. "Savi's Workshop is part interactive experience, part show, and part retail. It's what I think we do best when all of our lines of business—merchandise, story, special effects, entertainment, and so many more—come to the table and we craft an experience together," Chris Beatty, Executive Creative Director, Walt Disney Imagineering, says. "We're excited because you actually build the lightsaber you've always wanted, crafting it uniquely for you, one of a kind."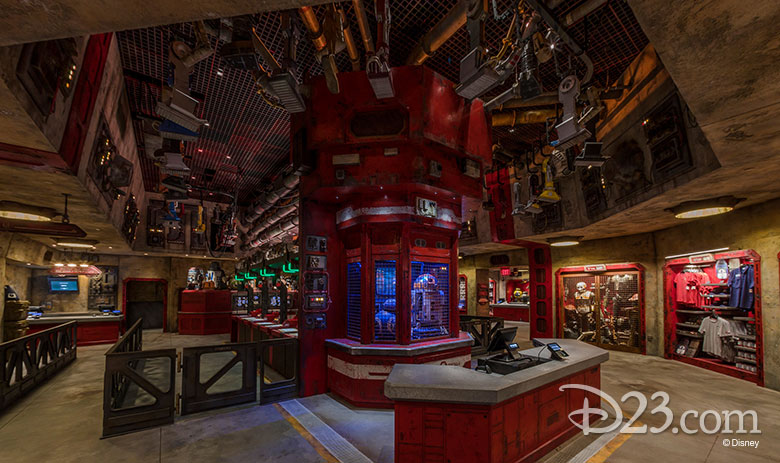 6. Build a Droid Inside the Droid Depot
From R2-D2 to BB-8, droids can be some of the most loyal companions in the entire Star Wars galaxy. Now, guests have the chance to build and customize their own astromech friends at the Droid Depot. Patrons pick pieces and parts off a conveyor belt to construct one of two core models (R-series or BB-series), which can then interact with elements throughout the new land.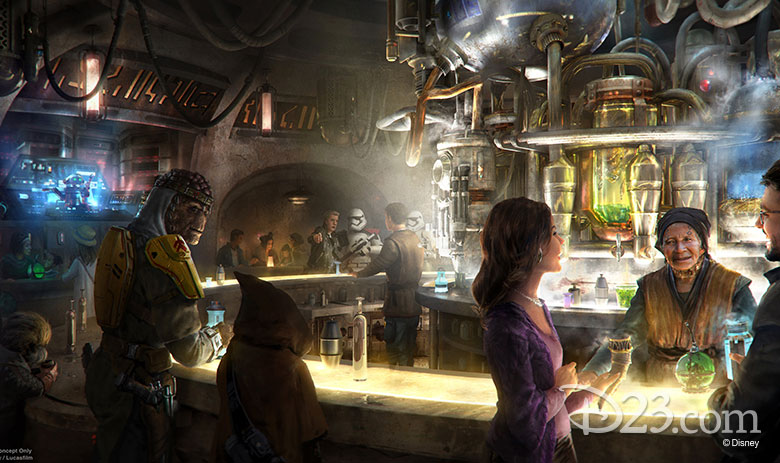 7. Drop by for a Drink at Oga's Cantina
The heartbeat of Black Spire Outpost, this notorious watering hole is a place where even the blaster-bolt scorches on the walls tell a story. Here, guests can gather to share their own tales from around the galaxy as they enjoy exotic beverages served in unique vessels and listen to musical entertainment from DJ R-3X, the former droid pilot from Star Tours in Tomorrowland. "Our goal was to create a place so authentic—so real—that when our guests step inside, they feel like they're in a Star Wars movie. To do this, we had to partner with the team at Lucasfilm in bringing these films to life," Beatty says. "Together, Walt Disney Imagineering and Lucasfilm have crafted a place that is going to amaze our guests—a place they've never seen before."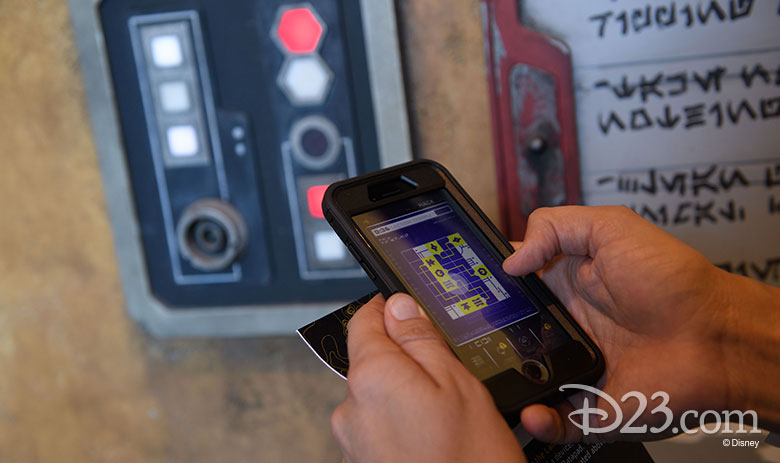 8. Hack Star Wars: Galaxy's Edge with the Play Disney Parks Mobile App
When accessed inside Star Wars: Galaxy's Edge, the app transforms guests' mobile devices, allowing them to scan the contents hidden inside containers, translate languages, and eavesdrop on local communications. "We have amazing technology that will enable Star Wars: Galaxy's Edge to become a living land. One way we're doing this is with the Play Disney Parks app. It's available for download now, and it will be your very own Star Wars: Datapad," Kalama says. "As guests visit us at Star Wars: Galaxy's Edge, their mobile devices will be transformed into this amazing in-story tool. Using its four functions, you can interact with and unlock another level of storytelling right here at Black Spire Outpost." Guests can also use this tool to hack into droids and door panels (what locals call "slicing") to unlock additional stories.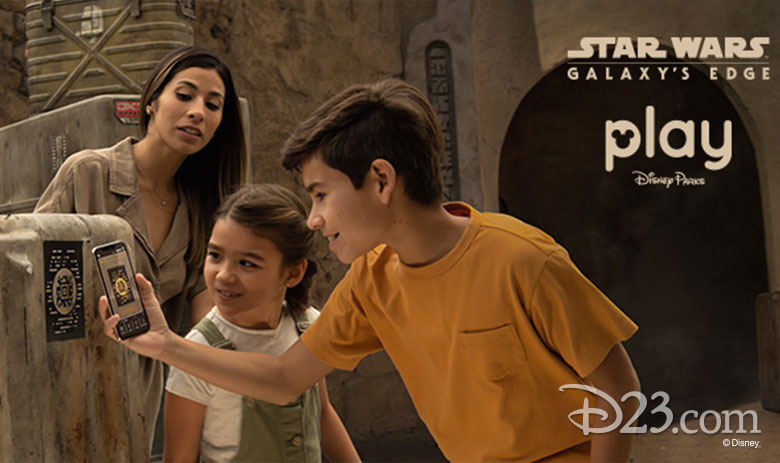 9. Support the Resistance or the First Order to Gain Outpost Control
Using the Play Disney Parks mobile app, guests can play together in a game called "Outpost Control" that takes place across the land. Guests can choose to support either the Resistance or the First Order by hacking the blinking light panels next to doorways throughout Black Spire Outpost. The faction that controls the majority of these panels first wins the game and proves their allegiance to their side's cause. The conflict will play out several times throughout the day.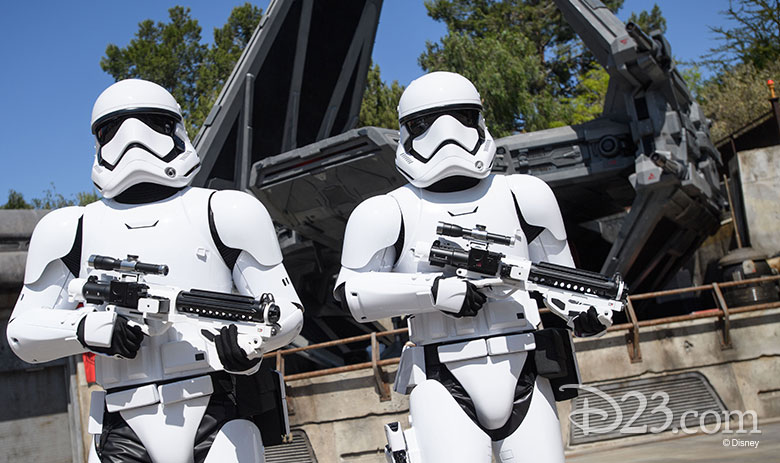 10. Be on the Lookout for Familiar Star Wars Characters
Guests should keep their eyes open for heroes of the Resistance or agents of the First Order. Supreme Leader Kylo Ren lands at Black Spire Outpost and gathers Stormtroopers to help him hunt for Resistance fighter Rey, for example, while Millennium Falcon co-pilot Chewbacca and Resistance spy Vi Moradi will also roam the new land. "Star Wars: Galaxy's Edge redefines what a Disney experience can be," Trowbridge explains. "It invites exploration and discovery, where we can become characters in the Star Wars galaxy. More and more, our guests want to lean into these stories; not just be a spectator. We're giving them the opportunity to do just that in this land, with a new level of detail and immersion. This is an opportunity to play and engage with your friends and family in a shared experience that will forge lifelong memories."
Find out more about Star Wars: Galaxy's Edge at the links below:
Star Wars: Galaxy's Edge Invites Guests to Be Heroes of Their Own Adventures in New 'Living Land'
Lightsabers, Droids, and Holocrons—The Incredible, Immersive Merchandise of Star Wars: Galaxy's Edge
Step Aboard Millennium Falcon: Smugglers Run
How to Taste Your Way Through Star Wars: Galaxy's Edge
Creatures, Droids, and Aliens: Meet the Fantastical Figures of Star Wars: Galaxy's Edge
7 Surprising Stats and Fascinating Facts from Star Wars: Galaxy's Edge
Explore Star Wars: Galaxy's Edge and All Its Starships and Speeders
Hidden Gems and Attention to Detail Create Authenticity in Star Wars: Galaxy's Edge