By Courtney Potter
Disney Channel Announces Hamster & Gretel Voice Cast
Great news for Dan Povenmire fans—y'know, the cool dude and friend of D23 behind the fan-favorite, Emmy® Award-winning animated series Phineas and Ferb? He's got a sure-to-be-hilarious new animated project coming soon to Disney Channel called Hamster & Gretel, and they've just announced its voice cast! Check out a teaser trailer for the show, below.
Disney Branded Television's Hamster & Gretel will introduce Meli Povenmire in the titular role of Gretel (pictured below, left). The series will also star Michael Cimino as Gretel's older brother, Kevin; Beck Bennett as Gretel's pet hamster, Hamster; Joey King as Gretel's tech-savvy cousin, Fred (all three pictured above)… as well as Carolina Ravassa as their charismatic mother, Carolina, and Matt Jones as the siblings' easygoing father, Dave (pictured below, middle and right).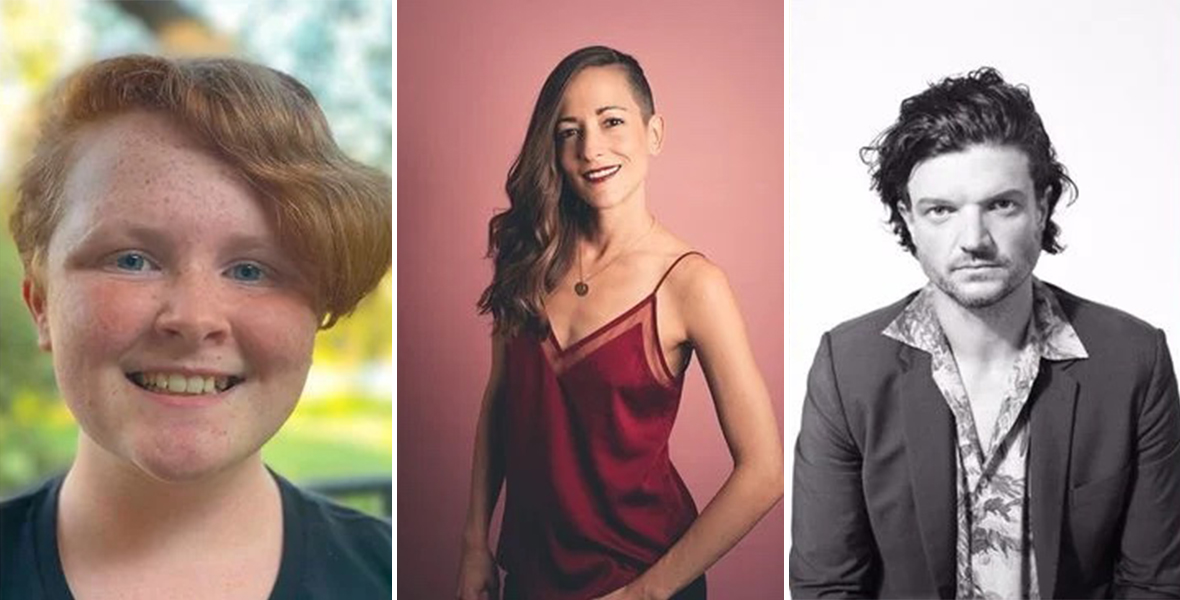 The series centers on Kevin and his younger sis Gretel, who are, well… about to be given superpowers by space aliens! But something goes awry, and it's Gretel and her pet hamster who suddenly have new abilities. Now, protective older brother Kevin must figure out how to work with both Gretel and her pet to protect their city from mysterious dangers. Look for Hamster & Gretel to premiere this summer on Disney Channel!
5 Fantastic Things to Watch This Weekend Presented by State Farm®
Summer's now in full swing, and-as per usual—there's all manner of mega-entertaining content to fill your viewing calendar from around the worlds of Disney this very weekend. Take in a new episode of The Ghost and Molly McGee; celebrate some of this year's most influential people with the all-new TIME100 special; and so much more.
First Look at Walt Disney Animation Studios' Strange World
Earlier this week, Walt Disney Animation Studios shared the brand-new teaser trailer for Strange World, premiering later this fall. The original action-adventure journeys deep into an uncharted and treacherous land where fantastical creatures await the legendary Clades, a family of explorers whose differences threaten to topple their latest—and by far—most crucial mission. Jake Gyllenhaal lends his voice to Searcher Clade, the son of one of those steadfast explorers.
Helmed by Don Hall (Oscar®-winning Big Hero 6, Raya and the Last Dragon) and co-director/writer Qui Nguyen (co-writer, Raya and the Last Dragon)—and produced by Roy Conli (Big Hero 6, Tangled)—look for Strange World beginning November 23.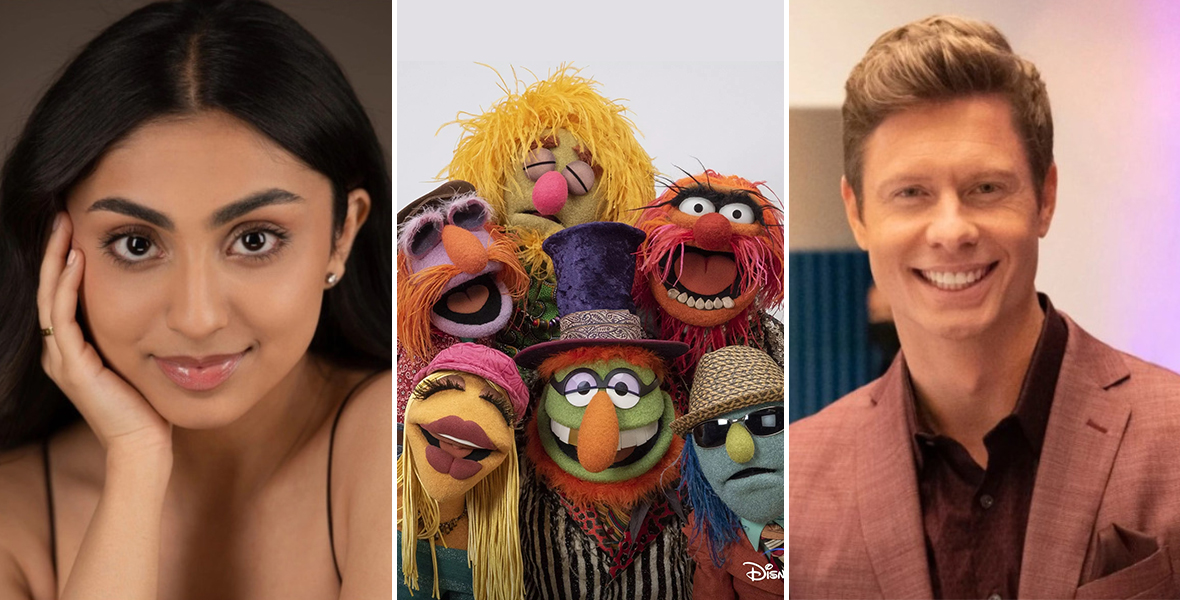 Saara Chaudry and Anders Holm Join Disney+'s The Muppets Mayhem
As Dr. Teeth might say, "Well allllll right!" Disney+ just announced that two new pals have been added to the cast of the streamer's upcoming musical comedy series The Muppets Mayhem: Saara Chaudry (The Mysterious Benedict Society) and Anders Holm (Workaholics)! They'll join previously announced stars Lilly Singh (A Little Late with Lilly Singh) and Tahj Mowry (Smart Guy).
The comedy series follows The Electric Mayhem Band—Dr. Teeth on vocals and keyboards, Animal on drums, Floyd Pepper on vocals and bass, Janice on vocals and lead guitar, Zoot on saxophone, and Lips on trumpet—on an epic, music-filled journey to record their first-ever studio album. With the help of a driven young music executive, Nora Gibbs (Singh), the old-school Muppet band comes face to face with the current-day music scene as they try to finally go platinum.
Chaudry will play Nora's younger and arguably more accomplished sister Hannah, who has translated her talent for aspirational make-up videos into a burgeoning social media empire. Holm will recur in the series as JJ, a formerly sheepish, nerdy intern-turned uber-cool tech entrepreneur who happens to be Nora's ex.
Look for more muppetational info on The Muppets Mayhem in the coming months!
Disney On Ice is Ready to Let It Go with the Family Madrigal…
Earlier this week, our good friends at Disney On Ice announced that some brand-new, and very magical, experiences are coming to a city near you for the first time! Disney On Ice Presents: Frozen & Encanto begins this September, and you can find more information about it—including a link to buy tickets—by clicking here.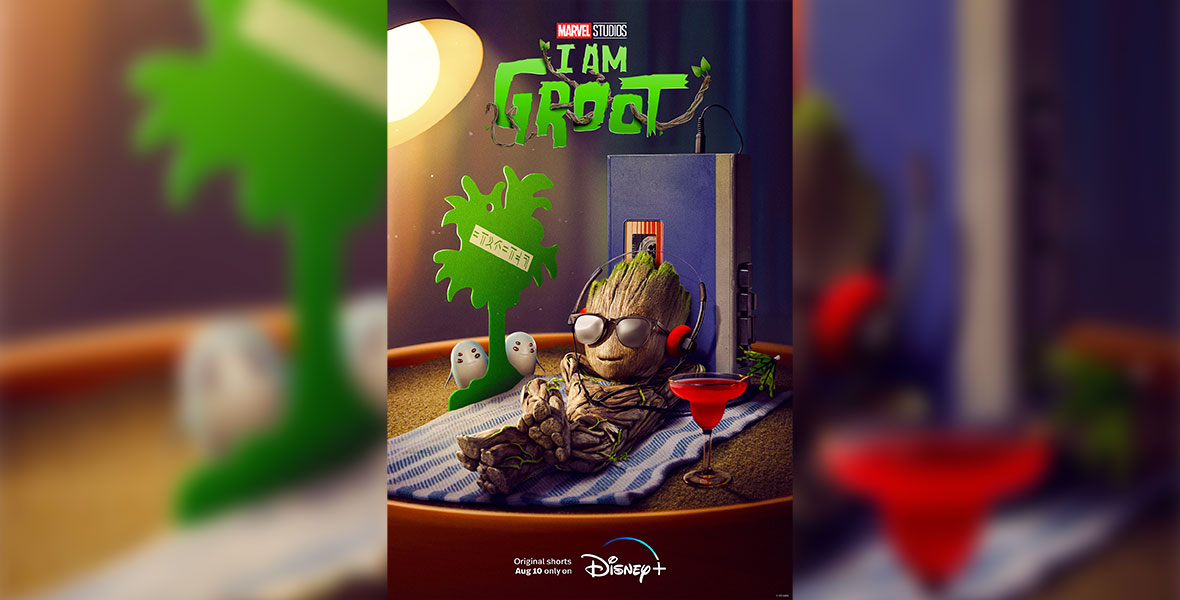 Marvel Studios Shares Premiere Date for I Am Groot on Disney+
More fun news from Disney+: They recently announced that the latest Marvel Studios addition to its exciting summer lineup, I Am Groot, will launch on Wednesday, August 10! I Am Groot is a collection of five original shorts starring Baby Groot, everyone's favorite (and ridiculously adorable) little tree, and will feature several new and unusual characters. All five shorts will be available for viewers to watch upon launch.
There's no guarding the galaxy from this mischievous toddler! So, get ready as Baby Groot takes center stage in his very owns series—exploring his glory days growing up, and getting into lots of memorable trouble among the stars.
Vin Diesel, who is the voice of Groot in the Guardians of the Galaxy franchise, lends his voice to Baby Groot. The series is written and directed by Kirsten Lepore, with Kevin Feige, Louis D'Esposito, Victoria Alonso, Brad Winderbaum, and James Gunn serving as executive producers. So, make sure to mark those calendars!
ICYMI: WATCHLIST: Your Ewan McGregor Streaming Roundup
He sings; he dances; he can make you feel every emotion under the sun; he can don a realistic fat suit and bald cap with the best of 'em; and he can wield a lightsaber like no one's business! See all this (and more) in action by checking out all the films on our Ewan McGregor streaming roundup.