By Jim Frye
Animated favorites Phineas and Ferb; their sister, Candace; and the whole gang are back in the great big new adventure Phineas and Ferb The Movie: Candace Against the Universe, from Disney Television Animation and Dan Povenmire and Jeff "Swampy" Marsh, creators/executive producers of the beloved Emmy® Award-winning Phineas and Ferb series.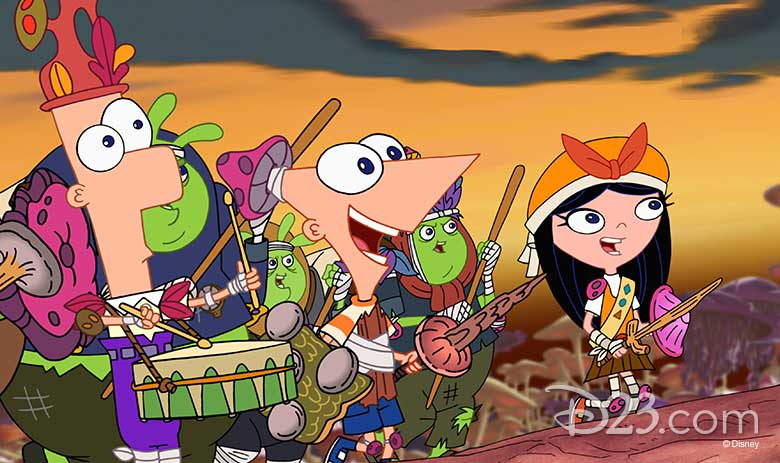 The 104 days of summer may be coming to an end, but stepbrothers Phineas (voice of Vincent Martella) and Ferb (voice of David Errigo Jr.) find their biggest adventure yet—while still trying to avoid getting in trouble with Mom. This time, though, they dash across the galaxy to save their older sister, Candace (voice of Ashley Tisdale), from space aliens who have taken her to a planet free of pesky little brothers—which, of course, is pretty enticing for Candace.
And even though it's been five years since the TV series concluded, the characters feel as fresh as ever. "They never really left," says Marsh. "They've always been with us."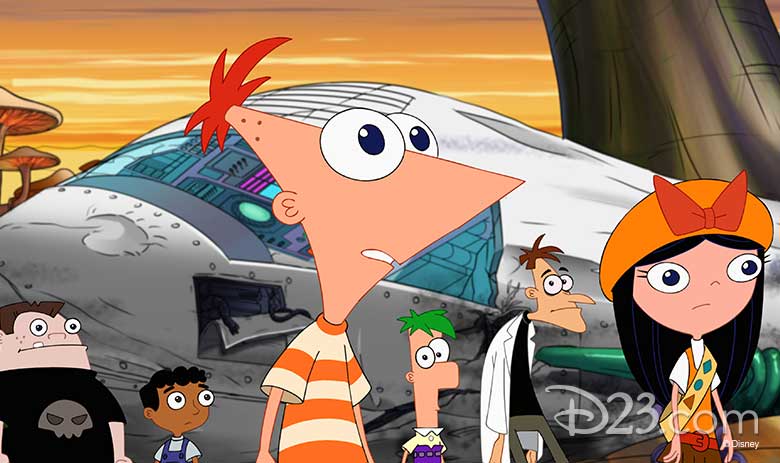 "They're like family," adds Povenmire. "We lived with these characters day in and day out for 10 years. Swampy and I kinda' missed the characters. After the finale we thought, 'We've done this for 10 years—we're done, let's move on.' And now, five years later, it's like, 'Yeah! We would love to play with those guys again.' So we got together with a lot of our old Phineas writers and hatched a plan." That plan, of course, involved Disney+, which seemed like the perfect opportunity to bring back these iconic characters.
Original cast members returning for the movie also include Caroline Rhea as Linda, Dee Bradley Baker as Perry the Platypus, Alyson Stoner as Isabella, Maulik Pancholy as Baljeet, Bobby Gaylor as Buford, Olivia Olson as Vanessa Doofenshmirtz, Tyler Mann as Carl, Povenmire as Dr. Heinz Doofenshmirtz, and Marsh as Major Monogram. Joining the fun are Ali Wong as Super Super Big Doctor, Wayne Brady as Stapler Fist, Diedrich Bader as Borthos, and Thomas Middleditch as Garnoz.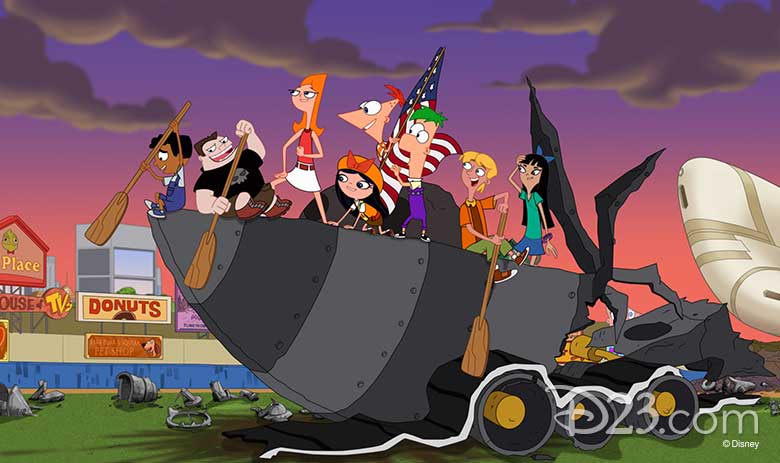 Original songs, a staple of the series, are back and funnier than ever—including the upbeat opening number, "Such a Beautiful Day," sung by Candace as she rides her bike around Danville. "In the beginning of the movie, it was hard to hit the right tone because we were showing the end of a day in a Phineas and Ferb summer where Candace misses busting them," says Povenmire. "She was coming off as shrill if you had not seen the whole series, and we needed people to be on her side, so we thought, ah-hah, we need a song to get people on her side but still show how crazy she is. For that I actually called my friend Kary Kirkpatrick." Povenmire has known Kirkpatrick—who works mainly as a screenwriter and director— since college, but the two friends had never collaborated together until this film. Kirkpatrick's body of work includes writing on such Disney films as The Rescuers Down Under; Honey, We Shrunk Ourselves; and many more. But for this project, "He just showed up with guitars," says Povenmire.
The central premise of the original Disney Channel series—Candace trying to get Phineas and Ferb in trouble for carrying out crazy adventures—is still the same. But the movie allowed for a bit more depth, and even "sweetness," to seep in.
"The sweetness comes from the extra sugar we added," says Marsh.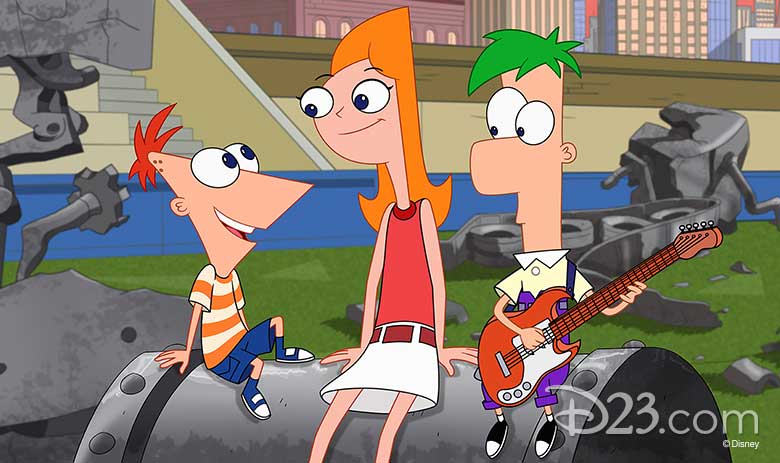 "Usually we use just a cup of sugar, but this time we used a cup and a half," adds Povenmire. "And it really pumped up the sweetness. So much of the series seemed to be Candace against the boys, but she's really just against what they're doing. She thinks, 'If I were to do that, I'd get in trouble.' So it's all about fairness in the house. That said, we always like when we get to show that these characters actually care for each other and love each other. And we usually don't get to do that in the short-form as much. I feel like we've done it better in this movie than we've done it before."
Marsh adds, "But every time we've done it, it's felt so great and so emotional. Those are the moments where I will automatically get choked up."
Speaking about getting choked up… Where did the nickname "Swampy" come from?
"It's descriptive," says Povenmire playfully. "He used to not shower very much."
"I used to be green and mossy," jokes Marsh. "No, actually, it's because of my last name. I acquired the nickname at a club I worked at. A bunch of people decided they were either going to call me Boggy Marsh or Swampy Marsh, and I think I got a little too stroppy about how much I didn't want to be called Boggy Marsh. And that kind of sealed my fate. I've been Swampy ever since."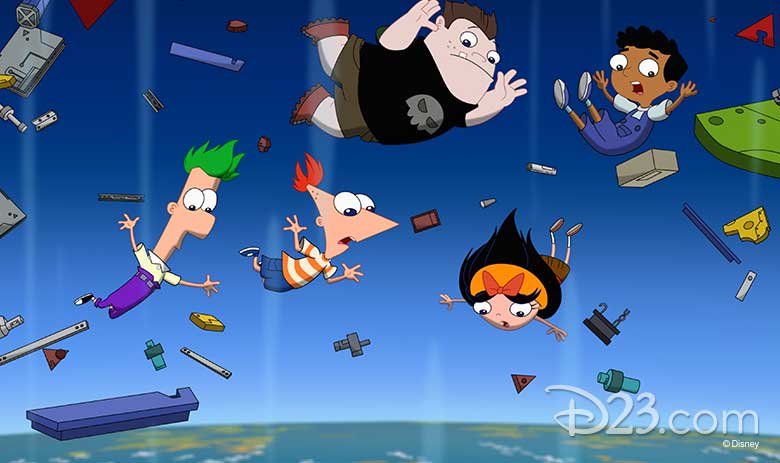 All nicknames aside, Phineas and Ferb The Movie: Candace Against the Universe premieres exclusively on Disney+ on August 28. This Friday, when you ask yourself that age-old question, "What are we going to do today?," the answer is clear.