By Beth Deitchman
When fans meet Disney Junior's newest hero, Mira, she is being fitted for the traditional uniform worn by all of the royal detectives who have held the title before her. A nearby portrait gallery confirms that all of Jalpur's previous royal detectives have been men, all many decades Mira's senior. The palace tailor observes, "This is the first time I've fitted a royal detective who's so…"
"Small?" questions Mira.
"And mighty!" the palace tailor emphasizes. The brave and resourceful Mira is more than up for the task of solving mysteries throughout her kingdom of Jalpur. She's a very different kind of royal detective for her kingdom, and the new animated series Mira, Royal Detective—premiering Friday, March 20, at 11 a.m. EDT/PDT on Disney Channel and at 7 p.m. EDT/PDT on Disney Junior—brings to Disney Junior a whole new world, a vibrant land that's inspired by the diverse cultures and customs of India.
Joe D'Ambrosia, senior vice president, Original Programming, and general manager, Disney Junior, recalls that the idea for Mira, Royal Detective sprang from a "water cooler conversation" about great detectives from literature and entertainment, which inspired the team to develop their own young sleuth. D'Ambrosia shares that Becca Topol, who now serves as the series' story editor, came in and pitched a story about a young girl who is essentially the smartest person in her town, driven to help her community by solving mysteries. "That was the jumping-off point for Mira, Royal Detective," he says. "And as we worked through development, we decided to make Mira South Asian, to celebrate all of the vibrant customs and cultures of India."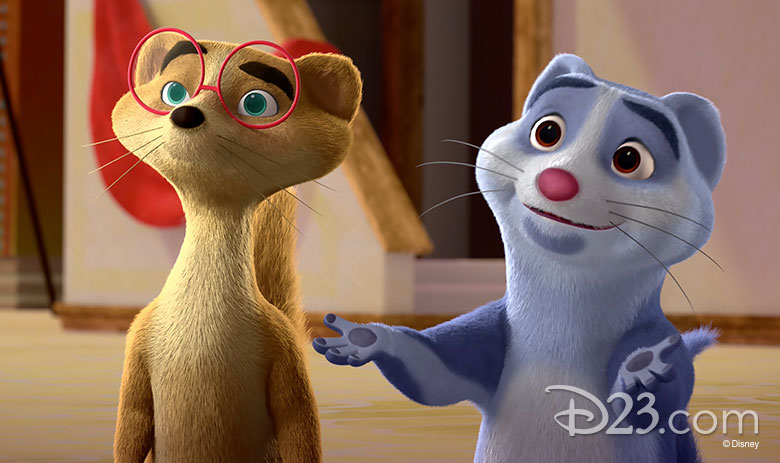 Each episode features two 11-minute stories in which Mira, with help from her friend Prince Neel, her creative cousin Priya, and her adorably comic mongoose sidekicks Mikku and Chikku, embark on mystery-solving adventures around Jalpur. In addition to clever mysteries that viewers of all ages will enjoy trying to solve along with Mira, the stories feature authentic food, fashion, language, and art inspired by South Asian culture. To ensure that Mira, Royal Detective is culturally authentic to the region that inspires it, Disney Junior is working with IW Group's Shagorika Ghosh Perkins, who serves as the series' cultural consultant and consulting producer.  Diane Ikemiyashiro, vice president, Current Series, Disney Junior says, "She looks at everything from a springboard idea for an episode all the way to the very end of animation." Ghosh Perkins advises on everything from customs and cuisine to the names of characters featured in the show.
Jalpur is a fairytale land rich with such elements of Disney magic as flying rickshaws and dancing mongooses, but first and foremost, Disney Junior wanted to be authentic to the region that inspired it. In working with Ghosh Perkins, the creative team looked to India's northwest region for a few specific elements. Jalpur's clock tower is reminiscent of many of the central towers found in Rajasthan, and as they envisioned Jalpur as a port city, the team found it helpful to look at the lakes of Udaipur. The incredibly detailed backgrounds are layered with iconic images that tap into South Asian culture. "We took a lot of care working with our consultants and our designers to make sure we got it right," D'Ambrosia emphasizes.
That drive for authenticity extends to Mira, Royal Detective's music and dance sequences. Music producer Deepak Ramapriyan (Basmati Blues) serves as a consultant, and Amritha Vaz (Miss India America) is composer. Most episodes feature a spectacular dance sequence created in partnership with Bollywood dancer and choreographer Nakul Dev Mahajan (So You Think You Can Dance). Ikemiyashiro explains, "It was really important to find someone who understands that what we're trying to do with the show is to portray our characters in a fun, accessible way, with the movement in the dance based on real choreography from Indian culture. Nakul was the perfect match for us because he lives and breathes it."
Mahajan shares that he was moved to tears in his first meeting with executive producer Sascha Paladino, as he heard the story the Mira, Royal Detective team was committed to tell and viewed the stunning concept art. "I was so taken aback by seeing this beautiful representation of my culture, something I didn't have when I was growing up in America," he says. "And to know how powerful this series can be, for not just South Asians but children all over. I had to be part of it."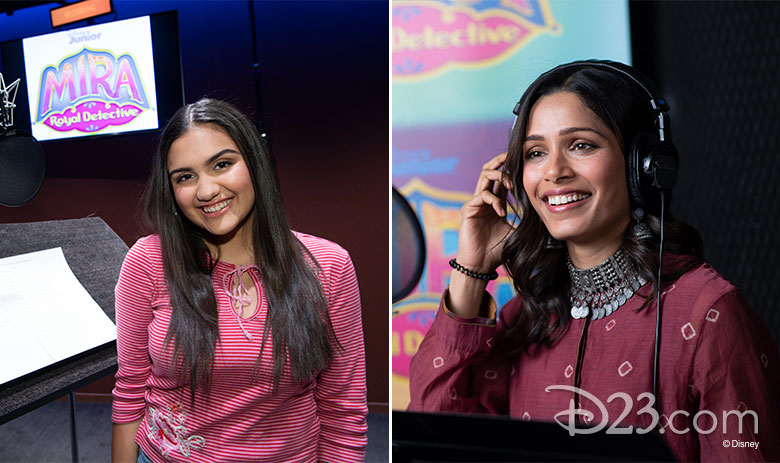 The voice cast for Mira, Royal Detective is comprised of an incredibly talented group of actors, almost all of whom are of South Asian descent. "We really felt strongly that the voice talent should be a reflection of what we're seeing on screen," Ikemiyashiro stresses. Leela Ladnier stars as the voice of Mira, with Freida Pinto as Queen Shanti; Hannah Simone as a young commoner named Pinky; Jameela Jamil as Mira's Auntie Pushpa; Kal Penn and Utkarsh Ambudkar as mongooses Mikku and Chikku, respectively; and Aasif Mandvi as Mira's father, Sahil. The cast also includes Aparna Nancherla as Mira's cousin Meena, Roshni Edwards as Mira's cousin Priya, Kamran Lucas as Prince Neel, Karan Brar as Prince Veer, Karan Soni as Manjeet, Maulik Pancholy as Ranjeet, Sarita Choudhury as Great-Aunt Rupa, Sarayu Blue as the palace tailor, and Parvesh Cheena and Sonal Shah as bandits, Manish and Poonam, respectively. The cast recently gathered for a special screening on the Burbank Studio lot and talked about how meaningful it is for them to be part of this series:
In a Disney Junior first, Mira, Royal Detective will launch in India concurrently with its debut in the U.S. The series will premiere in the U.S. on Friday, March 20 (11 a.m. EDT/PDT on Disney Channel and 7 p.m. EDT/PDT on Disney Junior), with Disney Channel India premiering a sneak-peek that same day, followed by the series premiere on Sunday, March 22. "Our partners at Disney Channel India have been instrumental and helped guide us in terms of costumes, foods, and other customs that we have in the show; and they were so excited when they saw the first couple of episodes that we decided we would premiere it together," D'Ambrosia says. "Having them launch day and date with ours in the same weekend will make it a worldwide celebration." Following its premiere in the U.S. and India, the series will roll out worldwide in an estimated 160 countries on Disney Channel and Disney Junior platforms globally.
While the world of Mira, Royal Detective takes inspiration from South Asia, its message and its smart, empathetic protagonist are universal. What sets Mira apart from other Disney Junior heroes, D'Ambrosia believes, is her special gift of observation, which enables her to see things from a different perspective. "We feel and we hope that she'll inspire young kids all around the globe to utilize their critical thinking and problem-solving skills and actively engage and help in their community," he says.
Or, as Mira herself puts it, "If I can't help my friends and family, what good is being Royal Detective?"