By Courtney Potter
"That's So Throwback" Brings Disney Channel Faves to Freeform
If you've got a hankerin' for the Disney Channel of yesteryear, look no further than Freeform's upcoming programming event, "That's So Throwback"! Beginning this week, a bunch of your favorite past Disney Channel series will air every Monday through Thursday—and fabulous Disney Channel Original Movies ("DCOMs") will air each Friday—all from 12 midnight to 2 a.m. EDT on the channel.
Highlights include episodes of That's So Raven (teenage Raven-Symoné, pre-The View), Lizzie McGuire (with Hilary Duff), Hannah Montana (starring Miley Cyrus), and Kim Possible… as well as movies Twitches (starring Tia and Tamera Mowry) and Get a Clue (with Lindsay Lohan).
Check out a sampling of all the faves you can expect with "That's So Throwback," including episodes available for streaming right now, over at Freeform.com. Speaking of favorites, don't miss Pretty Little Liars returning to Freeform on June 21—and mark your calendars for two all-new dramas coming soon: Guilt (premiering June 13) and Dead of Summer (premiering June 28)!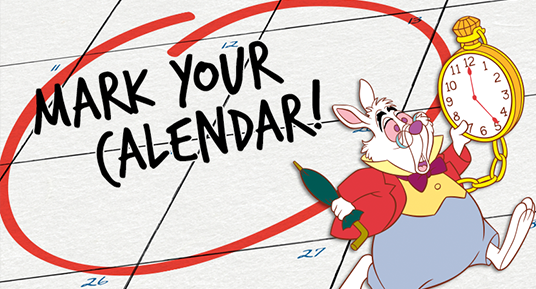 Save the Date!
Be sure to mark these upcoming Disney events on your calendar:
D23 and Walt Disney Archives


May 20


Mickey's of Glendale • Orlando Shopping Event


May 21


Finding Nemo: D23 in the Big Blue World (Florida)


June 4


D23's Afternoon in the Sea: Finding Nemo


June 8


D23 Member Night at Newsies—On Tour in Salt Lake City, Utah


August 22-26


D23 Presents Aloha Aulani!


November 19-20


D23 Destination D: Amazing Adventures


Studios




May 6


Captain America: Civil War opens in theaters.


May 27


Alice Through the Looking Glass opens in theaters.


June 17


Finding Dory opens in theaters.


July 1


The BFG opens in theaters.


August 12


Pete's Dragon opens in theaters.


November 23


Moana opens in theaters.


December 16


Rogue One opens in theaters.
Parks


March 2—May 30




Epcot International Flower & Garden Festival




June 16




Shanghai Disney Resort to open




June 17


Soarin' Around the World Debuts at Disney California Adventure and at Epcot


September 2, 8, 11, 13, 16, 18, 20, 23, 25, 29, 30 and October 2, 4, 6, 7, 10, 11, 13, 14, 16, 18, 20, 21, 23, 25, 27, 28, 30, 31




Mickey's Not-So-Scary Halloween Party at Walt Disney World Resort




November 7, 8, 10, 11, 13, 15, 18, 27, 29 and December 1, 2, 4, 6, 8, 9, 11, 13, 15, 16, 18, 22




Mickey's Very Merry Christmas Party at Walt Disney World Resort




Television




May 27




100th DCOM Celebration Kicks Off on Disney Channel at 10 a.m.




June 24


Adventures in Babysitting Premieres on Disney Channel at 8 p.m. EDT
This Week's Adorable: Star Wars: The Force Awakens As Told By Emoji
It's time for another installment of Disney's As Told By Emoji series—and it does not disappoint! This latest video, Star Wars: The Force Awakens As Told By Emoji, is an über-clever retelling of the film's plot using text threads, calendar alerts, lock screens, gifs, and more! Who knew texts could be so adorably amazing? (Pro tip: Look for an emoji cameo by legendary Star Wars theme composer John Williams towards the end of the clip.)
Curious about how these fantastic videos are created? Late last year, D23 sat down with the Disney Interactive Media team responsible for As Told By Emoji and got all the inside scoop… take a gander here.
Start Your Engines! Autopia Has Reopened at Disneyland Park
For many of us—especially California natives—the very first car we ever drove happened to be inside Disneyland Park. Yes, we're talking about Autopia, the storied attraction where even little kids can "put pedal to the medal." Thankfully, after a short "siesta," you can get behind the Autopia wheel once again!
Just last week, the classic attraction reopened to Guests—and it's now powered by Honda. This alliance with the automaker brings a crisp new look to the longtime park favorite, with freshly painted cars and more. Take a look at this new video, courtesy of our friends over at the Disney Parks Blog, to see how the cars were readied for their big return to the road. And keep your eyes peeled: More updates to Autopia will continue throughout the year!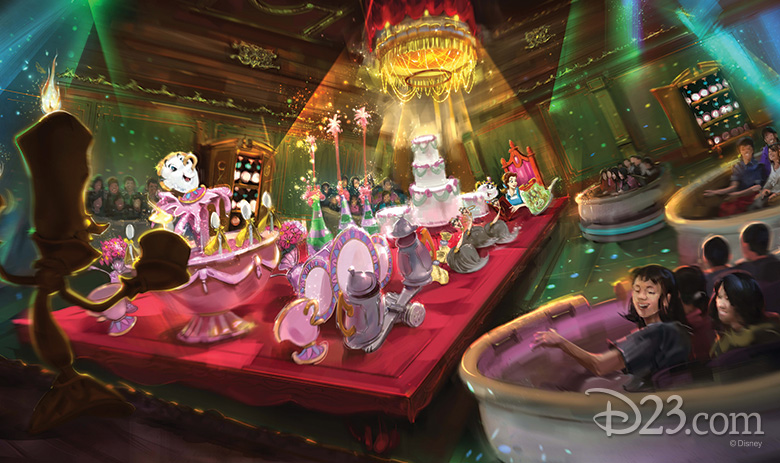 New Additions Coming to Tokyo Disneyland and Tokyo DisneySea
As Shanghai Disney Resort gets ready for its June opening, Disney's other parks in Asia—Tokyo Disneyland and Tokyo DisneySea—recently announced their own expansions and coming attractions…
An expansion of Tokyo Disneyland's Fantasyland will include a theater for live performances, and a brand-new area anchored by a major attraction themed to Disney's Beauty and the Beast. All told, Fantasyland will nearly double in size! Over in neighboring Tomorrowland and Toontown, a new attraction and a Disney Character greeting facility will be opened in each land. Meanwhile, Tokyo DisneySea will get a major new "simulator attraction"… namely, Soarin'! Yes, the beloved ride (which is getting its own rejuvenation at Disney Parks around the globe) is coming to Japan for the first time.
Some of the work has already been done, but much more will take place over the months—and years (hold tight!) ahead. Stay tuned for more info as it becomes available.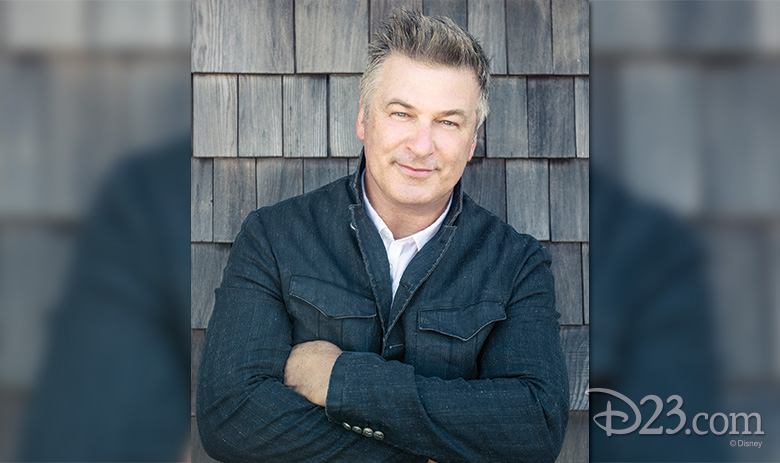 This Summer, Fill In the Blank with Match Game on ABC
"Pretty Poppy was so excited that Match Game was returning to television, she jumped right out of her ____!" Yes, Match Game—that quintessential 1960s–'70s game show featuring two contestants as they attempt to match the answers of six celebrities in a game of "fill in the missing blank"—is coming back to television… and this time, it'll be on ABC!
Hosted by Emmy® winner Alec Baldwin (30 Rock), Match Game is part of a new game show block, "Sunday Fun & Games," coming to the network this summer. The 10-episode series will air alongside the return of Celebrity Family Feud hosted by Steve Harvey, and another game show redux (this time from the '80s), The 100,000 Pyramid with Good Morning America's Michael Strahan. The fun begins on Sunday, June 26, from 8–11 p.m. EDT.
LEGO Star Wars: The Freemaker Adventures: Coming Soon to Disney XD
There's a new animated series coming to Disney XD this summer—and it introduces all-new heroes (and villains!) to the LEGO Star Wars universe! LEGO Star Wars: The Freemaker Adventures is an action comedy set between the events of The Empire Strikes Back and Return of the Jedi, and it follows the Freemakers—a family of sibling scavengers who operate a salvage and repair shop in space. The series will also feature familiar characters and locations from the filmed Star Wars saga.
During the series' premiere week, Disney XD will debut a new episode each day, beginning Monday, June 20, through Thursday, June 23. The first episode will also be available via Video on Demand (VOD) and the Disney XD app for users on tablets, phones, set top boxes, and computers on Monday, June 20.
Meet the voice cast and take a look behind the scenes of The Freemaker Adventures with this brand-new video, above. Action, humor, and LEGO? Sign us up!
"Trust in Me" with Disney's The Jungle Book
Have you seen Disney's The Jungle Book yet? If not, what are you waiting for? It's ridiculously entertaining (we're big fans of Bill Murray 'round these parts), and the technological wonders behind the film's photorealistic CGI animals are truly astounding. Plus, the film features some of the music heard in Disney's original 1967 animated version. Case in point: Scarlett Johansson—who voices the python Kaa in the film—recorded a version of the song "Trust in Me," and it's now been remixed by superstar producer Mark Ronson.
Watch the official music video for the "DJDS" remix track, above. It's quite mesmerizing, just like Kaa herself…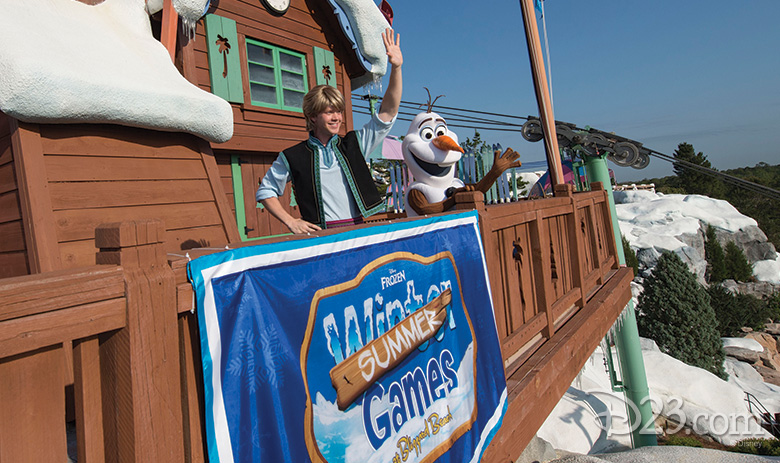 Frozen Games Begin May 27 at Disney's Blizzard Beach Water Park
Summer's just around the corner, which means we'll be spending more time in the water. And what better way to cool off then with Frozen pals like Kristoff and Olaf? They've left the snowy confines of Arendelle and are on their way to Walt Disney World Resort in Orlando—just in time to host the inaugural Frozen Games at Disney's Blizzard Beach Water Park!
Starting May 27 (and running all the way through August 21), Blizzard Beach will invite guests to join Team Kristoff or Team Olaf each day to participate in a variety of winter-themed activities, including ice pail relays, a "snowball" toss, a Ski Pole limbo contest, and even slide races down one of the park's signature water slides. And Olaf and Kristoff will be on hand—taking part in the opening and closing ceremonies, and giving updates on their teams' progress throughout the day!
The Frozen Games are an all-day event, included with regular admission to Blizzard Beach, which guests can sign up for when they arrive at the park entrance. Good luck, and stay cool!