In this digital day and age, folks often prefer texting over making a phone call. It's quicker, sure—but you also have the option of getting your message across with, well, symbols. They're called emoji, which means "picture character" in Japanese. Open the texting app in your smartphone of choice and you have hundreds of adorable, hilarious, and sometimes unusual emoji right at your fingertips. Over the years, folks have tried their hand at recreating song lyrics, or telling long-form stories, just through emoji… and that's where the idea for Disney's latest short video series was born.
"This project has become a master's class in Disney animation for us"
Disney Interactive Media's As Told By Emoji aims to interpret a complete Disney animated film through the use of charming symbols (created especially for the shorts), text, and original music, and in only a few minutes' time. The first short, Frozen As Told By Emoji, debuted on Disney's YouTube page in February 2015—followed by Tangled As Told By Emoji in July and Aladdin As Told By Emoji in early November. So far, the series has a whopping 34.1 million views across the three episodes! And yesterday, the group debuted its newest short, Frozen Fever As Told By Emoji, just in time for the wintery season upon us. D23 recently sat down with the producers of As Told By Emoji to get the inside scoop on all the magic behind the minimizing!
An Idea Takes Shape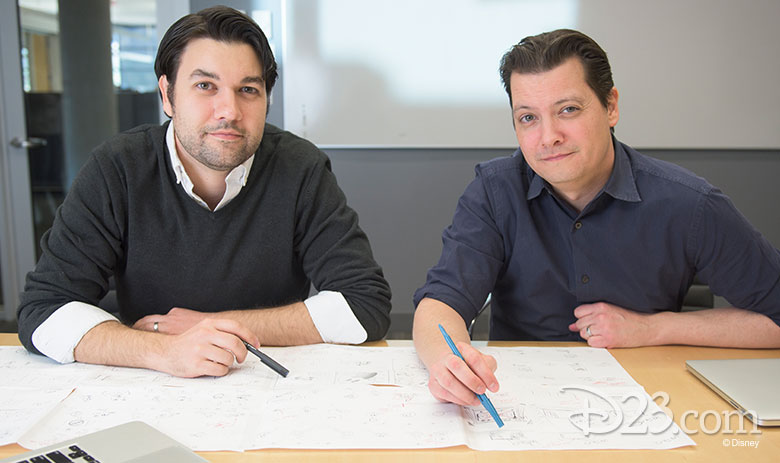 The inspiration behind the series? "That's a big question!" says Gino Guzzardo, the series director and producer, who also leads the video content team at Disney Interactive (DI) Media. "It was a trend we saw on the Internet. People would try to translate stories using static emoji, just through the Unicode [text] set that you have on your phone… We saw the opportunity of translating that into animation. So we thought, 'What would that look like? Would it work?' We hadn't seen anyone use emoji to tell an animated story, like in an actual narrative, two-minute piece… Essentially, we saw this [idea] pop up and decided to focus in and do a 'pilot.'"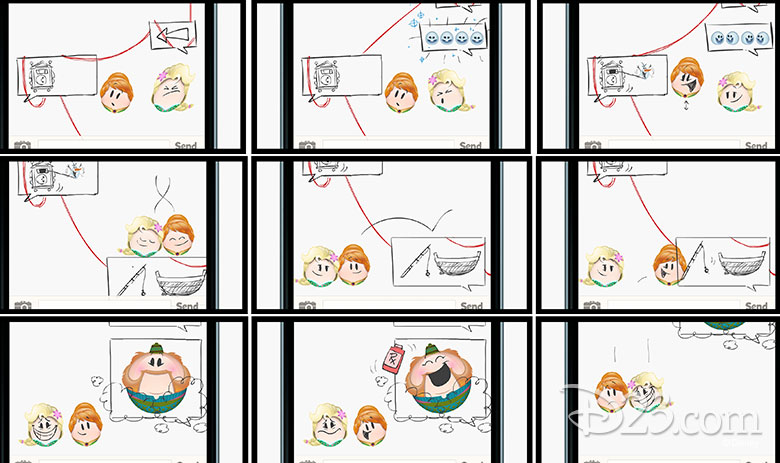 To show proof of concept that As Told By Emoji would be a success, Gino and his team looked to the blockbuster hit Frozen for its first run. "We 'storyboarded' it [on paper], and we started realizing that a lot of decisions needed to be made." explains Gino, "Do they walk? Do they float? Do they hop? Is it in a text thread? Are they always in bubbles? We built the physics of the world from scratch. We decided that there were a couple core tenets that were really important to us. One, obviously, was that we've got to stay true to the characters and the emotional hooks of the story. We're going to faithfully retell that story; we're not changing anything… [And we also] know what an operating system looks like on a phone. It's incredibly important to stay as accurate as possible for us. The look of the bubbles, the roundness of the corners… We tried to stick to those conventions." Robert May, the series producer, and manager, Video Content, DI Media, concurs: "We made a very conscious decision to not use the horizontal space. Characters can't just jump off the side; everything happens in the scope of the text 'thread.'" Each short takes Gino, Robert, and their team (including composer Jake Monaco, who contributed to Christophe Beck's Frozen score) several months to complete, from script to storyboards to animatics—a test version made by shooting sections of the storyboard and adding a soundtrack—to the final product.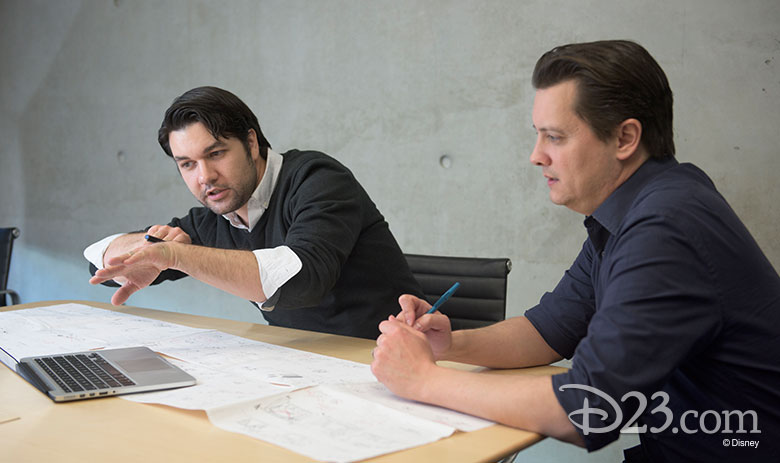 On top of their research into all things emoji, Gino and Robert have had unprecedented access to the original filmmakers. For Frozen As Told By Emoji, "It was a strange thing to go into a room and pitch someone's movie back to them in a set of storyboards," admits Gino. "It was exhilarating, but it also required a lot of preparation. We needed to know the story inside and out. Peter [Del Vecho, producer], Aimee [Scribner, associate producer], and Chris [Buck, director] were generous with their time… They knew that we were trying to do something different with the property. They were very generous in letting us play within their world… They're so gracious about it." Later, Tangled producer Roy Conli and legendary Aladdin animator Eric Goldberg lent their expertise and experience for their films' emoji counterparts. "This project has become a master's class in Disney animation for us," says Gino. "We've been taught by these prolific filmmakers, and our 'homework' has been these animated episodes."
Making "Small" Work
Creating inside a brand-new storytelling medium has, as you might imagine, its challenges—but they've often heralded ingenious solutions. "One great example is with [the first short], when Anna, Kristoff, Olaf, and Sven fall off the mountain," Gino explains. "When you boil it down and just show them falling… you're playing with the thread-like nature of the phone screen. It creates a joke. It's an interesting way of looking at it." Adds Robert, "I think [another] concern has been where you have two iconic 'beats' from a film that are really close to each other… For me, at least, I think [it means] starting with that list of those moments you can't pass up… We're learning a lot as we've gone through."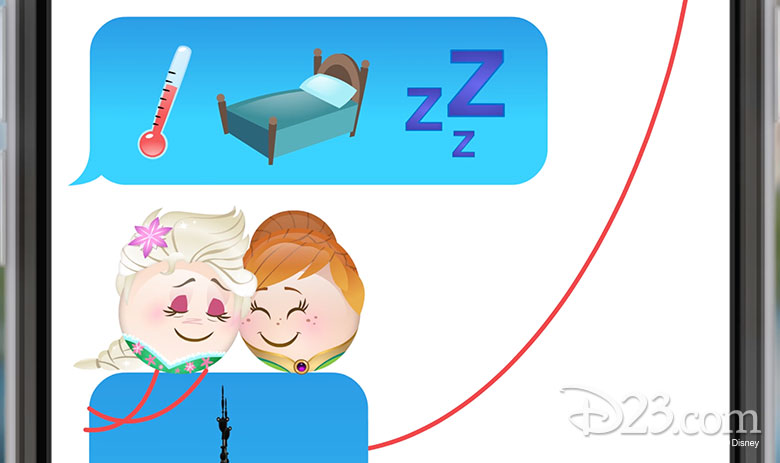 With Frozen Fever As Told By Emoji, the team's newest short, the challenge was particularly complex: How do you distill what is already an abbreviated, 15-minute tale into just a few minutes? "It actually took a while to crack the story on that one," admits Gino, "because our minds right now are so wrapped around boiling something huge down into something small… We just had to change our focus. We realized that there is a through-line through the Frozen Fever theatrical short—it's literally a thread! [So] we've connected all the speech bubbles with a literal thread. That allows us to then follow the [text] thread down… and hilarious hijinks happen along the way."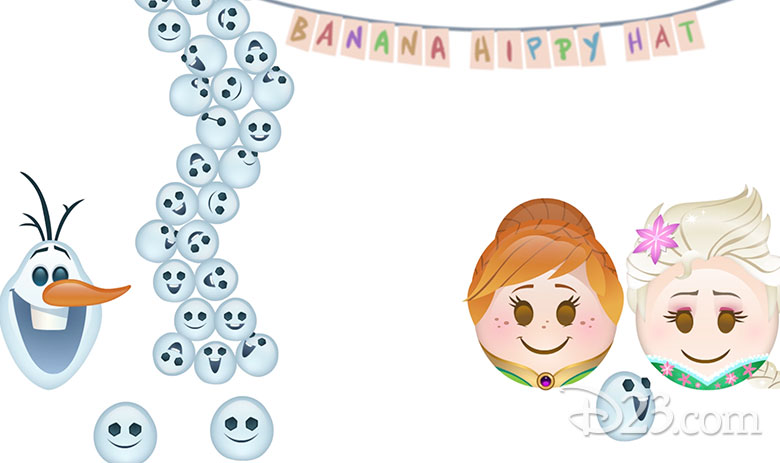 Sometimes, the team's own unique "rules" have to be broken. "Originally, the emojis were all circles," Gino explains. "[Creating emoji] Olaf was tough. He started off as just a circle. The feedback came back, [and] a white circle with a carrot nose just wasn't doing it. That really forced us to think about, 'Do we break convention here?'… We didn't know how to crack it. Ultimately, we allowed ourselves some breaking-of-the-silhouette to make his head shape a little bit more like Olaf's."
Into the Future
The first As Told By Emoji short had "10 million views in that first day," Gino recalls. "It kind of blew our minds. We weren't expecting that. People were genuinely happy about it… They weren't just video views; they were views that came with a bunch of really excited people. It was just too hard to not follow that thread and see what else we could do." And Robert was just as pleasantly surprised: "Watching people really want to engage with the content, asking where they can get the emoji set, [giving us] recommendations for the next short… To see that much positive feedback was really pretty phenomenal." Fans of the series should keep watch for several new shorts in the coming year—as well as some truly exciting additional projects the pair are keeping close to the vest… for now. "[The emoji shorts] could potentially be one aspect of a larger story that we all want to tell," confides Gino.
"Disney is always looking for new ways to bring our stories to life," said Mark Walker, SVP of Disney Interactive Media. "The As Told by Emoji video series lets us entertain and engage audiences by bringing their favorite tales and characters to digital feeds in ways they haven't seen before."
It takes a village to bring these simultaneously big and small visions, like the new Frozen Fever As Told By Emoji, to the (digital) screen. "Robert and I, we're representing a much larger team," says Gino. "Not only a larger team of people whose hands are directly on it, but a larger support group that is helping market, review, coordinate, and socialize these videos so we can even do it… It all helps make this project fantastic." Robert agrees, adding, "Through every level of this, all of our partners and animators and our co-collaborators—they've been super supportive. And everyone is so excited about the idea, that they're offering creative solutions to what a character would say and do through an emoji set of icons… It's exciting to see where it's going to grow from here."
After the fascinating glimpse at the story behind As Told By Emoji, watch Frozen Fever As Told By Emoji below.