Following an outstanding first day of presentations, D23 EXPO Japan 2015 continued to surprise and delight fans at the Tokyo Disney Resort throughout the weekend.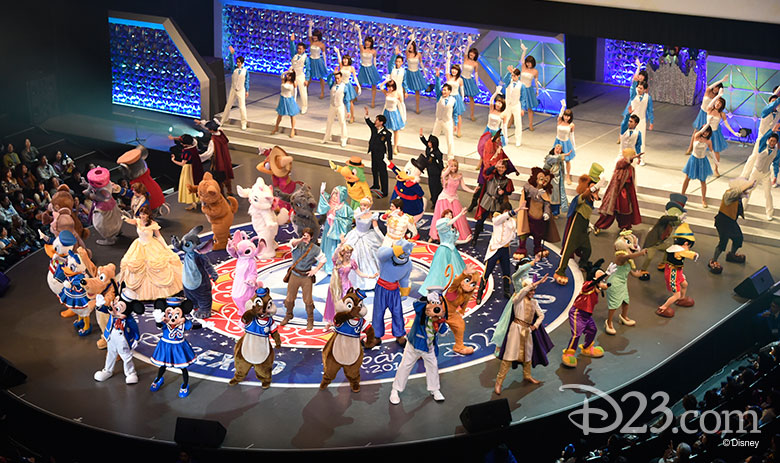 Saturday was full of excitement, as Tokyo Disney Resort's presentation packed the Maihama Amphitheatre—not once, but twice. Kyoichiro Uenishi, representative director, president and COO of Oriental Land Company, opened the show highlighting the upcoming 15th anniversary of Tokyo DisneySea, which will take place in 2016. For the first time, guests were able to see the new crystal-themed outfits Mickey Mouse and his friends will be wearing in the park for the event. The celebration was capped by a 30-minute medley of musical highlights from the park's first 15 years, and the grand finale featured dozens and dozens (and dozens!) of characters filling the stage and the audience for a mind-blowing spectacle.
That evening, Disney Theatrical presented the first of two "Broadway and Beyond" concerts. And the guests were certainly "beyond" thrilled, giving both performances a standing ovation. Similar to the shows at D23 EXPO in Anaheim, Disney Theatrical brought out some of their most talented performers including Josh Strickland (Broadway's original Tarzan), Kerry Butler (who played Belle in Beauty and the Beast), Alton Fitzgerald White (who played Mufasa in The Lion King), and Mandy Gonzalez (who played Amneris in Aida).
It's wonderful to see how another culture experiences the wonderful world of Disney.
"Magical" is how Butler—a lifelong Disney fan and avid pin collector!—described the experience to D23. Butler was absolutely perfect singing "Practically Perfect" from Mary Poppins and thrilled the crowd with her rendition of The Little Mermaid's "Part of Your World."
"It feels like a dream come true," added Gonzalez, whose powerhouse vocals dazzled the crowd, especially when singing "They Live in You" from The Lion King. "It felt like a rock concert. They gave us so much love. The energy was incredible."
White, who performed at D23 EXPO 2013 in Anaheim, and sang the beautifully moving "Proud of Your Boy" from Aladdin, noted, "It's wonderful to see how another culture experiences the wonderful world of Disney."
And Strickland, whose Disney fandom may rival even the most passionate D23 Member, was thrilled to be taking part in another Disney event (he has performed at D23 EXPO in 2013 and 2015, as well as on several Disney Vacation Club cruises). Strickland had the audience cheering after her rocked on "My Strongest Suit" from Aida and sent chills through the crowd with his rendition of "Santa Fe" from Newsies. "To be surrounded by such an amazing culture and share my love of Disney with all the fans at D23 EXPO Japan truly lifts my spirits," he told D23. "The Japanese fans are like none other in the world. Their support means the world."
On Sunday, presentations included "The Secrets of Disney Character Voices—from Snow White thru Frozen," hosted by Disney's Rick Dempsey, which explored the history of beloved voices in Walt Disney Feature Animation, including the Japanese actors who voiced Snow White (Kurumi Kobato), Cinderella (Yoriko Suzuki), Jasmine (Kaori Aso), Belle (Eri Ito), Ariel (Mayumi Suzuki) and Elsa (Takako Matsu)! To conclude the festivities in the amphitheater, Shiki Theatre Company, which has produced The Lion King, The Little Mermaid, Beauty and the Beast, Aida, and—coming soon—Aladdin in Japan, presented a cavalcade of talent and musical numbers from Disney's theatrical productions in Japan, past through present.
But there was much more to D23 EXPO Japan 2015 than just the presentations. Screenings of popular and upcoming Disney television shows were held in Ikspiari—Tokyo Disney Resort's version of Downtown Disney/Disney Springs—including the premiere of Descendants.
There were multiple shopping opportunities for unique collectibles, from adorable mini Tsum Tsum plush and exquisite designer handbags to limited edition "uniBEARsity" plush (a bear only available at Disney Stores in Japan) and high-end jewelry.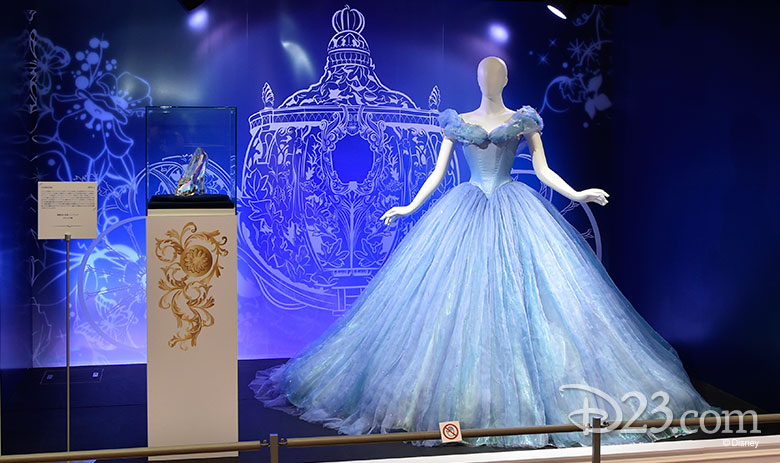 And this year's exhibits were breathtaking—as thousands of guests were able to see! The Tokyo DisneySea Hotel MiraCosta played host to four interlocking exhibits. The Walt Disney Archives put together the stunning "Power of Princess," featuring props, costumes, and artwork telling the story of the Disney princess. The exhibit highlighted how it is the inner strength of the Disney princess that makes them beautiful, courageous, and—of course—powerful. Guests were able to see the original Sleeping Beauty book; the bodice worn by Marge Champion, who served at the live action reference model for Snow White; and even Lily James' stunning blue Cinderella ball gown from this year's smash film. This beautiful exhibit was followed by Star Wars, which featured costumes from The Force Awakens, as well as treasures from Star Tours (including Captain Rex)! Guests then walked into the universe of Marvel followed by Toy Story, featuring larger-than-life models of characters for guests to pose with in celebration of that film's 20th anniversary.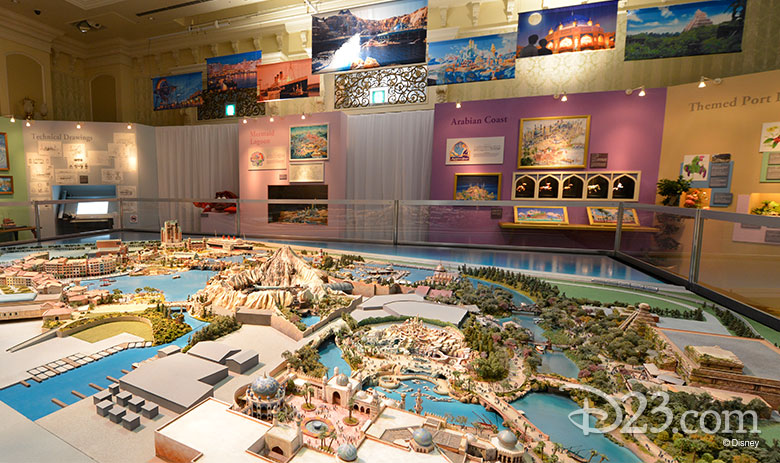 Plus, over at the Disneyland Hotel, Tokyo Disney Resort presented an exhibit celebrating nearly 15 years of Tokyo DisneySea with beautiful artwork, costumes, models, and more.
But nothing was more exciting to see than the fans themselves. Guests were thrilled to have some of the D23 EXPO magic in Japan, showing that Disney's storytelling is universal.
View a photo gallery from D23 EXPO Japan 2015 below.