Alfred Angelo, America's oldest and foremost bridal company, introduced its 2015 Disney Fairy Tale Weddings bridal collection. The latest line includes dresses inspired by eight of the Disney Princess characters and a bridal gown inspired by Elsa from Disney's Frozen.
. . . a new dimension of design; the magnificence of color . . .
In 2015, Alfred Angelo is bringing the bridal collection to life with a new dimension of design; the magnificence of color. Each gown will be available in ivory and a signature color inspired by each iconic character.
The 2015 Disney Fairy Tale Weddings bridal collection by Alfred Angelo includes dresses inspired by:
Ariel—An independent spirit, Ariel inspires a gown that offers a splash of the unexpected for the unconventional bride who loves adventure. The flared gown has been crystal-beaded throughout to sparkle like treasures from the deep, while the dramatic skirt has been layered with glitter net to shimmer like sunlight on the waves.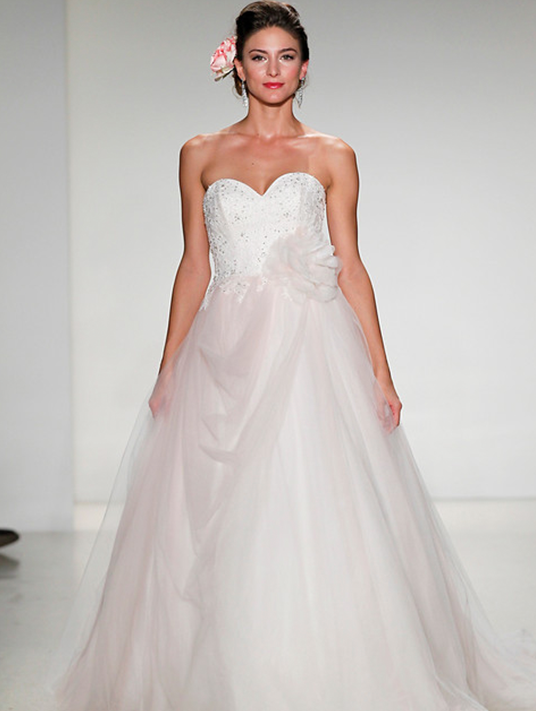 Aurora—Romantic and graceful, Aurora exemplifies elegance and warmth. Classic princess details abound in this feminine, romantic gown that is highlighted with crystal-beaded lace and diaphanous draped tulle accented with the princess' signature bloom, the rose.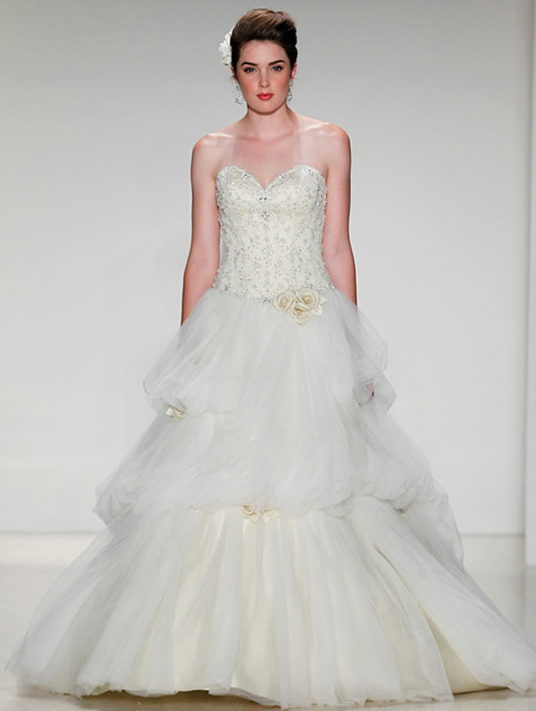 Belle—Belle is as smart as she is beautiful, and represents the independent, sophisticated woman. With its layers of draped gossamer tulle, soft beaded flowers and a fully crystal-beaded bodice that illuminates with the lights of a thousand ballroom candles, this gown is the quintessential fairy-tale princess.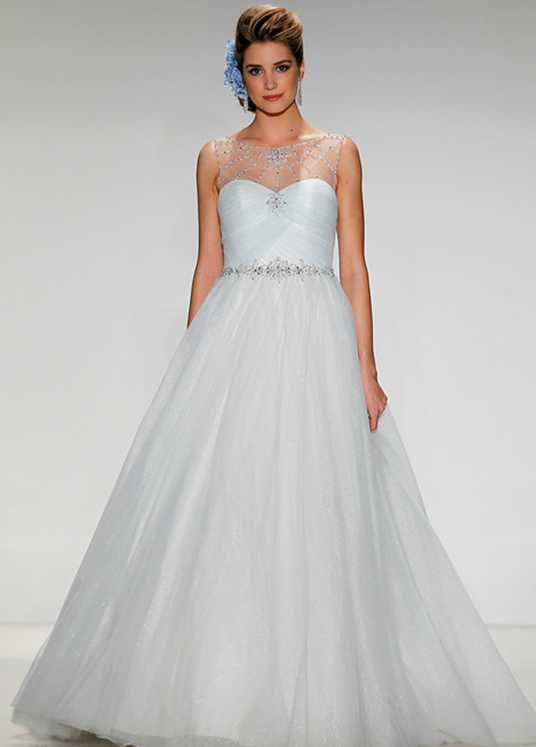 Cinderella—Elegant and kind, Cinderella is gracious, poised, and charming. Glistening like the light off of a delicate glass slipper, the hand-beaded yoke is as timeless and sophisticated as the princess herself. Clean lines and the classic ball gown silhouette exude a bride who is independent and empowered, all while embracing tradition.
Jasmine—Bold, adventurous and daring, Jasmine is a sultry beauty with a bohemian spirit. This modern jumpsuit with a detachable train, sheer back yoke and crystal beading that sparkles like stars in an Arabian night, this gown is for a bride who is daring and self-assured.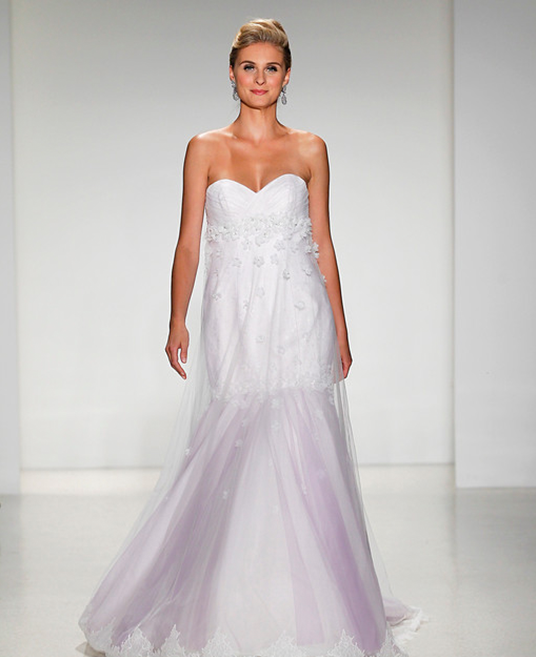 Rapunzel—Passionate and courageous, Rapunzel exemplifies a unique artistic vision. Covered in handmade wildflowers, this romantic cage-style gown evokes a sense of optimism and joy in its easy, graceful movement. The flowers have been beaded to sparkle like lanterns in the sky for a touch of offbeat whimsical charm.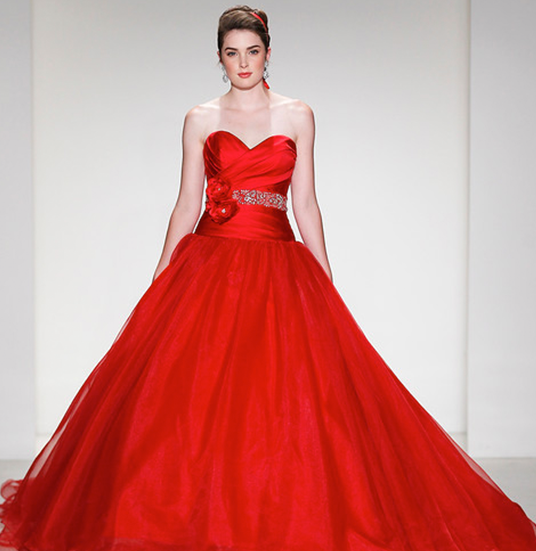 Snow White—Full of gentle grace and compassion, Snow White's inner beauty makes her "the fairest of them all." The crystal-beaded waistline, handmade rose and cathedral train make this gown the perfect choice for celebrating a day of "happily ever after."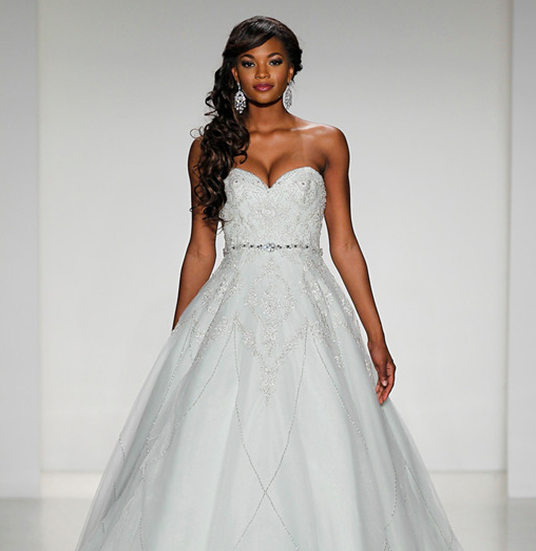 Tiana—Ambitious, confident, and determined, Tiana is the sophisticated bride who likes a touch of jazzy fun. This strapless gown sparkles with the glitter and excitement of New Orleans and is adorned throughout with delicate embroidery and crystal beading that is reminiscent of the princess' signature flower, the lily.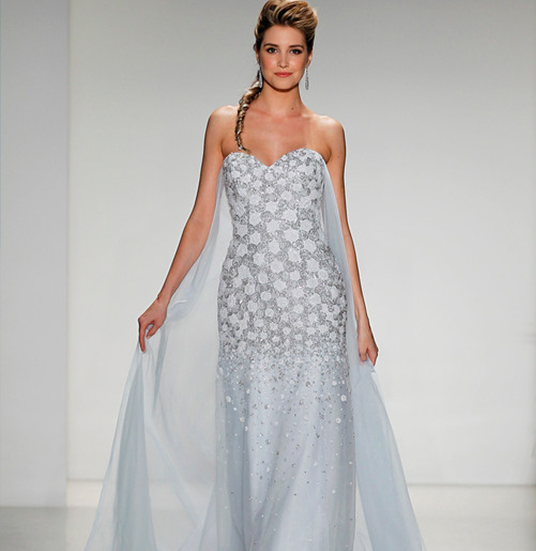 This season Alfred Angelo will also debut the highly anticipated gown inspired by Elsa from Disney's Frozen. Reminiscent of Elsa's "Snow Queen" dress, the ice-blue softly flared sheath gown has been dramatically beaded to glisten like sunlight on fresh fallen snow. The sweetheart neckline and dramatic Watteau train capture the essence of this bold and elegant character.
The 2015 Disney Fairy Tale Weddings bridal collection by Alfred Angelo will be available in January 2015 at Alfred Angelo stores in the U.S. and specialty retailers worldwide.