The second D23 EXPO Japan started spectacularly—with plenty of pixie dust—on Friday, November 6, at the Tokyo Disney Resort. The opening ceremony kicked off with Paul Candland, president of The Walt Disney Company Asia, welcoming 2,000 guests inside the Maihama Amphitheatre.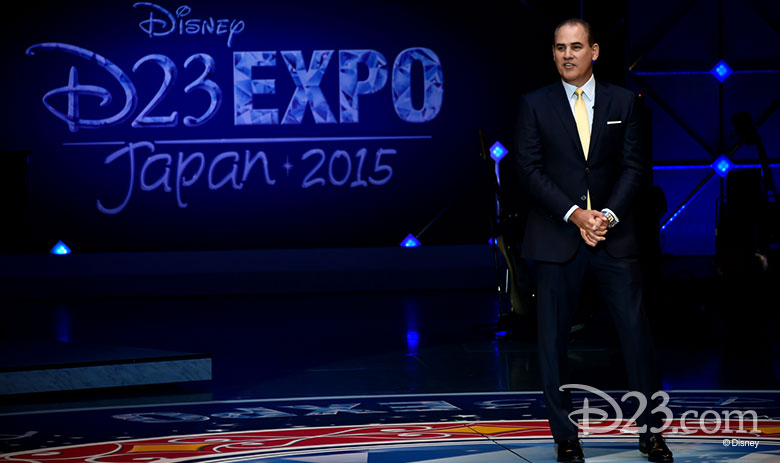 "Few companies have such a legendary past, as well as a limitless future," said Candland to the sold-out house. "And we're thrilled to have you here to celebrate everything in the world of Disney. We're even more excited to show you what's coming next—and we have plenty of exclusive, first-looks to share with you."
Candland proceeded to reveal that a second version of the extremely popular game Tsum Tsum will debut in the spring of 2016: Marvel Tsum Tsum. This new game will feature guests' favorite characters from the Marvel universe and will feature a whole new game play. Candland also took the chance to debut the new short Tsum Tsum Disco—featuring dancing Tsums—and a blue-wig-wearing Mickey, who truly needs to be seen to be believed.
"Tsum Tsum is a hard act to follow!" cracked Lucasfilm President Kathleen Kennedy, who came out next to give the audience a taste of what is to come in the Star Wars saga, and she revealed that in February 2016, guests who take a trip on Star Tours at Tokyo Disneyland will meet new characters and go on an adventure to an iconic world from Star Wars: The Force Awakens.
Adam Sanderson, head of D23, gave the crowd a look at some of the excitement guests enjoyed at D23 EXPO 2015 in Anaheim earlier this year. "Our loyal Japanese fans have long been a part of the Disney family," noted Sanderson. "And we are thrilled that we can bring the spectacular D23 experience right here to Tokyo Disney Resort for you to enjoy once again."
The event concluded with a spectacular concert of Disney music performed by a live orchestra, with special appearances from some of Japan's biggest names in music singing beloved Disney songs, such as "A Dream Is A Wish Your Heart Makes, "Beauty and the Beast," and "Once Upon a Dream."
During their exciting session that afternoon, Walt Disney Parks and Resorts Chairman Bob Chapek gave guests a look at some of the exciting things coming to Disney Parks around the world. With the help of some special guests, including Imagineers Bob Weis and Scott Trowbridge, Chapek led the audience on a tour around the world, starting at Disneyland, offering a glimpse at the excitement of the Diamond Celebration currently underway. He continued his tour with a look at the astounding Shanghai Disney Resort now coming to life in China, The Iron Man Experience, which will soon arrive in Hong Kong Disneyland, and Toy Story Land coming to Disney's Hollywood Studios. Chapek gave the crowd an up-close look at Pandora: The World of AVATAR, which is currently under construction at Disney's Animal Kingdom. "Since the beginning, we've promised guests that they'll be able to see the magnificent floating mountains, fly on a banshee, and experience the beauty of the bioluminescent forest," Chapek said, before revealing the name of one of the land's new attractions: the Na'vi River Journey. "Both the story and the park represent a deep connection with and respect for the natural world," Chapek added.
Another highlight for the audience was getting to see what's to come for Star Wars in the parks, and Trowbridge gave guests a peek at how they plan to bring the Force to guests at Disneyland and Walt Disney World Resorts with the two 14-acre lands previously announced at D23 EXPO 2015 in Anaheim.
During the presentation, guests also enjoyed a medley of songs from a variety of Disney Parks nighttime spectaculars from around the world, sung by eight powerhouse performers—with a special appearance by Mickey and Minnie Mouse. The Dark Side made itself known as Darth Vader and a pair of Stormtroopers took to the stage. And the grand finale, in celebration of Frozen attractions and entertainment coming to Walt Disney World, Disneyland, and Tokyo Disneyland, was a roof-raising rendition of "Let It Go" sung by a chorus of young performers and a magical moment with Elsa herself.
The day concluded that evening with a presentation by Dave Hollis of The Walt Disney Studios, who gave guests a preview of films to come, including a look at The Good Dinosaur, Zootopia, Finding Dory, Moana, The Jungle Book, Alice Through the Looking Glass, Pete's Dragon, Beauty and the Beast, and Captain America: Civil War.
"We have talked about what's coming from Disney Animation, Pixar Animation, Disney Live Action, and Marvel," noted Hollis. "There's only one place left to go from here." And that was a galaxy far, far away—as guests were all given mini lightsabers for the return of Kathleen Kennedy.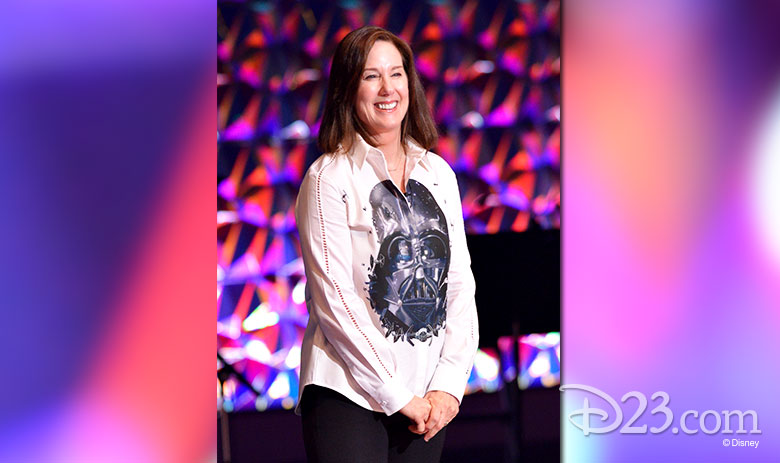 Kennedy gave the audience a look at a special trailer for Star Wars: The Force Awakens made just for D23 EXPO Japan, and she was joined by a very special guest: BB-8! Then Kennedy played a message for the crowd from stars Daisy Ridley and John Boyega. "There truly has never been a more exciting time to be a Star Wars fan," Kennedy said.

And there has never been a better time to be a Disney fan.
See coverage on the rest of D23 EXPO Japan 2015 here.