By Courtney Potter
New posters for Tim Burton's upcoming adventure; a fan-favorite Disney Channel show is getting a second season; and Ant-Man and The Wasp make their way to Hong Kong Disneyland… Read more, along with other news from around Disney, in this week's news briefs!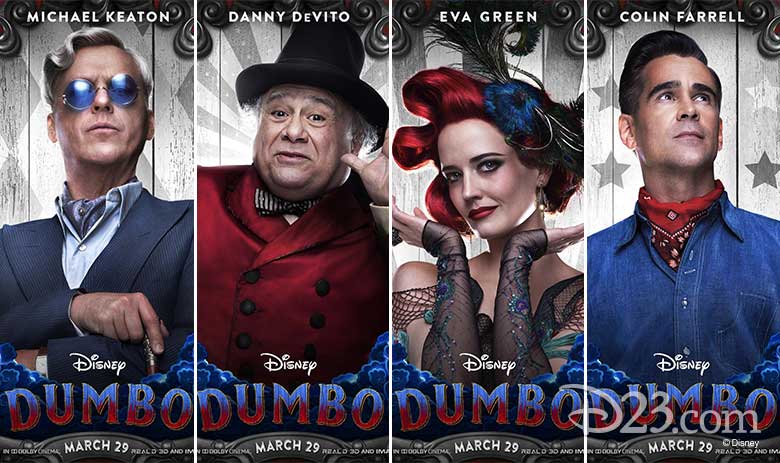 Meet the Cast of Tim Burton's Upcoming Dumbo
Welcome to 2019, a year in which we have so many fantabulous Disney (and Marvel, and Pixar, and Lucasfilm) movies to look forward to… Case in point: Dumbo, an all-new live action retelling of the classic animated film, as told through the eyes of director Tim Burton. And just as the new year dawned, we were gifted with a batch of new character posters for the film, featuring Holt Farrier (Colin Farrell), the former circus performer tasked with helping raise an elephant with some very special abilities; Max Medici (Danny DeVito), the circus owner who hopes Dumbo can attract some much-needed crowds; and the adorable newborn elephant himself.
Directed by Burton and written by Ehren Kruger (Ophelia, Dream House), Walt Disney Studios' Dumbo is set to soar into a theater near you on March 29.
Save the Date!
Be sure to mark these upcoming Disney events on your calendar:
D23 and Walt Disney Archives


January 25, 2018


Lunch with a Disney Legend: Dave Smith


February 16, 2018


D23's Happily Ever After Brunch


February 16, 2018


D23's Magical Screening Series: Sleeping Beauty on the Lot


February 16, 2018


D23's Magical Screening Series: Sleeping Beauty at Walt Disney World


August 23-25, 2019


D23 Expo 2019
Parks


January 25-February 17, 2019




Lunar New Year at Disney California Adventure




March 1-April 23, 2019




Disney California Adventure Food & Wine Festival




March 6-June 3, 2019




Epcot International Flower & Garden Festival




Summer 2019


Star Wars: Galaxy's Edge Opening at Disneyland Resort


Fall 2019


Star Wars: Galaxy's Edge Opening at and Walt Disney World Resort



Studios




March 8, 2019


Marvel Studios' Captain Marvel opens in U.S. theaters


March 29, 2019


Dumbo opens in U.S. theaters


April 19, 2019


Penguins opens in U.S. theaters


May 24, 2019


Aladdin opens in U.S. theaters


June 21, 2019


Toy Story 4 opens in U.S. theaters


July 19, 2019


The Lion King opens in U.S. theaters


August 9, 2019


Artemis Fowl opens in U.S. theaters


Television




Fall 2019


Star Wars Resistance Season 2 Premiere on Disney Channel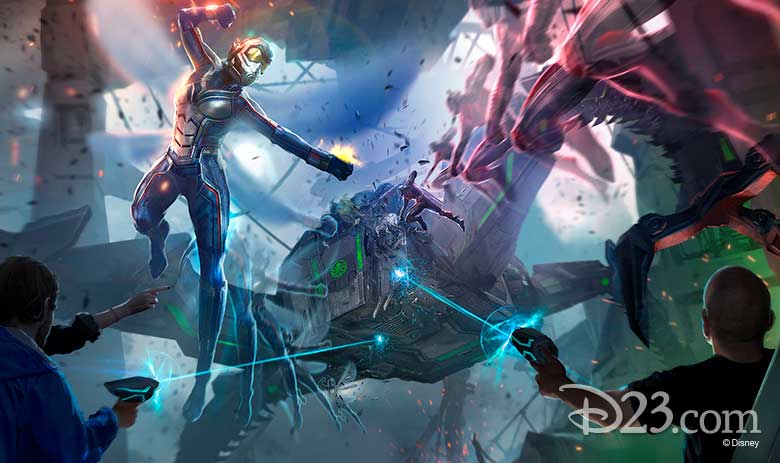 Ant-Man and The Wasp: Nano Battle! Coming to Hong Kong Disneyland
If there was ever a reason to make a trip to Hong Kong Disneyland—y'know, besides all the amazing attractions and delicious food offerings and exclusive merchandise and awesome people—it's this: There's a brand-new attraction coming to the resort, as part of its multi-year expansion, next month… and it brings with it some serious Marvel "street cred." Read up on Ant-Man and The Wasp: Nano Battle! right here.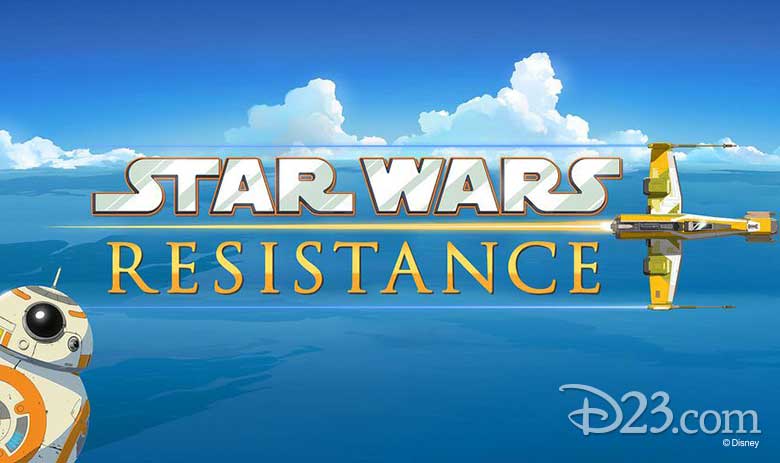 Plus—Star Wars Resistance Announces Second Season
It's set in the Star Wars universe right before the events of Star Wars: The Force Awakens, and it's a fan favorite that just announced a big second-season return! Read up on what you can expect from the Disney Channel animated series Star Wars Resistance (and take a gander at the show's fun mid-season trailer) here at D23.com.
Cool Behind-the-Scenes Action in New Captain Marvel Featurette
Yes, friends, we're only a few months' away now from the debut of Brie Larson as Carol Danvers in Captain Marvel… and if you're anything like us, and are fascinated by how Larson trained to become a kick-butt hero, you need to take a look at the film's brand-new featurette, above. You'll see Larson in action, and hear why training for—and filming—those epic fight scenes was so memorable. The featurette also includes some fascinating interview clips with the film's directors, Anna Boden and Ryan Fleck (Half-Nelson, Sugar).
Plus, if you're the kind of moviegoer that likes to plan out your calendar, you'll be happy to know that Captain Marvel tickets are now on sale everywhere! Produced by Kevin Feige, Captain Marvel rockets into cineplexes on March 8.
ICYMI: Captain Marvel's Jude Law Reveals… Some!
Speaking of Captain Marvel, D23 had the extreme pleasure of visiting the film's set and chatting with several of its stars—including Jude Law, who costars as the leader of Starforce, an elite group of special Kree warrior forces. Check out what he had to say, in this very special and totally exclusive Q&A, right here at D23.com.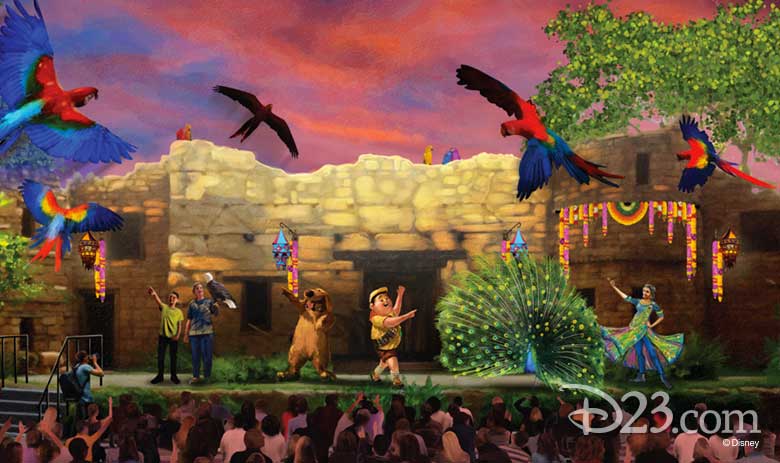 Be a Friend to All of Nature with Up's Kevin at Disney's Animal Kingdom
According to our pals at the Disney Parks Blog, a rare and truly exotic species of bird from the land known as Paradise Falls will soon make her stateside debut on the lush and fertile grounds of Disney's Animal Kingdom at Walt Disney World Resort.
Wilderness Explorers from across the globe (and all their pals) will be delighted to know that Kevin, the funny and colorful bird from Disney•Pixar's UP, will be arriving at Disney's Animal Kingdom in the next month! Senior Wilderness Explorer Russell and his furry friend Dug are already there, greeting guests and discovering various species of birds from around the world in their new show "UP! A Great Bird Adventure." You can visit them daily on Discovery Island and catch their show at the Anandapur Theatre.
So make sure to keep an eye out for Kevin… thankfully, with those prismatic plumes, you can't miss her!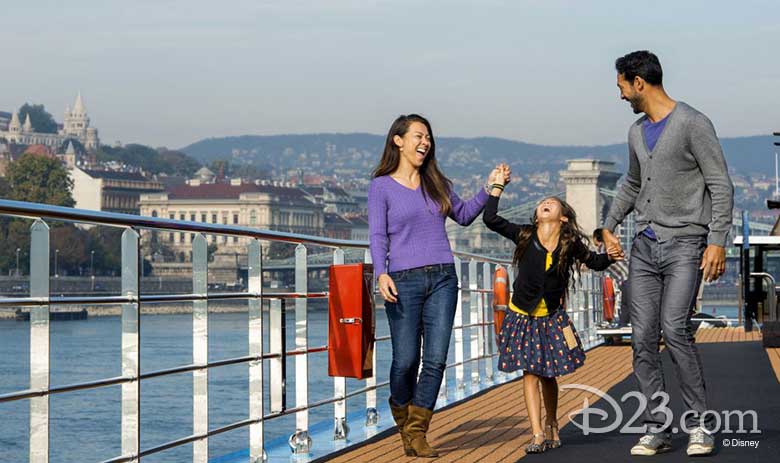 Adventures by Disney Takes to the River(s)…
Yes, we know, we're only a week and change into 2019, but that doesn't mean we can't start planning some vacations for a year from now. (It's always nice to have something to look forward to, right?) Thankfully, Adventures by Disney will be offering some incredible new trips in 2020, and we're marking our calendars and making some plans as we speak… err, type.
Next year, ABD will offer more European river cruise sailings than ever before—including a brand-new vacation on the Rhone River! For the first time ever, guests will sail through southern France including Provence, a diverse region rich with cultural, artistic, historical and culinary delights. During the Rhone River vacation, Adventurers will explore ancient cities, quaint hilltop villages, fairytale castles, romantic vineyards, and so much more. This new river cruise joins ABD's other offerings along the Seine, Rhine, and Danube rivers—amazing all-inclusive vacations that not only include the services of up to eight Adventure Guides (who are your hosts in each destination and onboard the ship), but also offer up the amenities of luxury river cruise stalwart AmaWaterways.
Stay tuned for more info on ABD's new Rhone river cruise when it becomes available later this month.