DETAILS
In 1970, Dave Smith founded the Walt Disney Archives—the department which collects, preserves, and makes available for research the history of The Walt Disney Company—and served as its chief archivist for more than 40 years. Also a noted author, Dave is considered the ultimate authority on all things Disney and has been celebrated by Disney fans all over the world for his contributions to preserving the Disney legacy.
On Friday, January 25, D23 Gold and Gold Family Members will be treated to an intimate, three-course luncheon with Dave at The Walt Disney Studios inside the private Buena Vista Room. During this exclusive event, guests will spend time with Dave and discover what it was like to develop the first archives for a motion picture and entertainment company.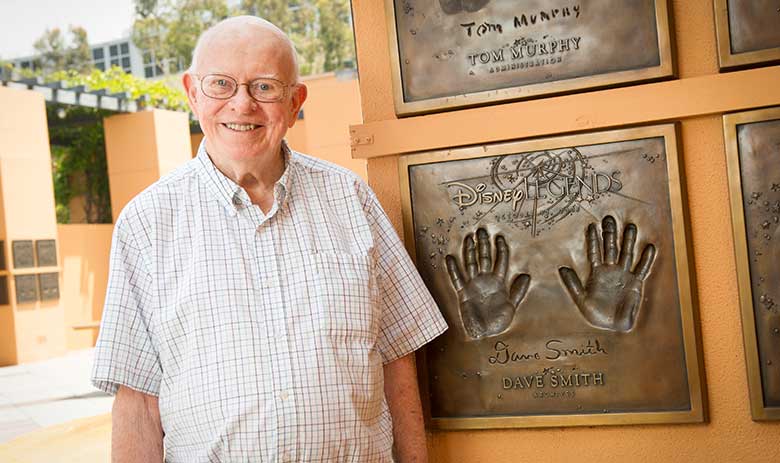 Beginning with the July 1983 issue of Disney Channel Magazine, Dave began answering questions for Disney fans, which he continues today through his "Ask Dave" column on D23.com. Dave has written extensively on the company's history for a variety of publications, including Disney twenty-three. Many fans know him as the author of the official Disney encyclopedia, Disney A to Z, co-author of four volumes of The Ultimate Disney Trivia Book and Disney: The First 100 Years, and editor of The Quotable Walt Disney. Dave has also hosted a variety of presentations for Disney fan conventions, including D23 Destination D events and the D23 Expo.
This one-of-a-kind experience will also include an exclusive gift created just for you, as well as time to shop at the Disney Studio Store!
Experience begins at 12 p.m. PT and will last approximately two hours.
Check-in will begin at 11:45 a.m. in front of the Hyperion Room at The Walt Disney Studios.
NOTES
D23 Gold and Gold Family Members may reserve a ticket for themselves and one (1) guest.
There is a very limited number of tickets available. D23 Members will be required to provide their membership number when reserving tickets. D23 Members who do not bring their membership card and tickets may not be admitted to the event.
Ticketed Members who do not attend the event forfeit their place as well as all experiences, benefits, and gifts associated with the event. D23 Members must be present or guests will not gain admittance to event.
All D23 Events are subject to change without notice. There are strictly no cancellations or refunds, and tickets are not transferable.
PLEASE BE ADVISED: Filming, photography, and other recording will take place at The Walt Disney Studios during the event you will be attending. The Walt Disney Company will be taking photos and filming at The Walt Disney Studios located at 500 S. Buena Vista Street, Burbank, California. By entering the premises, you irrevocably consent to and authorize The Walt Disney Company, its affiliates, successors, and assigns (collectively "Producer"), to photograph you, make sound recordings of you, and use such photographs and recordings throughout the world, for any purpose whatsoever in perpetuity, including, but not limited to, television broadcasts and home entertainment products, including, but not limited to, home video and DVD. All such photographs and sound recordings will be the sole property of Producer.