By Jim Frye
Prolific actor Jude Law has portrayed a slew of memorable characters over his career, ranging from Dr. Watson in Sherlock Holmes and Dickie Greenleaf in The Talented Mr. Ripley, to younger Albus Dumbledore in the Fantastic Beast films. His latest role, however, finds him leading a galactic special forces-style team in Marvel Studios' Captain Marvel, hitting theaters March 8. D23 caught up with Law on the super-secret set of Captain Marvel to find out all about his character and how he fits into the outer-space world of the Kree, the Skrulls, and the Supreme Intelligence.
D23: What can you tell us about your character?
J.L.: He heads Starforce, which is an elite special forces-like group of Kree warriors, and he is also mentor to Carol Danvers, Brie's [Larson] character.
D23: What is his relationship with Carol Danvers?
J.L.: Their relationship as mentor-mentee, and pupil-sensei, and how they met, and what they offer to each other are very much at the heart of the film.
D23: What can you tell us about the other members of the Starforce team?
J.L.: I can talk about Djimon [Hounsou]—Korath—who appeared in Guardians of the Galaxy. Obviously, this is a few years before, so a young Korath; he is second in command. Minn-Erva, played by Gemma Chan, is a sniper, and a long-range specialist. We have Bron-Char, who's basically a blue giant, played by Rune Temte, from Norway. And Algenis [Soto] plays Att-Lass; he's another sniper expert, or weapons specialist.
D23: Can you talk about the camaraderie on set?
J.L.: This has been a real joy, actually, because on a big piece like this, there were many moments where it's very fragmented, so I've done an awful lot on my own. It's a nice feeling when Starforce is all together—if anything, just so that we can all complain about where our suits are chafing. It's always nice to have that camaraderie. Film sets are fun places; there's also a camaraderie with the crew. We have a lot to do, so to have moral support around you, and build those relationships and that chemistry, is always going to be a highlight of the job.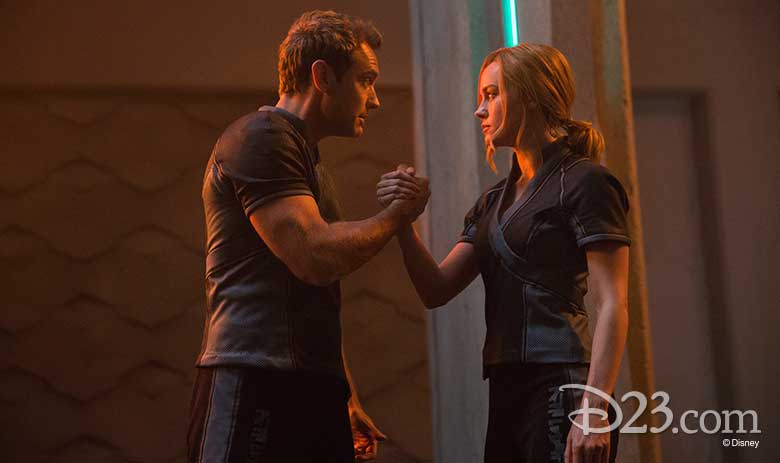 D23: Have you had any fun action sequences?
J.L.: Yes, a fair few. I've been doing boxing and martial arts for years, so it's fun to just get a lot more hands-on, tactical, hand-to-hand combat. And then there are a couple of other fantastic battle sequences that were great fun.
D23: What is the Supreme Intelligence?
J.L.: There's a sort of divine element [with the Kree] called the Supreme Intelligence and that comes to play in this. My character has a very particular relationship with the Supreme Intelligence. It's quite complex, and ultimately very revealing of what it is that motivates him. He's got a kind of divine sense of purpose because of his relationship with this greater being.
D23: Describe the conflict between the Kree and the Skrulls.
J.L.: The Kree and the Skrulls are constantly in conflict, so both communities are living really at high alert, and both obviously live with huge wariness of each other. And as a commander of the Kree military, my character is somewhat judgmental and full of hatred for the Skrulls. The Skrulls, to the Krees, really represent despicable maneuvering and manipulation. Because the Skrulls can simulate other people—they turn into other things—it's this idea of subterfuge, that you are not who you really are, whereas the Kree have a kind of purity about them, and an honesty, as far as I see it.