By Jim Frye
Brie Larson doesn't feel comfortable saying what she wants audiences "to come away with" from the upcoming Captain Marvel, Marvel Studios' next big-screen adventure, and their first to feature a female as the lead. "I feel really firmly that art is made to be enjoyed and interpreted, and you get what you need out of it," she says. "I think there's going to be a lot there for people to digest and feel, and hopefully, it'll be the movie that you want to revisit again and again, and as life goes on, it'll have more to it. I just want to make art that lasts. I want to make art that you grow with."
The first time we see Brie Larson is on a TV monitor in "video village" on the Captain Marvel set, as co-directors Anna Boden and Ryan Fleck instruct the actress, who plays the title character, to walk across the bridge of the Kree ship with her fellow Starforce team members: Djimon Hounsou, who plays Korath; Algenis Perez Soto as Captain Atlas; Rune Temte as Bron-Char; Gemma Chan as Minn-Erva; and Jude Law, Starforce Commander. They're all dressed in form-fitting green-and-black Starforce uniforms, the colors of the Kree.
During a break later that afternoon, we're able to talk. "It's very, very itchy," says Larson, pulling at the collar of her Starforce uniform. We are sitting in a space just off the main set area. "The costume is very, very itchy."
The "itchy" costume is small potatoes, though, compared to Larson's grueling months-long physical training in preparation for Captain Marvel, the first female-led film from Marvel Studios. "I didn't realize that most people don't do their own stunts in these movies," she says with a laugh. "I thought you did, and I've never been a particularly elegant or athletic person. I just thought, I don't want to be on set, and they ask me to do things, and I don't know how to do it. So I started training as soon as I could."
The fact that she didn't need to perform most of her own stunts was a revelation to her. "I took nine months of training, and three months of stunt training with a stunt team," she continues. "We spent two hours every day, five days a week, and everyone just went along with it. It wasn't until we started shooting, and I started doing all my own wire-work stunts, flips, and stuff, that people were like, you know, nobody actually does those things. We just didn't want you to stop."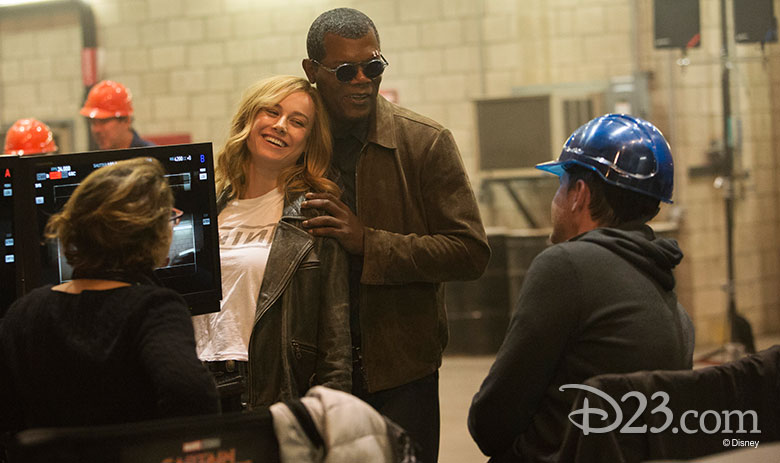 It's this type of commitment that has earned Larson accolades from fans and peers alike. Her performance in the 2015 film Room earned her the Academy Award® for Best Actress, the BAFTA Award for Best Actress in a Leading Role, the Critics' Choice Movie Award for Best Actress, the Golden Globe®, and the Screen Actors Guild Award for Outstanding Performance by a Female in a Leading Role. She also starred in 2017's Kong: Skull Island, with her soon-to-be Marvel co-star Samuel L. Jackson. Before that, she impressed audiences in films such as Tanner Hall, Scott Pilgrim vs. The World, and the Showtime breakout drama United States of Tara. She even starred in a Disney Channel Original Movie in 2003 called Right On Track. However, she claims it's the role of Carol Danvers, aka Captain Marvel, that has perhaps challenged her the most.
"I think she has an ego, but in a healthy way," says Larson. "She doesn't have an unrealistic expectation of herself," she says before she's halted by the commotion of a table saw nearby. She smiles, waits patiently for it to stop, fidgets with her "itchy" costume, then continues. "She just owns that she's really good, and really skilled, which feels good to play. She also has an incredible sense of humor, makes fun of herself, makes fun of other people, and has no issue if someone makes fun of her. This is probably the most dynamic character that I've ever played."
She continues: "It's been the most range I've ever played a character. I've had to go through every emotion possible with her. It has great comedy, there's also real depth and emotion, which for me, that's what I want. I want to see complicated female characters. I want to see myself, which is not a simple person."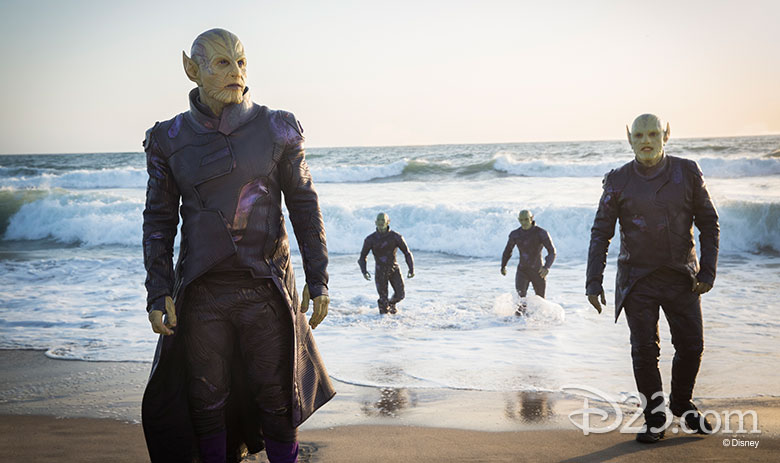 The film, which takes place 30 years ago in the 90s, begins in outer space with Captain Marvel already possessing super powers and fighting alongside the Kree alien race in the Kree-Skrull galactic war. Through some unforeseen circumstances, she crashes to Earth—through the roof of a Blockbuster video store—and has to figure out who she is and why she's here, eventually getting help from a young Nick Fury—who, at that point, still has both eyes intact.
And even with the excitement building about her portrayal of Carol Danvers, Larson remains down-to-earth and true to her craft. "I'm just going to do what feels true to me, and if people want to tag along, they can," she says. "All of my heroes were just unapologetically themselves, and they were flawed at times, and that's OK. For me, it's part of who Carol is. She's flawed. In order for me to feel comfortable stepping into this character, I have to accept my humanness, and remind everybody that I'm a human."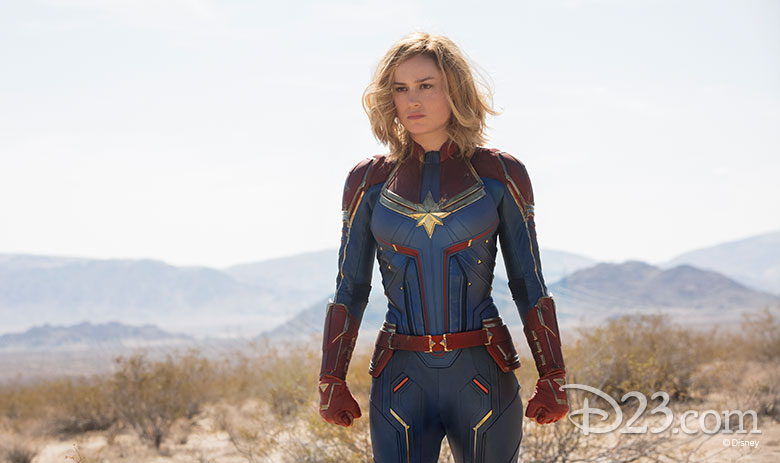 She pauses, then, "And I'm part of it. I just want to make art, and that's really it." Captain Marvel—featuring the dynamic, game-changing performance by leading lady Brie Larson—opens March 8, 2019.