By Jocelyn Buhlman
Assemble your friends! Your favorite films from the first 10 years of the Marvel Cinematic Universe are coming to IMAX screens across the U.S. and Canada from August 30–September 6.
For the past 10 years, super hero fans have gathered at theaters to watch some of their favorite characters fight for justice on the big screen. It's been an amazing time to be a comics fan—we've watched our favorite moments jump from the page to the silver screen, creating blockbuster moments gathering fans, sometimes in full costume, to assemble in celebration of Marvel's amazing super stories.
Now, you can experience a movie marathon like no other: To celebrate Marvel Studios' 10th anniversary, select IMAX screens across the United States and Canada will show a decade of Marvel Studios' films, from Iron Man to Ant-Man and The Wasp. The Marvel Studios 10th Anniversary Film Festival takes place from August 30 through September 6 and will show all 20 films exclusively in IMAX. Three of these films—Iron Man, The Incredible Hulk and Captain America: The First Avenger—have never been seen in the format.
The first five days will show all 20 films in release order, followed by two themed days focusing on "Origins" and "Team Ups." The festival will conclude on the morning of September 6 with two films chosen especially by fans!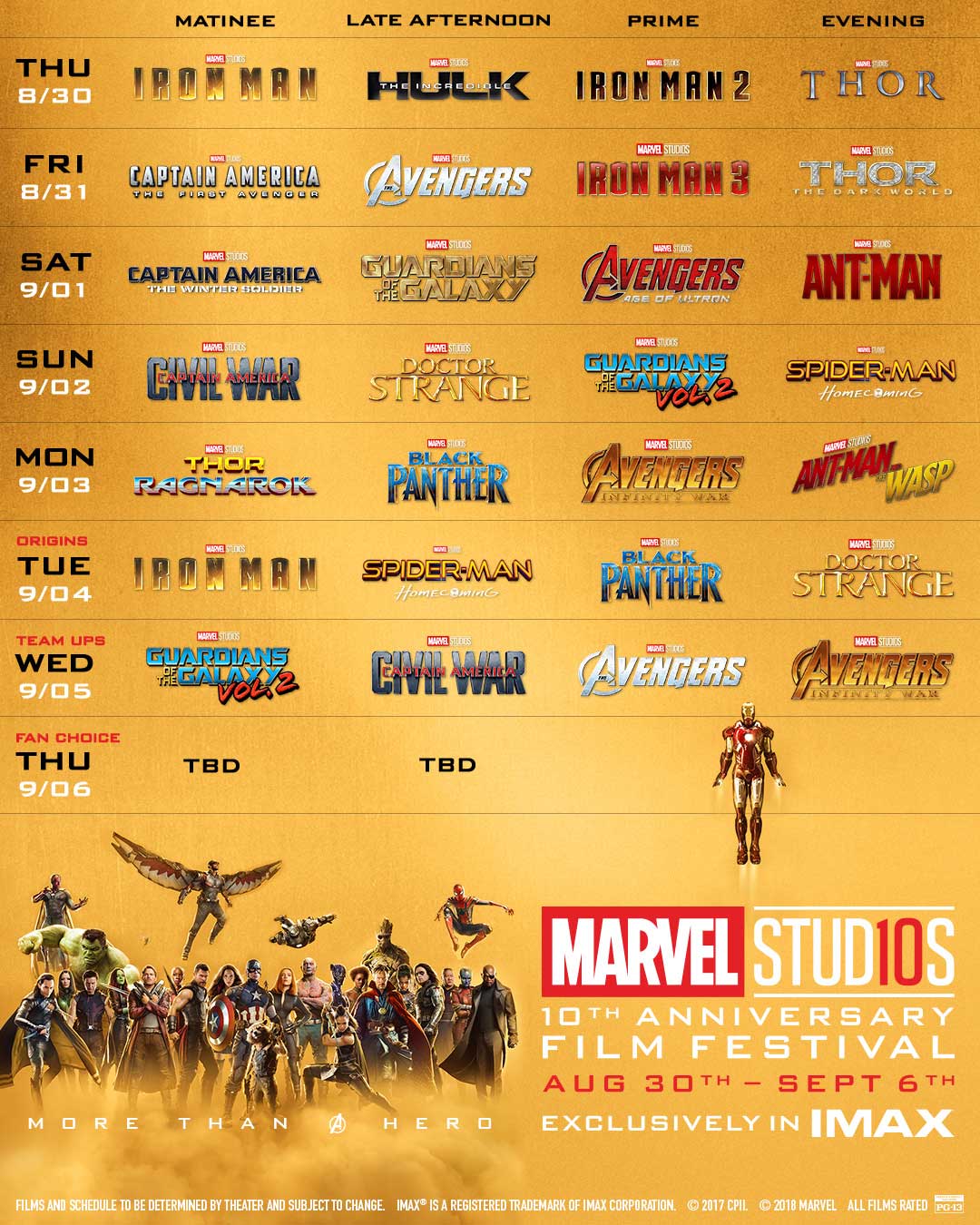 Get Your Votes In Now
The final two showtimes of this festival will be chosen by you, the fans! Team up with your friends and vote to see one of your favorite films on Thursday, September 6. Choices will include Iron Man, The Avengers, Captain America: The First Avenger and Black Panther. Voting is open now though August 17 on Twitter @IMAX and @MarvelStudios. Be sure to vote, share and tag #MarvelStudios10FilmFestival.
Tickets for Marvel Studios 10th Anniversary Film Festival are available now! Get your tickets now at Fandango.com.
IMAX® is a registered trademark of IMAX Corporation.