By Jim Frye
Marvel Studios' 2015 film Ant-Man introduced audiences to the hilariously heroic antics of Scott Lang, played by Paul Rudd, a one-time thief who gets a new lease on life when he puts on a scientifically enhanced suit that gives him the power to change sizes. Introduced by Marvel Comics in 1962, Ant-Man later appeared in Avengers No. 1, alongside Marvel's very first Super Heroine—The Wasp.
Marvel Studios' Ant-Man and The Wasp, which takes place about two years after the events of Captain America: Civil War, puts both of those founding Avengers together onscreen for the first time as a Super Hero duo, with Scott once again donning the suit to fight alongside Evangeline Lilly's Hope Van Dyne as The Wasp.
The cast and filmmakers of Ant-Man and the Wasp gathered this week and spilled the beans on some things that moviegoers might not know. Here's the big and small of it.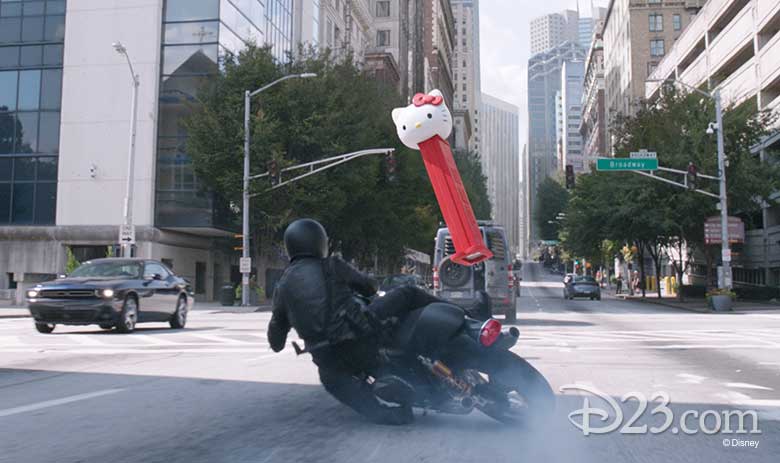 1. Paul Rudd explains why he thinks this film was able to include more humor.
"After two other films," says Rudd, referring to the first two films where his character appeared—the first Ant-Man and Captain America: Civil War—he thinks audiences "buy" him as Ant-Man and they understand the rules. "It felt as if we had a little bit more freedom to play into the humor," he says. "Where the first time around, we were still… modulating. Now, people know who this guy is already."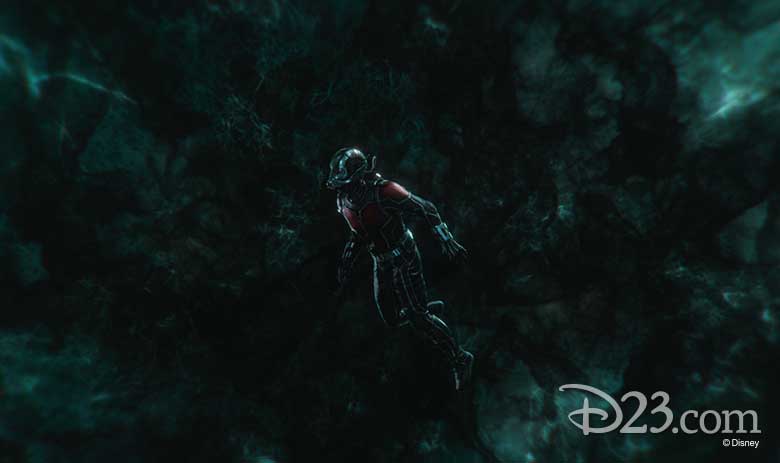 2. Kevin Feige explains how much the Quantum Realm will be a part in future films.
"Without giving anything away… in the first film, we got a glimpse of it," says Marvel Studios President and producer Kevin Feige. "For people who like to go through it frame by frame, there was a little silhouette of Janet lost in there, which is a big story element in this new movie. There are things that Peyton put in there—but where and how they pay off in the near term and the long term remains to be seen."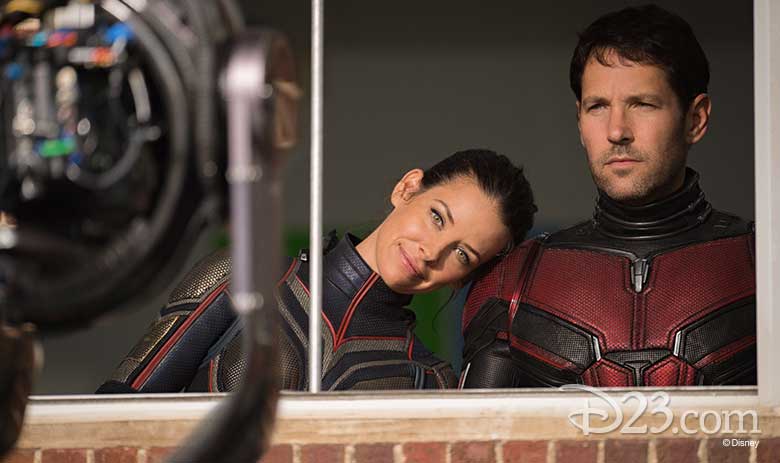 3. Evangeline Lilly can explain quantum physics—and LOVES it!
"I really love quantum physics, and I did before this happened and that's one of the reasons I was excited about this brand," enthused Lilly, who plays Hope van Dyne/The Wasp, daughter of brilliant scientist Hank Pym. "At one point we thought the atom was the be-all and end-all, and the smallest nucleus in the world, but we found out that's not true… And atoms can exist in multiple places at the same time." She continued to explain that matter is kinetic and is displaceable, and that we have the ability to warp matter, and warp time, and warp the universe—in short, she blew our mind! And now we know there's no one better qualified than Lilly to play a scientist that has a super-powered suit.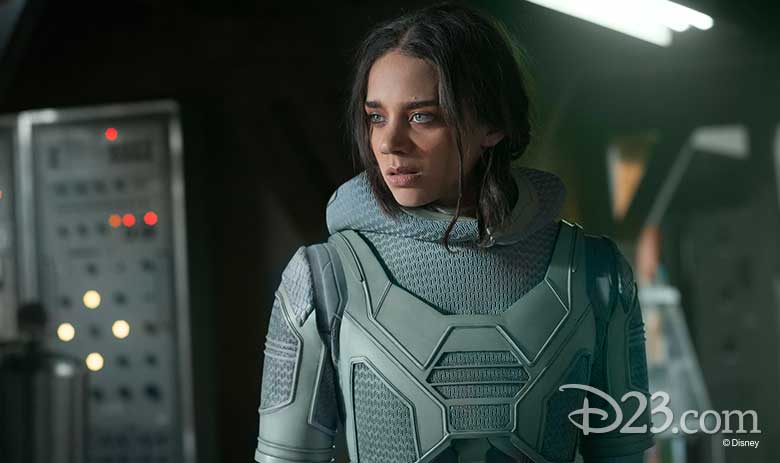 4. Hannah John-Kamen, who plays Ava/Ghost, does not consider her character a villain.
When asked if she sees her character—Ava/Ghost—as the villain, Hannah John-Kamen answered, "Absolutely not. I definitely approach the character not as the villain… when you play a villain, you have to play it like you're the good guy and everyone else is bad. … She has a clear objective in the movie… I think what Marvel does so well is that it's not black and white. The villains are redeemable."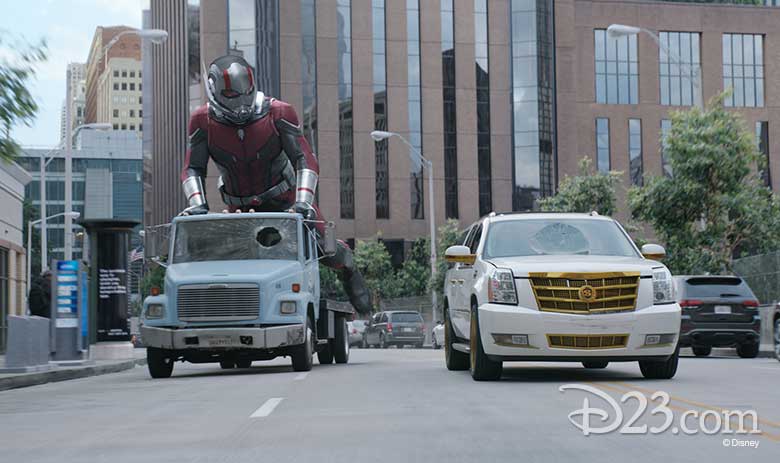 5. Peyton Reed wanted San Francisco to be a character in the film.
"We wanted to do a car chase that you just couldn't see in any other movie," said director Peyton Reed. "We wanted to do all these very specific things and make San Francisco a character in the movie. Thankfully the city of San Francisco was so cooperative and we had free range to do some crazy things."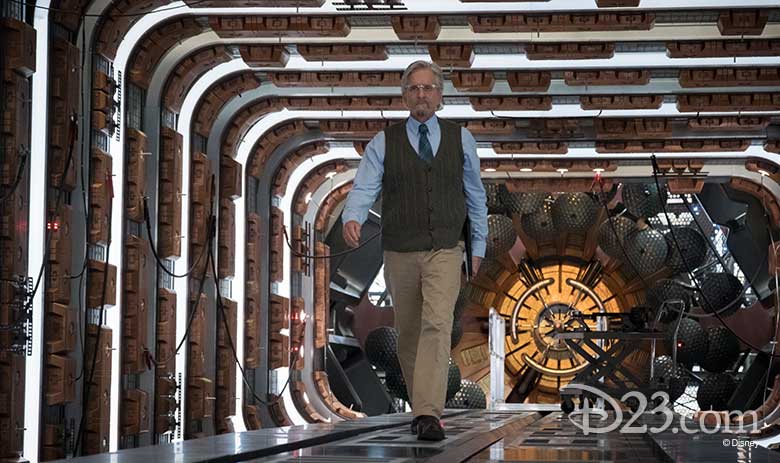 6. Michael Douglas was ecstatic to finally work with Michelle Pfeiffer.
"I look great," joked Douglas, referring to his high-octane performance as Dr. Hank Pym. "First of all, when I discovered that Michelle Pfeiffer was going to be my wife—I'm such a tremendous fan of hers but never had any chance to work with her—I was totally ecstatic. And then to read the script and find out that Michelle Pfeiffer and I were going to be 30 years younger, it made it all that much better."
7. Kevin Feige says that featuring The Wasp was always in the plans.
"The first Ant-Man film is essentially all about how qualified Hope is and her estrangement from her father," says Feige. "So we always knew that the next one was going to be Ant-Man and The Wasp and [we would] finally see her suit up and be the hero that she was born to be."
Catch all the action and comedy when Marvel Studios' Ant-Man and The Wasp opens in theaters July 6.