By Jocelyn Buhlman
When little girls are, well, little, they engage in pretend play and act out aspirations based on their heroes—fighting bad guys as Mulan, controlling the snow as Elsa, or making a splash as Ariel. With the release of Marvel Comics' new series, The Unstoppable Wasp, don't be surprised to see a make-believe princess pour some tea to her royal friends and also share a cup with some new faces: aspiring scientists, Super Heroes, and engineers.
The Unstoppable Wasp creator Jeremy Whitely explains, "I have a 5-year-old daughter who loves science. She has an undaunted curiosity and a love of puzzles. I don't want to see my daughter lose that curiosity. She has worlds to discover out there, and if seeing girls like herself doing that helps to drive her, then I'll be thrilled to have devoted my time and energy to making that a possibility for them."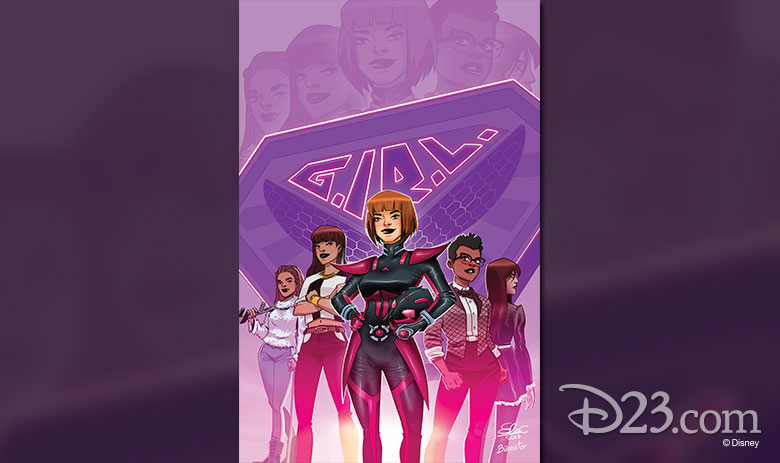 Jeremy's new series, The Unstoppable Wasp, is a comic about Nadia, the daughter of the original Ant-Man, Hank Pym. The series follows her as she assembles a lab of girl geniuses—named G.I.R.L.: Genius In action Research Labs—to change the world. The book's cast is a diverse group of young women from different backgrounds. Through this new series, Jeremy is hoping to encourage girls in their love of STEM (Science, Technology, Engineering, and Mathematics) fields.
Nadia and the Agents of G.I.R.L. are creating role models for our future scientists, and Jeremy couldn't be happier. "If you've never seen a woman in a heroic context, you're bound to have a slanted view of the world," he tells D23. "I think girls need to see characters like themselves doing science and saving the day, and I think boys need to know that girls can be heroes and scientists as well."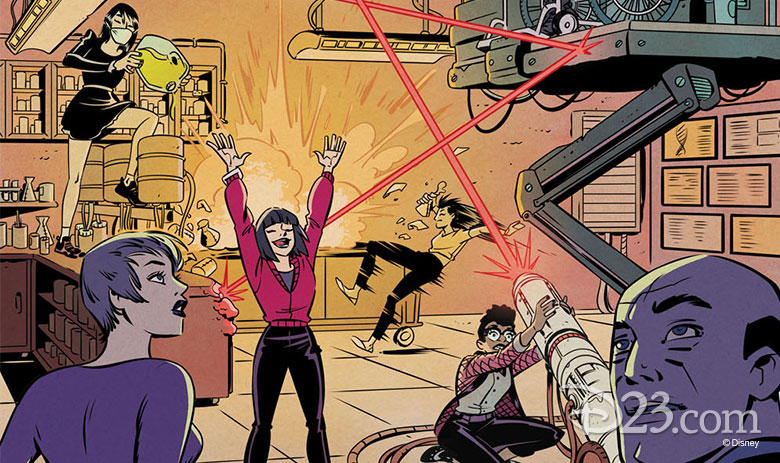 The Unstoppable Wasp addresses this issue directly, Jeremy notes, in the first issue, in which Nadia meets Mockingbird, one of the first major female scientists in Marvel history, who informs Nadia about "the list" of the smartest people in the world. "Lunella Lafayette (Moon Girl) was recently revealed to be the smartest person in the Marvel Universe. But after that, the list is overwhelmingly male," Jeremy explains. "Nadia decides that there must be dozens of girl geniuses out there who have been overlooked, and she sets off to find them and start her own lab of girl geniuses with the goal of changing the world."
This quest for girl geniuses happens on the page and in real life. As part of the "Agents of G.I.R.L." initiative, readers are encouraged to send in profiles of themselves or other women they know in the STEM fields. Jeremy stresses, "I wanted to tie these brilliant women doing super science in the Marvel Universe to real women doing real science and really changing our world." Jeremy, along with artist Elsa Charretier and editors Alanna Smith and Tom Brevoort, decided to make a change to the comic book format. Instead of having a section for letters to the editor at the end of each book, the comics would instead feature an "Agents of G.I.R.L." section that features profiles of some of the true-life women in STEM, to provide real-world heroes for the readers. "This program has allowed us to interview everyone from astrophysicists, to aeronautical engineers, to plasma scientists, to paleontologists," he says. "They get to talk a bit about what they study, share their love of comics and pop culture, and, maybe most important, provide their Twitter handles so that readers who are interested in what these scientists are doing can follow them, talk to them and maybe even find out how to be the next generation."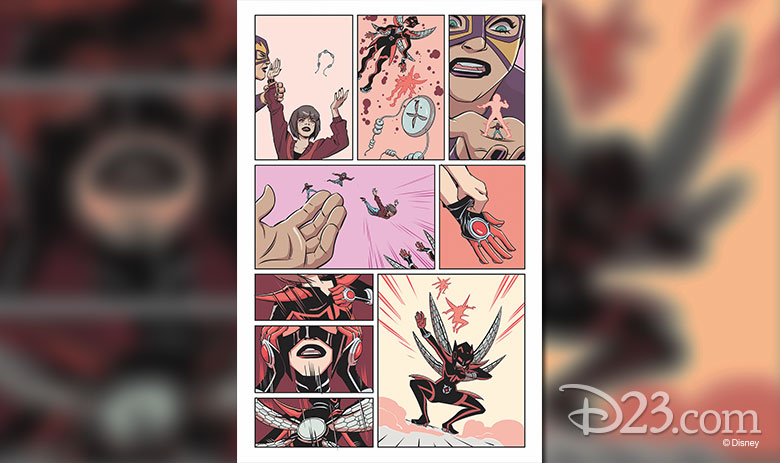 The Unstoppable Wasp harks back to the golden age of comics, when fans could read the adventures of scientist Super Heroes like The Fantastic Four and Hank Pym. Jeremy wants to bring back these science-focused role models. "As comics have gotten older, we've tilted more toward a combination of vigilantes, soldiers and mutants of one type or another," he explains. "This change just happens to correspond with the increase of representation for female heroes in comics, with the result that there aren't very many female super scientists."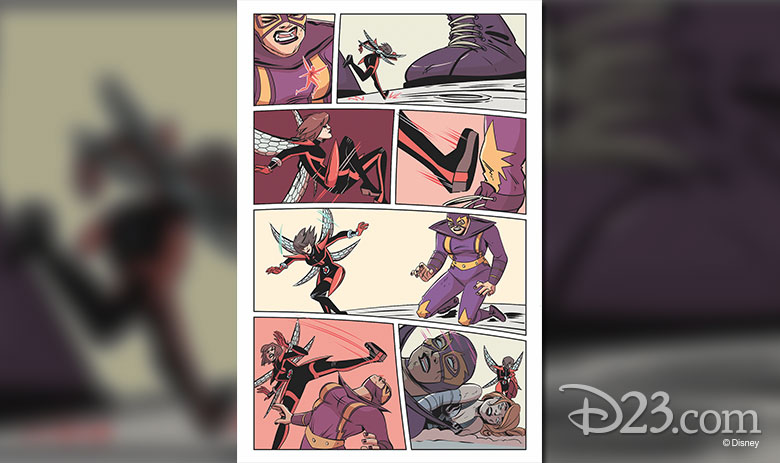 Readers can find a wide variety of heroes to inspire them, whether they're following Nadia's adventures on the page or looking up the women featured in the Agents of G.I.R.L. profiles, such as Jin, a professor of chemical and biomolecular engineering; Raychelle, a chemistry professor focusing on forensics; Marina, a PhD student studying analytical chemistry; Rachel, a paleontologist specializing in elephant fossils; Sadie, a fiber-optics engineer; and Nia, an aerospace engineer working on spacecraft autonomy.
Fans' response to these profiles was overwhelming, Jeremy says. "People were ecstatic to see themselves, and their role models, profiled in the comics. We actually have a backlog of tons of female scientists to profile right now."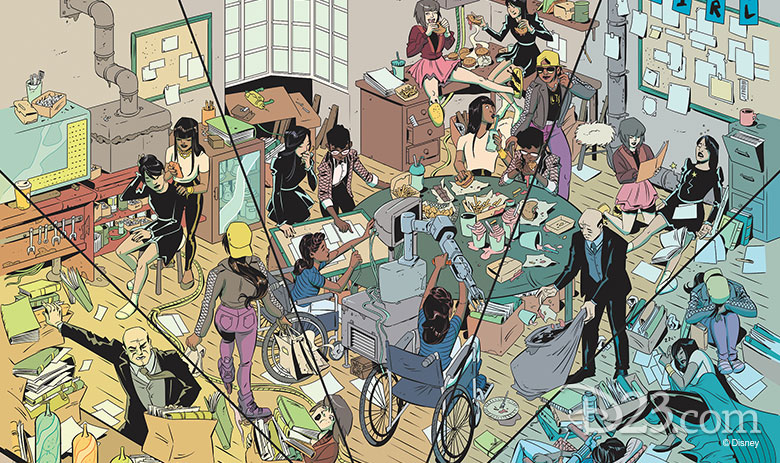 To Jeremy, The Unstoppable Wasp and "Agents of G.I.R.L." represent an essential element of Marvel Comics: seeing ourselves in our heroes. "Spider-Man is an average nerdy kid from Queens. Ms. Marvel is a hyperactive Pakistani-American fangirl from Jersey City. Luke Cage is an average guy from Harlem who was unfairly convicted of a crime he didn't commit. Part of the reason they mean so much to us, is that they are us. If they can do it, so can we, right?"
So the next time you're watching your little Mulans, Elsas, and Ariels playing together (along with all of the little Princess Leias, Reys, Gamoras and Black Widows…), don't be surprised if they're getting some help from a new set of heroes: the future scientists of America. And they might be wearing Wasp wings, thanks to Nadia and the Agents of G.I.R.L.
Of Nadia, Jeremy says, "She represents a feeling of hope that I think people are longing to see in modern heroes." And we can't wait to see what those heroes will do next.
Unstoppable Wasp #5 is available at comic book stores or online.