By Jim Frye
The biggest, wildest, flying-by-the-seat-of-your-galactic-pants ride of the summer is about to storm theaters May 5, as Star-Lord, played by Chris Pratt, and his band of happy interstellar heroes return in director James Gunn's hotly anticipated Guardians of the Galaxy Vol. 2. Star- Lord, aka, Peter Quill, has his portable cassette player and is ready to jam with even more groovy '70s and '80s tunes while fighting giant, slimy space aliens and getting into even more action-packed situations. And it's all infused with Guardians' (Gunn's) now-signature humor. We promise, it's the most fun you'll have this summer trying to save the galaxy.
And even though Marvel is now many films into its ever-expanding Cinematic Universe—with the Avengers fighting a personal war amongst themselves on earth and Thor getting a haircut and fighting Hulk on the planet Sakaar (this November!)—don't worry about going into Guardians unarmed. You don't need to be an expert in all the intricacies of the Marvel Universe to understand and enjoy this newest film. That said, if you do want to catch up and get your bearings before heading to the theater, we've got you covered.
Here, we have put together a list of everything you need to know before seeing Guardians of the Galaxy Vol. 2. If you want to get completely up-to-speed, we suggest re-watching the original Guardians of the Galaxy (you won't regret it!). It's arrival in 2014 surprised and delighted audiences, and introduced the world (galaxy) to Peter Quill and his teammates: Gamora (Zoe Saldana), Drax (Dave Bautista), Groot (voiced by Vin Diesel), Rocket (voiced by Bradley Cooper), and Yondu (Michael Rooker). Joining them in Vol. 2 are Nebula (Karen Gillan), Mantis (Pom Klementieff), and Ego (Disney Legend Kurt Russell).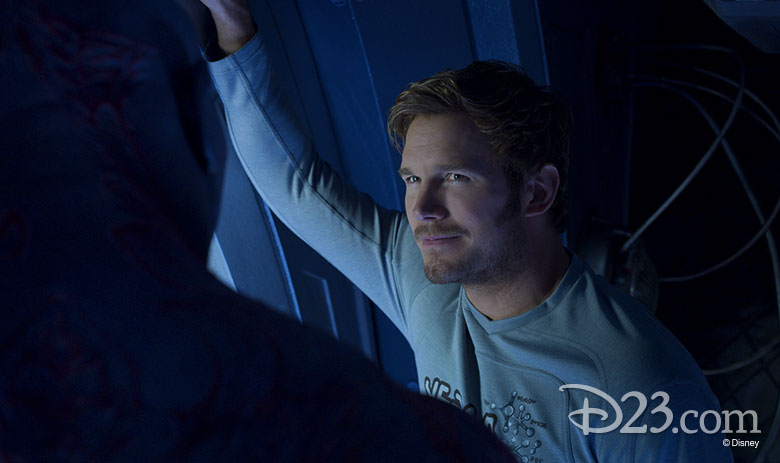 Where did Peter Quill / Star-Lord come from?
Central to the Guardians story is Peter Quill (pictured above). Long before he ever became Star-Lord, he was a young boy on Earth whose mother passed away after giving him a mix-tape of her favorite music. Peter's father, however, was nowhere to be seen. That's when blue-skinned Yondu arrived in a spaceship and scooped up young Peter and took him across the universe. Peter's never been back, keeping in touch with his earthly heritage (and family memories) through that mix-tape and his trusty portable cassette player.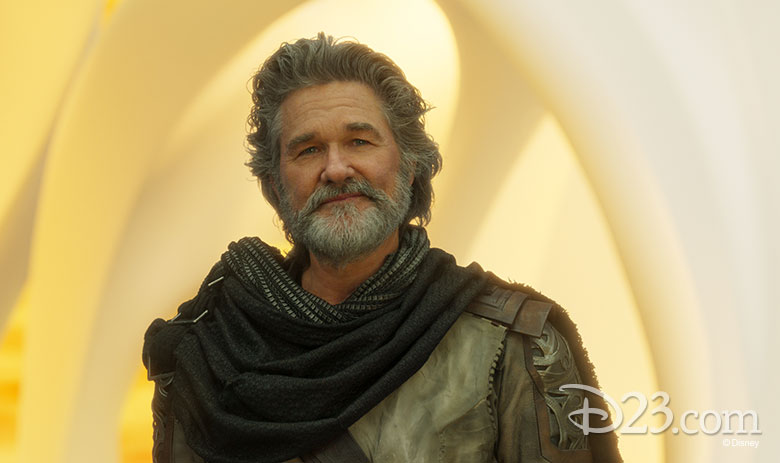 Family connections
The Guardians' second round of saving the galaxy seems to be all about family. And what a family tree! But somewhere in those tangled branches, there are a few family connections you should be aware of: First, there's the issue of Peter's dad. Whereas he never knew his biological father, he was raised by Yondu as part of a group called the Ravagers—not quite a child-friendly upbringing, to say the least. In one of the trailers, we see the brand-new character Ego (Kurt Russell, pictured above), who arrives and announces that he is Peter's father. That should be interesting!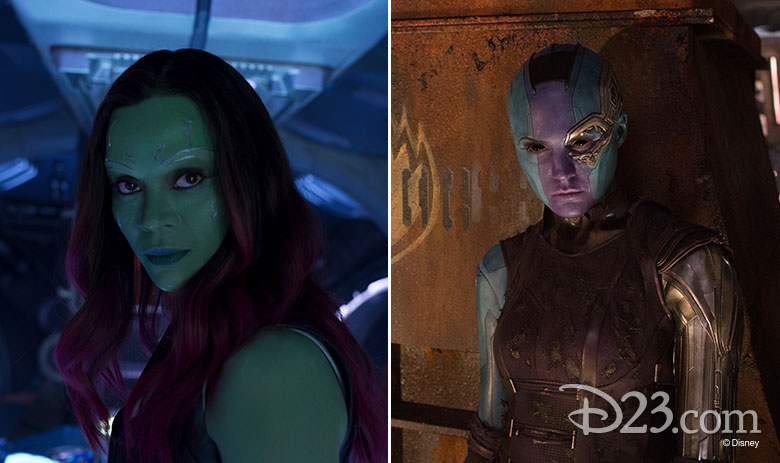 And speaking of fathers, there's one big, bad daddy that needs to be called out—Thanos! That's right, the stony purple villain who haunts the end credits of many of Marvel's films since the first Avengers is the "father" of two characters in Guardians: green-skinned Gamora (picture above left) and her "twisted sister," the blue-skinned Nebula (pictured above right). They are the definition of dysfunctional. But can you blame them? With a dad who wants to kill, maim and destroy half the galaxy, what do you expect the kids to be like?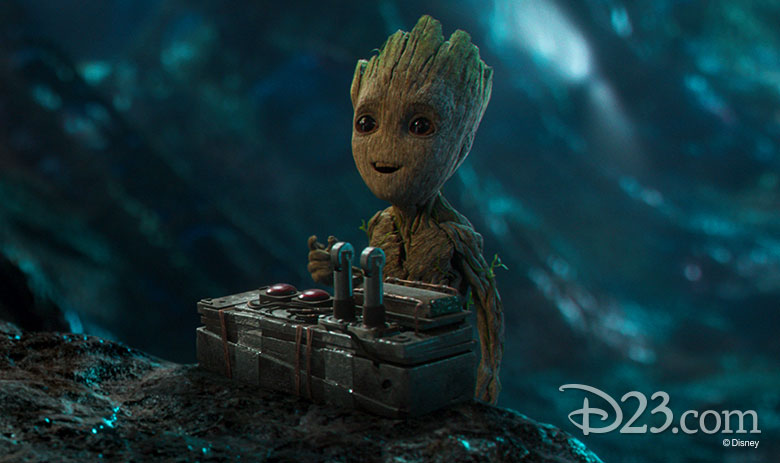 Why is Groot a baby?
There's one character who steals every scene he's in, and that's Groot (pictured above), the alien who looks like a tree… a baby tree, that is. And that's because in the last film [count this as your spoiler warning if you haven't seen it], the then-adult Groot saved his friends from a terrible fate by sacrificing himself. But thankfully, after Rocket gathered some of his splinters, he was able to sprout back up, basically starting all over again as a baby. Although the last film saw him dancing in a flower pot (his baby crib), he's now able to walk. And wave. And look darn cute.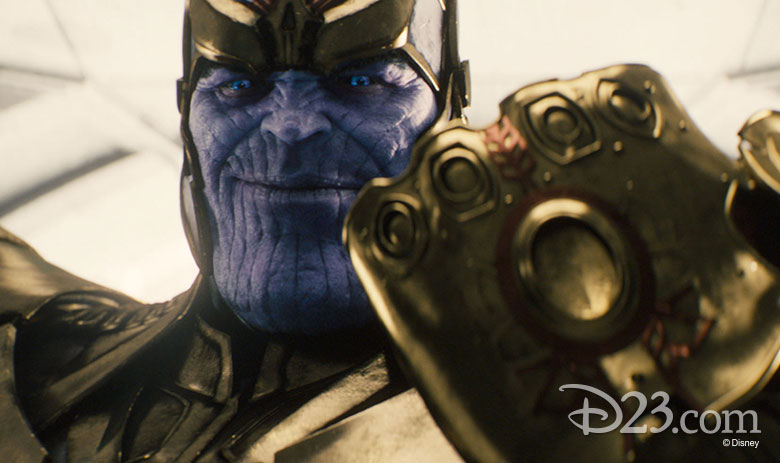 The Infinity Stones
Throughout many of the previous Marvel films since the first Avengers, Thanos (pictured above) has been busy seeking what are known as the Infinity Stones, immensely powerful objects that gain even more strength once they're joined together. He hopes to gather all the stones into his Infinity Gauntlet, making him the most powerful villain yet. Loki's scepter had one in its tip in the Avengers before ending up on the forehead of Vision in Avengers: Age of Ultron. The Tesseract, which was stolen by Red Skull in Captain America: The First Avenger, is one. And Star-Lord found one of the stones encased in an orb in the first Guardians film. Interestingly, he survived directly touching the stone, which should have killed him. It remains to be seen what Thanos wants with these stones, and if any of the heroes can stop him.
As far as things you should know before seeing Guardians of the Galaxy Vol. 2, that about covers it. Except for the fact that toward the end of the first Guardians film, our heroes—as combative and argumentative as they are—decided to stick together, help each other, and stave off galactic threats. A galactic, crime-fighting family, of sorts. On May 5, we'll see how those family bonds are holding up. And it's all set to the early '70s-tastic soundtrack of Peter's second mix-tape, gifted to him by his mother before her death.
Oh! One more thing – it goes without saying: sit through the credits. All the way to the end. You'll be glad you did.