by Beth Deitchman
Humor and irreverence seem to accompany our favorite band of intergalactic misfits—the Guardians of the Galaxy—wherever they go. And we might say the same thing about the talented actors who play the eccentric heroes, returning to a movie theater near you on March 5 in Marvel Studios' Guardians of the Galaxy Vol. 2. We recently heard an "awesome mixtape" of stories from the cast and director James Gunn, including accounts of who the actors feared would be a scene-stealer, how the actors pass the time during the lengthy makeup process, and what Marvel newcomer Sylvester Stallone thinks of the Cinematic Universe he's joined.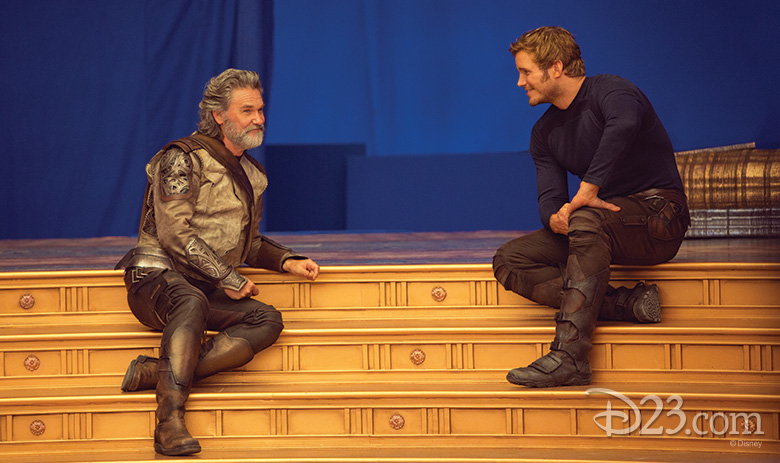 1. Super Heroes Became Super Friends
If you've ever been intimated by the thought of meeting one of your heroes, rest assured that Chris Pratt can relate, having worked with a number of screen icons—such as Kurt Russell, who plays Star-Lord's dad, Ego, in Guardians of the Galaxy Vol. 2. "You promise yourself you're not going to do the thing where you geek out, but it's a little inauthentic if you don't," shared Pratt, who says he got his geek-out out of the way soon after meeting Russell. "At that point, you move forward, and the one thing that I never would've imagined when I first moved to Hollywood is that you become somebody's friend and somebody's peer, rather than a fan."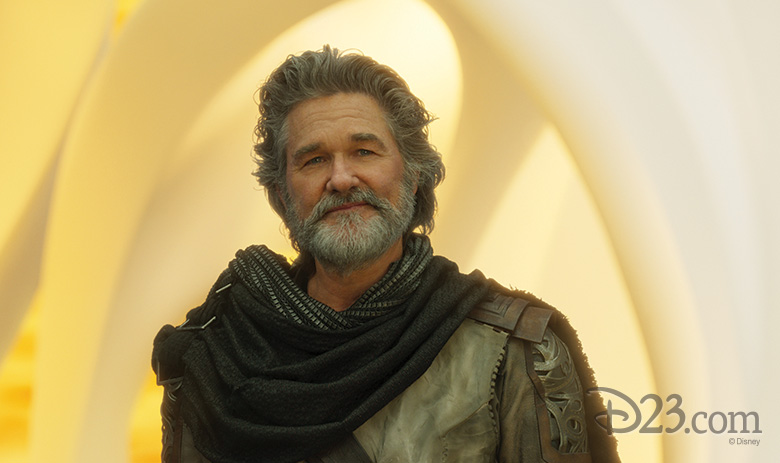 2. Making the Team
Disney Legend Kurt Russell may have a long history with The Walt Disney Studios, but he confessed that he felt like a rookie when he first joined the Guardians of the Galaxy Vol. 2 cast. The onetime minor league baseball player admitted, "I feel like I do have a special relationship with Disney, but the truth of the matter is, every time you go to work you've got to make the team… You're only as good as your last at-bat." Russell, who knocks it out of the park as the mysterious Ego, added, "I was very, very fortunate that I ran into a team that has a terrific manager. He really knows his world and he also knows how to execute. He has cast these people perfectly."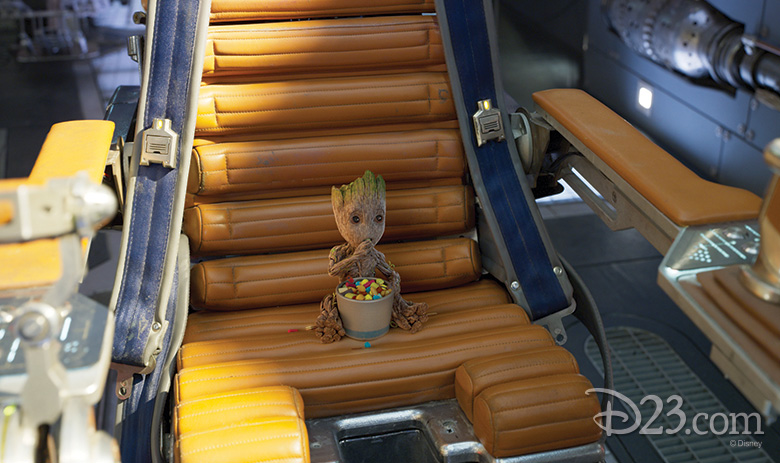 3. I Am Cute, er, that is, Groot!
Baby Groot's antics in the Guardians of the Galaxy Vol. 2 trailer have already made him a fan-favorite. Modern technology brings the character to life on screen, but he was represented on set by way of a maquette that was used as a reference point. James Gunn recalled, "We would have this adorable little statue standing there, and we'd have the scene and all this stuff would be going on. These guys would be acting their butts off and really putting their hearts and souls [into it]—and all of a sudden, Chris would look over at that little guy and go, 'He's going to steal the whole movie!'" Hmmm… we have an idea of what Baby Groot's response to that might be…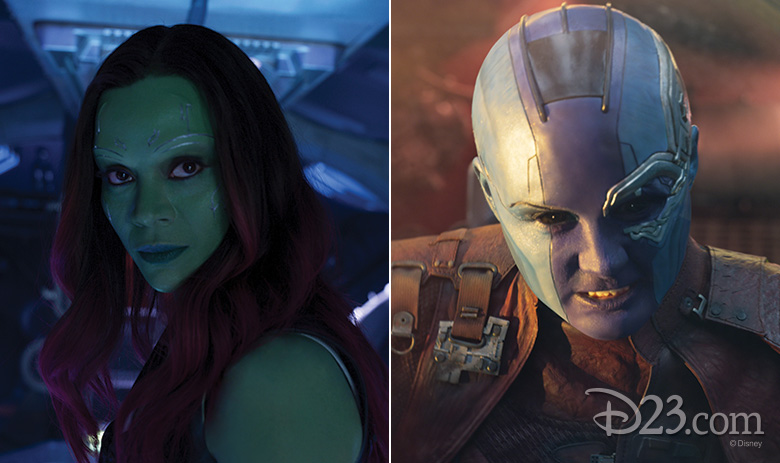 4. Sister Act
Zoe Saldana and Karen Gillan play warring sisters Gamora and Nebula, and they detailed how it takes working together to convincingly portray two siblings tearing each other apart. "Zoe literally teaches me to fight while we're doing it. She'll be like, 'Turn your head like this and you strangle someone like that—you're going to look cool!'" Gillan laughed. Saldana added, "And Karen teaches me to just bring it!" It took about four hours in the makeup chair to transform the actresses into Gamora and Nebula, and they each used the time very differently. "I talk my team to death. I don't shut up," Saldana said, while Gillan likes having the quiet time at 2:30 a.m. to begin getting into her character.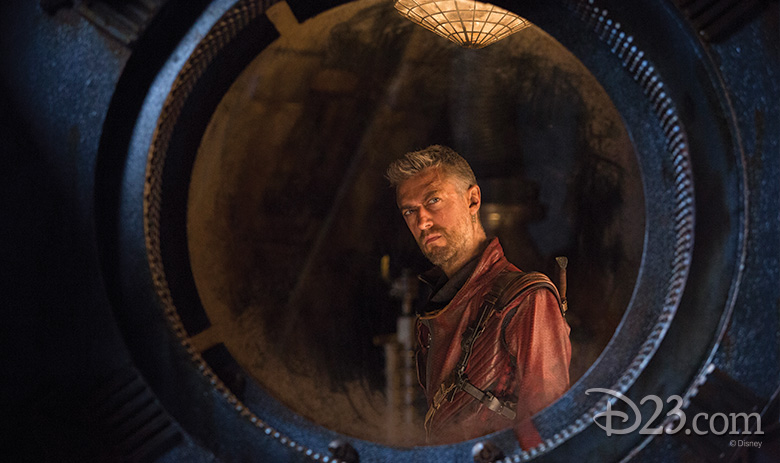 5. Ain't No Thing Like Sean Gunn, 'Cept Sean Gunn
Director James Gunn, Producer Kevin Feige, and the entire cast heralded the contribution of actor (and James Gunn's brother) Sean Gunn, who does double duty as Rocket (voiced in the film by actor Bradley Cooper) and Kraglin, Yondu's right-hand man. Sean provides the physical performance for Rocket, to give the actors something to work with—and the animators a reference as they bring the character to life. Feige stressed, "I can't tell you how many times during the visual effects reviews James would say, 'Go back to the plate,' which means the original portion of photography with Sean to get little mannerisms of his eyes and his mouth." Sean raised the bar in Guardians of the Galaxy Vol. 2, acting against himself in multiple scenes that featured both Rocket and Kraglin—sometimes in the same shot.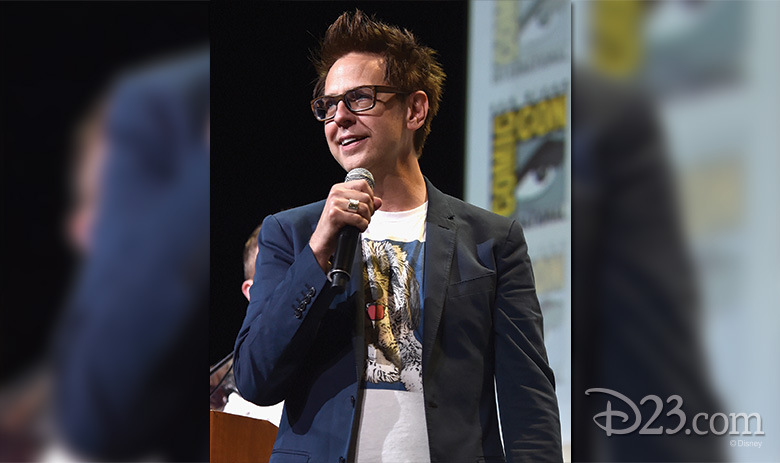 6. In Scoring Position
The soundtrack and music for Marvel Studios' Guardians of the Galaxy Vol. 2 has been almost as eagerly awaited as the film, and director James Gunn had portions of the score written long before cameras began rolling. Feige explained, "A year before we started filming, James shared the story and script with [composer] Tyler Bates, and Tyler started to write score suites… a couple of really moving pieces in the movie, so James could play it on set while they were filming. No other film that I am part of does that. It's really unique."
7. A Sly Approach
Screen legend Sylvester Stallone has brought to life two iconic heroes, Rocky and Rambo, but Guardians of the Galaxy Vol. 2 marks the actor's first foray into the Marvel Cinematic Universe—and he wasn't familiar with the Guardians before joining the cast. "I grew up on a different set of Super Heroes, like Elastic Man and things like that," he said, and he avoided reading the Marvel comics ahead of filming. "I wanted to go in there, clean slate, and just do what the director wanted done… I think kind of being naïve allows you to be directed in a direction they want you to go, without any preconceived ideas."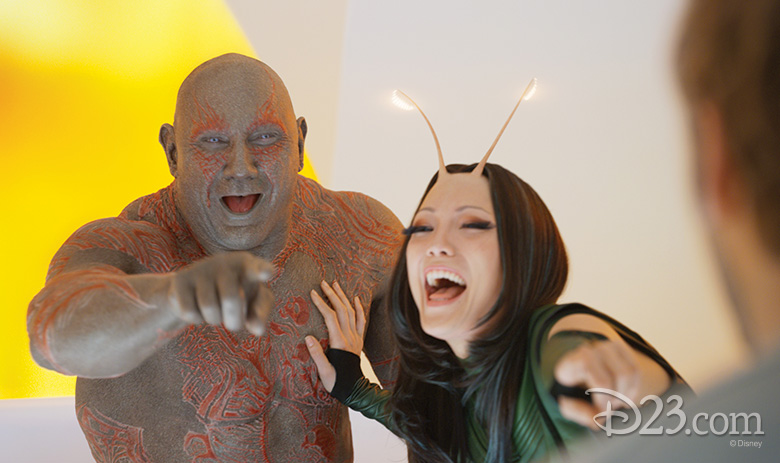 8. Galactic Guffaws
Drax may be a destroyer, but the character has a robust, infectious laugh that could light up an entire galaxy. Dave Bautista, the actor who plays Drax, is far more soft-spoken and noted that James Gunn frequently urged him to project more. "The laugh came about just by complete accident," Bautista recounted jovially. "I was laughing, and [Gunn] said, 'Can you do it louder?' And the louder I started laughing, the louder I could hear him laughing… The bigger it got, the louder he laughed, so I just kept going bigger and bigger until I lost my voice."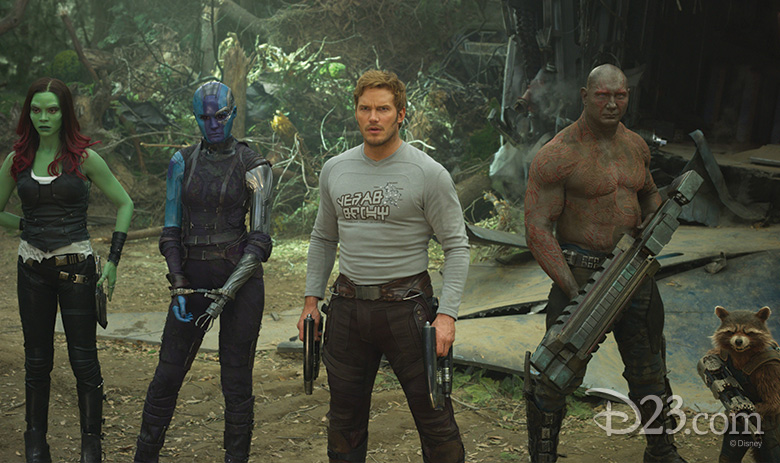 9. Family Matters
Guardians of the Galaxy Vol. 2 is ultimately about family, and director James Gunn considers it "a very personal film" that he hopes audiences can relate to—especially people who feel like they're struggling to find a place where they belong. He confessed to feeling like an outsider when he was younger and shared, "By listening to music and watching movies [as a kid], I felt a little bit less alone, and I hope that's what Guardians does for people… There are people all over the world that it touches, and that's the most rewarding thing, by far, about making these movies."