By Courtney Potter
Awesome New Trailer for Marvel Studios' Guardians of the Galaxy Vol. 2
Are you prepared for two minutes and 30 seconds of action, adventure, big laughs, some totally rad Fleetwood Mac tunage, and the cutest little baby tree you've ever seen? During last night's Jimmy Kimmel Live on ABC, Chris Pratt—Peter Quill/Star-Lord himself—surprised the audience (and everyone at home) with a very special treat: the brand-new trailer for Marvel Studios' Guardians of the Galaxy Vol. 2. Do yourselves a huge favor and check it out, above… plus, it's worth a second viewing even if you already caught it during Kimmel last night!
Also starring Zoe Saldana as Gamora, Bradley Cooper as Rocket, Dave Bautista as Drax, Karen Gillan as Nebula, Michael Rooker as Yondu, and Vin Diesel as Baby Groot—not to mention Kurt Russell as Peter's long-lost father—Guardians of the Galaxy Vol. 2 blasts into theaters on May 5.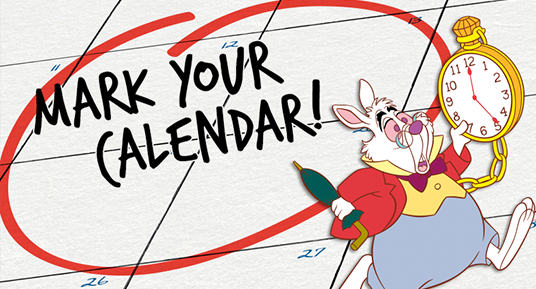 Save the Date!
Be sure to mark these upcoming Disney events on your calendar:
D23 and Walt Disney Archives


March 2, 2017


Be Our Guest at the Beauty and the Beast World Premiere


March 8, 2017


Exclusive D23 Beauty and the Beast Advanced Screening and Luncheon


April 7, 2017


Lunch with a Disney Legend: Burny Mattinson


April 10, 2017


D23 Members Invited to "Eat Like Walt" at the Disney California Adventure Food & Wine Festival


April 26, 2017


D23's Behind-the-Scenes Experience: Magic in Manhattan & More


July 14-16, 2017


D23 Expo 2017


Studios




March 17, 2017


Beauty and the Beast opens in theaters


April 21, 2017


Born in China opens in theaters


May 5, 2017


Guardians of the Galaxy Vol. 2 opens in theaters


May 26, 2017


Pirates of the Caribbean: Dead Men Tell No Tales
opens in theaters


June 16, 2017


Cars 3 opens in theaters


November 3, 2017


Thor: Ragnarok opens in theaters


November 22, 2017


Coco opens in theaters


December 15, 2017


Star Wars: The Last Jedi opens in theaters
Parks


March 1–May 29, 2017




Epcot International Flower & Garden Festival




March 10–April 16, 2017




Disney California Adventure Food & Wine Festival




May 27, 2017




Pandora—The World of Avatar opening at Disney's Animal Kingdom




May 27, 2017


Guardians of the Galaxy–Mission: BREAKOUT! opening at Disney California Adventure


August 31-November 13, 2017




Epcot Food & Wine Festival




2019




Star Wars-Themed Lands Opening at Disneyland and Walt Disney World




Television




March 10, 2017


Tangled Before Ever After premieres on Disney Channel at 8 p.m. ET


March 24, 2017


Tangled: The Series premieres on Disney Channel at 7:30 p.m. ET
Cars 3 Extended Look: Get Ready for the "Next Generation"
We won't get to catch back up with Lightning McQueen (voice of Owen Wilson) for a few months yet, but viewers of this past weekend's big Daytona 500—and now you, here, via the clip above—can get an extended sneak peek at what's in store from Disney•Pixar's Cars 3, crossing the finish line into theaters this summer. Take a gander at the clip, above, for all the fast-paced racetrack action…
Blindsided by a new generation of racers, the legendary Lightning McQueen is suddenly pushed out of the sport he loves. To get back in the game, he'll need the help of an eager young race technician, Cruz Ramirez (voice of Cristela Alonzo), with her own plan to win… plus inspiration from the late Fabulous Hudson Hornet, and a few unexpected turns. Proving that No. 95 isn't through yet will test the heart of a champion on Piston Cup Racing's biggest stage. Look for Cars 3, directed by Brian Fee (storyboard artist for both Cars and Cars 2) on June 16.
James Cameron Welcomes You to Pandora – The World of Avatar
Did you catch this special sneak at the newest land at Walt Disney World Resort during this past Sunday's Oscar® telecast on ABC? If so, don't fret: We've got it right here, above, for your viewing pleasure…
Featuring AVATAR director James Cameron, the 30-second clip offers some never-before-seen views of the land, located inside Disney's Animal Kingdom. We literally cannot wait to "dream with our eyes open" by riding a Banshee on Avatar Flight of Passage, or taking in the unbelievably beautiful and bioluminescent sights on the Na'vi River Journey. Make sure to add Pandora – The World of Avatar to your adventure itinerary when it opens on May 27!
Give Five "Hurrahs!"—New Beauty and the Beast Clip Featuring "Gaston"
As we waltz ever closer to the debut of Disney's live-action retelling of Beauty and the Beast, we've been gifted with yet another "first look" at one of the film's big musical numbers… namely, the tavern tune "Gaston"! Featuring Luke Evans as the "pure paragon" of the title, and Josh Gad as his insanely hilarious sidekick LeFou, the number highlights the clever lyrics of the late Howard Ashman and the memorable music from Disney Legend Alan Menken…
But wait, there's more: A new TV spot for Beauty and the Beast debuted during Sunday's Oscars® telecast. Take a look, above… and set your clocks for the film's March 17 debut. (We've been purchasing all the "grey stuff" we can find in anticipation!)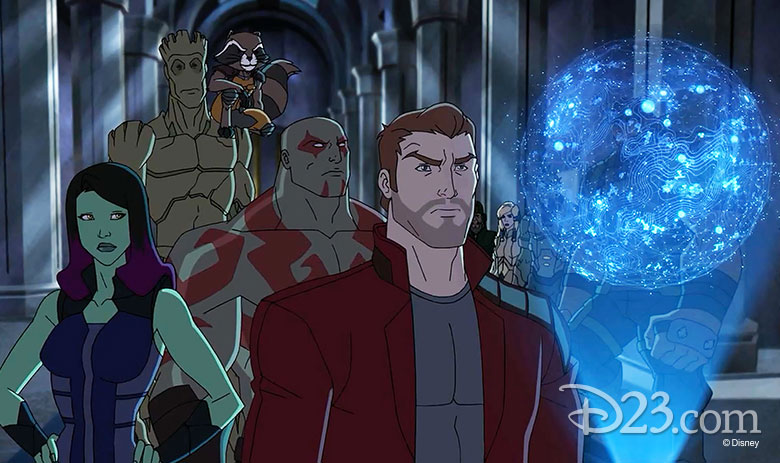 Disney XD's Marvel's Guardians of the Galaxy Sets Big Season 2 Premiere
Guardians, assemble! Marvel's Guardians of the Galaxy, the action-packed, animated adventure featuring our favorite band of space misfits, will debut its second season with a big one-hour telecast (featuring back-to-back episodes!) on Saturday, March 11, at 9 p.m. ET on Disney XD. The network will also release six shorts—following the five main characters—each day beginning February 27 on the Disney XD app, VOD, and Disney XD's YouTube.
Season Two of Marvel's Guardians of the Galaxy follows along as Star-Lord, Gamora, Drax, Rocket, and Groot set off on a mission to protect Star-Lord's home planet of Earth. And wouldn't you know it, they manage to cross paths with "Earth's Mightiest Heroes," the Avengers! After a truly epic battle, the two teams come together to save Earth from an alien mad scientist, The High Evolutionary, but inadvertently unleash an ancient weapon. With every alien baddie in the galaxy after this weapon, the Guardians must unlock its secrets before it destroys them and everything they've sworn to protect. Fire up those Walkmans and mark those calendars!