By Courtney Potter
Meet Carol Danvers; reacquaint with a practically perfect nanny; and view the all-new cover art for Kingdom Hearts III … Read more, along with other news from around Disney, in this week's news briefs!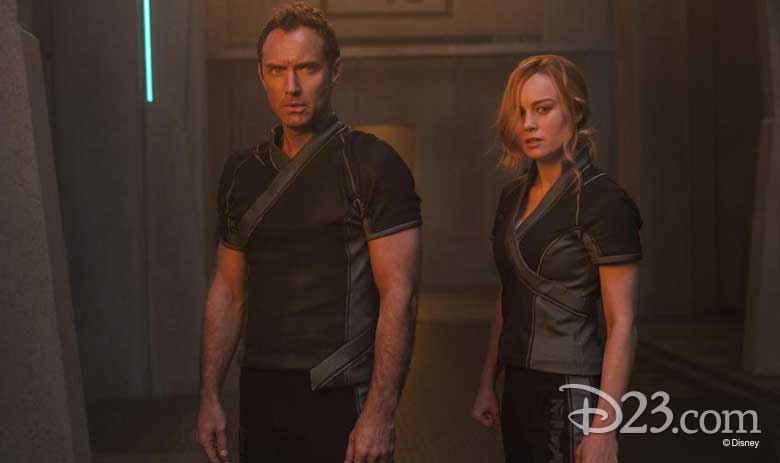 Go Higher, Further, Faster with Brand-New Captain Marvel Trailer
We're just not sure how to adequately express our excitement about Marvel Studios' upcoming Captain Marvel, other than to say that if we could, we'd already be in line at our local movie theater to make sure we're first to see it. (We're not kidding. The struggle is real.) And with this week's brand-new, first-look trailer, we legitimately couldn't be more ecstatic! In case you haven't seen it yet, or you'd like a repeat viewing, take a gander at the trailer right here at D23.com.
Save the Date!
Be sure to mark these upcoming Disney events on your calendar:
D23 and Walt Disney Archives


October 6-21, 2018


D23's Spooktacular Fanniversary Complimentary Screenings


October 19, 2018


Lunch with a Disney Legend: Ron Logan


October 22, 2018


D23's Sip and Stroll at Epcot


October 28, 2018


D23 Celebrates 25 Spooktacular Years of Hocus Pocus


November 16-18, 2018


Destination D: Celebrating Mickey Mouse


August 23-25, 2019


D23 Expo 2019
Parks
August 17, 24, 28, 31
September 3, 7, 9, 11, 14, 16, 18, 21, 23, 25, 28, 30
October 2, 4, 5, 8, 9, 11, 12, 14, 16, 18, 19, 21, 23, 25, 26, 28, 30, 31


Mickey's Not So Scary Halloween Party at Magic Kingdom Park


September 19, 21, 24, 26, 28
October 2, 5, 9, 12, 16, 19, 23, 26, 29, 31


Mickey's Halloween Party at the Disneyland Resort




August 30-November 12, 2018




Epcot International Food & Wine Festival




September 7-October 31, 2018




Halloween Time at the Disneyland Resort




Summer 2019


Star Wars: Galaxy's Edge Opening at Disneyland Resort


Fall 2019


Star Wars: Galaxy's Edge Opening at and Walt Disney World Resort



Studios




November 2, 2018


The Nutcracker and the Four Realms opens in U.S. theaters


November 21, 2018


Ralph Breaks the Internet opens in U.S. theaters


December 19, 2018


Mary Poppins Returns opens in U.S. theaters


March 8, 2019


Marvel Studios' Captain Marvel opens in U.S. theaters


March 29, 2019


Dumbo opens in U.S. theaters


April 19, 2019


Penguins opens in U.S. theaters


June 21, 2019


Toy Story 4 opens in U.S. theaters


Television




September 21, 2018


Elena of Avalor: Song of the Sirenas premieres on Disney Junior (7–8 p.m. EDT/PDT)


November 4, 2018


Mickey's 90th Spectacular airs on ABC (8–10 p.m. EST)

Everyone's Favorite Nanny Makes a Practically Perfect Return
Speaking of fantastic new trailers: Captain Marvel wasn't the only film to unleash a new clip across the unsuspecting globe this week. Disney's upcoming Mary Poppins Returns, starring Emily Blunt as everyone's favorite nanny, just released a practically perfect new trailer featuring incredible cameos galore… check out the whimsy, above!
In Mary Poppins Returns, the next generation of the Banks family needs a little bit of help finding the joy and wonder that's missing from their lives following a personal loss… Enter (or should we say re-enter) Mary Poppins, a magical nanny with unique skills that turn any ordinary task into an unforgettable, fantastic adventure! Lin-Manuel Miranda costars as Mary's friend Jack, an optimistic lamplighter who helps bring light (and life) to the streets of London.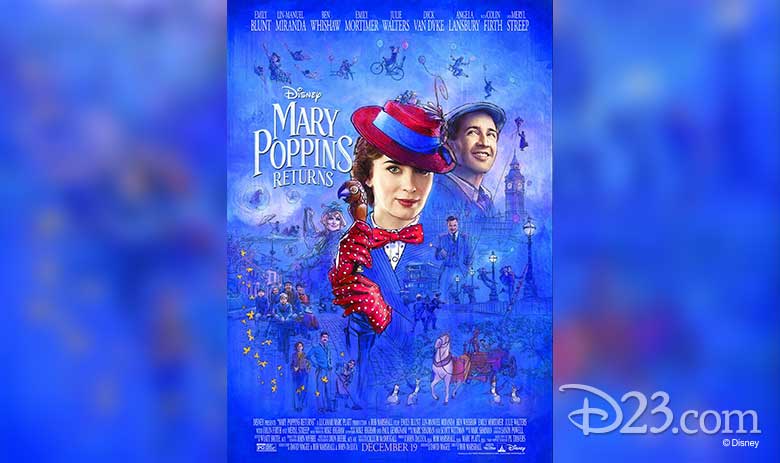 The film also stars Ben Whishaw as Michael Banks; Emily Mortimer as Jane Banks; Julie Walters as the Banks' housekeeper, Ellen; Pixie Davies, Nathanael Saleh, and introducing Joel Dawson as the Banks' children… with Colin Firth as Fidelity Fiduciary Bank's William Weatherall Wilkins, and Meryl Streep as Mary's eccentric cousin, Topsy. Angela Lansbury appears as the Balloon Lady, a treasured character from the PL Travers books, and Dick Van Dyke returns to the world of Mary Poppins as Mr. Dawes, Jr.—the retired chairman of the bank now run by Firth's character.
Directed by Rob Marshall, Mary Poppins Returns soars onto a screen near you December 19.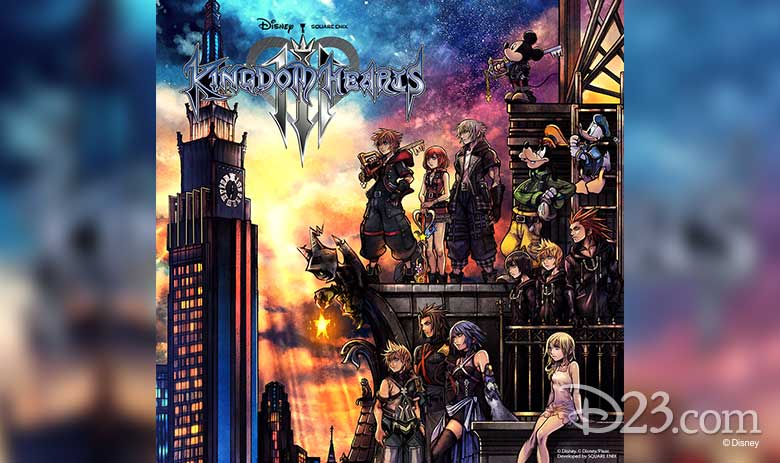 Kingdom Hearts III Reveals Amazing New Cover Art
The much-anticipated Kingdom Hearts III doesn't hit store shelves 'til early next year—but we're ever so thankful that the good folks at Disney and Square Enix are giving us some tasty online tidbits to hold us over. Case in point: The release of the game's amazing new cover art, created by series director Tetsuya Nomura.
As you can see, the artwork features a ton of iconic characters—including King Mickey, Donald, and Goofy—set against an incredible sunset and skyline. The cover was recently revealed at the big Tokyo Game Show, one of the largest video game exhibitions in Asia (and the world).
Kingdom Hearts III will unleash all manner of action and adventure on gamers this January 29. Look for more info in the weeks and months ahead…
Disney Theatrical Productions Celebrates Hispanic Heritage Month
It's Hispanic Heritage Month—and in honor of this important yearly event, Disney Theatrical Productions and members of their Broadway casts of The Lion King, Aladdin, and Frozen partnered with photographer Ciro Gutierrez for several memorable photo shoots. Featured actors include Enrique Segura from The Lion King; Kathryn Allison, Lauryn Ciardullo, and Gaby Gamache from Aladdin; and Nina Lafarga and Julius Anthony Rubio from Frozen.
In each clip, we get to hear from these talented performers—as well as go behind the scenes of their shoots with Gutierrez. The first video (which recently premiered on the musical's Facebook page) features Aladdin's Gaby Gamache; check it out, above, and then stay tuned over the next few weeks for new installments!
Haunted Mansion Holiday Builds its New Gingerbread House
It's a most auspicious time of year… when Jack Skellington and crew (from Tim Burton's The Nightmare Before Christmas, natch) take up residence with the 999 happy haunts inside Disneyland park's Haunted Mansion for the spooktacular Haunted Mansion Holiday. One of the attraction's freakishly fun features is the Gingerbread House, seen in the ghostly ballroom scene. This year's theme finds a gigantic 5-foot spider lurking above the Mansion's Grand Hall table. Take a look at the creation of the delicious domicile, above!
Haunted Mansion Holiday will delight guests young and young-at-heart through early January 2019… and Disneyland Resort's Halloween Time event is currently casting its spell over both parks, now through October 31. Heading to the resort this fall? Trust us: You'll have a positively fa-boo-lous time!
Ralph Breaks VR Coming to Disney Springs and Downtown Disney District
He's gonna smash it! (Well, virtually speaking.) If you recall, just this past winter, ILMxLAB and The VOID launched an incredible hyper-reality experience called Star Wars: Secrets of the Empire at both Disney Springs at Walt Disney World Resort and Downtown Disney District at Disneyland Resort. And later this year, a brand-new experience from a beloved Disney universe will surprise and delight: it's a one-of-a-kind adventure based on the upcoming Walt Disney Animation Studios film Ralph Breaks the Internet!
Beginning this fall, The Walt Disney Company and ILMxLAB (Lucasfilm's award-winning immersive entertainment division) will once again partner with the team at The VOID to bring you Ralph Breaks VR—a new multi-sensory Disney experience that will put you smack in the middle of both the Internet and online gaming, alongside your pals Wreck-It Ralph and Vanellope.
But that's not all: In 2019, the same collaborators will bring us an as-yet-untitled Marvel experience. So keep your eyes peeled here on D23.com for more info about all things The VOID, as additional details (including release dates and ticket availability) are announced.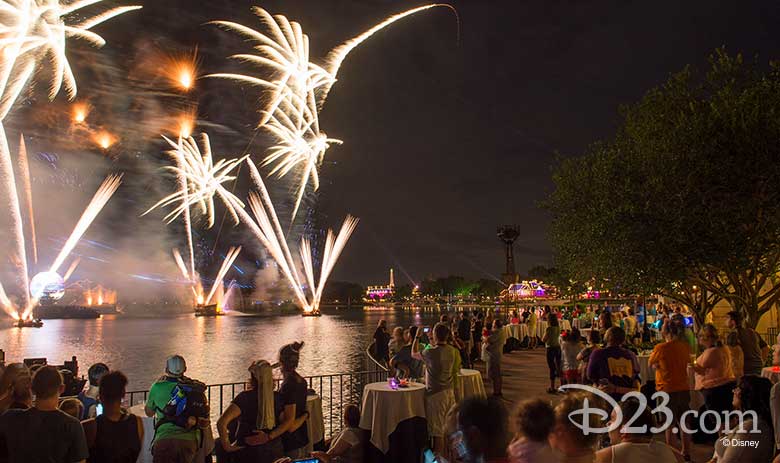 New Nighttime Spectacular to Light Up the Epcot Sky in 2019
It's been almost 20 years since the fan-favorite nighttime spectacular IllumiNations: Reflections of Earth began delighting Epcot visitors with its incredible fireworks, memorable music, and heartfelt messages of hope. As Epcot embarks on the adventure of an upcoming multi-year transformation (including the additions of the much-anticipated Guardians of the Galaxy roller coaster attraction and a new Ratatouille-inspired attraction in World Showcase), the good folks at Disney Parks Live Entertainment are already busy creating an all-new nighttime spectacular for the World Showcase Lagoon.
Fret not, fans of IllumiNations, for the classic show—which has entertained scores of guests since debuting as part of the Walt Disney World Millennium Celebration in 1999—won't be ending its current run until Summer 2019… so you still have plenty of time to enjoy its dazzling displays of fire and light. And stay tuned for more info on the new nighttime spectacular as it becomes available; as the narration for IllumiNations explains, it's "an amazing story—as old as time itself, but still being written… "