By Courtney Potter
Disney Channel Orders Second Season of The Ghost and Molly McGee
Ahead of its series premiere this October, our pals at Disney Channel have already ordered a sure-to-be-delightful second season of animated buddy-comedy The Ghost and Molly McGee!
Created and executive produced by Bill Motz and Bob Roth (LEGO Star Wars: The Freemaker Adventures), along with executive producer Steve Loter (Kim Possible), the series follows tween optimist Molly, who lives to make the world a better place, and grumpy ghost Scratch… whose job is, well, to spread misery. The first season will welcome guest stars Kelsey Grammer (Frasier), Natasha Rothwell (Insecure), Greta Gerwig (Lady Bird), Yvette Nicole Brown (Big Shot), Jenifer Lewis (black-ish), Danny Trejo (Machete), Patton Oswalt (Marvel's M.O.D.O.K.), D'Arcy Carden (The Good Place), Jane Lynch (Glee), and more.
Joining the previously announced lead voice cast—Ashly Burch (Molly) and Dana Snyder (Scratch)—the additional main series voice cast includes Jordan Klepper (Klepper) as the voice of Pete, Molly's anxiously idealistic father; Sumalee Montano (The Lost Symbol) as the voice of Sharon and Grandma Nin, Molly's creatively pragmatic mother and adoring grandmother, respectively; and Michaela Dietz (Steven Universe) as the voice of Darryl, Molly's mischievously entrepreneurial brother.
Look for the series premiere of The Ghost and Molly McGee on Friday, October 1, at 9:35 p.m. EDT on Disney Channel, following the debut of the new Disney Channel Original Movie Under Wraps. New episodes roll out Saturdays (9 a.m. ET) through November 27 on Disney Channel, with episodes available in October on Disney+.
5 Fantastic Things to Watch This Weekend
Well y'all, we've made it to Labor Day—can you believe it? Here's hoping you're able to get in some fun this three-day weekend… including taking in some choice viewing from around the worlds of Disney. What's in store? For one, it's the big Disney+ debut of Billie Eilish's Happier than Ever: A Love Letter to Los Angeles on Friday. Plus, there's the Hulu debut of The D'Amelio Show; a fun The Simpsons Back-to-School Marathon on FXX; and lots more.
Disney Cruise Line Reveals a New Look at AquaMouse
Snow? On a cruise ship?! Yep, it's true: As recently revealed by the good folks at Disney Cruise Line, fun in the sun will go totally "next level" on the Disney Wish with the debut of AquaMouse—a brand-new family water attraction that will bring to life the adventures of The Wonderful World of Mickey Mouse animated shorts like never before!
The first-ever Disney attraction at sea, AquaMouse includes show scenes, lighting and special effects, and a host of splashtacular surprises. This first-of-its-kind water ride will send guests on a fun family adventure through 760 feet of winding tubes suspended high above the upper decks. As the story goes, Mickey and Minnie are starting their very own seaside excursion company—appropriately named "Port Misadventures"—on board the Disney Wish, and adventuresome cruisers will join them on an undersea excursion to Mermaid Lagoon… where things go inevitably, and hilariously, awry. The journey will begin when guests board their two-seater ride vehicles and ascend into a magical tunnel that will teleport them into the cartoon world of "Scuba Scramble," a new animated short that plays out through oversized virtual portholes. Along the way, they'll encounter curious sea creatures, familiar Disney friends, and more than 60 water effects that bring the subaquatic shenanigans to life—all synched to an original musical score by composer Christopher Willis.
There's also a second show, called "Swiss Meltdown," seen in the artist-rendered clip above—where Mickey and Minnie invite guests on a mountain sledding excursion. When the sun comes out and the snow melts, guests will be off on a frantic dash to the mountaintop while trying to avoid obstacles like avalanches, rock walls, and waterfalls. The story is inspired by one of the Emmy® Award-winning Mickey Mouse shorts Yodelberg.
Look for more Disney Wish news in the coming months, as it readies to set sail in 2022!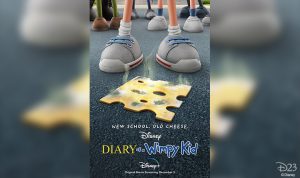 Diary of a Wimpy Kid Coming to Disney+ This December
This holiday season, Disney+ gets a little… Wimpy! As just announced by the streaming service, the all-new animated adventure Diary of a Wimpy Kid will premiere exclusively this December 3.
The first book in Jeff Kinney's worldwide bestselling series, Diary of a Wimpy Kid tells the tale of Greg Heffley—a scrawny but ambitious kid with a huge imagination and big plans to be rich and famous… he just has to survive middle school first. To make matters worse, Greg's lovable best friend Rowley seems to coast through life and succeed at everything without even trying. While details of his hilarious, and often disastrous, attempts to fit in fill the pages of his journal, Greg learns to appreciate true friends and the satisfaction that comes from standing up for what is right. Directed by Swinton Scott (Futurama) and written and produced by Kinney, Diary of a Wimpy Kid will feature the voices of Brady Noon (The Mighty Ducks: Game Changers), Ethan William Childress (mixed-ish), and Chris Diamantopoulos (Mickey Mouse).
Kinney's Diary of a Wimpy Kid books have sold a whopping 250+ million copies around the globe in just 14 years. "This film feels like the book come to life, and it's exciting to see Greg Heffley and his family and friends in their fully-animated glory," the author recently said. "It is the Wimpy world in a way no one has seen before. Working on this movie, I feel like we have been sitting on a wonderful secret. I can't wait to finally share it with the world!"
Freeform's 31 Nights of Halloween Offers Frights & Delights
As the song goes, "It's the most wonderful time of the year!" No, not those holidays—not quite yet, anyway. We've got to celebrate all things Halloween first! To that end, Freeform is back with another installment of their mega-popular 31 Nights of Halloween programming event. For a full rundown of what to expect (pending changes, of course), check out the just-released schedule right here at D23.com.
Doogie Kamealoha, M.D.: The Doctor is In Beginning September 8
Disney+ recently debuted a fresh new trailer for their new coming-of-age dramedy, Doogie Kamealoha, M.D.—and it looks a veritable prescription for fun!
Inspired by ABC's hit medical series Doogie Howser, M.D., the show follows Lahela "Doogie" Kamealoha (Peyton Elizabeth Lee), a 16-year-old prodigy juggling a budding medical career and life as a teenager. With the support of her caring and comical 'ohana (family) and friends, Lahela is determined to make the most of her teen years and forge her own path. Set in modern-day Hawai'i, the series is shot on location in O'ahu. Series creator and executive producer Kourtney Kang, who was born in Hawai'i and raised in a Philadelphia suburb by her Irish mom and Korean dad, has infused her own experiences into this story, centered on a mixed-race Asian-American girl.
The series also stars Kathleen Rose Perkins as Dr. Clara Hannon, Jason Scott Lee as Benny Kamealoha, Matthew Sato as Kai Kamealoha, Wes Tian as Brian Patrick Kamealoha, Emma Meisel as Steph, Mapuana Makia as Noelani, and Jeffrey Bowyer-Chapman as Charles. And look for a slew of cool guest stars—including Margaret Cho, Randall Park, musician Jake Shimabukuro, and more.
Doogie Kamealoha, M.D. begins streaming September 8 exclusively on Disney+, with new episodes debuting Wednesdays.
ICYMI: Big ABC News from the 2021 Summer TCAs
D23 had "boots on the ground" (well, so to speak) at the recent Summer TCAs, the Television Critics Association's mid-year press tour… and we heard from several upcoming ABC series (both new and returning) about what to expect when their shows air this fall. Read up on all that good TV intel, and start planning your carefully curated viewing calendars, by clicking here.