By Jocelyn Buhlman
D23 takes you on a journey through the style of Mickey Mouse, from his early moments as a daydream on a train to his transformation into a video game hero, to his debut in his recent series of shorts. His design is timeless, but the process to become the icon he is today involved a lot of silly antics and quirky costume changes. Which style of Mickey is your favorite?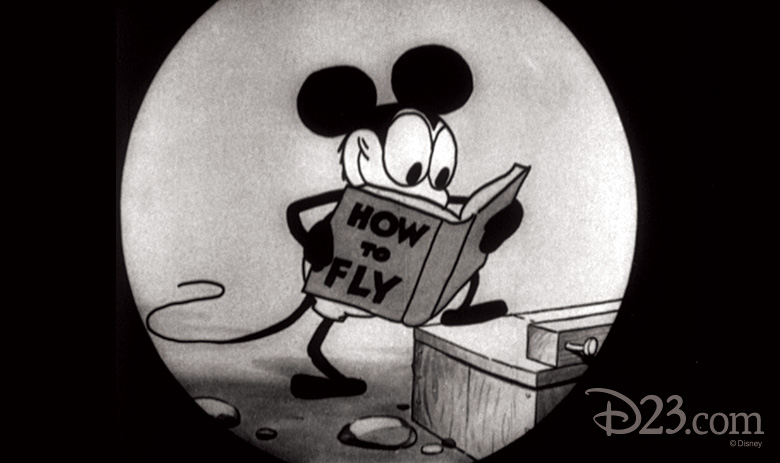 1. Plane Crazy, 1928
In terms of production, this high-flying animated adventure was Mickey Mouse's first film created, although it was not theatrically released until after Steamboat Willie. Mickey hasn't quite found his iconic look yet, keeping both his hands and feet bare as he soars through the sky.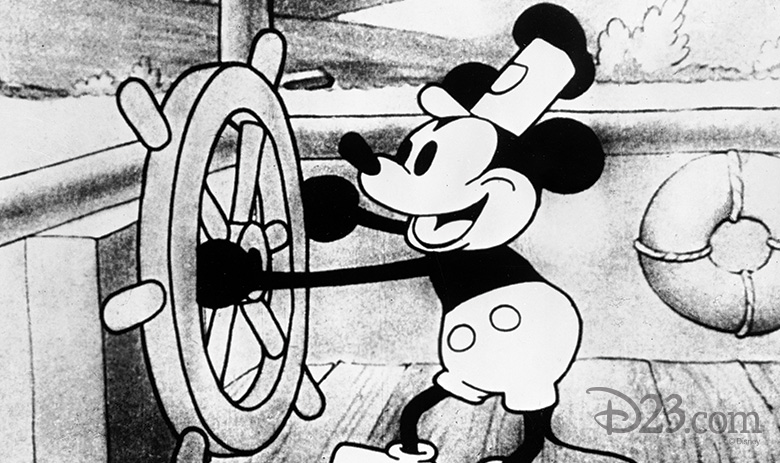 2. Steamboat Willie, 1928
Mickey finally gets some footwear, and a chance to show off one of his most iconic outfits. Steamboat Willie is considered Mickey's debut cartoon, and because of that, his happy little boat deckhand ensemble has become beloved by Disney fans everywhere and a symbol of Walt Disney Animation Studios.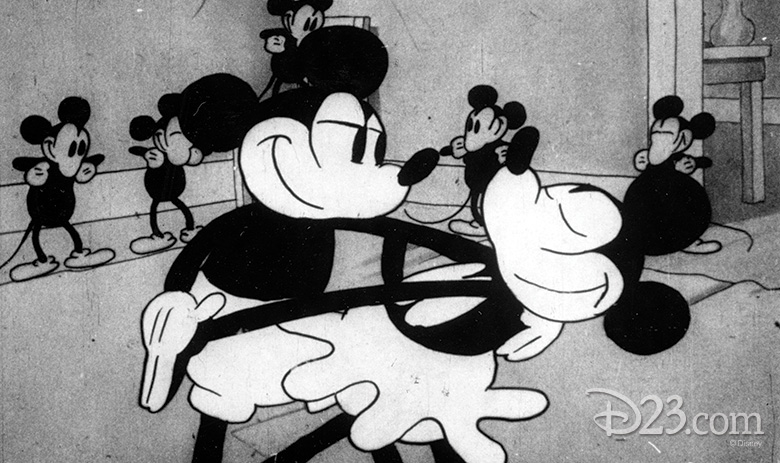 3. When The Cat's Away, 1929
Have you ever wondered what Mickey's life would be like if he was the size of a normal mouse? Only one animated short ever explores Mickey's life as an actual, mouse-sized mouse. When The Cat's Away imagines Mickey and Minnie as part of a group of rowdy rodents living in the house of a cat. This short also features the premiere of Mickey and Minnie's now iconic white gloves, a fashion choice that has become standard for a wide variety of well-known animated characters.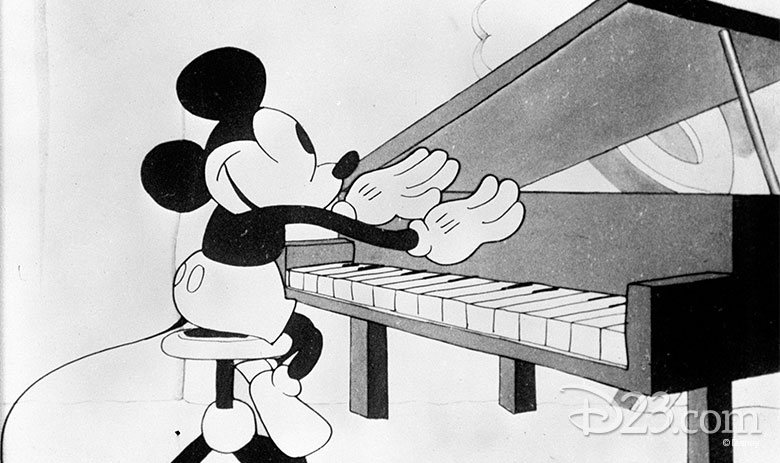 4. The Jazz Fool, 1929
Often when someone thinks of classic cartoons, there's a specific design that comes to mind: black and white, rubbery limbs, and eyes with a slice cut out of them like a piece of pie. This style of eye, fondly nicked named "pie eyes," first appeared on Mickey in this short and is frequently associated with Mickey's early cartoons.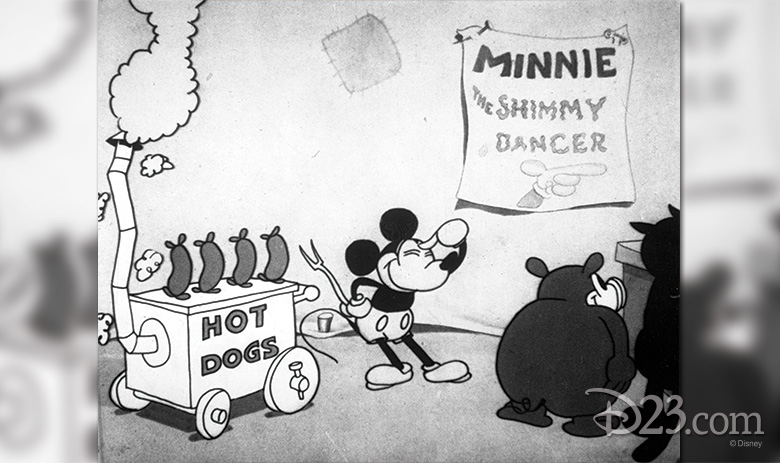 5. The Karnival Kid, 1929
"Hot dog!" Did you just read that in Mickey Mouse's voice? That has become one of his catchphrases, so it is only fitting that his first spoken words would be so similar in nature. The Karnival Kid has Mickey cast as a vendor, selling hot dogs to his sweetie, Minnie Mouse. This short is not just notable for Mickey speaking his first words, but also for a visual gag that may have inspired one of the most famous pieces of Mickey Mouse merchandise ever: Mickey tips his ears like a hat to Minnie Mouse, and the imagery of his ears being used as a hat foreshadows the classic Mouse Ear hats used by the Mickey Mouse Club and sold as a must-have souvenir at Disney theme parks all over the world!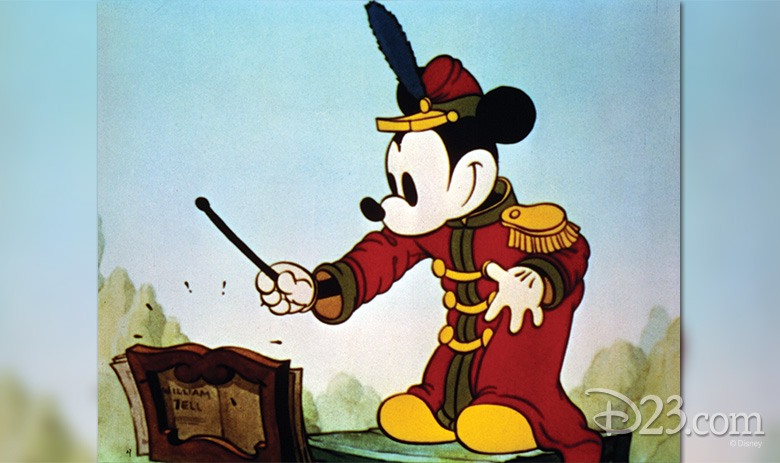 6. The Band Concert, 1935
Not only does Mickey debut some dapper new duds in The Band Concert, but he does it all in bold, bright colors! The Band Concert establishes Mickey's red and yellow clothing color scheme for good in his first full-color animated experience to be released in theaters. Walt Disney knew the importance of looking forward to the future, and with this development of color cartoons, he knew he was never going back to black and white.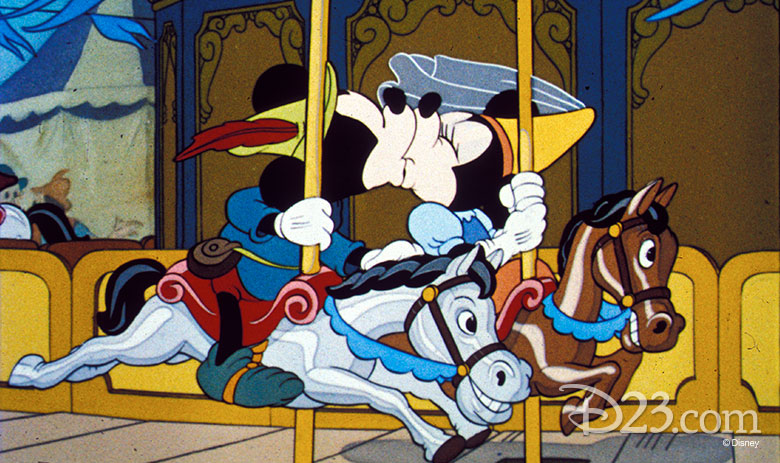 7. Brave Little Tailor, 1938
Another one of Mickey's most well-known outfits premiered with the advent of color animated shorts. In this fairy tale, Mickey is cast as the tailor who accidentally becomes the "Royal High Killer of the Giant" and wins the love of Princess Minnie. Mickey's peasant outfit instantly became an iconic costume remembered for years to come.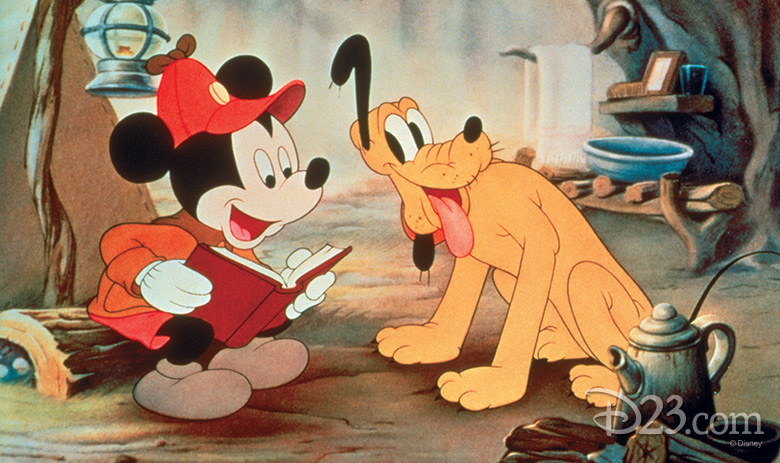 8. The Pointer, 1939
This short, where Mickey tries to train Pluto to become a hunting dog, establishes the most classic version of Mickey Mouse. His now flesh-toned face and pupilled eyes—a new style supervised by artist Fred Moore—have become standard for Mickey Mouse's modern design.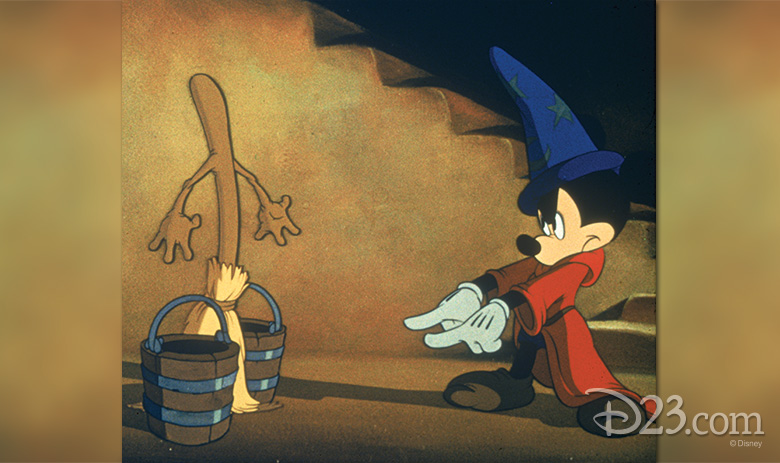 9. The Sorcerer's Apprentice, 1940
Although The Pointer established Mickey's new look, another on-screen appearance would truly popularize it. Included as part of the epic feature film Fantasia, The Sorcerer's Apprentice also features one of Mickey's most classic outfits: His red robe and Yen Sid's blue-and-white-starred hat have come to symbolize Disney everywhere, from the Disney theme parks show Fantasmic! to the Walt Disney Animation Studios in Burbank.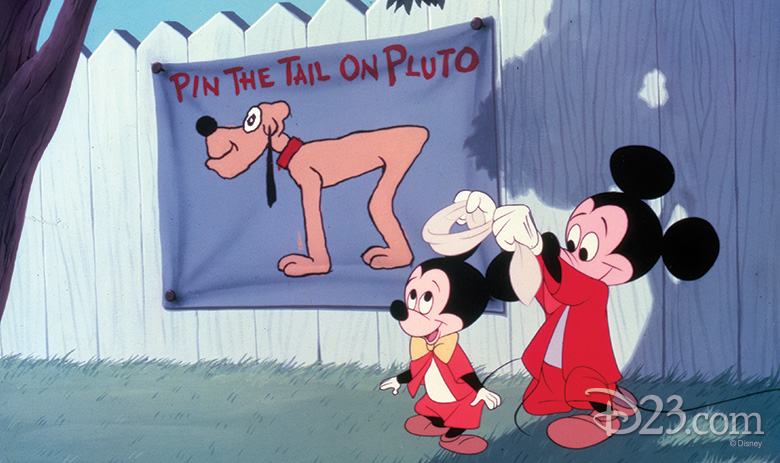 10. Pluto's Party, 1952
Mickey becomes more stylized in this short about a party for a certain playful pup. Mickey's face becomes more pear-shaped, and he gains more expression with the addition of eyebrows to his design. This look also is used for the Mickey Mouse Club logo, a symbol beloved in the hearts of Disney fans everywhere.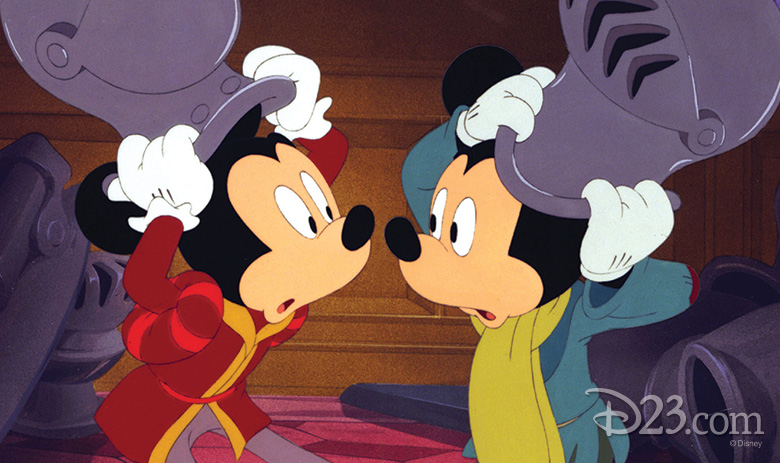 11. Mickey Mouse Works, 2000
This TV show from the early 2000s established the modern look of Mickey Mouse, throwing back to the old-school Mickey design established in The Pointer and The Sorcerer's Apprentice, while also introducing Mickey Mouse to the modern era. This design was the standard for Mickey Mouse cartoons of the 2000s, such as The Prince and the Pauper (1990, pictured above), House of Mouse (2001), and The Three Musketeers (2004).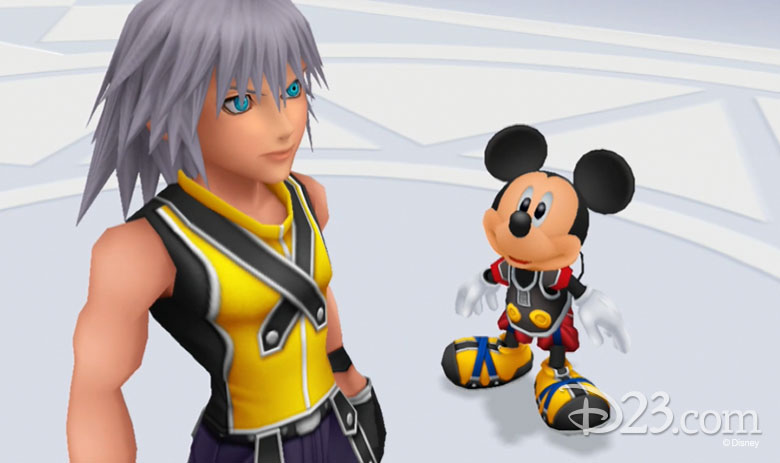 12. Kingdom Hearts, 2002 and Epic Mickey, 2010
All of Mickey's prior redesigns were made for hand-drawn animation on the movie and television screens, but Mickey also had several redesigns for a new medium: video games. Two of his most famous appearances are his role as King Mickey from the series Kingdom Hearts and as the protagonist and namesake of Epic Mickey. In Kingdom Hearts, Mickey's design is similar to his usual early 2000s design, but he is dressed to match the design aesthetic of the human characters of the game. Epic Mickey, on the other hand, revives Mickey's style from his The Band Concert days, to better match his design with that of Oswald the Lucky Rabbit, his co-star. Both video games are notable for casting Mickey as an epic hero while exploring different parts of popular Disney stories.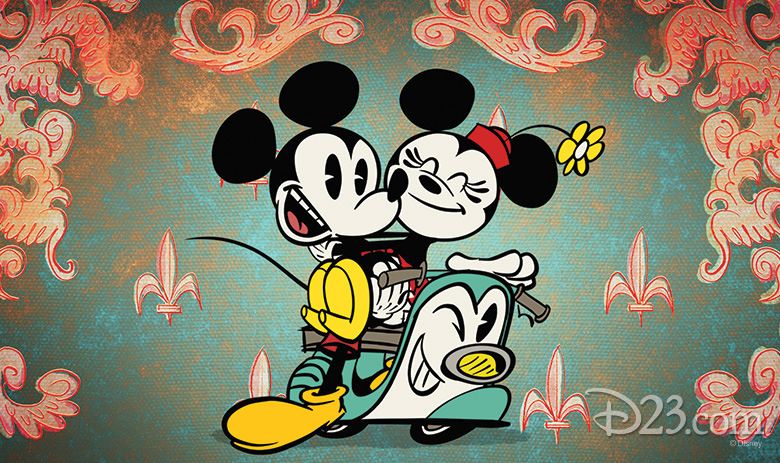 13. Mickey Mouse, 2013
The recent entry in animated adaptations of Mickey and friends' cartoon capers features a stylized design harkening back to Mickey's days of rubber limbs and pie-eyes but with an emphasis on the potential for silliness and mischief. The cartoon makes the best of both worlds with a modern sensibility inspired by the classic look of Mickey Mouse that we have all come to associate with the best of Disney.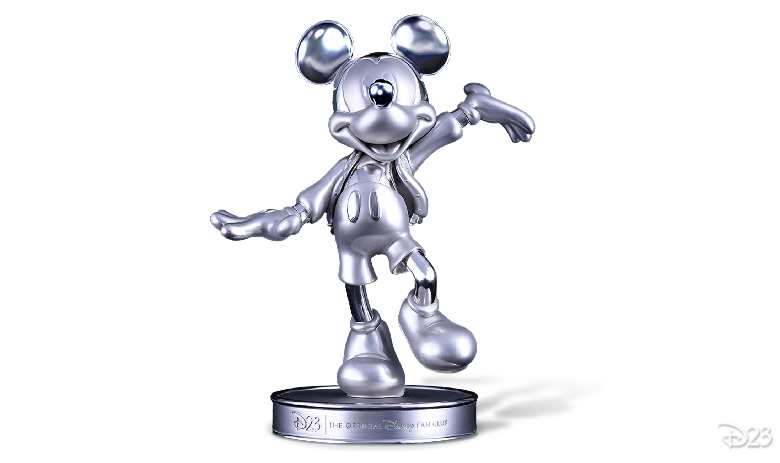 14. Mickey Mouse "Leader of the Club" Milestone Statue, 2023
Considering the rich past century of stories from The Walt Disney Company and what they mean to fans around the world, Grammy®-winning music producer James Fauntleroy designed this statue with a platinum panache so D23 Gold Members can bring the Disney100 Celebration home with them.
This "platinum pop star" tribute features a stylish varsity jacket with the Disney100 Celebration logo as well as some additional flair that pays tribute to Mickey's own fandom as a reflection of Disney's past, present, and future. These attributes embody what it means to be a fan and ground us to where it all began…because as Walt Disney once reflected: "I only hope that we never lose sight of one thing—that it was all started by a mouse."
The Mickey Mouse "Leader of the Club" Milestone Statue is available to all new and renewing D23 Gold Members in 2023!