By Jocelyn Buhlman
He's the leader of the club that's made for you and me, and he's celebrating his birthday in style this year! While Mickey Mouse travels the world to share his birthday spirit, the rest of us Mouseketeers can celebrate the Big Cheese's big day from the comfort of our homes, with a little help from some animated classics. Below are 11 of Mickey Mouse's most memorable, iconic, and just doggone funny appearances in Disney animation!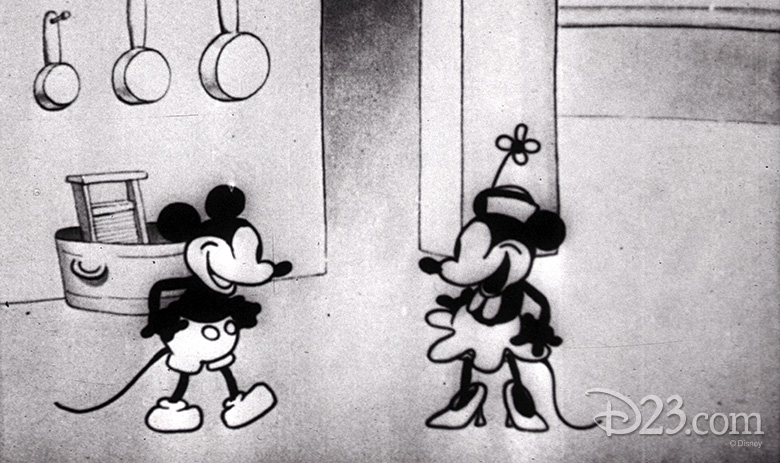 Steamboat Willie (1928)
You can't talk about Mickey Mouse cartoons without thinking of Steamboat Willie. The first animated appearance for both Mickey and Minnie, the film follows their charming adventures of mischief and music on a river steamboat. When you find yourself whistling the classic tune from the short, remember that sound is important to this short not only because of the catchy song stuck in your head, but also because it was the first animated short to use synchronized sound!
Mickey's Follies (1929) 
This short consists of a series of performances by Mickey Mouse and his barnyard pals, making musical mayhem in the classic Disney way. For the show's finale, Mickey performs "Minnie's Yoo Hoo," the theme of many of Mickey's theatrical cartoons. We bet you can't help but hum along with Mickey himself.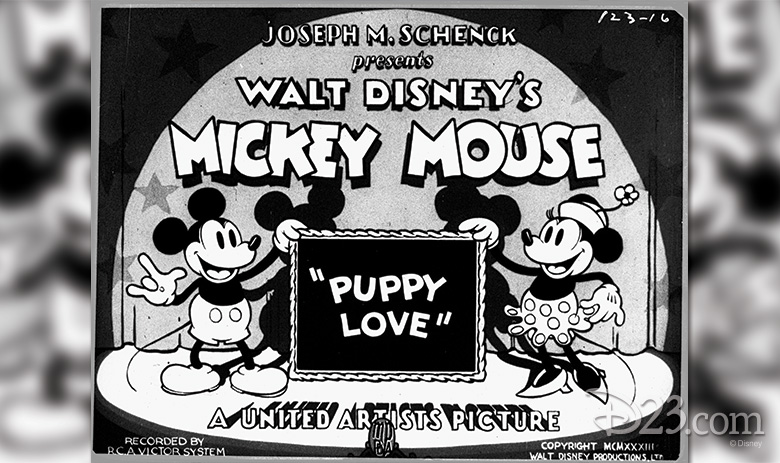 Puppy Love (1933)
Love is in the air when Mickey and Pluto pay a visit to Minnie and her dog, Fifi. Classic cutesy couple conundrums commence as Mickey tries to woo Minnie while his faithful pup tries his charms on Fifi, giving her a box of candies intended for Minnie. When the mix-up causes Mickey to give Minnie a dog bone instead of sweets, a fight ensues—but Mickey and Minnie can never stay mad at each other for long! Watch for the cartoony silliness and stay for the sweet duet from Mickey and Minnie about puppy love.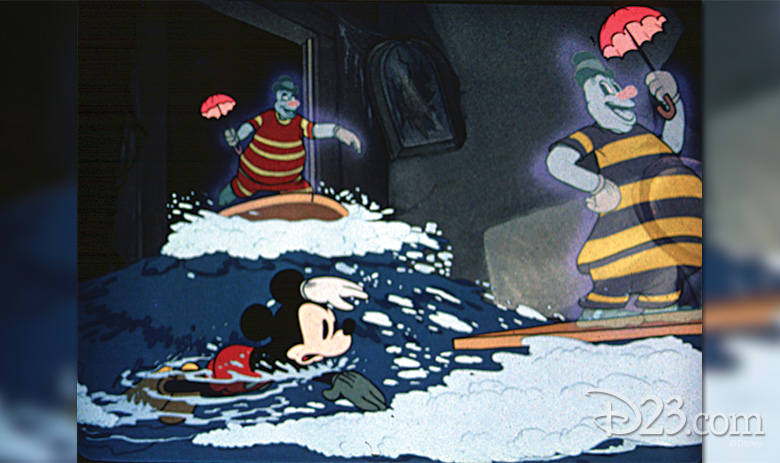 Lonesome Ghosts (1937)
"I ain't scared of no ghosts!" In this classic team-up of Mickey, Donald, and Goofy, our three favorite troublemakers are running their own ghost-catching business, but what happens when the crew receives a call from ghosts asking to be caught at their own haunted house? Ghostly goofy hijinks ensue, of course!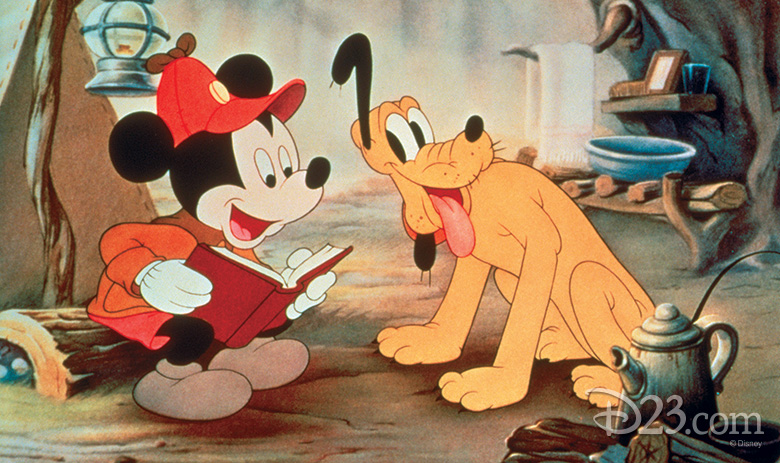 The Pointer (1939)
In this short, Mickey teaches Pluto to be a hunting dog in a series of wacky misadventures. Not only is Mickey teaching a new skill, but he's rocking a new look as well! The Pointer marks the first time general audiences were introduced to Mickey Mouse's modern character design. Shortly after this cartoon, Mickey would rock his new design with a new outfit as well—a certain red cloak and sparkly blue wizard's hat for the animated classic The Sorcerer's Apprentice.
Mickey Mouse Disco (1980)
If you want to shake your groove thing the Disney way, find yourself a copy of this iconic music video. Created to promote Mickey's album of the same name, Mickey Mouse Disco is a music video of the Mickey animated shorts we know and love, but remixed to the disco music from Mickey's album. If you ever wanted to bust a move with the main mouse himself, this music video will give you the chance!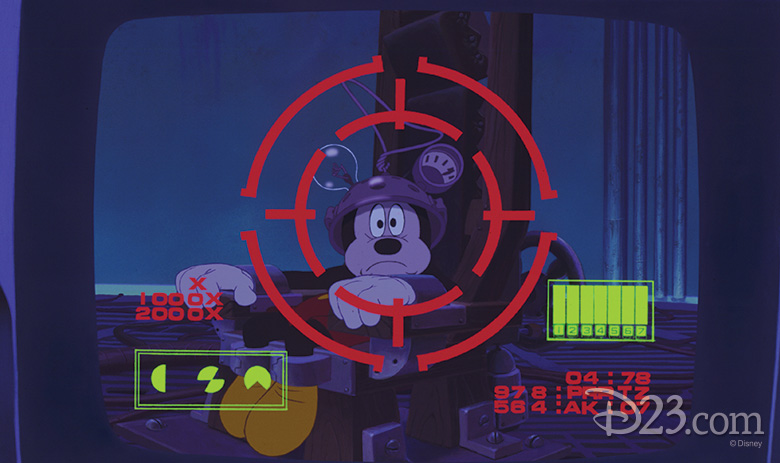 Runaway Brain (1995)
It was a dark and stormy night… And all Mickey wants to do is find enough cash to buy his honey an anniversary present! But his bid for money leads him to accidentally donate his brain to a Frankenstein's monster-esque creature who now has heart eyes for Minnie! This short, featuring work from animator and Disney Legend Andreas Deja, became an instant classic for its wacky humor and darker tone, which set it apart from the Mickey cartoons of the past.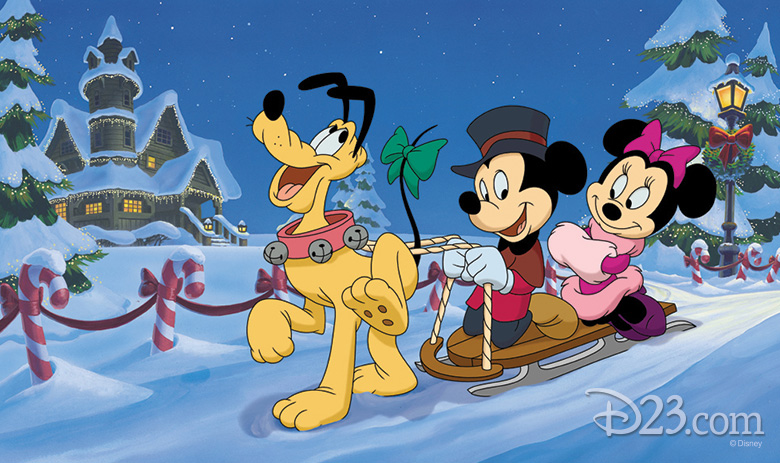 Mickey's Once Upon a Christmas (1999)
Celebrate the holidays the Disney way! The cartoon showcases three stories about the spirit of Christmas, culminating in a Disney-fied version of The Gift of the Magi, starring Mickey and Minnie and reminding us about the love and compassion that lie at the heart of the holiday season.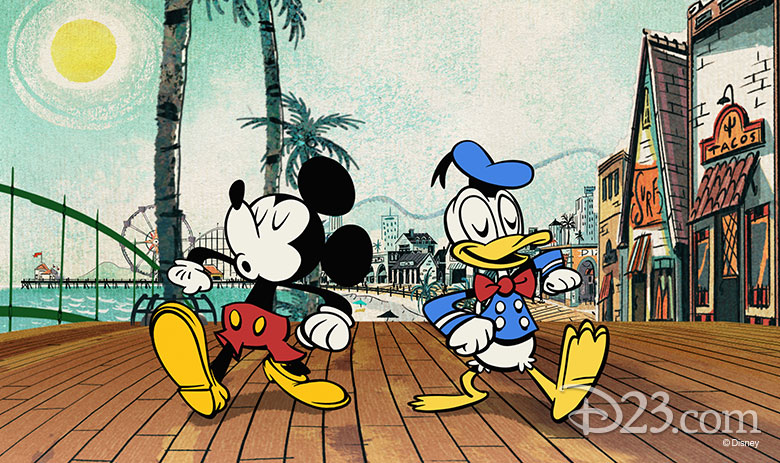 No Service (2013)
The first episode of Disney's new Mickey Mouse cartoon series features a play on Mickey and Donald's classic attire. What does the wacky duo—one clad only in red shorts and yellow shoes and the other in nothing but a sailor shirt—do when they encounter a store with the sign "no shirt, no shoes, no service"? It's the start of a new era of Mickey cartoons that keep the laughs and smiles going strong for the new generation of Mouseketeers!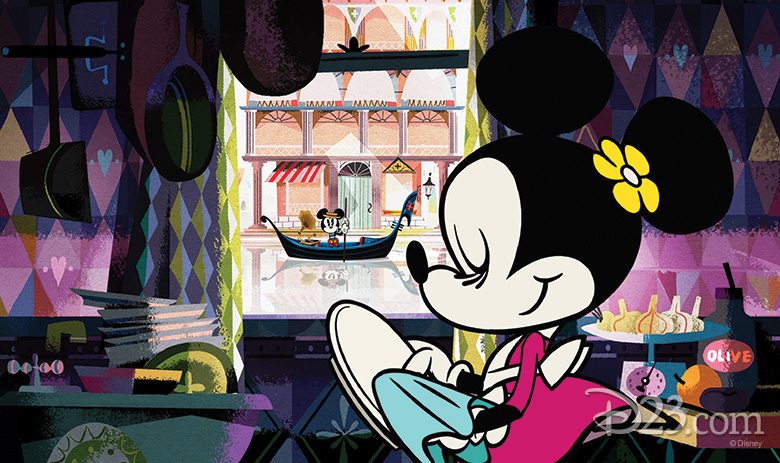 O Sole Minnie (2013)
This Emmy® Award-winning animated short follows an Italian romance between Minnie and Mickey along the Venice canals. If you keep a sharp eye out, you'll catch the familiar clock tower façade of it's a small world in the background of a scene. This isn't just a happy little shout-out—the art for the short was inspired by Disney Legend Mary Blair, the artist and animator whose iconic visual style drove the look for many Disney films and, of course, the it's a small world attraction at the 1964–65 New York World's Fair and Disney theme parks.
Get a Horse! (2013)
Get a Horse! is a triumphant burst of energy that is full of firsts and milestones! It was Mickey's first theatrical short since Runaway Brain, earning an Academy Award® nomination for Best Animated Short. Helmed by Lauren MacMullan, this short also holds the distinction of being the first Disney animated film to be directed by a woman! And in a moment of true Disney history, a certain familiar face pokes his head into the cartoon, providing the first Disney appearance of Oswald the Lucky Rabbit in 85 years! These milestones already set the tone for the short's combination of the old and the new, starting off like an old-school black-and-white Mickey Mouse short and becoming 3-D, computer-generated animation as the story progresses, with archival recordings allowing Walt to voice Mickey once again. The short is brimming with Disney energy and the mischievous fun that makes us say "Oh boy!" whenever we think of that famous mouse.