By Courtney Potter
In the 1970s, two young animators—Ron Clements and John Musker—joined The Walt Disney Company, and found themselves working on future classics including The Fox and the Hound. Eventually, the men teamed up to direct an animated film themselves… and it's not hyperbole to say that the rest is, literally, history. Ron & John, as they are now collectively known, went on to helm some of Disney's biggest and most iconic hits—including The Little Mermaid (responsible for kicking off Disney's "animation renaissance" of the 1990s), Aladdin, and The Princess and the Frog. And now, the duo is finishing up work on Moana—the much-anticipated high seas adventure starring Auli'i Cravalho and Dwayne Johnson.
With Moana sailing into theaters this November, the El Capitan Theatre in Hollywood is celebrating Ron & John's body of work with their "Countdown to Moana: The Films of Ron & John" special event; from October 6 through 16, the theatre will screen the pair's most revered films—and welcome a slew of special guests, who will offer some amazing behind-the-scenes insight into the making of the films.
If you're unfamiliar with this duo's incredible body of work—or are just looking for a "refresher course"—read on for D23's own rundown of the best, in year order, of Ron & John. (Honestly, how can we rank 'em in any other order? They're all so amazing!) And don't forget to head over to our Facebook and Twitter, to let us know your favorite… if you can pick just one!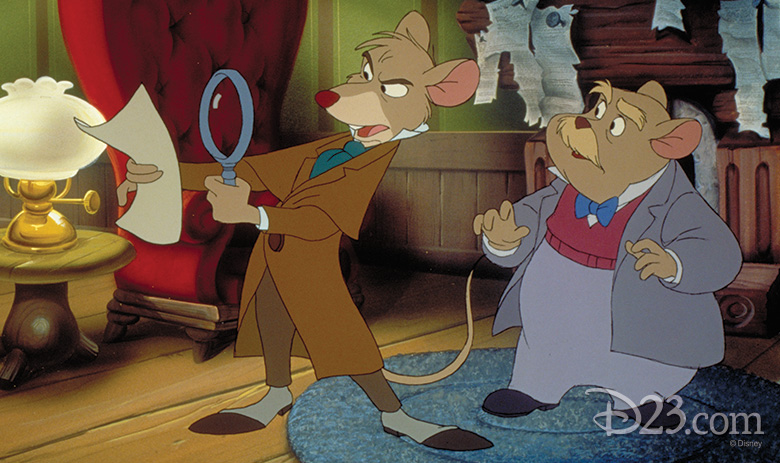 The Great Mouse Detective
This adorable 1986 animated caper was Ron & John's directorial debut. Based on Eve Titus' children's book (itself based loosely on the capers of Sherlock Holmes), the film follows Basil of Baker Street (Barrie Ingham)—a whipsmart mouse who's called upon to search for Flaversham, a kidnapped toy maker being forced to make a robot replica of the Queen for the evil Ratigan (Vincent Price). Basil, aided by the intrepid Dr. Dawson (Val Bettin), helps the toy maker's daughter search for her father; eventually, they foil Ratigan's nefarious plot and save the Queen!
The score for The Great Mouse Detective was written by composer Henry Mancini, who also collaborated on two of the film's three songs (with lyricists Larry Grossman and Ellen Fitzhugh). Perhaps most notably, this film includes an early example of computer animation; Ron & John, and their hardworking team of 125 fellow artists, used computer technology to create the climactic final confrontation (inside the spinning gear works of London's Big Ben) between Basil and Ratigan.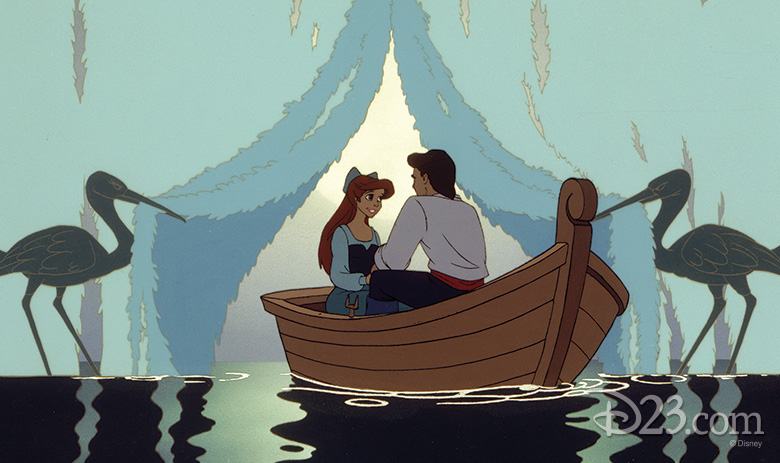 The Little Mermaid
It was Ron & John's next directorial effort that really put the pair on the map. Disney had already tried to turn Hans Christian Andersen's fairy tale into an animated film in the late 1930s, and had gone as far as having an illustrator named Kay Nielsen prepare several beautiful sketches in pastels and watercolors. Years later, Ron reportedly saw a copy of Andersen's tale in a local bookstore, and the idea came up for air once more.
The Little Mermaid, released in November 1989, is the story of Ariel (Jodi Benson), a pretty young mermaid who is endlessly fascinated with the human world. Defying her father (and ignoring his crabby envoy, Sebastian), Ariel winds up saving a handsome prince (Christopher Daniel Barnes) from a storm—and falls head over heels in love. Enter Ursula the sea witch (Pat Carroll), who exploits Ariel's dream of "where the people are" by granting her wish to be human… in exchange for her beautiful voice! Adventure, intrigue, and several amazing songs by off-Broadway composers Alan Menken and Howard Ashman follow, until everyone lives "happily ever after."
This particular Ron & John project had more special effects than any Disney animated film since Fantasia! Nearly 80 percent of the film required effects work—including the tumultuous storms at sea, glimmering schools of fish, big explosions, and even water-surface reflections. Plus, Menken and Ashman's score went on to win two Academy Awards®. Truly a "game changer" in the world of animation—and of film in general…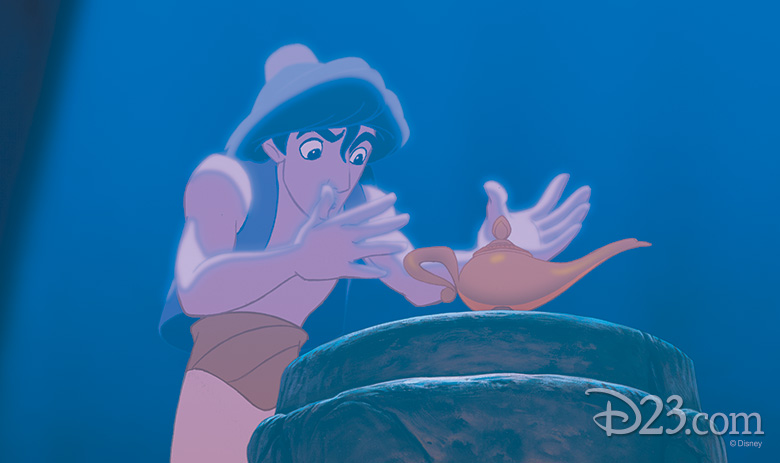 Aladdin
Ron & John's next feature did not disappoint… in fact, it became the highest grossing animated film to date, earning more than $200 million domestically!
It was during production on The Little Mermaid that lyricist Howard Ashman proposed the idea of adapting the story of Aladdin and his magical, wish-granting lamp—first told in a collection of Middle Eastern and South Asian stories known as One Thousand and One Nights—as an animated musical to the Disney powers-that-be. Ashman himself wrote an initial treatment, and collaborated on six songs for the film with Menken, including "Arabian Nights," "Friend Like Me," and "Prince Ali." After Ashman's untimely death in 1991, Tim Rice came on board to write some additional songs, notably "One Jump Ahead" and "A Whole New World." Eventually, Disney's Aladdin was released in November 1992, and it chronicled the adventures of a scrappy street urchin; the princess he falls for; an evil vizier, bent on becoming the most powerful man on Earth; a talking parrot; a magical flying carpet… and oh yeah, that Genie guy…
Ron & John enlisted Disney animator Eric Goldberg to bring Genie—as voiced by comedic genius Robin Williams—to life. He was not only heavily influenced by the fun, fluid caricatures of artist Al Hirschfeld, but also by Williams' stream-of-consciousness hilarity in the recording booth. The result? A truly iconic performance… and one that can be seen (with lots of bonus material!) in the recent Diamond Edition release of the film, on both Blu-ray™ and DVD.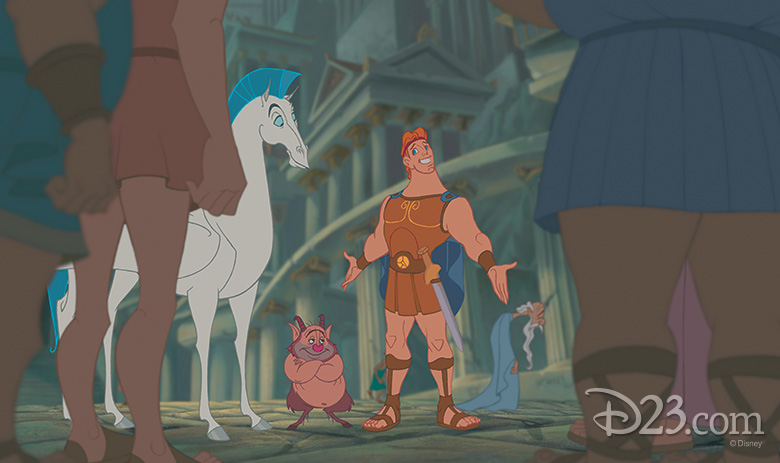 Hercules
Audiences had to wait five full years after Aladdin for Ron & John's next project… but thanks to a hilarious script, a great cast, and fantastic music by Alan Menken and David Zippel, it did not disappoint. The directors were initially attracted to the mythological, otherworldly aspects of the Hercules story, and started work, in earnest, in 1993; aided by art director Andy Gaskill, who oversaw the visual development on the film, the pair worked through several treatments until landing on a workable script. British artist and political cartoonist Gerald Scarfe was hired to assist with character design, and he remained involved as an adviser throughout the process. Ron, John, and team took a special field trip to Greece and Turkey in the summer of 1994, which gave them a firsthand look at landscapes and ancient sites—and the opportunity to learn all they could about classic Greek mythology from local experts. Animation began in early 1995… eventually employing almost 700 artists!
For the Greek-ly uninitiated, the film follows Hercules (the mighty son of Zeus and Hera) as he's taken—as a baby—from his Mount Olympus by Hades, the god of the Underworld. Unfortunately for Hades, his two dim-witted sidekicks botch the mission by not giving Hercules the final drop of a special potion… which leaves the infant with god-like strength, but human mortality. As Hercules grows up, he discovers the truth about his origins and sets out to prove himself a true hero. Ron and John assembled a starry voice lineup for Hercules, including Tate Donovan, Susan Egan (who'd go on to originate the roll of Belle in Disney Theatrical's stage version of Beauty and the Beast), Danny DeVito, James Woods, Charlton Heston, Bobcat Goldthwait, Roger Bart, Hal Holbrook, and Barbara Barrie.
The film—which premiered at New York City's New Amsterdam Theatre in June 1997—features the first use in animation of "morphing," the computerized process in which an object is made to smoothly transform into another.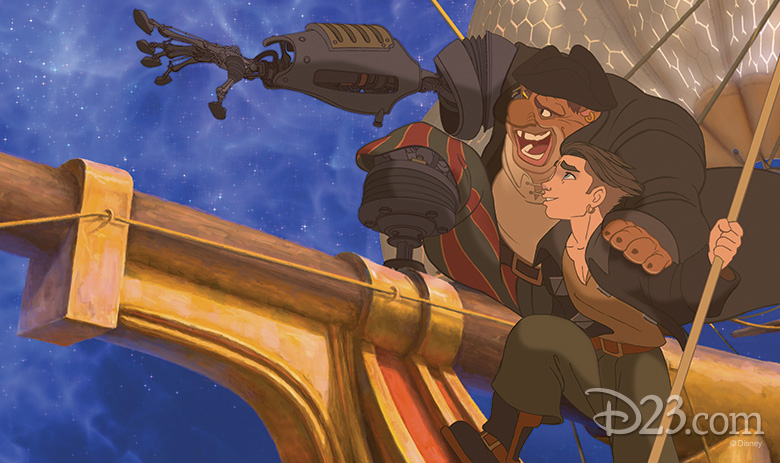 Treasure Planet
One of Ron & Jon's lesser known Disney films, 2002's beautiful Treasure Planet was nominated for the Academy Award® for Best Animated Feature… and it's the first animated movie where all the backgrounds were painted by computer.
The film, with a tip of the hat to Robert Louis Stevenson's legendary adventure Treasure Island, finds 15-year-old Jim Hawkins (Joseph Gordon-Levitt) on an amazing journey across a fantasy universe as cabin boy aboard a fantastical solar galleon, the RLS Legacy. Befriended by the ship's cyborg cook, John Silver (Brian Murray), Jim learns all about how to become a capable "spacer"—and as the story unfolds, he and the all-alien crew battle supernovas, black holes, and brutal space storms. But Jim discovers his trusted mentor Silver is actually a scheming pirate with mutiny in mind, and it's a betrayal he won't soon forget… Thankfully, Jim finds the strength to face down the mutineers—and in the process, discovers a "treasure" greater than he had ever imagined.
Treasure Planet also featured the dulcet tones of Emma Thompson, Martin Short, David Hyde Pierce, Mike McShane, Roscoe Lee Brown, and Patrick McGoohan. If you haven't yet seen this jewel in Ron & John's animation crown, do yourself a favor and check it out… (And if you're in the Southern California area, you can catch it at the El Capitan on October 10!)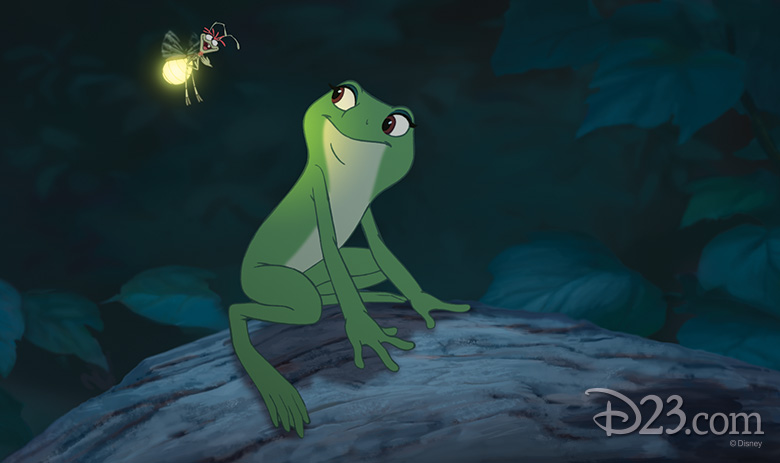 The Princess and the Frog
Finally, we have Ron & John's most recent masterpiece, 2009's The Princess and the Frog. We especially love this film—it has such a rich mixture of great music (by the legendary Randy Newman), amazing animation, and a hilarious (and moving) story… it's almost like a New Orleans gumbo!
Speaking of "N'Awlins," that's where our story takes place… The year is 1926, and a young woman named Tiana (Anika Noni Rose) dreams of opening her own restaurant. Meanwhile, Prince Naveen of Maldonia (Bruno Campos) comes to town, looking to better his financial situation by marrying rich—and Tiana's childhood friend Charlotte (Jennifer Cody) is the perfect candidate. But Naveen is hoodwinked by the evil Dr. Facilier (Keith David)—who turns him into a frog and plans to make off with Charlotte's family fortune himself. At a masquerade ball, amphibian Naveen convinces Tiana to kiss him to break the spell… but instead, she's turned into a frog too! What follows is a mystical adventure through the bayou, before the spells are vanquished and Tiana and Naveen sail into the riverfront sunset.
The Princess and the Frog was Disney's 49th animated film—and it's first, since 2004's Home on the Range, to use traditional animation techniques. The film was nominated for the Best Animated Picture Oscar®, and two of its Randy Newman-penned tunes—"Almost There" and "Down in New Orleans"—were nominated for Best Song.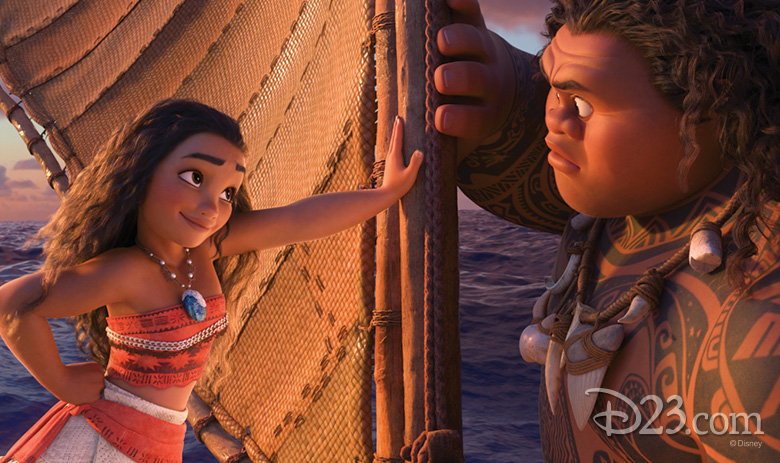 Moana
And now, in 2016, Ron & John present Moana—their latest animated adventure! A daring teenager sets out on a mission to save her people. During her journey, she meets demigod Maui, who guides her in her quest to become a master wayfinder. Together, they sail across the open seas… encountering enormous monsters and impossible odds. Along the way, Moana fulfills the ancient quest of her ancestors and discovers the one thing she has always sought: her own identity. Look for Moana in a theater near you this November!