Get up to speed on Star Lord's origins,
. . . and mark your calendars for a special Charlie Brown holiday… See more, along with other news from around Disney, in this week's news briefs!
Meet Young Star Lord in New Guardians of the Galaxy Animated Shorts
Sure, he was plucked away from Earth as a kid by alien aircraft, just as his beloved mother passed away… but have you ever wondered how young Peter Quill managed to become the hilariously awesome Star Lord we know and love today?
Get ready for the series premiere of Marvel's Guardians of the Galaxy animated series on Disney XD by learning about Star Lord's origins in two brand-new shorts! See what happens as Peter wakes up on a mysterious and terrifying spacecraft, and watch as he meets arrow-wielding mercenary Yondu for the first time. Check out Part 1, above (and don't worry; it links to Part 2 towards the end).
Once you're up to speed on all things Star Lord, make sure to tune in for the Guardians of the Galaxy series premiere on Saturday, September 26, at 9:30 p.m. ET/PT on Disney XD!
---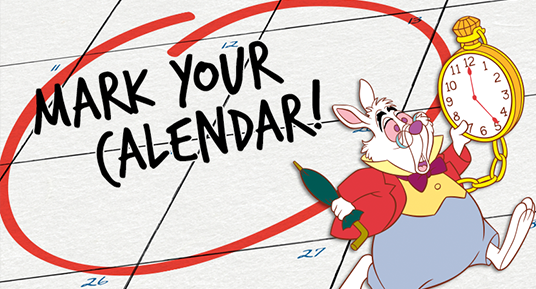 Save the Date!
Be sure to mark these upcoming Disney events on your calendar:
D23 and Walt Disney Archives


August 14-16


D23 Expo 2015 returns to Anaheim, California


Fall 2015


D23 Member VIP Nights at The Lion King


September 26


The Art of Disney—Featuring 75 Years of Pinocchio


October 3


D23's Sip & Stroll


November 7


D23 Day at the Walt Disney Studios and Archives


Studios




November 25


The Good Dinosaur opens in theaters.


December 18


Star Wars: The Force Awakens opens in theaters.


January 29


The Finest Hours opens in theaters.


March 4


Zootopia opens in theaters.

Parks


September 15, 18, 20, 22, 25, 27; October 1, 2, 4, 6, 8, 9, 12, 13, 15, 16, 18, 20, 22, 23, 25, 27, 29, 31; and November 1


Mickey's Not-So-Scary Halloween Party at Magic Kingdom Park


September 25, 28, 30; October 2, 5, 7, 9, 12, 14, 16, 19, 22, 23, 25, 27, 29, 31


Mickey's Halloween Party 2015 at Disneyland


September 25-November 16




Epcot International Food & Wine Festival




November 8, 10, 12, 13, 15, 17, 19, 20, 29; and December 1, 3, 4, 6, 8, 10, 11, 13, 15, 17, 18


Mickey's Very Merry Christmas Party at Magic Kingdom Park


Television




September 22


The Muppets premieres at 8 p.m. ET/PT on ABC.


September 26


Marvel's Guardians of the Galaxy premieres at 9:30 p.m. ET/PT on Disney XD.


November 30


It's Your 50th Christmas, Charlie Brown airs at 9 p.m. ET/PT on ABC.
---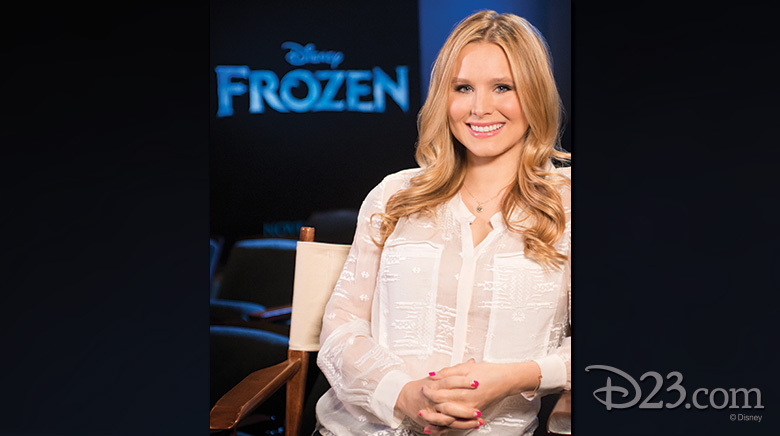 Kristen Bell Jingles All the Way With It's Your 50th Christmas, Charlie Brown
It may be the first week of August, but it's never too early to start planning some holiday cheer! In celebration of the 50th anniversary of the beloved "Peanuts" animated tale, A Charlie Brown Christmas, actress Kristen Bell (aka Princess Anna of Frozen fame) will host a special Snoopy-fied holiday retrospective! It's Your 50th Christmas, Charlie Brown will air Monday, November 30, at 9 p.m. ET/PT on ABC, and it'll mark the iconic yuletide classic's 50th season on television.
It's Your 50th Christmas, Charlie Brown is poised to be an unforgettable special, featuring live performances of "Peanuts" composer Vince Guaraldi's classics from acclaimed musical guests and a gaggle of Hollywood stars reminiscing about their most-loved A Charlie Brown Christmas moments. We've got a hankering for eggnog just thinking about it!
---
Rev Up the Fun with New Cars Mobile App and Collectibles
Ladies and gentlemen, start your engines! Fans of Disney•Pixar's Cars are cordially invited to the (virtual) racetrack for the launch of Cars Daredevil Garage—an all-new, action-packed mobile app from Disney Consumer Products and Interactive Media (DCPI). The app allows fans to collect and scan real-life Mattel diecast cars into a stunt-filled virtual world. And to go along with the app's launch, DCPI is also set to introduce Precision Series, a new line of movie-accurate collector diecast cars that feature elements unique to each Cars character, later this fall.
Once you scan any of Mattel's 2015 "mainline" diecast cars into the Cars Daredevil Garage app, you can use 'em to perform extreme stunts in real-world environments—all inspired by the way kids play! The app is free to download, and allows players to race with Lightning McQueen and earn more racing friends through gameplay.
There are several tracks already available to race on, with additional tracks available for purchase and even more tracks scheduled for release throughout the summer. Ready, set, GO!
---
Light Speed to Friendship: Top 10 Star Wars Sidekicks
Our good friends over at StarWars.com broke out their Lightsabers and battled to the death—well, actually, they sat around their conference table and strongly, but good-naturedly, argued—over their latest list: the Top 10 sidekicks from the Star Wars universe.
The StarWars.com editorial team ranked the companions (from the current six films, and two TV series) on personality, loyalty, and impact. Did your favorite(s) make the list? Check out the video, above, to find out!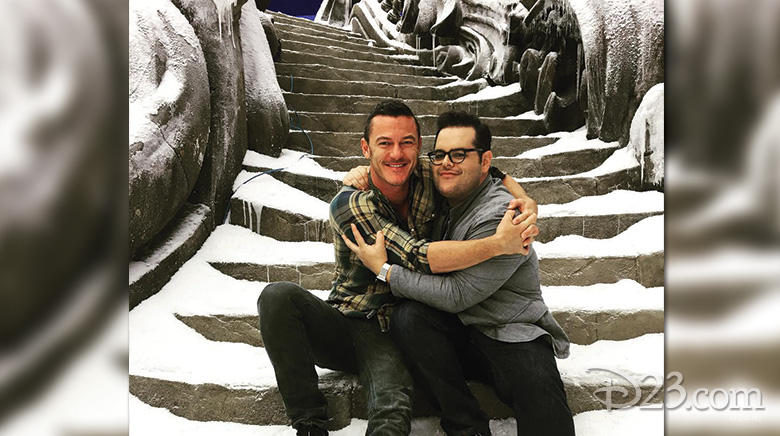 ---
Josh Gad Bids "Adieu" to Beauty and the Beast Film Set
The premiere of the live-action Beauty and the Beast is still more than a year away… but that doesn't mean our excitement is any less palpable! (In fact, we're enjoying a delicious bowl of "grey stuff" as we type this.) Happily, actor Josh Gad has been bolstering our excitement with his stream of Instagrammed set photos.
Josh just finished filming his scenes as LeFou, Gaston's (Luke Evans) bumbling sidekick, which means the photos may slow down for a while—but this last one gives us a great sneak peek at the movie's castle set. The snow! Those detailed castle steps! The super cool Mr. Evans! Look for Josh, Luke, and their all-star cast-mates to "Be Our Guest" when Beauty and the Beast hits theatres on March 17, 2017.