Christopher Miller & Phil Lord to Bring Han Solo to the Big Screen
Big news, Star Wars fans! The sought-after directors of last year's The LEGO Movie, Christopher Miller and Phil Lord, have just been announced as the directors for the next installment in the Star Wars Anthology of films—a look at the backstory of everyone's favorite scoundrel, Han Solo. And if that wasn't cool enough, the screenplay is written by Star Wars veteran Lawrence Kasdan (The Empire Strikes Back, Return of the Jedi, The Force Awakens) and his son Jon Kasdan (Freaks and Geeks).
"This is the first film we've worked on that seems like a good idea to begin with," said Miller and Lord. "We promise to take risks, to give the audience a fresh experience, and we pledge ourselves to be faithful stewards of these characters who mean so much to us. This is a dream come true for us. And not the kind of dream where you're late for work and all your clothes are made of pudding, but the kind of dream where you get to make a film with some of the greatest characters ever, in a film franchise you've loved since before you can remember having dreams at all."
---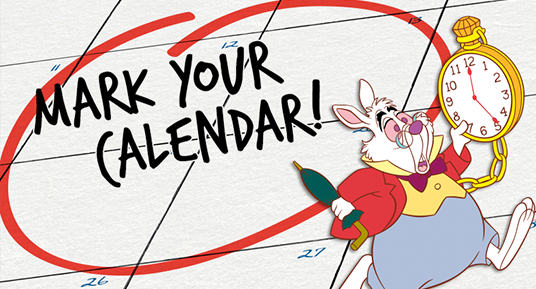 Save the Date!
Be sure to mark these upcoming Disney events on your calendar:
D23 and Walt Disney Archives


July 18


D23 Celebrates Disneyland, U.S.A.


August 14-16


D23 Expo 2015 returns to Anaheim, California


Fall 2015


D23 Member VIP Nights at The Lion King


October 3


D23's Sip & Stroll


Studios




July 17


Ant Man opens in theaters.


November 25


The Good Dinosaur opens in theaters.


December 18


Star Wars: The Force Awakens opens in theaters.
Parks


September 15, 18, 20, 22, 25, 27; October 1, 2, 4, 6, 8, 9, 12, 13, 15, 16, 18, 20, 22, 23, 25, 27, 29, 31; and November 1


Mickey's Not-So-Scary Halloween Party at Magic Kingdom Park


September 25-November 16




Epcot International Food & Wine Festival




November 8, 10, 12, 13, 15, 17, 19, 20, 29; and December 1, 3, 4, 6, 8, 10, 11, 13, 15, 17, 18


Mickey's Very Merry Christmas Party at Magic Kingdom Park


Television




July 31


Disney's Descendants premieres at 8 p.m. ET/PT on Disney Channel


September 5


Marvel's Guardians of the Galaxy premieres at 9:30 p.m. ET/PT on Disney XD
---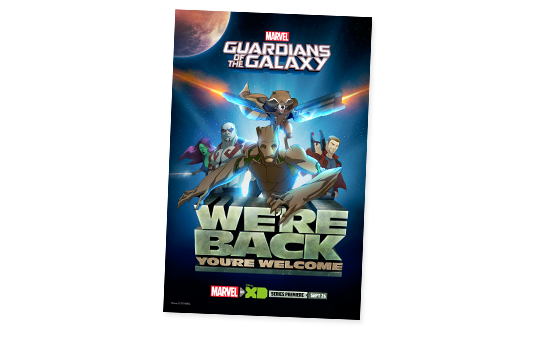 Marvel's Guardians of the Galaxy Rockets onto Disney XD This Fall
While we may have to wait until 2017 to see the return of Star Lord, Gamorra, Rocket Raccoon, Groot, and Drax on the big screen, we get to see them on the small(er) screen much sooner! Marvel's highly anticipated Guardians of the Galaxy animated series just announced its Disney XD premiere date: Saturday, September 26 (9:30 p.m. ET/PT), to be exact . . .
The epic, action-packed space adventure follows our favorite ragtag band of misfits as they band together to save the Universe, and it debuts with a one-hour special featuring back-to-back episodes. Fans can get a sneak peek at the first episode on Saturday, September 5 at 9:00 p.m. ET/PT. But that's not all: Disney XD will whet your Guardians whistle with 10 two-minute shorts that dive into the backstory of each of the five main characters every Saturday in August. We're breaking out our mix tapes in anticipation!
---
Disney's The Finest Hours: First Trailer Debuts
On February 18, 1952, a massive "Nor'easter" barreled its way onto the New England coast, wreaking havoc on several ships, including the oil tanker SS Pendleton. Despite the ridiculous odds against them, a small group of brave men from a local Coast Guard station set out to save the crew of the tanker. This incredible true story is the basis for Disney's epic The Finest Hours, which stars Chris Pine (Star Trek), Casey Affleck (Interstellar), and Eric Bana (Hulk).
Check out the brand-new trailer for the film, which storms into U.S. theaters on January 29, 2016 in Digital 3D™ and IMAX® 3D.
---
New Star Wars App Brings A Galaxy Far, Far Away to the Palm of Your Hand
Want a lightspeed connection to Star Wars news, special features, and more? The brand-new Star Wars app is completely customizable and makes it possible for you to theme your app to the Light Side or the Dark Side, take and share Star Wars "selfies," share animated GIFs of memorable scenes from all of your favorite Star Wars movies and TV shows, and count down to massively important events, like the opening of Star Wars: The Force Awakens, with a timer that is always running! The app is now available for iOS and Android devices, and will continue to evolve and offer new features. The Force just got a little stronger in your smartphone or tablet!
---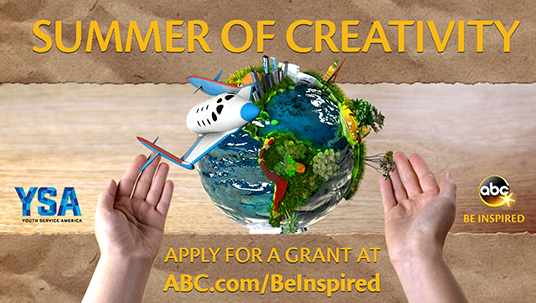 ABC.com Wants Kids to "Be Inspired"
Attention kids between the ages of 5 and 18 (and their awesome parents)! Disney|ABC Television Group is teaming up with Youth Service America to offer "Summer of Creativity" Grants, and they're taking applications now through August 10. Young change-makers can now apply for a Grant to help make their community greener, safer, smarter, healthier, cleaner, or fairer! Winners will receive $500 to help make a lasting, positive change in the world.
The "Summer of Creativity" Grant Program, part of Disney|ABC TV's "Be Inspired" campaign, is searching for kids and teens who want to create change through volunteer and community service projects. They're especially interested in youth-led projects that highlight the creativity and commitment of young people working to meet the needs of others.
Interested? Head over to http://www.ysa.org/beinspired to read up on eligibility, browse free Youth Service America resources, and download the application!
---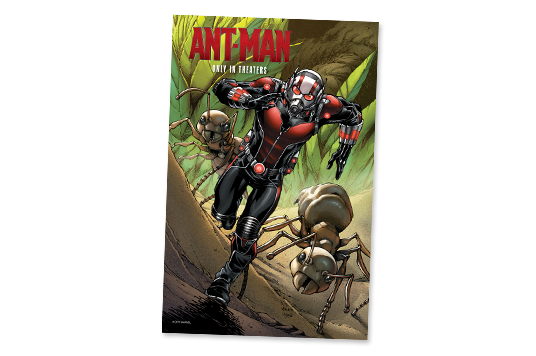 Eat Delicious Pizza and Take Ant-Man Home!
Where else can you enjoy a delightful meal and get the opportunity to purchase a limited-edition Marvel print? Why, the Disneyland Resort, of course!
Created exclusively for Disneyland Resort Food and Beverage, a very cool "keepsake" art print to celebrate the release of Marvel's Ant-Man will be available at Redd Rockett's Pizza Port (inside Tomorrowland) starting July 17! The limited-edition print is only $5.99, and it features a comic book-style look at Ant-Man himself by artist Todd Nauck.
Todd himself will be on hand from 2–4:30 p.m. on Tuesday, July 21, to sign the new Marvel's Ant-Man print. As our friends over at the Disney Parks Blog so astutely said, don't miss out on this "f-ANT-astic" opportunity!
---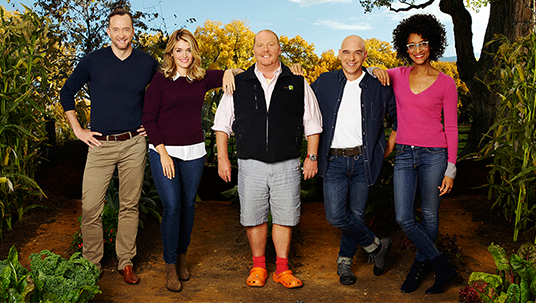 See ABC's The Chew at the Epcot International Food & Wine Festival
For the first time in the show's history, the hilarious and informative hosts of ABC's The Chew—Mario Batali, Michael Symon, Clinton Kelly, Carla Hall, and Daphne Oz—are leaving the comfy confines of their Manhattan studio to tape several shows at the 20th Annual Epcot International Food & Wine Festival! The shows will tape on October 7, 8, and 9, and the five resulting episodes will air the week of October 12.
Wanna chance to sit in the show's live audience? Visit thechew.com for information on how to obtain tickets. However, we're guessing you'll manage to get a glimpse of the hosts all over Walt Disney World Resort as they discover all the innovative dining the Resort has to offer . . .
Along with the taping of their show, The Chew will be featured in two marketplaces throughout the festival's 53-day celebration from September 25 through November 16. Marketplaces will expand into Future World—for the very first time—in their new "Next Eats" festival area, offering three delicious dishes from The Chew in their Sustainable Chew Marketplace. (Fun fact: Herbs and veggies from The Land pavilion at Epcot will flavor the marketplace dishes when harvested!) Also in "Next Eats," Disney chefs are collaborating with The Chew for the Chew Lab, a cutting-edge Marketplace inspired by food-science labs and the latest culinary technology trends.
Keep an eye on epcotfoodfestival.com for more info as the event approaches!