A street-wise thief with a heart of gold. A free-spirited princess. And the hilarious, larger-than-life genie that brings them together. Walt Disney Animation Studios' Aladdin first took the world by storm Thanksgiving 1992—followed by a record-breaking home video release the next year. Now, for the first time, Aladdin will be released in a whole new way on Blu-ray and Digital HD—with never-before-seen bonus content!
The Aladdin Diamond Edition materialized for the first time on digital HD on September 29, and will hit store shelves as a Blu-ray™ "Combo Pack" on Tuesday, October 13. D23 sat down with filmmakers Ron Clements and John Musker—just before their fascinating "Aladdin: The Making of a Classic" panel at the recent D23 EXPO 2015—to chat about what makes the film so memorable… and why the Diamond Edition is so unique.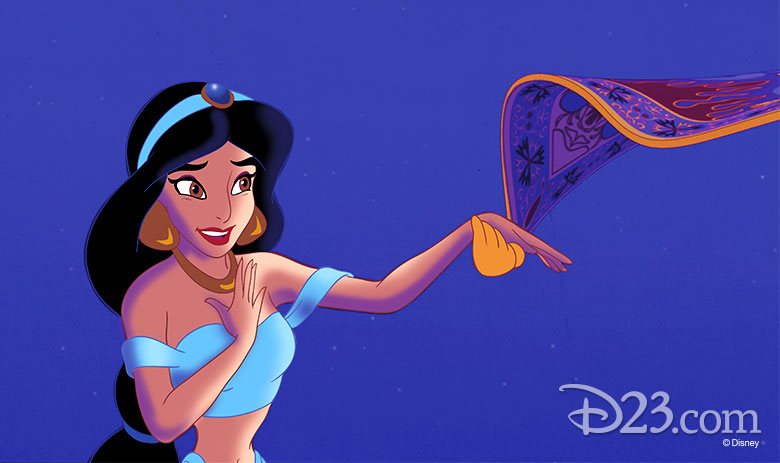 D23: Do you have any favorite memories from the making of the film?
Ron Clements (RC): There are many—but for me, I think my favorite memory is when we were recording Robin Williams—I mean, all the recording of Robin was great. There were these moments, though; he was full of energy, full of passion, and once he got going, you couldn't stop him—and he wanted to do more and more. There were moments where, just watching, it was like he'd reached a higher level. He was always great… I still remember that, just being in awe of that.
John Musker (JM): We had a screening of the movie, which I still remember… Chuck Jones, the famous Warner Bros. animator, was there. He was sitting right behind us; we're like "Oh no, Chuck Jones is sitting right behind us!" He was one of my idols! And then he really laughed at the jokes, and he really complimented us about the movie at the end. I was really thrilled that somebody who I admired like that got such a kick out of the movie.
I think Aladdin can be appreciated in a way that it wasn't originally, just for how rare a thing that Robin did, and how wonderful the film was, how heartfelt and funny—and that it will live beyond all of us. That's a great thing.
D23: Were you involved in the making of this new Diamond Edition for digital HD and Blu-ray™?
JM: We were involved in some of the bonus features, yes. They filmed Ron and me [a bit]… and there's a really cool feature with Robin—it's a bonus feature that involves some of the Genie outtakes that have never been heard before. [Original Aladdin animator] Eric Goldberg did some new drawings with that, and we were involved in helping him put that all together. That was really exciting, to revisit some of the material that never made it into the movie.
D23: You might've just answered our next question, but—is there something you're especially eager for audiences to see?
RC: Well, there was a huge amount of material that was not used in the movie, and we thought it would be fun for the audience to see what, essentially, are kind of the Genie's "outtakes"—so you can experience some of what didn't make it into the movie, and it's really fun. Robin was unique… when we wrote the script, we wrote it with him in mind. You could read it and picture what he would do, but we always knew that he was going to riff… He would come in and he would do the script, generally as written, a few times, and then he would embellish.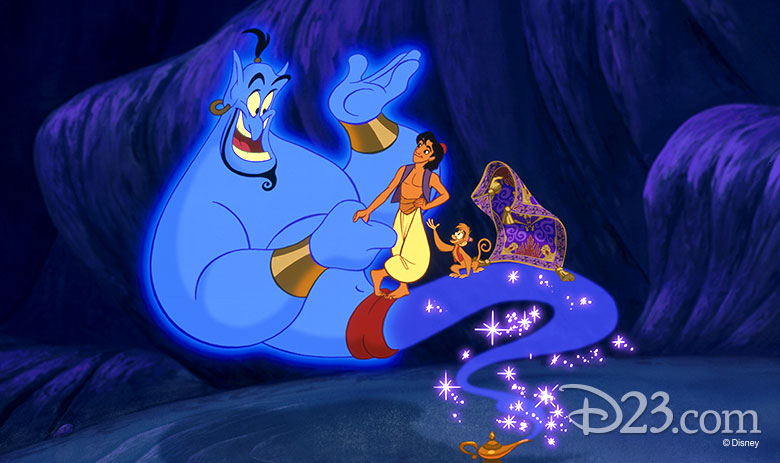 The only problem was—he did so much stuff, now how do we pick what to use? After the recording sessions, it would all be transcribed; everything he did would be transcribed, and Eric, John, and I listened to it all a second time, and marked things that we thought were funny, things that we thought would work. Then the editor would put the scene together, and it would be three or four or five times longer than the scene really could be. [laughs] Then it was kind of honing that down, and that's what ended up in the movie. [These new animated sequences are] a great tribute to Robin, and Eric did a great job with them.
D23: What about the film's iconic music? A new featurette about the making of the Aladdin Broadway musical is included in this Blu-ray™ release, correct?
RC: The music is so great, and so wonderful, and working with those guys—with Howard Ashman and Alan Menken, and then Tim Rice came in—Howard passed away pretty early on in the making of the film—was fantastic. And that's one of the fun things about doing musicals, too. In some ways, they have even a stronger afterlife…
JM: The music fuels it.
RC: Right—and that's really exciting. I think the song cuts we made were really right for the movie, and the movie was what the movie needed to be—but there were some really cool songs that we loved that never made it into the movie, so I'm glad that they're coming to audiences through the Broadway show.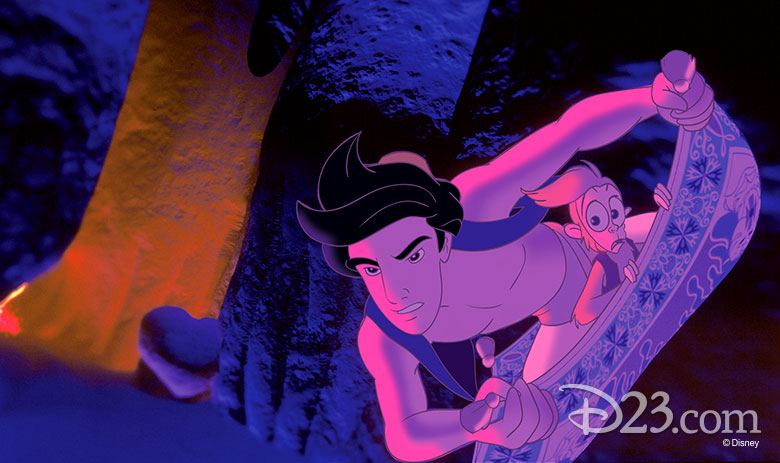 D23: Why do you think this movie has stood the test of 20-plus years' time?
RC: When we were kids, in our generation, Disney films would be re-released every seven years in theaters. They weren't shown on television, they were re-released, and that was a big deal. I saw the re-release of Pinocchio when I was 9 years old; it blew me away, and made me want to work at Disney… Now, a whole new generation can see Aladdin. I think the movie holds up well. I think it's still very entertaining, so I hope people who haven't seen it—or who haven't seen it for a long time—go back and re-experience it. Because it's fun that these films keep going, and that they have an "afterlife." So much work goes into the films when we make them—it's really nice when they endure, and new generations get to experience it all over again.
JM: I think this Blu-ray™ release is kind of special, given what's happened with Robin Williams. We probably won't see his like again, basically, so there's something really kind of precious about the movie, and how the Genie sort of transcends the limits of space and time. Robin has, too, with his performance in this movie—and this release, I think, is a celebration of Robin, with the outtakes and just the film itself. I think Aladdin can be appreciated in a way that it wasn't originally, just for how rare a thing that Robin did, and how wonderful the film was, how heartfelt and funny—and that it will live beyond all of us. That's a great thing.
Look for the Aladdin Diamond Edition on digital HD now, and in Blu-ray™ Combo Pack form on October 13!