By Courtney Potter
Inside the Walt Disney Animation Studios in Burbank, a gleaming white hallway and rotunda welcome the crew into a building where the likes of Frozen and Zootopia took shape. Since the building's remodel in 2016, this particular space has been used to display artwork from an animated film currently in production… but right now—between the release of Moana and the making of Ralph Breaks the Internet: Wreck-It Ralph 2—the gallery contains a truly one-of-a-kind exhibit chronicling Disney's unique compilation films of the 1940s.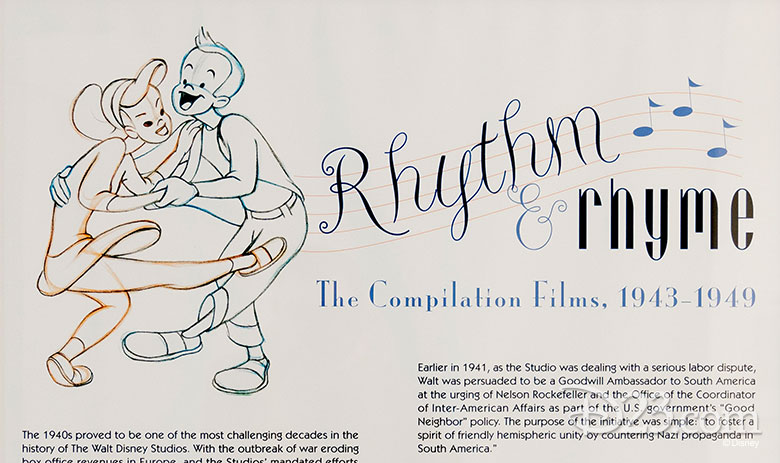 "Rhythm & Rhyme: The Compilation Films Between 1943 – 1949" takes a deep dive into several animated projects made during World War II, a time when The Walt Disney Studios was mostly tasked with creating films for the government. Early in 1941, Walt Disney was asked to be a Goodwill Ambassador to South America; after hand-picking a team of 15 animators, writers, and music producers, Walt and crew headed off on a three-month excursion to exotic locales, including Buenos Aires, Argentina, and Rio de Janeiro, Brazil. Out of this trip came the films Saludos Amigos (1943) and The Three Caballeros (1945)… followed later by Make Mine Music (1946), Fun and Fancy Free (1947), Melody Time (1948), and The Adventures of Ichabod and Mr. Toad (1949). Incredible art from these films, courtesy of the Walt Disney Animation Research Library, makes up this new exhibit—some of it being seen in public for the first time.
Recently, D23 took a tour of the exhibit and heard from two of its creators, Tamara Khalaf (Manager, Design) and Patrick White (Designer) of the Disney Animation Research Library (ARL). Read on for a very special glimpse inside the display…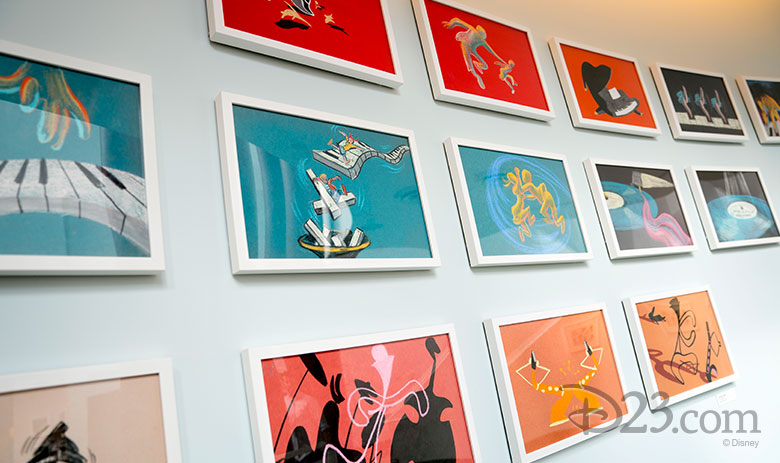 D23: What was the main goal when curating these specific pieces, from these specific films, for the exhibit?
ARL: Our greatest challenge, by far, was trying to find a common through-line that would make the exhibit cohesive. From the South American films to the ones that expressly speak to Americana, such as Melody Time, Fun and Fancy Free, and The Adventures of Ichabod and Mr. Toad, finding a common story that could speak to all of the films was difficult at first. The one commonality that they all shared was music. Regardless of their context, culture, or theme, each of the films celebrated music in a way that brought all these fragmented films across the decade of the 1940s and from a wide variety of topics together harmoniously… these films showcase a wonderful variety of styles of the art from film to film. Another challenge selecting the best pieces from each film!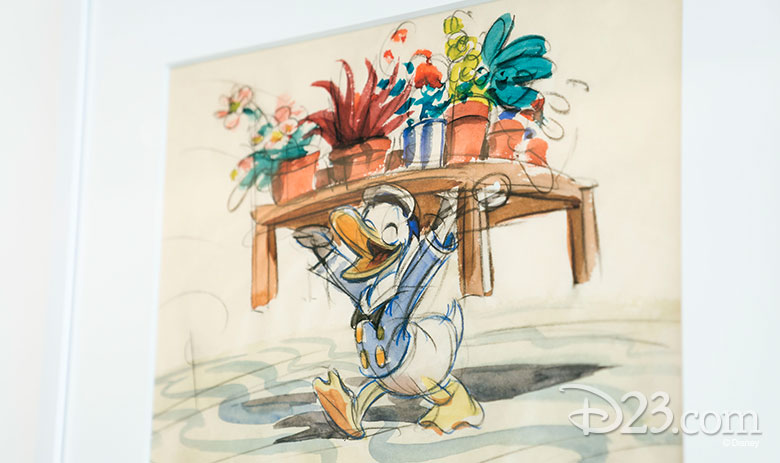 D23: How long does it take to set up an exhibit like this? And what was the most memorable or unique part of the process for your team?
ARL: We typically bring an exhibit together of this size in less than six months. It is a slightly aggressive schedule for our team since we have many other projects occurring simultaneously, but we typically schedule our installations around major film releases from the studio. The longest part of the process is the curatorial time it takes to research the films; seeing what artwork is available from in our collection; deciding upon the story we are trying to tell; writing the copy for the exhibit; reproducing the artwork and having it framed; prepping oversized graphics; and then installing everything. As with any large endeavor, it takes a lot of support from [our partners] to get us to installation day—and we want to acknowledge the hard work of our amazing research, collections, and digitization teams for providing the assets to us to work with, and to Howard Green, our VP of Animation Communication, for helping write the label copy for the exhibit.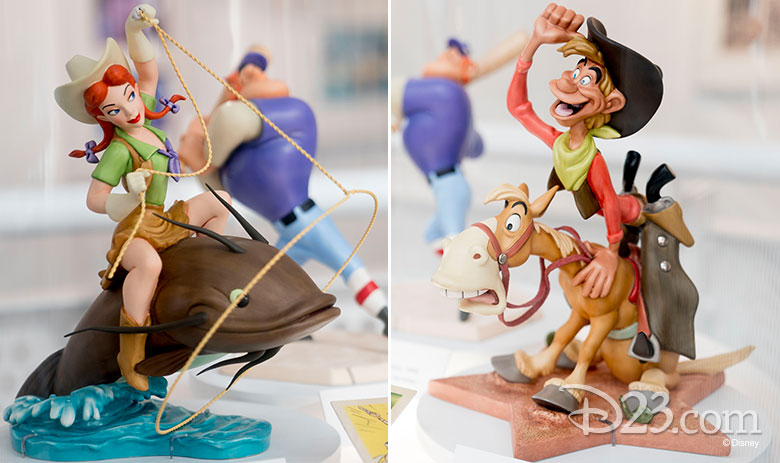 D23: What do you think is the most interesting or unusual piece in the exhibit, and why?
ARL: We have a few favorites… The first are the two maquettes (sculptures) of Pecos Bill and Slue Foot Sue. The characters are beautifully sculpted and painted, and we feel they really helped make the installation look complete. Because the majority of our collection contains works on paper [or as a digital display], with very few "dimensional" objects, our team borrowed the objects in the display cases from our colleagues at the Walt Disney Archives. We are grateful to them for being willing to loan them to us!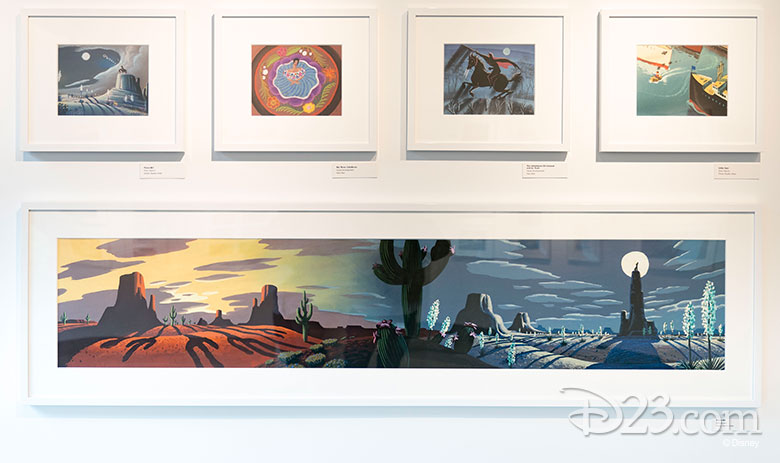 Another favorite part of the exhibit are the pencil tests (seen on the monitors) that highlight the pencil animation from a couple of scenes of animation. It is rare to see animation in this raw, pencil state—and we are grateful for our Pencil Test Animation group for providing it for us. Of the framed artwork, [a] favorite piece is the long background pan from Pecos Bill that shows the gradation from reds and golds of the setting sun of the desert day to the cold blue hues of nighttime.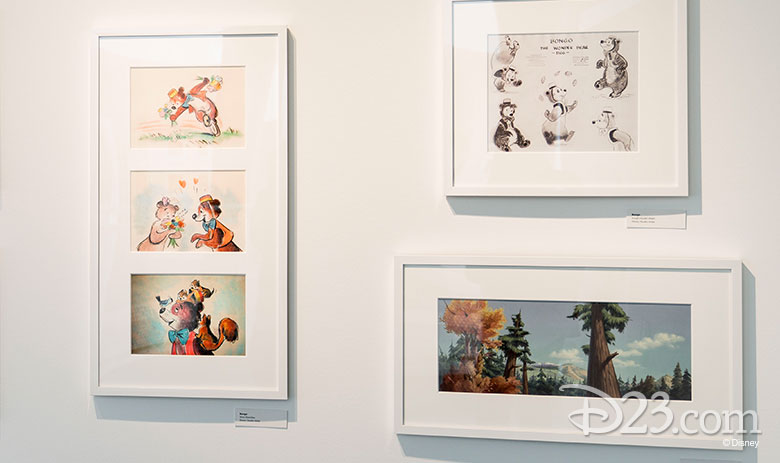 D23: What do you hope visitors, and fellow employees, take away from the exhibit?
ARL: This rotating gallery space is like a "coda" in a very busy day… [it] offers employees a chance to pause and feed their brains with beautiful artwork from our collection and is a tangible way to connect us to our legacy—and remind us that we have a chance to make impactful art and films for the world to enjoy. Hopefully, the gallery is a space where people can take a few minutes to pause and soak that in!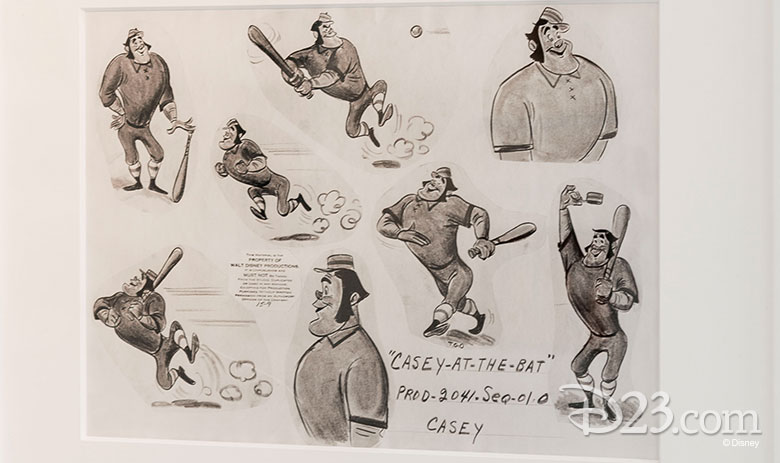 D23: What's the reaction been like, so far, to the exhibit?
ARL: We've received a tremendous amount of positive feedback from folks, inside and outside the studio. Even though the exhibit has been up for a few months now, we still see employees strolling through and often taking friends and family through the gallery space. Because they're films that many people haven't seen in years (and some young folks who may have never seen them at all!), the artwork is a fun way for us to connect to our past.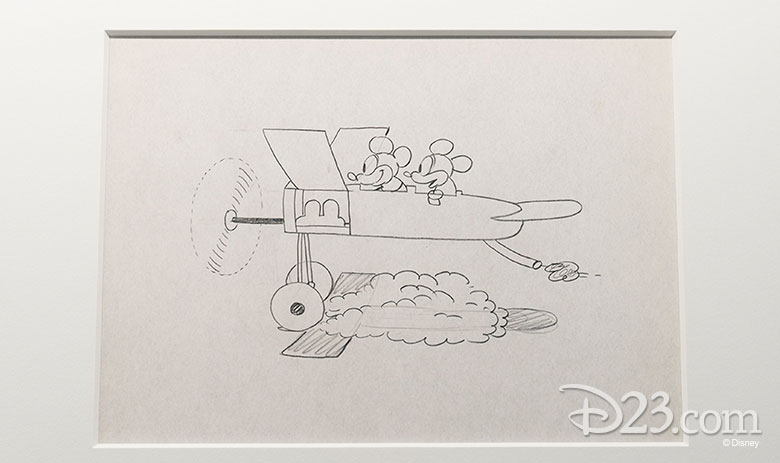 We've also achieved a balance between our legacy and our contemporary projects by installing artwork along a short hallway nearby, which celebrates Mickey and Minnie Mouse. Since they're celebrating their 90th anniversary this fall, it's befitting that our main gallery—which will soon change over to Wreck-It Ralph 2—is adjacent to this hall where we can honor our company's earliest [history] right next to celebrating our latest film. The studio is burgeoning with new talent and new stories—so we try to strike a balance between honoring our past and where we came from and celebrating who we are today.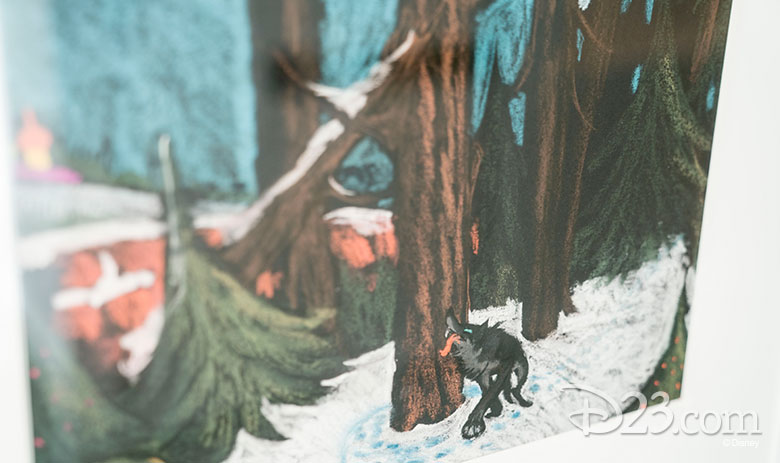 D23: Is there anything else you'd like people to know about "Rhythm & Rhyme"?
ARL: If you haven't seen these compilation films from the 1940s, take time to go back and check them out!