By Jim Fanning
A circus bear, a crooning cricket, and a certain Mouse are the leading animated luminaries in Walt Disney's Fun and Fancy Free. Released 70 years ago today, this unique mélange of song, stars, and cartoon favorites was one of Walt's "package features"—post-World War II animated features made from "packaging" together shorter featurettes.
Fun and Fancy Free packages together two featurettes—"Bongo," the story of a big-top bruin who runs away from the circus to get back to nature, and "Mickey and the Beanstalk," starring Mickey Mouse, Donald Duck, and Goofy as the collective hero of the Disney version of "Jack and the Beanstalk"—all tied together with an eclectic collection of appealing performers, both live-action and animated. The result caused the show-biz "bible" Variety, to opine, "All of it adds up to one of Disney's finest achievements." Read on to learn more about this fun-filled, fanciful animated anthology film, which celebrates its 70th anniversary this year.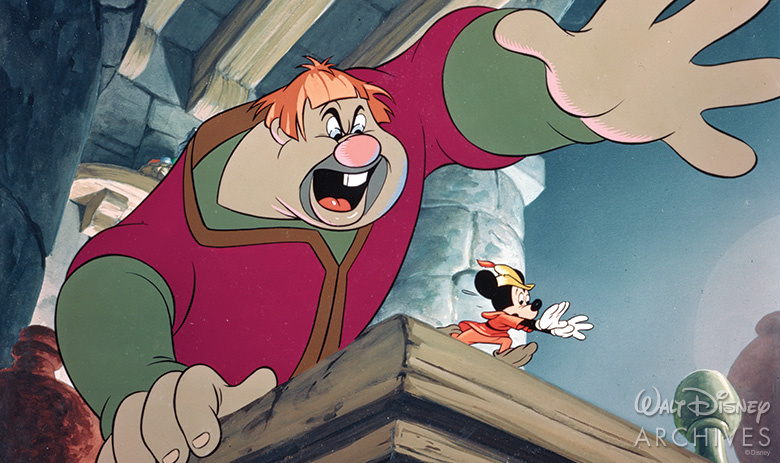 1. "Mickey and the Beanstalk" was Originally Planned to be a Full-Length Feature
Almost from the start of his transition to feature production, Walt had planned on spotlighting his short-subject superstar Mickey Mouse in his own feature-length epic. But what project would best fit the Mouse's giant-sized knack for adventure? As early as September 1938—the same month in which the feature-like Brave Little Tailor (centering on Disney's diminutive hero's battle with a supersized foe) was released and less than a year after the premiere of his first feature, Snow White and the Seven Dwarfs (1937)—Walt started developing an adaptation of the famous "Beanstalk" tale, to star not only Mickey but his frequent co-adventurers, Donald and Goofy. "The Goof is the sap, the Duck is the one who gets into scrapes, gets mad, and has to be quieted down" noted Walt in a 1938 "Mickey and the Beanstalk" story conference. "Mickey is comparable to Harold Lloyd," Walt added, equating the Mouse with the great silent comedian known for his comically daring exploits. "The situations he gets into make him funny." In envisioning this feature for his favorite star, Walt told his animation team, "I think this story has great possibilities for the fantastic things. I would like to see it done in such a way that would really put feature quality into it." Animation began, and hopes were high for Mickey's very own feature film. But production on "Mickey and the Beanstalk" was halted by the start of World War II.
2. Fun and Fancy Free Returned Mickey To the Screen in Style
After the war, projects that had been shelved for the duration were revived, and Walt had a special reason for resurrecting the "Beanstalk" production. Mickey had not been seen in a theatrical cartoon since the early 1940s, and a spectacular showcase was needed to return Disney's biggest star to the screen. "Mickey and the Beanstalk" fit the bill and was put back into production. Top animators, such as Woolie Reitherman and "Mickey master" Fred Moore, were assigned to the project, and new animation was created to complement the completed pre-war footage. Fun and Fancy Free returned Mickey to movie screens one week before his first short in five years, Mickey's Delayed Date, was released on October 3, 1947.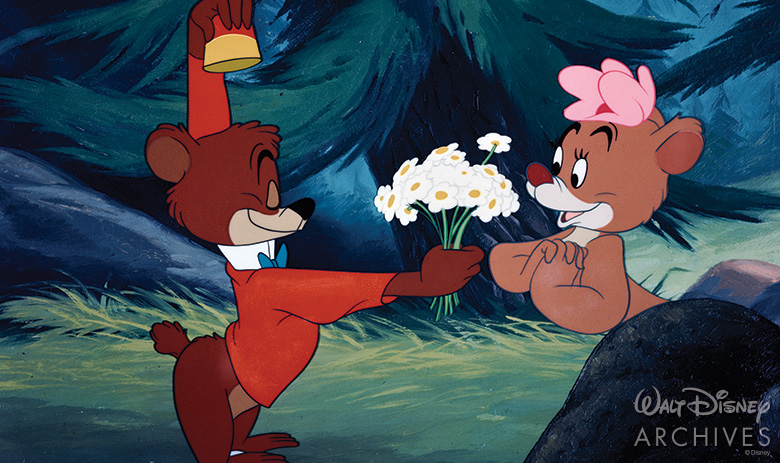 3. Dinah Shore Sings
Walt had banked on the built-in box office appeal of Dinah Shore for his first postwar "package" picture, Make Mine Music (1946), and he turned to her again to narrate and sing the "Bongo" segment of Fun and Fancy Free. Later known for long-running primetime variety series of the 1950s and 1960s and her daytime talk shows in the 1970s, this celebrated songstress was the most popular female vocalist of the 1940s, racking up 80 charted popular records by 1957. Dinah's sweet voice is the perfect aural complement to the story of the sweet-natured circus bear.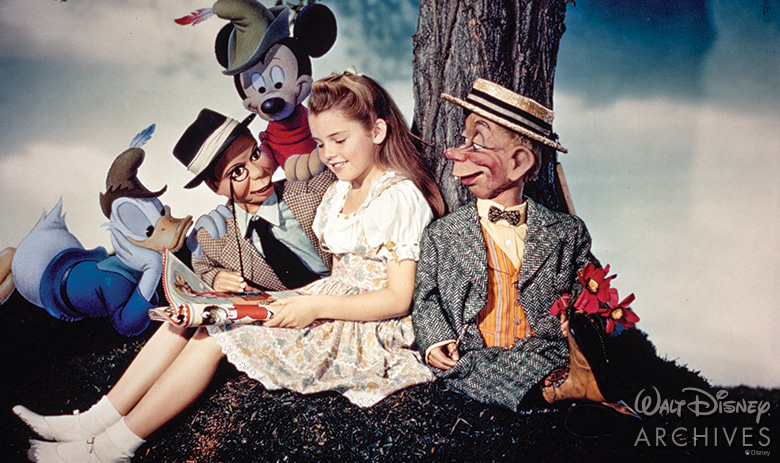 4. Little Luana Listens In
In the film, one of Disney's first child stars, lovely little Luana Patten (pictured above), winningly listens to the unfolding story of "Mickey and the Beanstalk." In fact, the story is told at a party thrown in her honor. Walt was ever on the lookout for a showcase for his young contract player, and Fun and Fancy Free gave fans of the young star of Song of the South (1946) and the soon-to-be star of So Dear to My Heart (1949)—a chance to see her on screen as she commented on the unfolding story. In Walt's next package film, Melody Time (1948), Ms. Patten was paired with frequent co-star and fellow Disney contract kid, Bobby Driscoll, to hear the story of "Pecos Bill."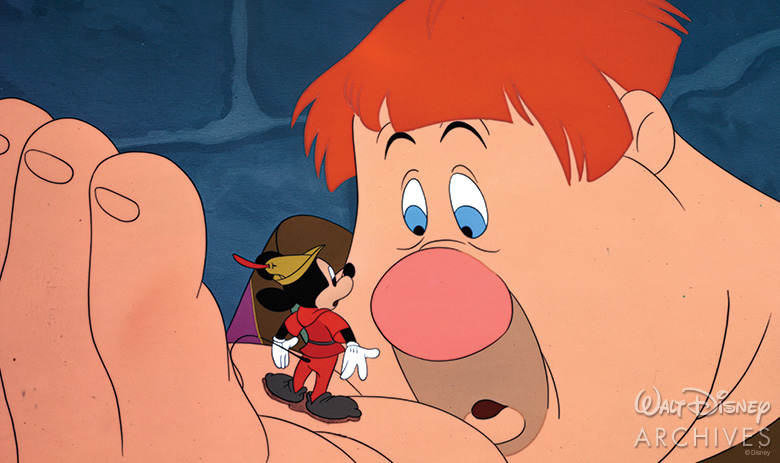 5. Gesundheit, Willie the Giant
A veteran of many a comedy classic, including A Night at the Opera (1935) starring the Marx Brothers and Charlie Chaplin's The Great Dictator (1940), Billy Gilbert was cast as Sneezy in Snow White and the Seven Dwarfs (1937) when the comedic character actor launched into his renowned sneezing routine—seen in such films as Million Dollar Legs (1932) with W.C. Fields—in Walt Disney's office. Soon after, when Walt gave the bombastic Billy another vocal role as Willie the Giant in "Mickey and the Beanstalk," he made sure that Willie had a gigantic sneezing attack thanks to Mickey's spilling of the giant's snuff box.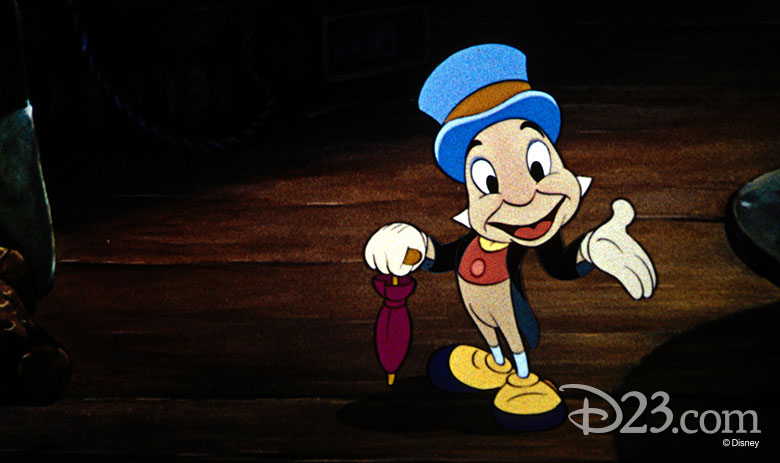 6. Jiminy Hops Into a New Career
In an unprecedented move, Walt took a character from one feature and put him in another when he made Jiminy Cricket the Fun and Fancy Free headliner. The only character who appears throughout this package film, Jiminy Cricket hopped in from Pinocchio (1940) as one of the newer film's biggest surprises, singing "I'm a Happy-Go-Lucky Fellow," composed by Pinocchio Academy Award®-winning tunesmiths Leigh Harline and Ned Washington. Fun and Fancy Free was the beginning of the cricket's career as a Disney star in his own right. From there, Jiminy leaped into his role as a narrator, educator, or emcee, especially on the original Mickey Mouse Club television show, where the little bug with the outsized talent was given his own regular segment. He also hosted episodes of Disney's hour-long prime time anthology series—starting with 1955's "Jiminy Cricket Presents Bongo," in which the crooning cricket took Dinah Shore's place to sing Bongo's story. Through it all, Disney Legend Cliff Edwards provided Jiminy's pitch-perfect voice.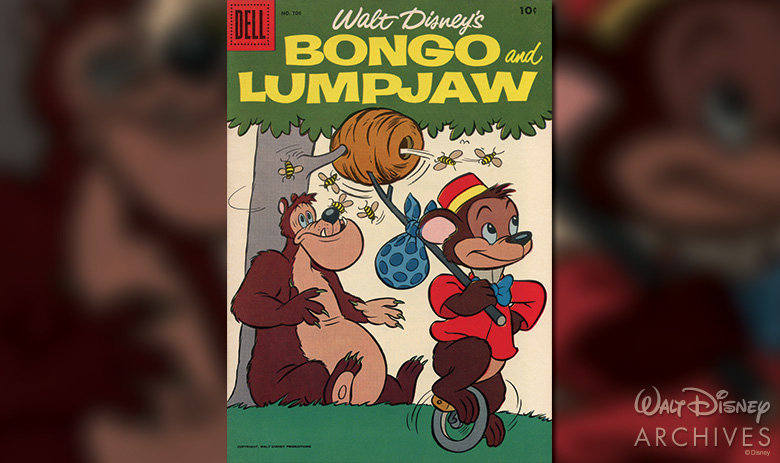 7. Bongo Rides Again on the Printed Page
Walt's early 1940s acquisition of screen rights to the 1930 short story "Little Bear Bongo," by acclaimed American author Sinclair Lewis, was reported as big news within the film industry. As of April 1941, "Bongo" was planned as a feature-length film. Development began, but like "Mickey and the Beanstalk," production on the tale of the wonder bear was halted during World War II. When "Bongo" was released as part of Fun and Fancy Free five years later, it seemed appropriate that the unicycle-riding bruin backpedaled onto the printed page. In addition to starring in story and activity books, Bongo became a headliner in Disney comic books. The lovable little bear was also enshrined as the title character in one of the very first of the Disney Little Golden Books, published in 1948.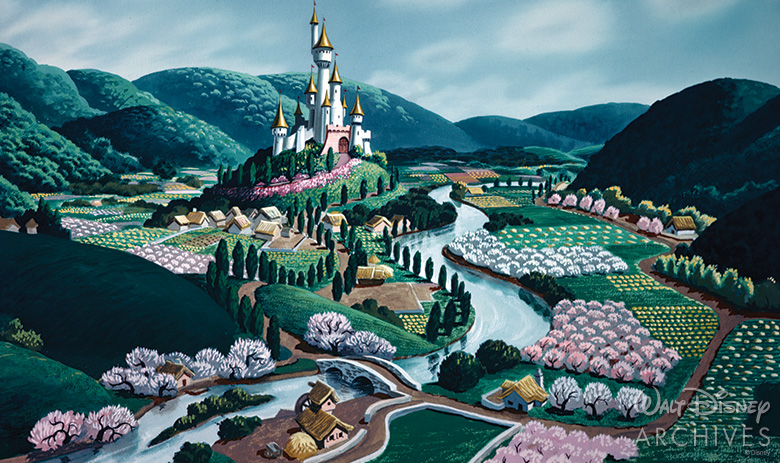 8. Where in the World is Minnie?
Missing Minnie as you watch "Mickey and the Beanstalk"? There's a reason for that. Minnie was initially slated to be the Queen of Happy Valley in "Mickey and the Beanstalk." (After all, someone must live in that big castle besides the Singing Harp!) As originally planned in the feature-length version of the story, it was Queen Minnie who traded the magic beans for Mickey's cow. This explanation of where in the world Mickey gets the beans, which is unexplained in the completed film, was eliminated when poor Minnie was dropped from the story entirely when the film was tightened to featurette-size for Fun and Fancy Free.
9. Edgar Bergen and Charlie McCarthy Tell The Tale
Walt's friend, actor and ventriloquist Edgar Bergen (pictured above), along with his wisecracking sidekick dummy Charlie McCarthy, were the long-running stars of one of radio's most popular comedy show when they were invited to narrate "Mickey and the Beanstalk." Bergen was a natural fit to relate the fanciful tale for he often told stories on his radio program, frequently interrupted by Charlie with an irreverent quip. In addition to being among radio's top talents, Bergen and McCarthy were also film stars (Edgar Bergen was presented with an honorary Academy Award—a wooden Oscar® statuette complete with a hinged jaw—for the creation of Charlie McCarthy in 1938), so they too—along with another of Bergen's wooden characters, country bumpkin Mortimer Snerd, lent some movie-marquee luster to Fun and Fancy Free. Having appeared with Bergen and McCarthy on their radio shows in the past, Walt appeared on the September 21, 1947, episode to celebrate the release of Fun and Fancy Free. Just three years later Bergen and McCarthy returned to Disney to star in Walt's first television production, One Hour in Wonderland, broadcast on Christmas Day 1950.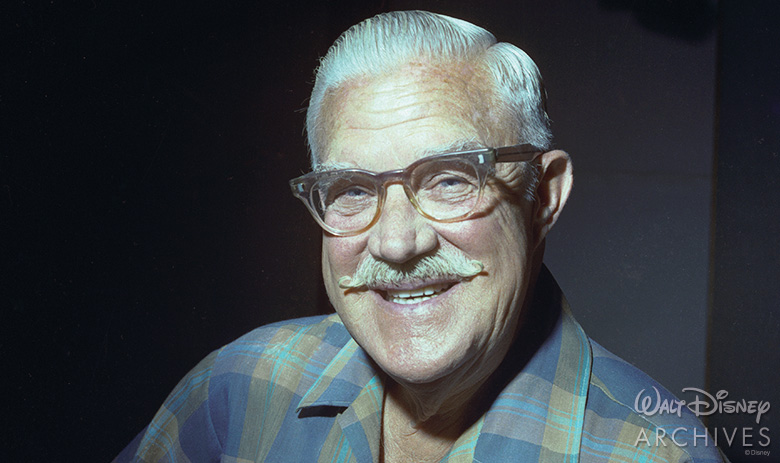 10. Mickey's Voice Changes
The original voice artists behind Donald and Goofy, Clarence "Ducky" Nash and Pinto Colvig, once again stepped up to the microphone for "Mickey and the Beanstalk." As for the main Mouse, Walt originally recorded the dialog for his animated alter ego in the spring and summer of 1940. However, when production resumed in 1946, things—and Mickey's voice—changed. Disney's sound effects whiz Jimmy Macdonald (pictured above) recalled: "The animators and the director in charge of the sequences that needed Walt's voice on Mickey approached him and said, 'Walt, we need you on the stage [for "Mickey and the Beanstalk"]. He said, 'I'm too busy, I just can't do it. Call Jim up here.'"
In the end, the vocal performance heard in "Beanstalk" is part Walt, part Jimmy. But from that point on, except for a few occasions when Walt wanted to step back into Mickey's shoes, Macdonald performed the fa-mouse voice from then until 1977—when he turned over the vocal role to his sound-effects apprentice, Wayne Allwine, who voiced Mickey for more than 30 years. Today, Bret Iwan carries on as the official voice of Mickey Mouse, or as Jimmy Macdonald would have it, is "filling in for the Boss."