By Courtney Potter
Be a part of Star Wars history next Wednesday night, and Disney Channel's ZOMBIES 2 adds to its cast… See more, along with other news from around Disney, in this week's news briefs!
Mark Your Calendars for the Star Wars: Galaxy's Edge Live Dedication Ceremony
Can you believe it? Feels like just yesterday when Disney Chairman and CEO Bob Iger announced the creation of a Star Wars-themed land at Disneyland Resort (and at Disney's Hollywood Studios at Walt Disney World Resort) at D23 Expo 2015… Now, we're only a few days away from the Star Wars: Galaxy's Edge mega-huge grand opening! To celebrate, our pals at the Disney Parks Blog have just announced that they'll be hosting a very special #DisneyParksLIVE stream—presented by AT&T—covering the dedication ceremony on Wednesday, May 29, beginning at 8:20 p.m. PDT/11:20 p.m. EDT. (Trust us, East Coast friends; it'll be worth staying up for!) Take a look at the live dedication's brand-new teaser, above.
Don't miss this truly historic moment! And while you're waiting, why not revel a bit more in all things Star Wars by checking out D23's Cool Things You Might Not Know About Star Wars: Galaxy's Edge. Best be galactically well-prepared for your very first trip to Batuu…
Save the Date!
Be sure to mark these upcoming Disney events on your calendar:
D23 and Walt Disney Archives


June 1, 2019


D23's Behind-the-Scenes Experience: Return to Walt's Chicago


June 8, 2019


Lunch with a Disney Legend – Paige O'Hara


June 10, 2019


The Official Walt Disney Studios Tour – Presented by D23


June 13, 2019


Mickey Mouse's Roller Disco Party


June 15, 2019


Celebrate Toy Story 4 with D23 Shopping Mixers


June 22, 2019


The Official Walt Disney Studios Tour – Presented by D23


August 23-25, 2019


D23 Expo 2019
Parks


March 6-June 3, 2019




Epcot International Flower & Garden Festival




May 31, 2019


Star Wars: Galaxy's Edge Opening at Disneyland Resort


August 29, 2019


Star Wars: Galaxy's Edge Opening at and Walt Disney World Resort


August 29—November 23, 2019, 2019




2019 Epcot International Food & Wine Festival




November 29—December 30, 2019, 2019




2019 Epcot International Festival of the Holidays




Studios




May 24, 2019


Aladdin opens in U.S. theaters


June 21, 2019


Toy Story 4 opens in U.S. theaters


July 19, 2019


The Lion King opens in U.S. theaters


October 18, 2019


Maleficent: Mistress of Evil opens in U.S. theaters


November 22, 2019


Frozen 2 opens in U.S. theaters


December 20, 2019


Star Wars: The Rise of Skywalker opens in U.S. theaters


Television




June 21, 2019


Final episodes of Andi Mack begin airing (8 p.m. EDT/PDT)


Summer 2019


Descendants 3 premieres on Disney Channel and DisneyNOW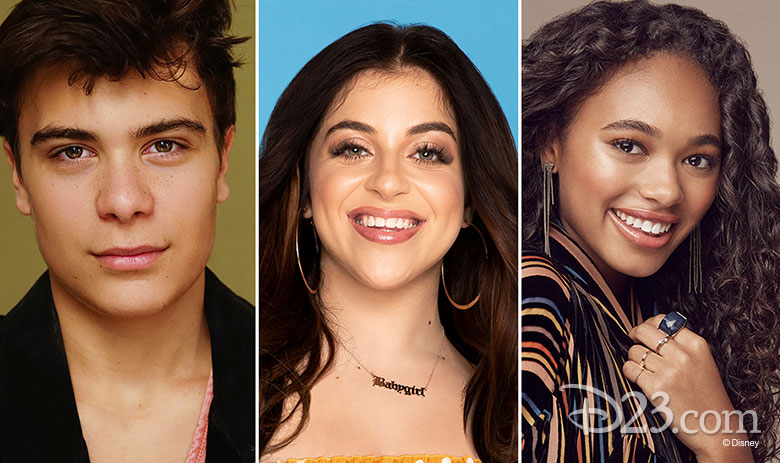 Disney Channel Original Movie ZOMBIES 2 Adds Werewolf Cast
Yes, you read that correctly… there are werewolves coming to Disney Channel, and they're joining up with some zombie favorites! Actors Pearce Joza (Mech X-4), Chandler Kinney (Fox's Lethal Weapon), and social media personality Ariel Martin (aka Baby Ariel) will join the cast of the Disney Channel Original Movie ZOMBIES 2 as teen werewolves Willa, Wyatt, and Wynter.
Reprising their fan-fave ZOMBIES roles for the film are Kylee Russell as Eliza, Trevor Tordjman as Bucky, Carla Jeffery as Bree, James Godfrey as Bonzo, and Kingston Foster as Zoey—along with previously announced stars Meg Donnelly and Milo Manheim (last seen sashaying across the dance floor on ABC's Dancing with the Stars).
ZOMBIES introduced Zed (Manheim), a zombie football player, and Addison (Donnelly), a human cheerleader, who united their respective communities in the town of Seabrook. Look for the sequel to pick up after last year's groundbreaking semester at Seabrook High, as a new group of outsiders—mysterious werewolves—threaten the newfound unity… and cause a rift between Zed and Addison. Watch for ZOMBIES 2 to debut next year.
Latest Toy Story 4 Trailer Follows Forky's Wild Adventures
It's only a matter of weeks before we get reacquainted with Sheriff Woody (voice of Tom Hanks), Buzz Lightyear (voice of Tim Allen), and Bo Peep (voice of Annie Potts)—and meet reluctant new toy Forky (voice of Tony Hale) for the first time—in Disney•Pixar's Toy Story 4. Feast your eyes on the film's latest trailer, above.
When Bonnie's beloved new craft-project-turned-toy Forky declares himself "trash," and definitely not a toy, Woody takes it upon himself to show Forky why he should embrace his new life. But when Bonnie takes the whole gang on her family's road trip, Woody ends up on an unexpected detour that includes a reunion with his long-lost friend Bo Peep. After years of being on her own, Bo's adventurous spirit and life on the road contradict her delicate porcelain exterior. As Woody and Bo realize they're worlds apart when it comes to life as a toy, they soon come to find that's the least of their worries… Look for Toy Story 4, directed by Josh Cooley (Riley's First Date?), in a theater near you June 21.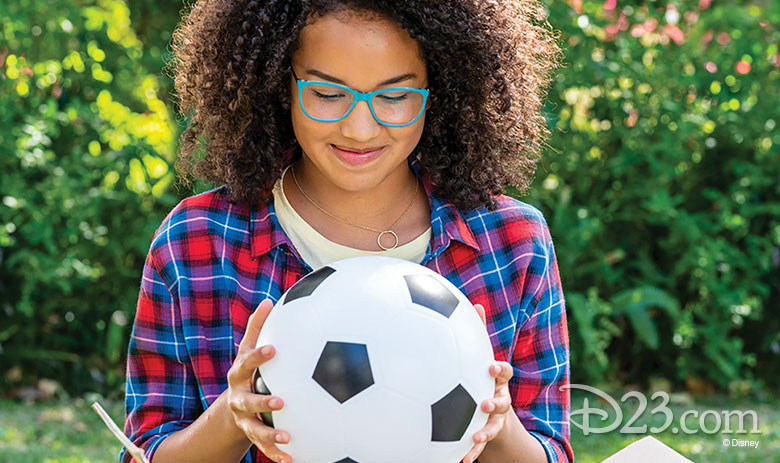 Coming Soon to Disney Channel: Sofia Wylie Stars in Back of the Net
Here's a goal to set for summer… don't miss the latest project from Andi Mack's Sofia Wylie! Back of the Net, an original movie that just premiered in Australian theaters, is coming to Disney Channel and DisneyNOW on Saturday, June 15, at 8 p.m. EDT/PDT.
Wylie stars as ace science student Cory Bailey, who excitedly sets out for Sydney to embark on a semester at sea aboard an advanced research vessel. But when she lands in Australia, she inadvertently boards the wrong bus, misses the boat, and winds up at—of all places—Harold Soccer Academy. Now, she's stuck there for the summer… but despite her disinterest in soccer, and some serious thwarting by the camp's mean girl, Cory applies her unique strengths in science to end her team's losing streak.
Later this year, make sure to look for Wylie co-starring as Gina, a die-hard theater kid with several skeletons in her closet, on Disney+'s brand-new High School Musical: The Musical: The Series.
Discover a Kaleidoscope of Colors in the New Rainbow Disney Collection
In celebration of Pride month, Disney Parks, Experiences, and Products recently unveiled their new Rainbow Disney Collection, available now through June 30. Check out the colorful selection of apparel and accessories right here at D23.com.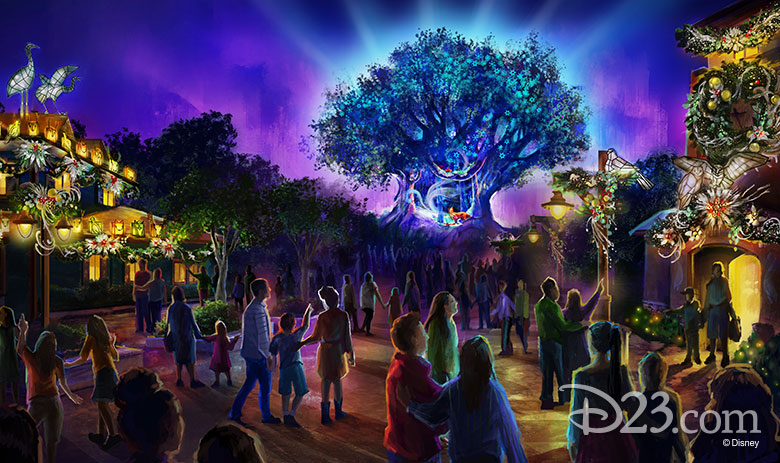 Breathtaking New Holiday Offerings Coming to Disney's Animal Kingdom
If you read News Briefs with any regularity, you know we're big fans of the holidays—and we've been known to start planning our yearly merry-making several months in advance. So we're positively bedecked-with-boughs-of-holly over this news from our friend at Walt Disney World Resort.
This year, Disney's Animal Kingdom will be offering up festive new entertainment and holiday décor in every land… including a beautiful celebration of winter (created by an eclectic community of artisans) and a holiday gathering of winter animals on Discovery Island; a heartwarming new series of musical tales from the Tree of Life; a cheerful holiday version of Donald's Dino-Bash at Dinoland, U.S.A.; authentically colorful presentations throughout the village of Harambe in Africa; some totally kitschy holiday décor inside Pandora – The World of Avatar; and much, much more.
Look for the holidays to blanket Disney's Animal Kingdom with mirth and merriment beginning November 8.
Uma Vows Revenge in Latest Descendants 3 Trailer
"Their time is coming to an end… I promise you: Mal will fall." So sayeth Uma (China Anne McClain), who's back and ready for revenge in the Disney Channel Original Movie Descendants 3. Can the VKs and their Auradon cohorts stop her before it's too late? Take a look at the movie's latest teaser by clicking here.