By Jim Frye
Grab your interstellar passport, a planetary map, and get ready for your biggest adventure of the year, because fewer than two weeks remain until the opening of Star Wars: Galaxy's Edge at Disneyland park! After years of planning and months and months of hard work, the gates are about to swing open, welcoming fans to all the tasty new alien treats, shiny new droids, and high-flying hyper-speed missions in the outer rim of that far-off galaxy.
As you prepare for your trip to this fantastic new land in a galaxy far, far away, here are five cool things you might not yet have heard about.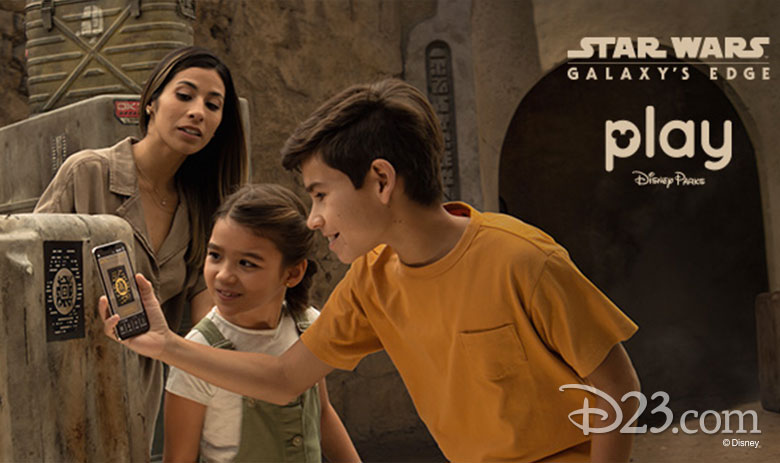 1. STAR WARS: DATAPAD. First, make sure to download the Play Disney Parks app before you arrive, because once you enter the Black Spire Outpost, you can use it to turn your phone into the Star Wars: Datapad. This Datapad will allow you to interact with droids, scan objects for special messages, and translate Aurebesh, the written language of the Star Wars The app also helps you to unscramble coded transmissions and hack into the cool devices, control panels, and even droids that you'll encounter.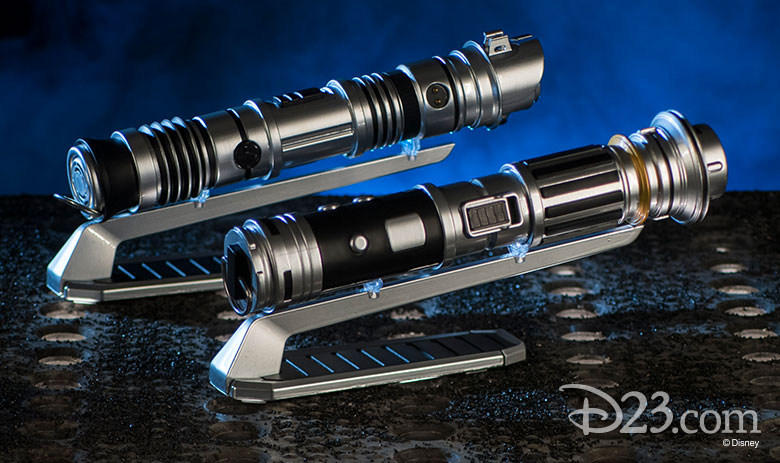 2. CUSTOM LIGHTSABERS. Feel the Force! When it comes to picking out your very own lightsaber, you have two options to choose from—either a legacy version or a custom creation that you make yourself! The first location to check out is Dok-Ondar's Den of Antiquities, which will have 10 lightsabers available, each based on famous blades from Star Wars. The second spot, though—called Savi's Workshop—allows you to build your very own lightsaber from materials in the shop, including differently colored kyber crystals.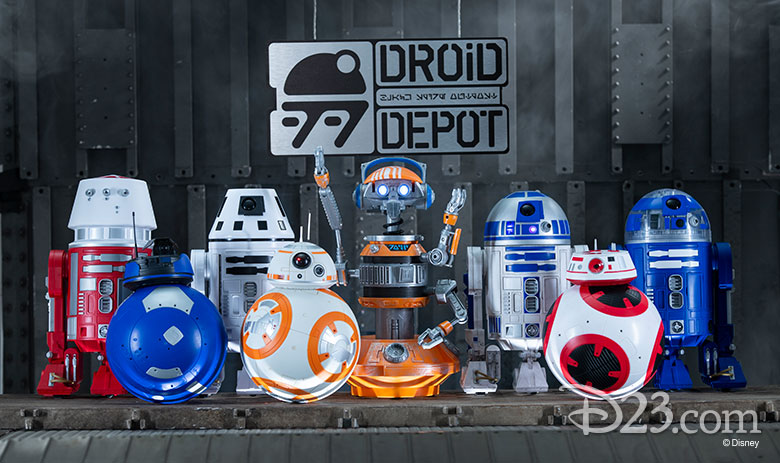 3. TAKE A DROID HOME. In another area of the theme park, the eerie narrator of your Doombuggy warns that a ghost may follow you home from the Haunted Mansion. It's meant as a warning, but in Galaxy's Edge you'll actually want to take someone home with you—your very own droid. Just stop by Mubo's Droid Depot to design and acquire the perfect droid for you. There are two basic models: an R2 unit—like R2-D2—or a BB unit, similar to the adorable BB-8. A conveyor belt provides all the pieces you need to assemble your newest creation, after which you choose a personality circuit. C'mon, admit it—we've all wished we could have a droid friend to hang with, and now we can.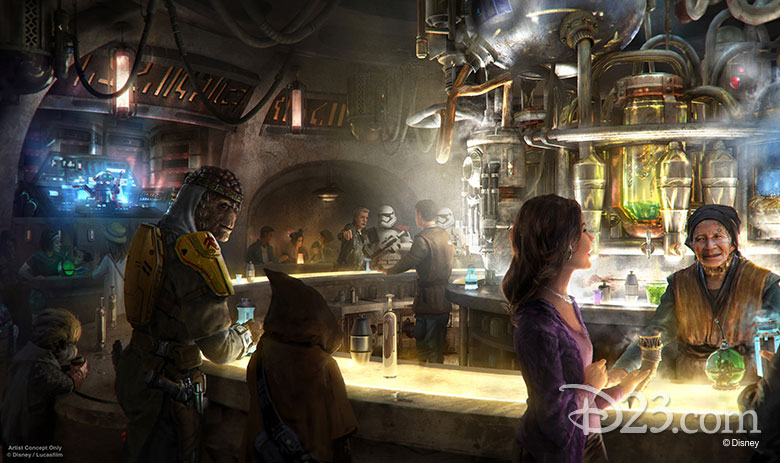 4. BREAKFAST IN BLACK SPIRE OUTPOST. Aliens eat breakfast, too, so it makes perfect sense that Oga's Cantina will cater to this hungry crowd. If you're lucky enough to visit early in the day (and why shouldn't you?), then don't miss out on the tasty breakfast options at Oga's, which will open most mornings at 8 a.m. Feeling adventurous? Try Oga's Rising Moons Overnight Oats and Mustafarian Lava Rolls. You can also head over to Docking Bay 7 Food and Cargo, which has plenty of breakfast offerings, including meals for the youngest aliens in your group, such as the Bright Suns Youngling Breakfast (scrambled eggs, purple potatoes, and fresh fruit).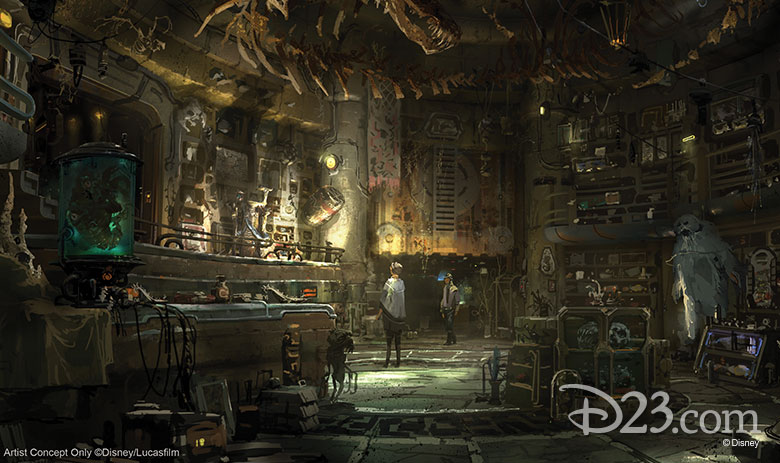 5. ALIENS, ALIENS, and MORE ALIENS! Be prepared to see and hear aliens of all stripes and sizes wandering the streets of Black Spire Outpost. But for an up-close and personal look at some of the best-known creatures from the Star Wars films, make sure to visit Dok-Ondar's Den of Antiquities, a place full of oddities from across the galaxy. Dok Ondar himself is an Ithorian—in the original Star Wars: A New Hope film, the "Hammerhead" alien was an Ithorian. He has two very familiar creatures within the walls of his shop. In his aquarium, guests will find a baby Dianoga, which is the same type of creature that was seen inside the trash compactor with Luke, Han, and Leia in A New Hope. And on Dok Ondar's wall is the head of a taxidermized Wampa, which is the same type of creature that attacked Luke and dragged him into a cave on the planet Hoth in Star Wars: The Empire Strikes Back.
These are just some of the sights, sounds, and tastes you have in store for you upon your journey to Batuu. Star Wars: Galaxy's Edge opens May 31 at Disneyland in Anaheim and August 29 at Disney's Hollywood Studios in Florida. May the Force Be With You!