By Courtney Potter
New ZOMBIES 3 Trailer Will Have You Saying "U.F.Whoa!"
Yes, it's true: Disney+ just revealed the official trailer for the original movie ZOMBIES 3! The "trequel" in the hit music-driven franchise will premiere in just a few weeks' time, on Friday, July 15; a special "Lost Song" version of the movie will follow on Friday, August 12, on Disney Channel.
ZOMBIES 3 stars Milo Manheim as zombie Zed and Meg Donnelly as cheerleader Addison, who are beginning their senior year at Seabrook High in the town that's become a safe haven for monsters and humans alike. Zed is anticipating an athletic scholarship that will make him the first zombie to attend college, while Addison is gearing up for Seabrook's first international cheer-off. Then, suddenly, extraterrestrial beings arrive in Seabrook, provoking something other than friendly competition.
Rounding out the cast are Chandler Kinney as Willa, Ariel Martin as Wynter, Pearce Joza as Wyatt, Carla Jeffery as Bree, Trevor Tordjman as Bucky, Kylee Russell as Eliza, Terry Hu as A-spen, Matt Cornett as A-lan, Kyra Tantao as A-li, James Godfrey as Bonzo, and Kingston Foster as Zoey, with multiple Emmy® Award winner RuPaul Charles (RuPaul's Drag Race) voicing "The Mothership."
5 Fantastic Things to Watch This Weekend Presented by State Farm®
The summer solstice has come and gone, but temps remain high around much of the country—so cool off with a glass of frosty lemonade (if you're into that sorta thing, natch) and some choice viewing from around the worlds of Disney. See what happens when several brothers from one amazingly tenacious family take on the NBA in Disney+'s Rise; check out an all-new episode of BUNK'D; scavenger-hunt through EPCOT in a brand-new Disney's Summer Magic Quest special; and so much more!
Pack Your Bags—It's Almost Time for LEGO® Star Wars Summer Vacation
There's an all-new animated special just over the horizon from our friends at Lucasfilm and the LEGO Group—and it's the newest entry in the popular storytelling series that began with LEGO Star Wars Holiday Special and continued with LEGO Star Wars Terrifying Tales…
Set shortly after the events of Star Wars: The Rise of Skywalker, LEGO Star Wars Summer Vacation follows Finn as he arranges a surprise vacation for his friends Rey, Poe, Rose, Chewie, BB-8, R2-D2, and C-3PO, aboard the ultra-luxurious Galactic Starcruiser, the Halcyon. But Finn's plan to have one last hurrah together quickly goes awry when he's separated from the group. While searching for his friends, he encounters three Force ghosts: Obi-Wan Kenobi, Anakin Skywalker, and Leia Organa, who each share their own unexpected stories of vacations gone wrong—helping him to understand that holidays are about more than just having fun.
The voice cast is a veritable "who's who" of awesome: "Weird Al" Yankovic—who also provides the special's new song, "Scarif Beach Party"—as Vic Vankoh; friend of D23 Yvette Nicole Brown as Colvett Valeria; Anthony Daniels as C-3PO; Kelly Marie Tran as Rose; Billy Dee Williams as Lando (Holovid); Thomas Lennon as Wick Cooper; Paul F. Tompkins as Rad; Dee Bradley Baker as Boba Fett; Ashly Burch as the Tour Droid; Kyliegh Curran as Sidero; Trevor Devall as Emperor Palpatine; Allie Feder as Sy Snootles; Jake Green as Poe Dameron; Matt Lanter as Anakin Skywalker; Ross Marquand as Han Solo; Omar Miller as Finn; Kevin Michael Richardson as Jabba the Hutt; Matt Sloan as Darth Vader; James Arnold Taylor as Obi-Wan Kenobi; Helen Sadler as Rey Skywalker; Matthew Wood as Ben Solo; and Shelby Young as Leia Organa.
Mark those calendars: LEGO Star Wars Summer Vacation premieres Friday, August 5, exclusively on Disney+!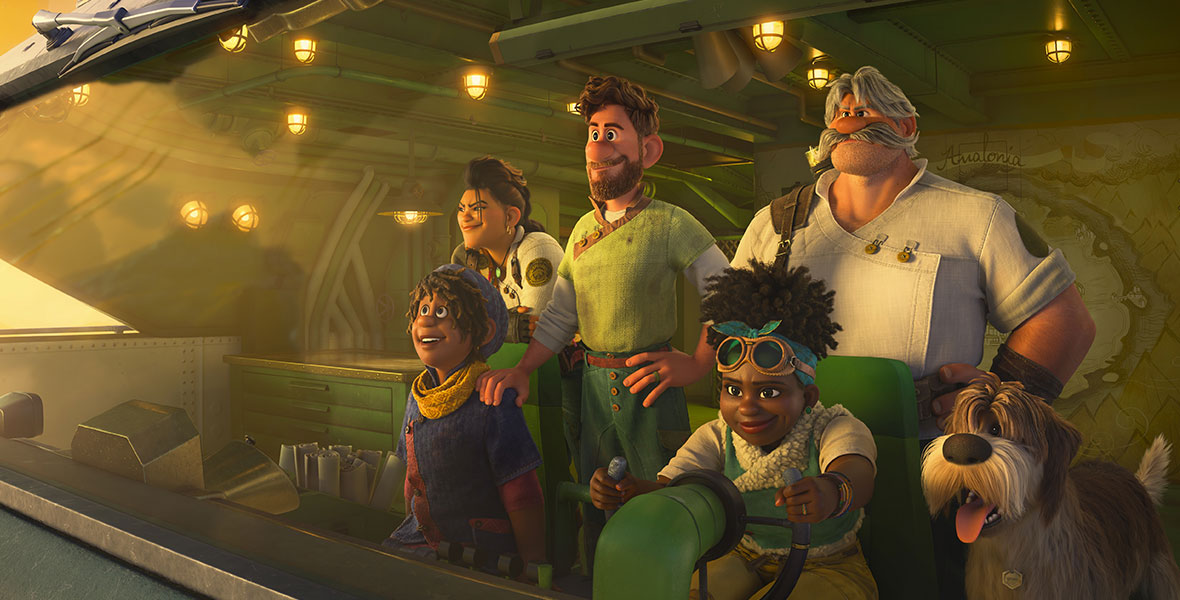 Voice Cast Announced for Walt Disney Animation Studios' Strange World
 At the recent Annecy International Animated Film Festival, Walt Disney Animation Studios presented an exclusive look at over 10 minutes of footage from Strange World, its next animated feature. Set for release on November 23, the original action-adventure journeys deep into an uncharted and treacherous land where fantastical creatures await the legendary Clades, a family of explorers whose differences threaten to topple their latest—and by far—most crucial mission.
The studio also revealed key members of the voice cast joining previously announced actor Jake Gyllenhaal, who lends his voice to Searcher Clade—a farmer who finds himself thrust into an adventure in a strange world. He's joined by Dennis Quaid as Jaeger Clade, Searcher's larger-than-life explorer father; Jaboukie Young-White as Ethan Clade, Searcher's 16 year-old son who longs for adventure beyond his father's farm while also navigating a school crush; Gabrielle Union as Meridian Clade, a pilot and natural leader, mom to Ethan, and wife of Searcher; and Lucy Liu as Callisto Mal, the head of the land of Avalonia and the leader of the exploration into the strange world.
Stay tuned for more about Strange World in the coming months…
Celebrating Walt Disney's Legacy Aboard the Disney Wish
Unless you've only very recently come back from a multi-year sojourn in a place with zero internet, you know that the Disney Wish—the newest Disney Cruise Line ship—is just a few weeks' away from embarking on its maiden voyage. The ship, a celebration of nearly 100 years of Disney magic, will provide guests with a one-of-a-kind vacation including all manner of enchanting experiences inspired by Disney, Marvel, Star Wars, and Pixar stories and characters.
Recently, the good folks over at Disney Parks Blog shared a first look at two dining venues dedicated to the rich history of The Walt Disney Company and Walt Disney himself: 1923 and Marceline Market. Named for the year The Walt Disney Company was founded—of course, the same reason we're called D23!—1923 is an elegant celebration of the company's legacy, paying homage to the golden age of animation and offering a tasteful tribute to its Californian heritage. The restaurant, as seen in the image above, combines Hollywood glamour with Disney magic and features two dining rooms named after Walt and Roy Disney. The rooms are adorned with more than 1,000 drawing, props, and other unique artifacts, including a look at the evolution of Disney animation from Snow White and the Seven Dwarfs to Frozen 2. Guests will enjoy sophisticated dishes designed with families in mind and inspired by the fusion of cultural flavors found throughout the Golden State. The diverse menu of dishes is inspired by the flavors of California, and incorporates a blend of Asian, European, and South American cuisines.
Meanwhile, Marceline Market (named for Walt Disney's early childhood hometown in Missouri) is a stylish food hall inspired by popular marketplaces around the world. The restaurant includes both indoor and outdoor seating with amazing views of the ocean, and offers casual service for breakfast and lunch, followed by table-service dining at dinnertime with entrees cooked to order.
For more info about the Disney Wish or to book a vacation, visit disneycruise.com, call Disney Cruise Line at 888-325-2500, or contact your travel agent!
ICYMI: Getting Inventive with the Creative Team Behind Disney Junior's Eureka!
D23 recently spoke exclusively with the folks behind Eureka!, an adorable new animated series from Disney Junior, to find out what makes the series so unique. See what co-executive producer and story editor Erica Rothschild, and co-creators and executive producers Norton Virgien and Niamh Sharkey, had to say about the series by clicking here.