By Courtney Potter
Star Wars Celebration Europe Teases Rogue One: A Star Wars Story
Just this past weekend, Star Wars fans from literally all over the globe descended upon London for several days of fantastic, force-full fun… and thankfully, for those of us who were unable to attend in person, the Internet is now chock-full of brand-new Star Wars-related goodies. Exciting announcements included the casting of actor Alden Ehrenreich as young Han Solo in Phil Lord and Chris Miller's upcoming Star Wars spinoff, as well as an illuminating panel with Episode VIII director Rian Johnson. But perhaps most notably, Star Wars Celebration Europe presented us with our first in-depth look at Rogue One: A Star Wars Story, the latest Star Wars film—set shortly before the events of Episode IV: A New Hope—coming to theaters this winter. First off, there's the film's brand-new teaser poster, above. There's just so much to take in from the image… the palm trees; the Stormtroopers walking through knee-deep water; the cool new droid on the far left; the massive Death Star in the background… what does it all mean? We cannot wait to find out!
While it may not answer all those burning questions, there's also a new "Celebration Reel" featurette (above), which takes an amazing behind-the-scenes look at the making of the film. You'll hear from director Gareth Edwards, as well as star Felicity Jones and perennial Star Wars favorite Warwick Davis. Looks like they're taking a page from Star Wars: The Force Awakens with all kinds of practical (i.e. non-"green screen") effects…
Rogue One: A Star Wars Story—also featuring Diego Luna, Forest Whitaker, and Alan Tudyk—takes your local cineplex by storm on December 16.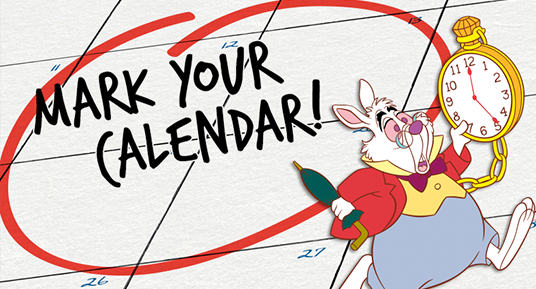 Save the Date!
Be sure to mark these upcoming Disney events on your calendar:
D23 and Walt Disney Archives


August 20


The Reluctant Dragon 75th Anniversary on the Lot


August 22


D23 Presents Aloha Aulani!


October 5


D23's Sip & Scream


October 5


D23 Behind-the-Scenes Experience: A Midnight Soirée at the Tower of Terror


November 19–20


D23 Destination D: Amazing Adventures


July 14-16, 2017


D23 Expo 2017


Studios




August 12, 2016


Pete's Dragon opens in theaters


September 23, 2016


Queen of Katwe opens in theaters


November 4, 2016


Moana opens in theaters


November 23, 2016


Doctor Strange opens in theaters


December 16, 2016


Rogue One: A Star Wars Story opens in theaters
Parks
September 2, 8, 11, 13, 16, 18, 20, 23, 25, 29, 30; October 2, 4, 6, 7, 10, 11, 13, 14, 16, 18, 20, 21, 23, 25, 27, 28, 30, 31
Mickey's Not-So-Scary Halloween Party at Walt Disney World Resort
November 7, 8, 10, 11, 13, 15, 18, 27, 29; December 1, 2, 4, 6, 8, 9, 11, 13, 15, 16, 18, 22
Mickey's Very Merry Christmas Party at Walt Disney World Resort
September 2–October 29 (Friday and Saturday Nights, plus October 31)
Club Villain, special ticketed event at Disney's Hollywood Studios
September 14–November 14, 2016
Epcot International Food & Wine Festival


Television




July 22


Elena of Avalor premieres on Disney Channel at 7 p.m. ET/PT
New Trailer for Star Wars Rebels Season Three
You didn't think the news out of Star Wars Celebration Europe would stop with nifty Rogue One fun, did you? Au contraire! A brand-new trailer for Season Three of Disney XD's Star Wars Rebels also debuted, and with it came some really big hints of what's to come!
The new season will introduce characters Grand Admiral Thrawn—a fan-favorite from Star Wars Legends, voiced by House of Cards co-star Lars Mikkelsen—and Bendu, an ancient and powerful new character voiced by classic Doctor Who actor Tom Baker. Additionally, the trailer also signals a much larger leadership role for the series' rebel firebrand, Sabine Wren (voiced by Tiya Sircar), whose Mandalorian roots will also be further explored.
Look for Star Wars Rebels Season Three this fall on Disney XD.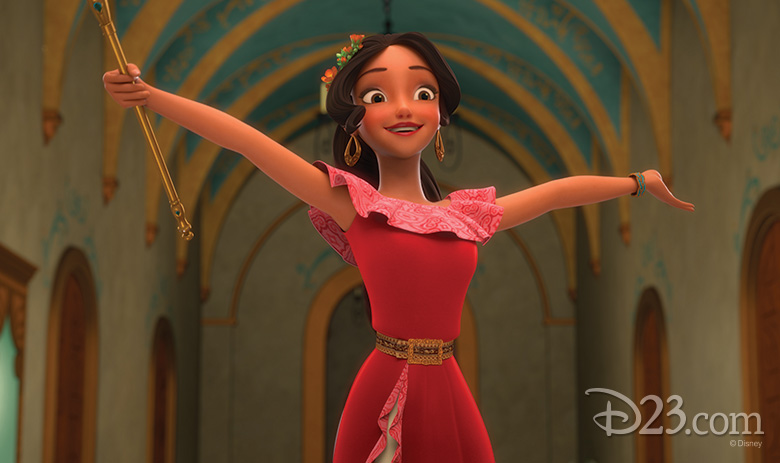 Elena of Avalor Adds More Disney Dazzle to Friday's Premiere!
As if this Friday's premiere of Disney Channel's latest animated series, Elena of Avalor, wasn't enough, they've gone and added a heapin' spoonful of special Disney previews to the mix!
Two consecutive episodes will debut, simultaneously on both Disney Channel and Disney Junior, from 7 p.m. to 8 p.m. EDT—with limited interruption. Additionally, the night's special content will include a first look at the upcoming animated short-form series LEGO Frozen Northern Lights; an exclusive scene from Disney's Pete's Dragon (opening in theaters August 12); and the TV premiere of the live-action Beauty and the Beast teaser trailer. Yowza! Truly an embarrassment of riches…
Set in the enchanted fairytale land of Avalor, Elena of Avalor tells the story of a brave and adventurous teenager who has saved her kingdom from an evil sorceress—and must now learn to rule as crown princess until she's old enough to be queen. Elena's journey will lead her to understand that her new role requires thoughtfulness, resilience, and compassion, the traits of all truly great leaders.
Dining Gets Muppet-y at Disney's Hollywood Studios This Fall
The Muppets Courtyard at Disney's Hollywood Studios gets a makeover this fall as PizzeRizzo—a new casual Italian-American dining experience—opens in the former Toy Story Pizza Planet location. Owned by Rizzo The Rat—the wisecracking Muppet and best friend to Gonzo the Great, last seen as a writer on ABC's The Muppets)—PizzeRizzo will allow guests to grab a cold drink and a slice o' pepperoni while reveling in some Rizzo family history.
The good folks at Walt Disney Imagineering have added all kinds of hints of Mr. The Rat, his extended family, and his friends throughout the two-story establishment; in addition to indoor and outdoor seating areas, there's also a "cheesy" banquet room and a special booth designated just for Rizzo's VIP pals.
Hungry for more details and a grand-opening date? Stay tuned…
First Look at Disney's Descendants 2
We first met the offspring of favorite Disney villains in last year's Descendants, featuring Sofia Carson (Adventures in Babysitting) and directed and choreographed by Kenny Ortega (Hocus Pocus). Luckily, the Disney Channel movie proved so popular, we're getting another installment! And judging by the new teaser trailer, above, things are about to get a little fishy…
Here's what we know about Descendants 2, so far: The children of Maleficent, the Evil Queen, Cruella de Vil, and Jafar will meet their most powerful adversary yet… who just happens to be the daughter of The Little Mermaid's fabulously evil Ursula. The film is set to go into production later this year, for a 2017 Disney Channel premiere.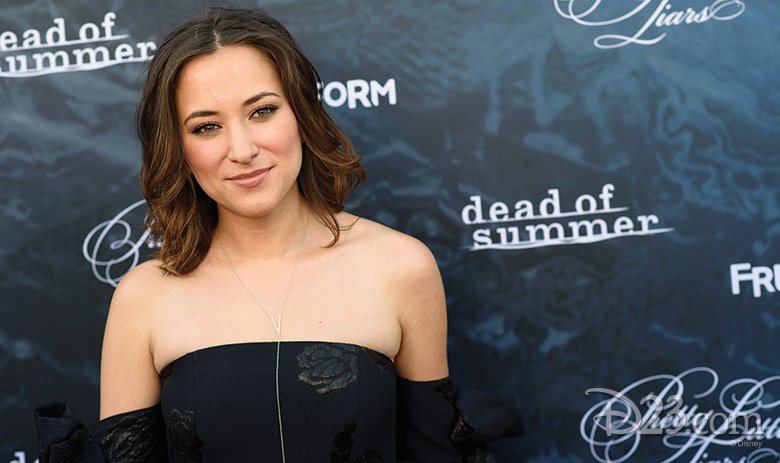 Zelda Williams to Narrate Freeform's The Letter
Robin Williams' daughter, actress Zelda Williams, is currently starring on Freeform's Dead of Summer—but she's already got another Freeform series up her sleeve! Zelda will be the voice behind The Letter, a one-hour unscripted relationship show that focuses on friends challenging each other to better themselves through anonymous letters written to each other; she'll also serve as a producer on the series.
In each stand-alone episode of The Letter, four friends for life draw names and anonymously write to the selected person a thoughtful, yet totally honest letter outlining their opinion of what needs to be changed in order to improve and transform their friend's life for the better. For one week, each "reader" must follow all the rules and instructions outlined in the letter—culminating in a dramatic (and emotionally charged) meeting where the authors of each letter reveal themselves to their best friends. Look for The Letter later this year on Freeform.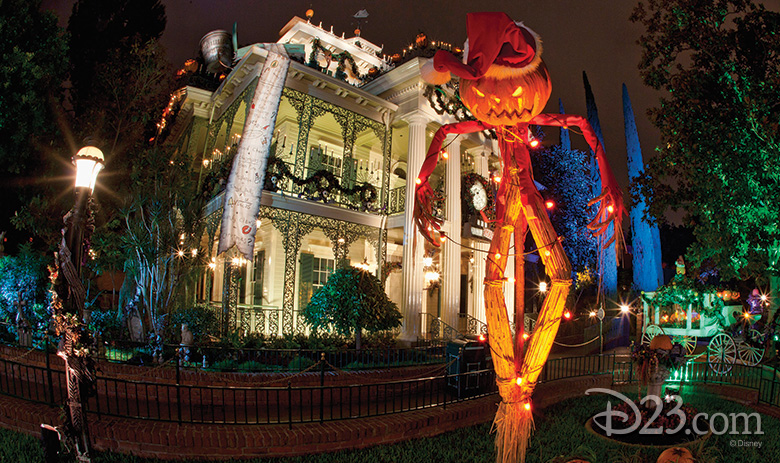 Disneyland Resort's Halloween Time Kicks Off September 9
Sure, we're still in the throws of summer… but we've got exciting Halloween-related news that we can't wait to share. Halloween Time at the Disneyland Resort—when Mickey Mouse and pals create spooky fun throughout the park—is kicking off on September 9, bringing with it a full 17 nights of Mickey's Halloween Party plus the return of seasonal faves like Space Mountain Ghost Galaxy and Haunted Mansion Holiday!
Mickey's Halloween Party is a separately ticketed event that features fantastic trick-or-treating (yes, you can come in costume!), spectacular "Halloween Scream" fireworks, and—new this year—the Headless Horseman of Sleepy Hollow (from Disney's animated The Adventures of Ichabod and Mr. Toad), who will make a ghostly ride through the heart of Disneyland Park each night of the party.
To see what nights Mickey's Halloween Party comes to life—and for more info on tickets—visit the event's page on Disneyland.com.
Zootopia Gets Emoji-fied
Our friends at Disney Interactive have released the next installment in their super-cute As Told By Emoji series and this one is especially "zoo-riffic"! Zootopia As Told By Emoji launched on Sunday, July 17—which just happens to have been World Emoji Day—as part of an As Told By Emoji marathon airing on Disney Channel. See emoji-fied versions of Judy Hopps, Nick Wilde, and "every bunny else" as they re-tell the story of Walt Disney Animation Studios' blockbuster film, now available on Blu-ray, DVD, and Digital.