When the D23 staff visited the Walt Disney Archives to examine some extremely rare photographs sourced from rolls of film found in Walt's personal camera (see more discoveries in the latest episode of Armchair Archivist), the pinch-me moments that followed lasted only for a few seconds. Disney archivists had recently rediscovered these amazing photographs and were excited to share the magic these images had in store. Here we present a sampling of this collection; glimpses of the extraordinary life of Walter Elias Disney.
Disney fans are well aware of some of Walt Disney's original inspirations for Disneyland, as described in this 1963 interview with the Canadian Broadcasting Company, where he remembers trips to the Griffith Park merry-go-round.

As Walt explains in the above video, Sundays were daddy's time to be with his daughters, and they would often visit the carousel at Griffith Park in Los Angeles, California.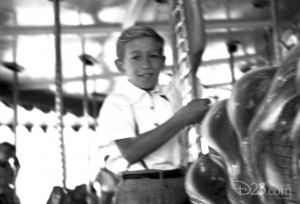 Photographs from the camera reveal that Roy E. Disney also accompanied his uncle's family—at least he did on this occasion (c. late 1930s).
Additionally, these photo below were taken with Walt's personal camera throughout his life. The photos show candid moments, now available to the general public, from his travels.