By Jeffrey Epstein
Red wig. Black leather pants. Lots of butt-kicking. Fifteen years ago this television season, Alias burst onto ABC and sent pulses rising with its heart-stopping action, twisty plotlines, and a never-ending parade of wild costumes. The show, which filmed on the Disney lot, made Merrin Dungey a familiar face to fans as Francie, best friend to Jennifer Garner's double-agent Sydney. As the show took unexpected shocking turn after unexpected shocking turn, Francie was murdered by Alison Doren, who (in another unexpected shocking turn) had become Francie's doppelgänger—thanks to some genetic enhancements. Dungey accepted the challenge of playing both roles—and ended up with some very funny stories to tell in the process. Since then, Dungey has been a familiar face on ABC and Freeform with roles on Revenge, Chasing Life, Once Upon a Time, and now as former detective Maxine Bohen opposite Marvel's Agent Carter's Hayley Atwell on Conviction, where they are part of a team set to the task of turning over cases where there is credible suspicion of wrongful conviction. We caught up with the actress to look back on some of her favorite moments filming Alias, why fans of that groundbreaking show will love Conviction, and being a member of the Disney family.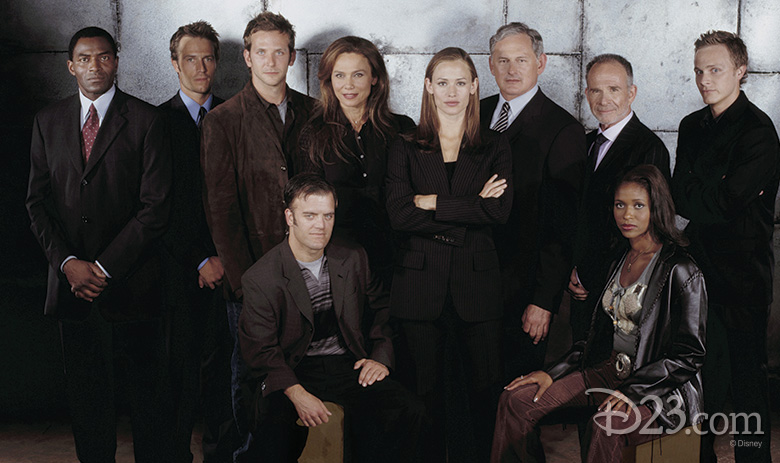 Can you believe it's been 15 years since Alias premiered?
Merrin Dungey (MD): I try not to think about how long ago it was, thank you. They think you're a billion years old. [Laughs]
It was really a show that established ABC as being a great home for strong female characters.
MD: One hundred percent. You have that and Once [Upon a Time] and Scandal and Grey's Anatomy—and even Desperate Housewives.
And now you're on another show featuring powerful women—Conviction.
MD: [Atwell's character] Hayes is a force to be reckoned with, that one. She's a beast and gets more spicy as the episodes go on.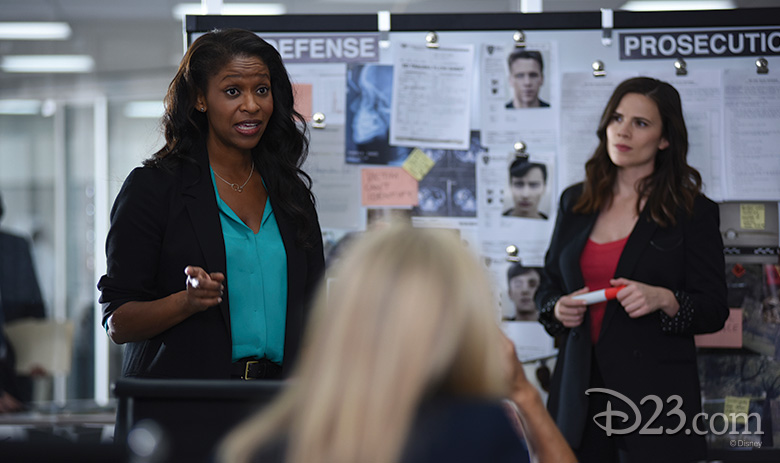 Your character is strong as well.
MD: Totally. My character is kind of an anchor to a lot of things—she's somewhat detective and sort of the pragmatist, seeing things from the cop angle. I'm just like brass tacks—don't mess with me!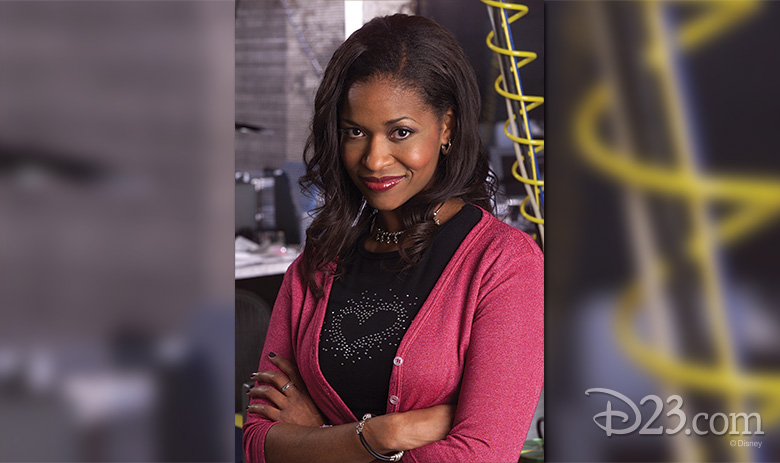 What are some of your favorite memories Alias?
MD: Getting the part and meeting [Alias creator] J.J. Abrams and what a joy he is—and how excited I was. It was something completely different and fresh. [Alias] opened the doors for so many different things and still does. It opened the door to Once Upon a Time even. J.J. saw something in me that nobody else sees. I remember at the Upfronts [where networks annually present shows to advertisers] he asked, "Do you know how to fight?" I said, "Nah." He said, "Learn," and walked away. I ran over to Jennifer and said, "What do I do?" And she said, "Go to this guy." So I did, and I trained for a year for that one fight [where Sydney and Francie/Alison come to blows in their apartment]. But I was ready. There's a moment in the fight when I jump over the counter and kick her in the pipes. They told me they were prepping a stunt double for it. I said, "No, no, no, no. I can do this!" I ran onto the set, and J.J. looks at me and Jennifer looks at me and they're like, "Don't ruin Jennifer's face." And we did it, and we got it in one take and everyone applauded. And Jen was like, "There was wind across my face when your foot went by!"
Do you have a favorite line?
MD: "Francie doesn't like coffee ice cream." At least once a month I get that. And by the way, Merrin doesn't like coffee ice cream either.
When D23 gives tours to members on the Studio lot, we pass many places where Alias filmed. Do you have memories of shooting on the lot?
MD: I remember I was meeting Ron Rifkin [Arvin Sloan] somewhere in, like, Czechoslovakia and I'm in some big fur, smoking cigarettes. But it was outdoors at the commissary by the Disney Store. Oh, and the day I kill myself [When Alison/Francie shoots real Francie], I had to go pick up something for Christmas at the Disney Store and I had a bullet hole in my forehead. And I just remember everyone's going, "What!?"
Do you remember when J.J. told you that you were going to "kill yourself"?
MD: I'm so glad [Francie] died. She was so boring. She was the apex of a best friend character. So it was great because it gave everybody something fun to play. It gave me fun things to wear. It gave me fun things to do.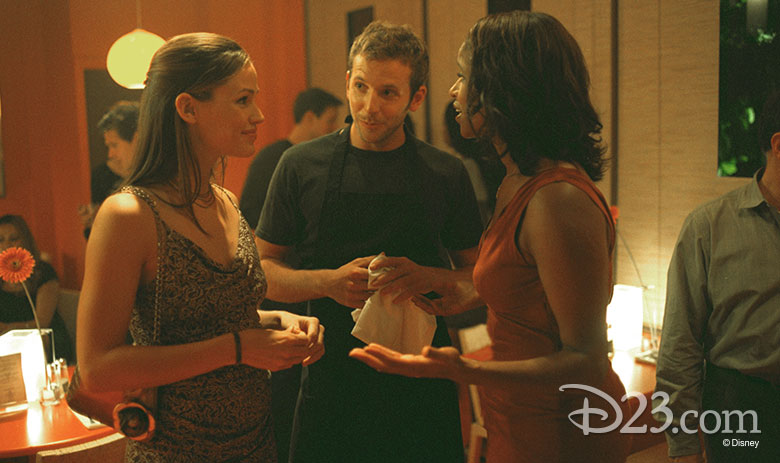 Wow, you took it really well!
MD: I've always been a huge fan of crime shows and that sort of thing. My sister and I used to audiotape Charlie's Angels—a real audiotape with a tape recorder. And we would listen to it over and over and play Charlie's Angels on our Schwinn bikes.
You went on to play a very iconic Disney character recently on Once Upon a Time—Ursula.
MD: That is truly because of Alias. I got a call from my manager, who told me [Once Upon a Time creators] Adam [Horowitz] and Eddy [Kitsis] were going call to see if I wanted to play Ursula. And I was floored. What an incredible opportunity and what an incredible character. They said they were big fans of Alias. And when they said it was with Cruella and Maleficent and they're going to be the Queens of Darkness—boy, was that so much fun. It was the most fun I've had in years.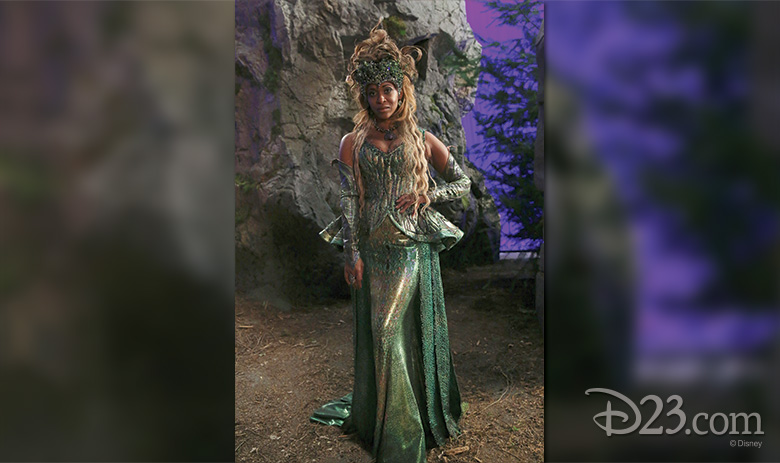 Were you a fan of The Little Mermaid?
MD: I'm quite familiar with The Little Mermaid. I'm a Disney fan through and through. But to play any one of the Disney characters, particularly one of the bad guys, is a huge honor.
Do you have a favorite Disney memory?
MD: I remember when I was a kid, every Sunday at 7:00 we would watch the Wonderful World of Disney. And that was family time. It was so happy and creative and beautiful. I think that's the coolest thing about having Once Upon a Time on Sunday—there are so many fans who are kids. When I was playing Ursula and I went to school to pick up my daughter and go to her parent‑teacher conference, I was mobbed by children. Mobbed. And my daughter comes over and she's like, "Ugh, Mom!" But it's a show that parents can watch with their kids. It's a terrific callback to the glory days and Wonderful World of Disney. So, I'm glad that all kind of comes full circle.
With all your work, do you feel like a member of the Disney family?
MD: I really do. It always feels like I'm coming home when I've worked for ABC and Disney. When my sister and I were little, my mom would have to buy us each a copy of TV Guide. And ABC was always my favorite. Tuesday nights ABC had Happy Days and Laverne and Shirley and Three's Company and Too Close for Comfort, [then there was also] Charlie's Angels, Love Boat, Fantasy Island, and Moonlighting. ABC was always my favorite—always, always. And then being on Alias, Better Off Ted, Revenge, Betrayal, Once Upon a Time, and now Conviction… That's a lot of ABC. And [Chasing Life on] Freeform!
So what do you think fans of Alias will love about Conviction?
MD: Well, obviously there's a strong female role model in the centerpiece. Sydney was flawed in different ways than Hayes is. Sydney set about saving the world in different ways, and Hayes is saving lives another way, but they are both giving people hope. If you like exciting, strong‑willed, powerful women, you will love this show.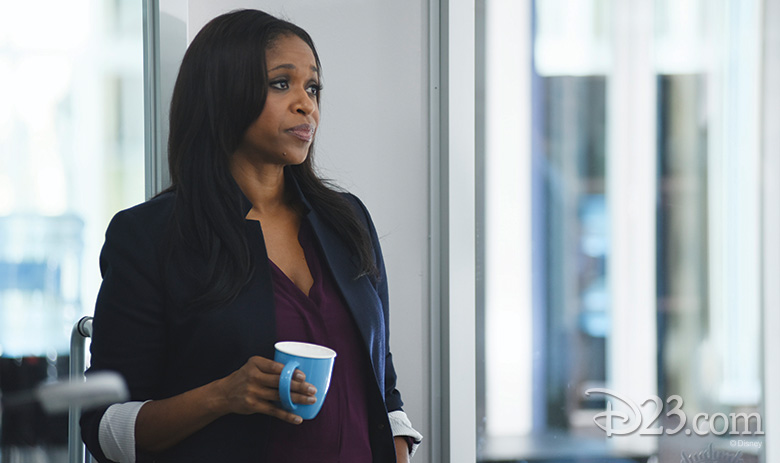 I feel like the writers need to give Maxine a line about coffee ice cream.
MD: We should do that for the fans. If I can find a way to fit it in there, I will—152 percent! There's gotta be a moment. Like I'm just out with Sam (Shawn Ashmore), doing something and we're looking at a cone, and I just say, "I don't like coffee ice cream."